Android is the most used operating system in the world. The Google Play Store contains tons of application that gives a wide variety of apps and games for its users. Similarly, Apple App Store has its very own App Store, which also features tons of apps and games. However, there are several apps and games that either are paid or just not available for a particular region.
In this case, downloading apps from alternative app stores can be helpful. And this is where this post comes into play. As in this post, we will give you the 10 best App Store alternatives for iOS, from where you will be able to download the apps that are either paid or not available for your region. There are some caveats attached to some of the App Store alternatives mentioned here. We will discuss them as we progress along with this post. So, with that being said, let us just dive right into it.
Best Apps Like App Store for iOS
Here are the Best App Store Alternatives for iPhone and iPad to Download Tweaked Apps in Mobile
1. Sileo
First on the list is the Sileo app store. Note that this list is not ranked in any matter and is just random. Sileo is a new jailbreak app store alternative for iOS users. It was developed as an alternative to Cydia but now has grown into a standalone alternative to App Store for iOS. This App Store supports iOS 11 or newer versions. It is a place where you can download tweaks, apps, and themes on jailbroken iPhone, iPad, or iPod touch.
2. AppCake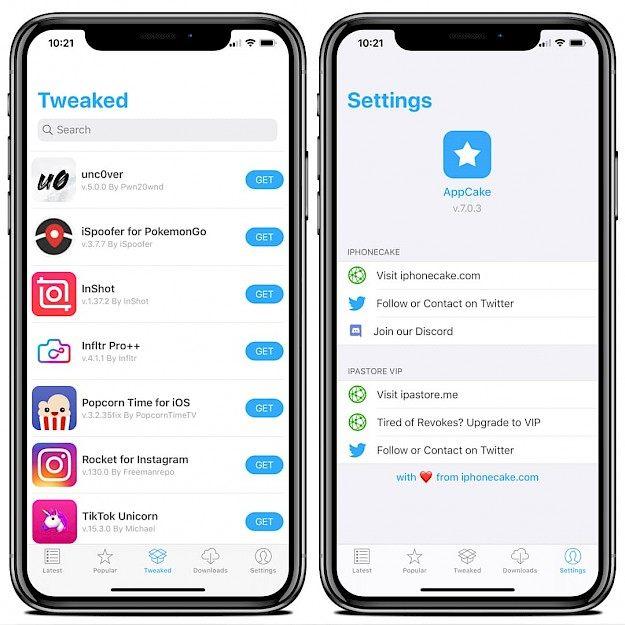 AppCake is another popular App Store alternative to the Apple or iOS App Store, which the users can make use to sideload any app or game. You can download any unsigned IPA files to your iOS device pretty easily using AppCake. AppCake is a great place for jailbreakers as it is a decent alternative to the App Store and has a proper App Store user interface. It can be installed on iOS 9 to iOS 13 devices. Besides, AppCake intelligently sorts out the apps or games that can be run on a device without jailbreak.
3. AppValley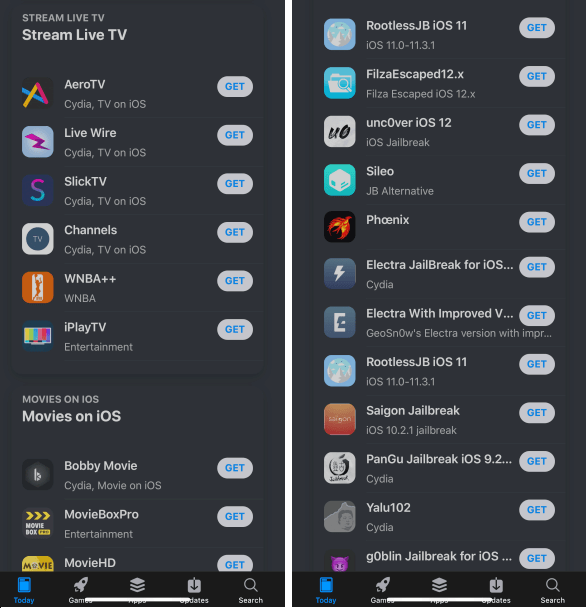 AppValley is developed by AppValley LLC and is an independent app store alternative for the Apple or iOS App Store. You can get most of the apps that you need to pay for in the App Store for free in AppValley. AppValley is a safe and secure place to download iOS files on your Apple devices.
It uses an advanced algorithm to safeguard users from any malware or other virus attacks. Moreover, you do not need to jailbreak your phone to grab any app or game from AppValley.
4. TutuApp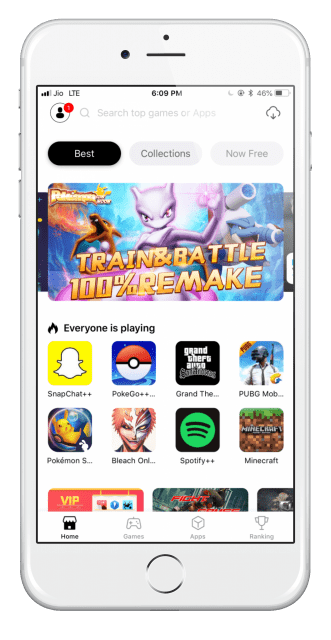 Another safe and good App Store alternative is Tutuapp. It allows you to download the latest apps and games free of cost. However, note that to use Tutuapp on iOS, you need to have a jailbreak on your iOS device. Besides, you can use Tutuapp to download multiple files at once. There is a Tutuapp VIP version that will contain apps and games without ads.
5. TopStore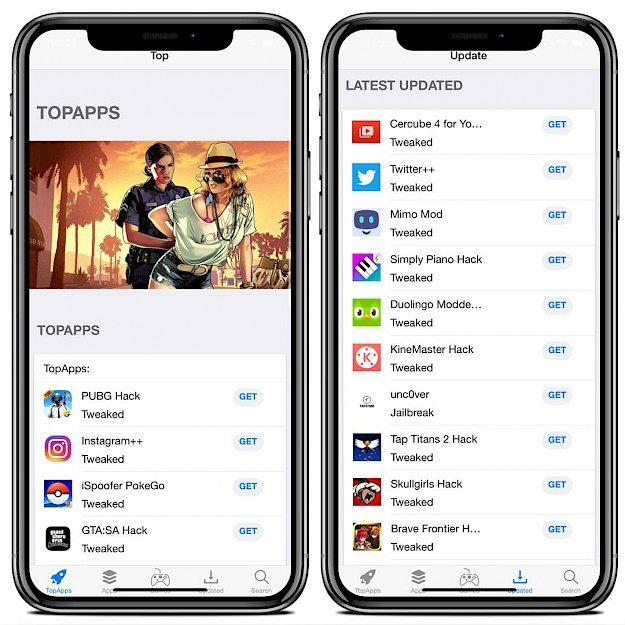 TopStore is an App Store alternative that does not require the user to have jailbreak on their Apple devices to download apps or games from this source. You can simply download the TopStore client on your iPhone or other Apple devices and grab the app/game that you wish to have on your device.
The inventory of TopStore is huge, and there are tons of free apps to download from. This app is compatible with running on iOS 9 or above devices.
6. PandaHelper
Another trusted source for downloading third-party apps on Apple or iOS is the PandaHelper. The app has a user-friendly interface and provides tons of apps and games. You do not need to have jailbreak on your phone to use PandaHelper.
It is easy to install PandaHelper on your phone and provides top-rated apps and games to download on your iOS device. The app store is categorized into four groups, App Store apps, Exclusive apps, Modified apps, and Modified games.
7. CokernutX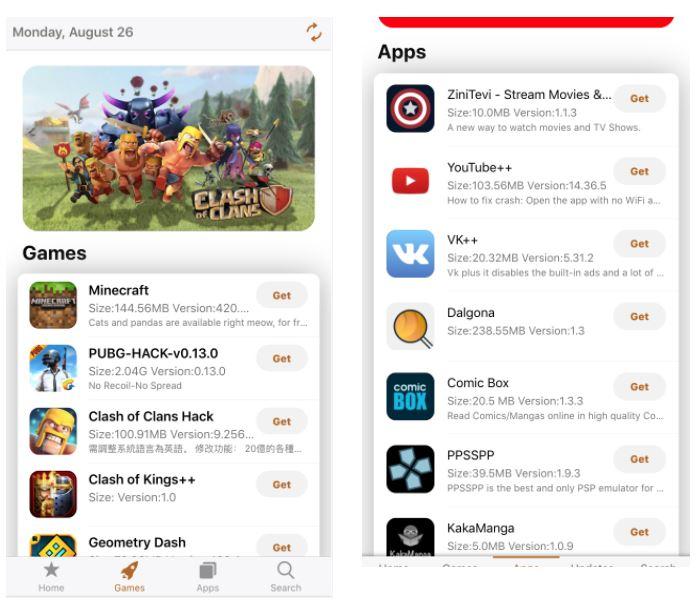 A complex-named app store alternative is the CokernutX. This is another one of those third-party app stores that do not require jailbreak and has been trusted by millions of users worldwide. Moreover, you do not need to log in with your Apple account to download the apps and games from CokernutX.
The app provides several mods, paid apps, and games. The app store also uses a high-security algorithm to prevent any security threats while downloading using the app store. It supports iOS 8 and above devices.
8. Asterix Installer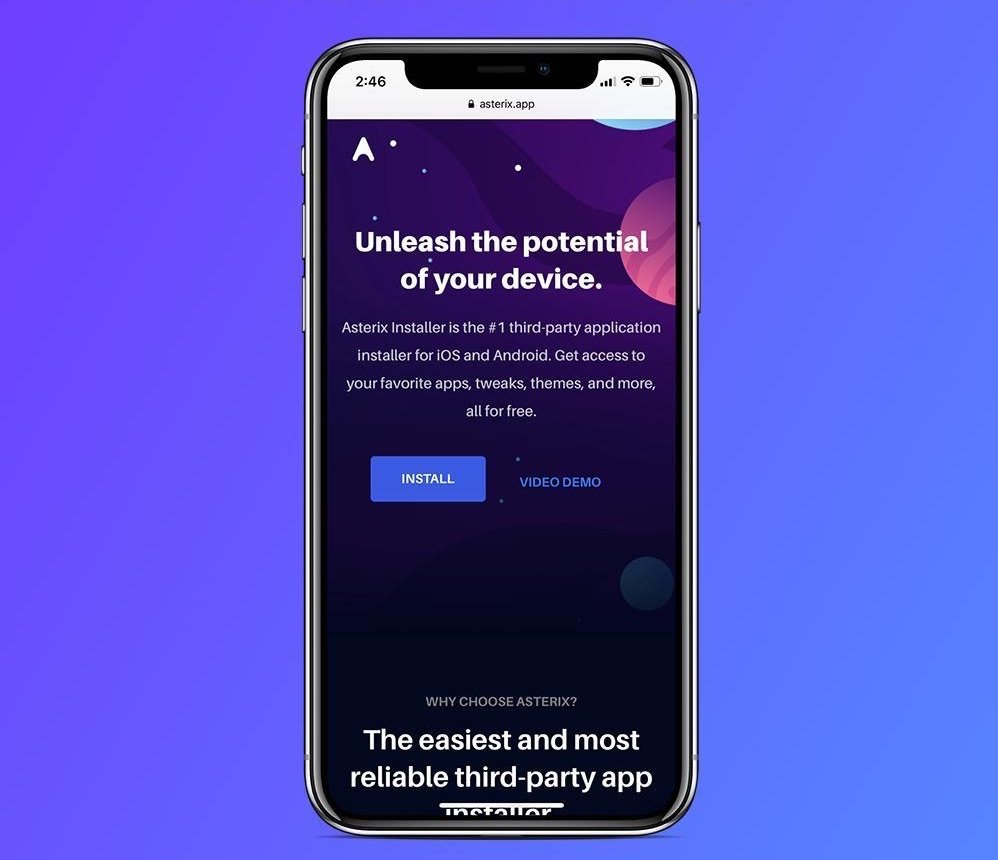 The Asterix Installer does not require any jailbreak or tweak to use it. It has tons of apps and games, all under one roof. You can grab any iOS-compatible app or game without the need for an Apple ID. The website and app are both secured with 256-bit SSL Encryption, making it a secure place to download from.
9. AppEven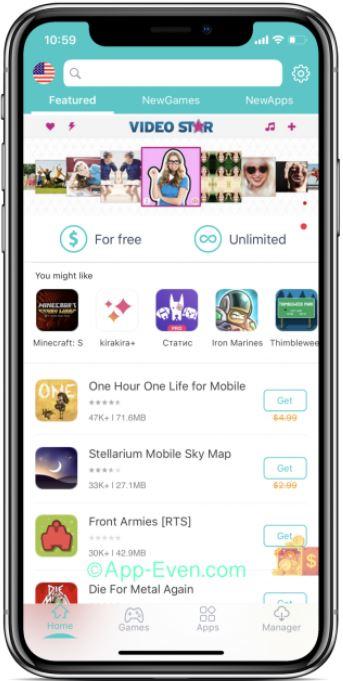 Another unofficial app store alternative is AppEven. It is a third-party app and games downloader for iOS devices, and it also does not require any jailbreaking or tweaking to grab any file from this source. You do not need an Apple ID, you can grab paid apps for free, and it is easy to install and use.
One great feature of the app is that it supports all iOS versions. However, note that Apple treats AppEven as an unofficial AppStore. Thus it keeps on revoking the certificate. Meaning that you will need to keep reinstalling the app.
10. Altstore
AltStore is an alternative app store for iOS devices that offers a wide range of modded apps, games, and GBA emulators. It is a tweaked app that enables users to modify their devices in ways that Apple does not support. This also helps you download emulators to let you play classic console games on your iOS device.
Hence, for those looking for a new feature to customize their iOS device, this is one of those as it helps change the look and feel of an iOS device. This is also good for apps and games that Apple doesn't allow in the App Store.
Features of Altstore:
Can download modded and tweaked versions of apps and games such as Pokémon Go, Snapchat, Netflix, etc
comes with an extensive library of modded apps, games, and emulators.
Apps and games are available for free.
can update apps through the AltStore.
Apple id needed to Sideload other apps onto your iOS device.
It doesn't require jailbreaking your device.
have more control over the apps, unlike apple features.
11.
GetJar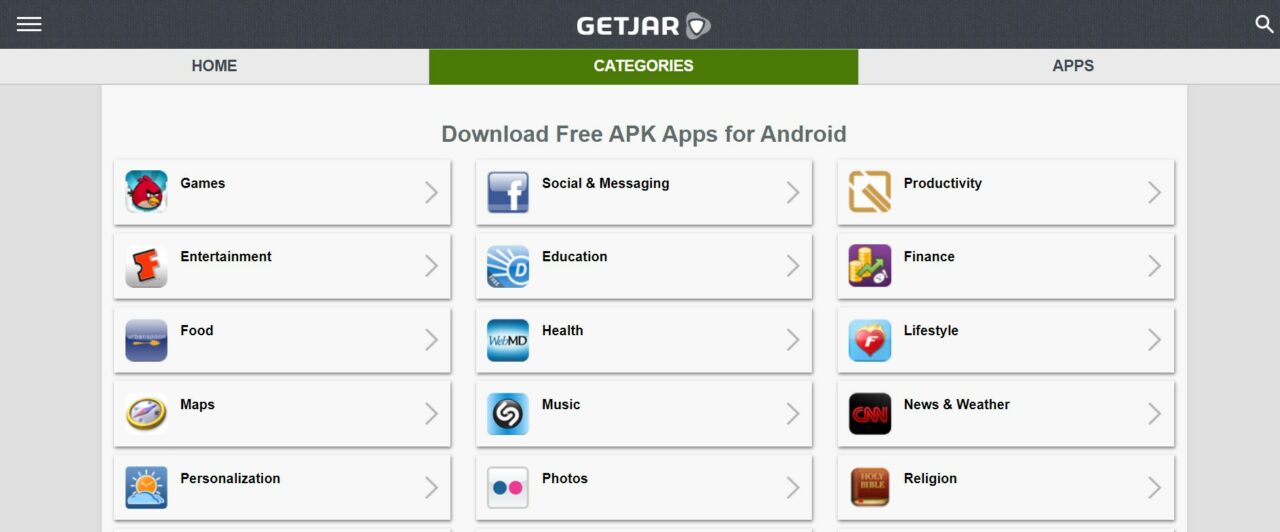 GetJar is the world's biggest app store alternative for iOS. The best part is that along with ios, you can also find android apps on this platform. The apps have been divided into different sections so that it becomes easy for you to search your favorite apps and games.
12. BuildStore.io

BuildStore.io is a great app store alternative from where you even download games like Pokemon, and Mario, which is not generally available on the App Store. It is a safe and trustworthy app store for iOS. Here, you can find tweaked apps like YouTube++, CrunchyRoll++, MovieBoxPro, and many more.
Conclusion
So, there you have it from my side in this post on the 10 best alternatives to App Store for iPhone. Note that there are some other alternatives as well. Let us know in the comments which alternative we missed out on. Until the next post…Cheers!
If you've any thoughts on 10 Best App Store Alternatives for IOS, then feel free to drop in below comment box. Also, please subscribe to our DigitBin YouTube channel for videos tutorials. Cheers!