A while back, editing images used to be a daunting task. With so many options to tweak, users used to get confused about what to increase or decrease. Thanks to the availability of different photo editing apps, this cumbersome task now requires our bare minimum efforts. Notably, iPhones are considered to equip one of the best sets of cameras on a smartphone. But with a little adjustment to some image values, you can make your images pop out.
And for that, you require a photo editing app, that is reliable, easy to use, provides you with multiple options, and much more. In this post, we will give you 10 of the best photo editing apps for the iPhone. All the apps listed here will be available on the App Store so, if you are interested you can try them on your iPhone. With that said, let us get straight into the article itself:
Best Photo Editor Apps for iPhone
Here are the Best Free Image Editing Apps to Enhance your Photos on your iPhone Mobile
1. Snapseed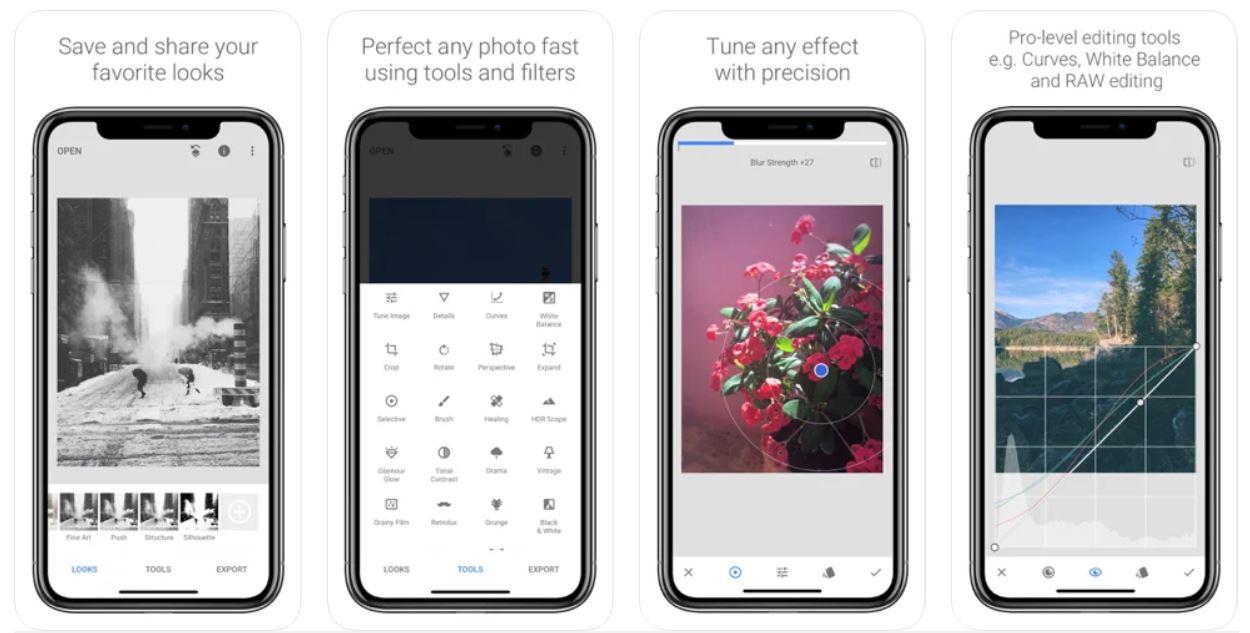 We had to start with Snapseed. It has been one of the go-to photo editing apps for many smartphone users, including iPhone users. Thanks to the ease of use, granular level adjustment options including exposure, color, sharpness, selective tools, along with pro-level editing tools, Snapseed is one of the photo editors that you should try on your iPhone if you are into photography.
Moreover, there is a Portrait Tool that can help you create portrait photos. There are tons of filters to choose from, making it easier to set the mood of your image. The app is available for free from the App Store.
2. Prisma Photo Editor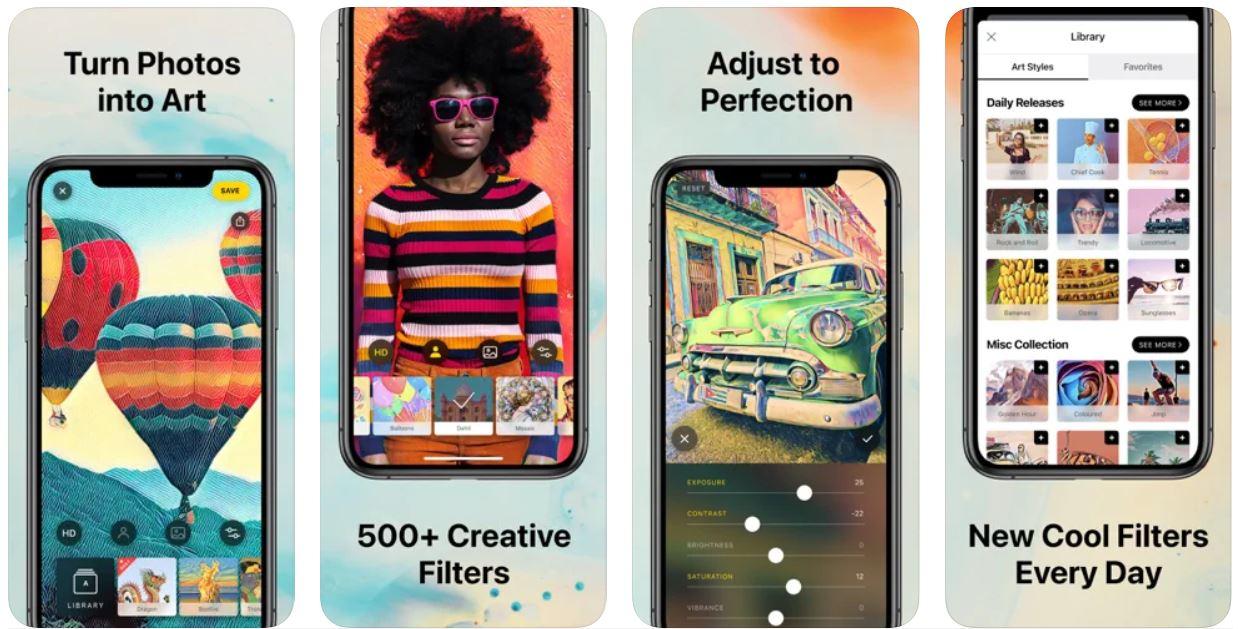 It is a known fact, that several apps available on the App Store that claim to turn your images into artwork or paintings are outright ridiculous. And if you are tired of trying such apps, you should check out Prisma Photo Editor. Using its advanced AI technology, Prisma turns your images into paintings, drawings based on the effect that you choose.
Mind you, there are around 500 creative filters that the Prisma app offers. Not on filters, you can also tweak the filters as per your need to tone down the effect as well. You can even share the artistic image within the app. The app is available for free and is a must-try if you haven't tried it yet.
3. Adobe Photoshop Express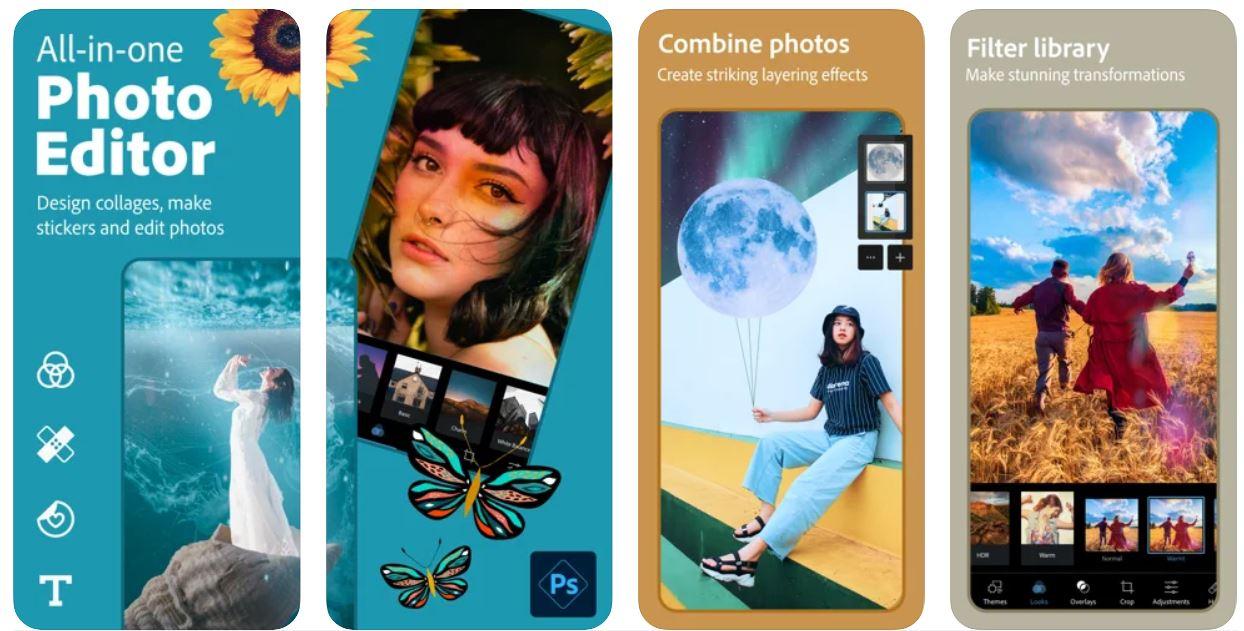 What's so good about this app apart from the fact that it has the name "Adobe" attached to it? It is simply one of the best photo editing apps offered by Adobe, on smartphones, available for iPhone as well. It ports a bunch of Photoshop's best editing tools into a mobile app and provides a huge array of professional editing features without costing anything.
Yes! The app is free of cost. The filters automatically adjust and correct issues found on the uploaded images, negating the need to manually correct them. However, do note that you need to have an Adobe ID account in order to use this app, which should not be much of a big deal, considering the things you can do to your image using this app.
4. Adobe Photoshop Lightroom CC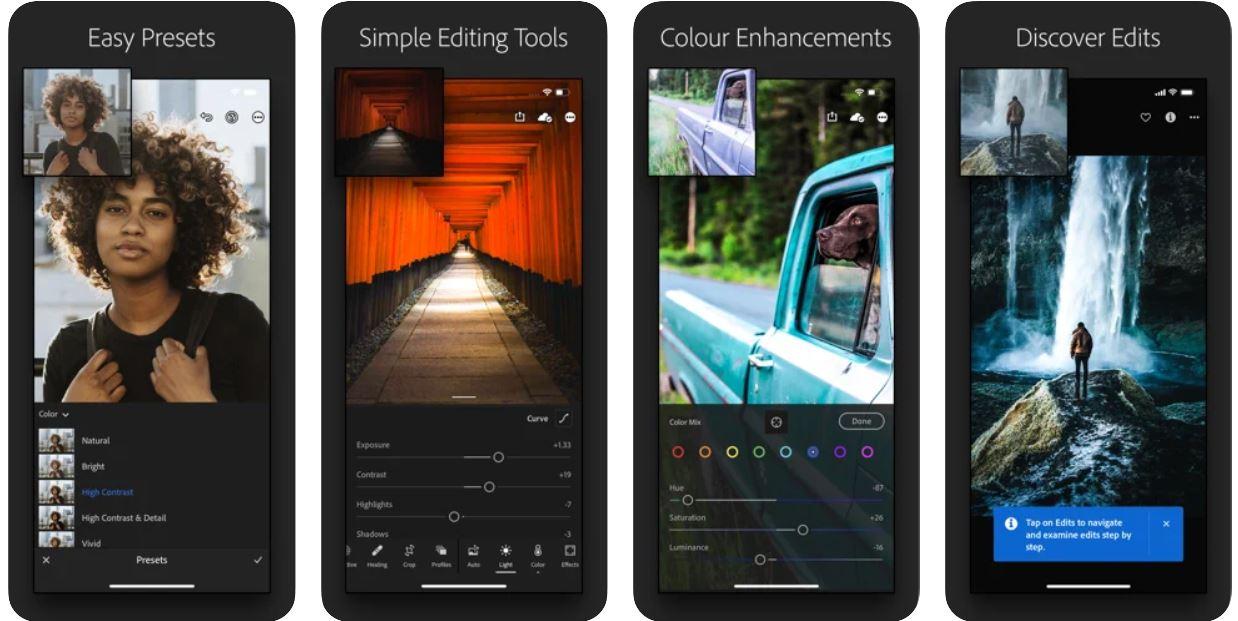 There shouldn't be an argument that Lightroom CC is the best photo editing tool or app that you can have on your iPhone. Combining your images taken from iPhone and later editing them with Adobe Lightroom CC could produce some of the best images, that could take your social media game to the next level.
The app provides granular adjustments for pro-level editing, however, a newbie can also use the app to make stunning tweaks to their images. Plus, Adobe Lightroom works with RAW images as well. Subscribing to Adobe Creative Cloud will unlock additional features.
5. Collage Maker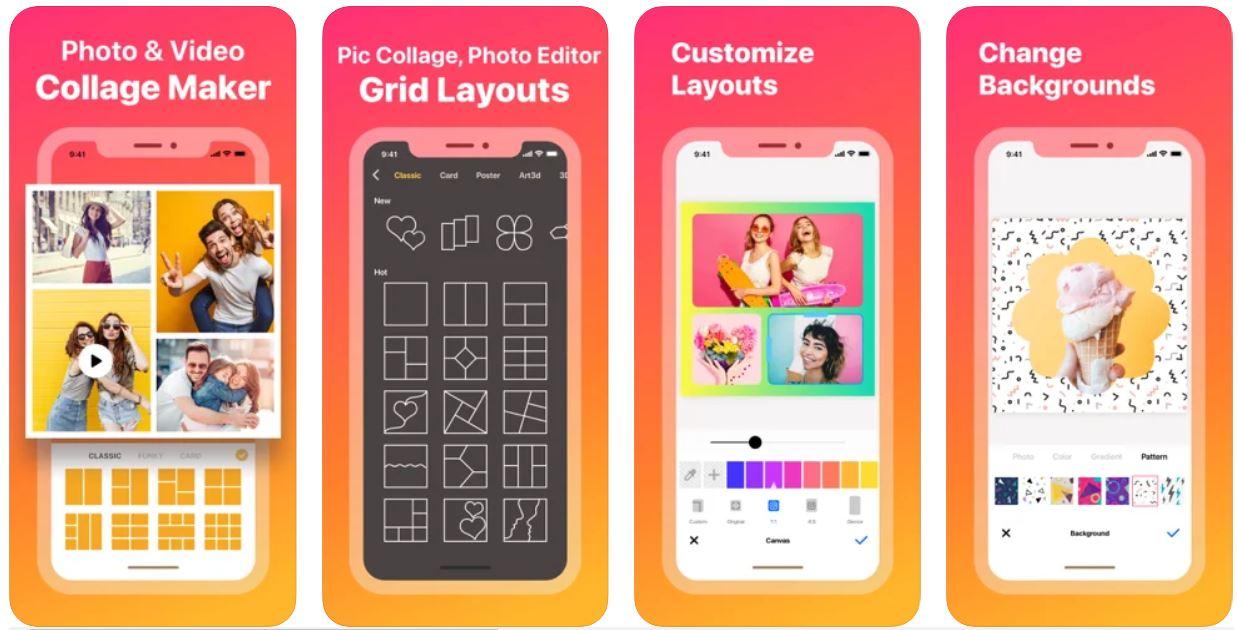 Confused about which image to share on your social media feed if you have a bunch of brilliant images. Here comes the picture of the Collage Maker app. Yes, some apps offer you to create a collage, but either they have limited effects or provide you with limiting college options.
Collage Maker gives you access to thousands of collage layouts to choose from, along with tons of backgrounds and styles. You can further customize your collage with text, fonts, colors, etc. There is an inbuilt photo editor as well, that will get most of your editing jobs done, so you do not need to switch over to another editing app.
6. Photoleap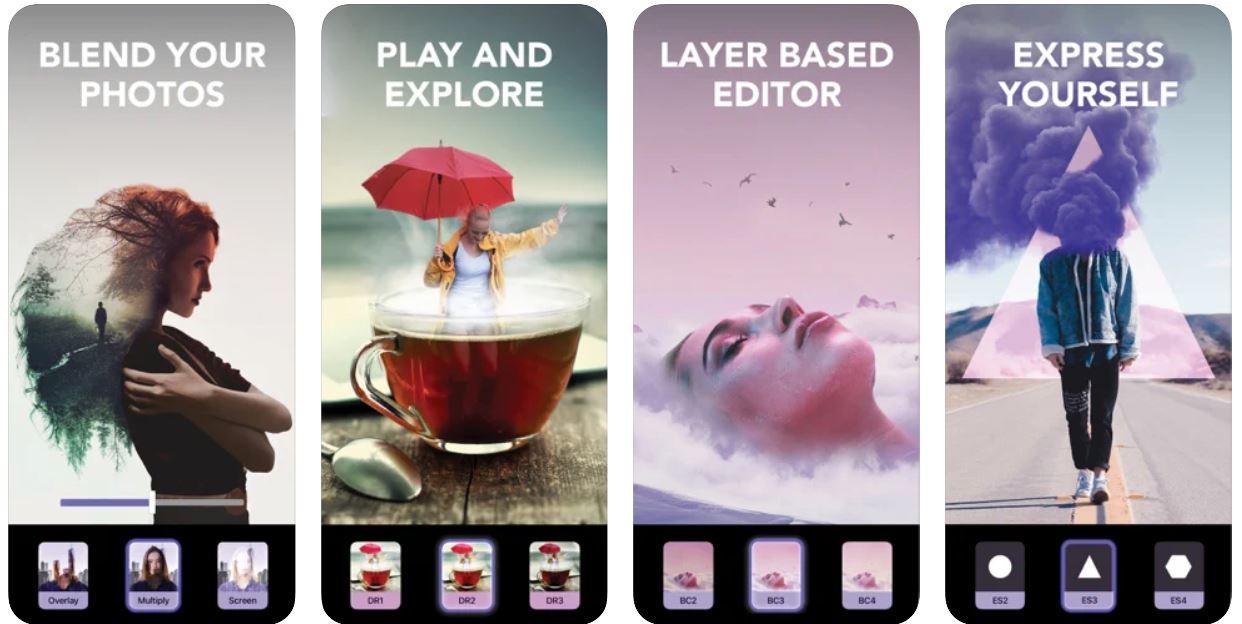 While many of the photo editing apps provide you with contrast, brightness, sharpness, etc. like tools, Photoleap allows you to be creative. You can blend photos to dramatize your images. Photoleap also offers Photoshop-like layer-based editing, filters, graphic design creation, and all the other editing tools that you would like on a photo editing tool for your iPhone.
The app supports RAW image editing and offers plenty of light leaks, filters, elements, styles, backdrops, fonts, effects, brushes, and stickers. However, the downside of this app is that the free version only allows you to edit two layers at once. The pro-version will unlock all the features, including multi-layer editing.
7. TouchRetouch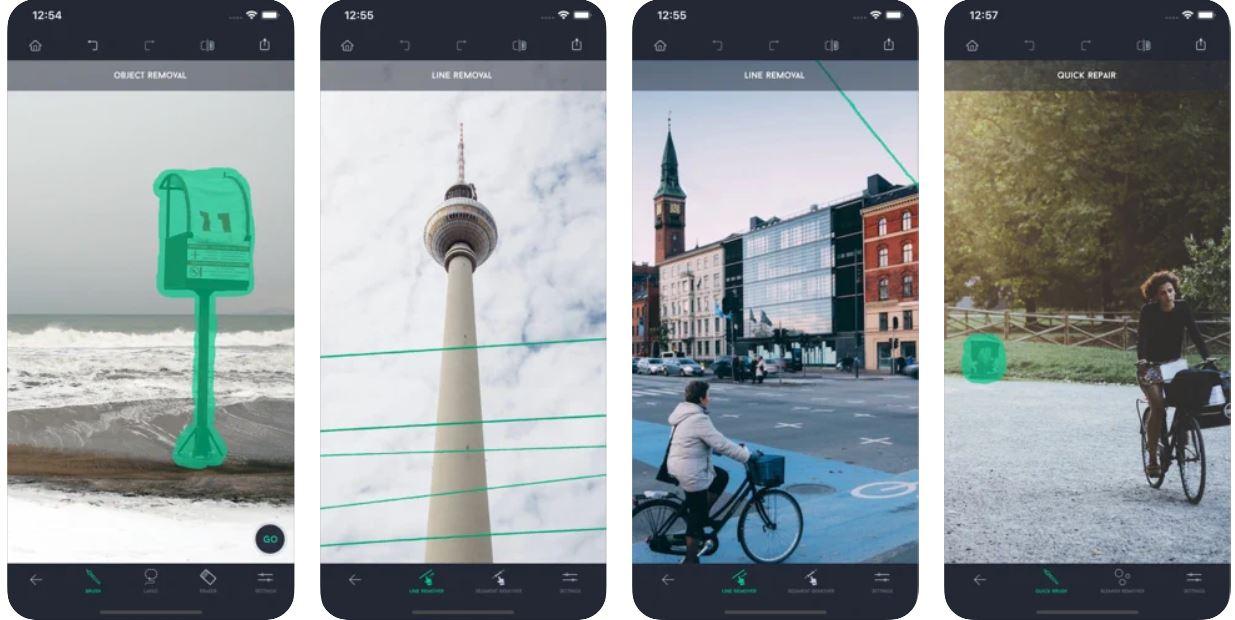 You may have also come across an issue, where the image taken by you is photo-bombed by different kinds of objects. TouchRetouch allows you to use the in-app powerful tools to remove such unwanted objects and get the image of your dreams. The brush and lasso tools enable accurate object selection.
There is a nice Line tool that could help you remove those electricity wires or telephone cables from your images. Besides, TouchRetouch also offers to remove dust spots, wires, people, and other objects from an image. You can also create a clone using the clone tool and also edit your portrait images to create flawless portrait photos.
8. Instagram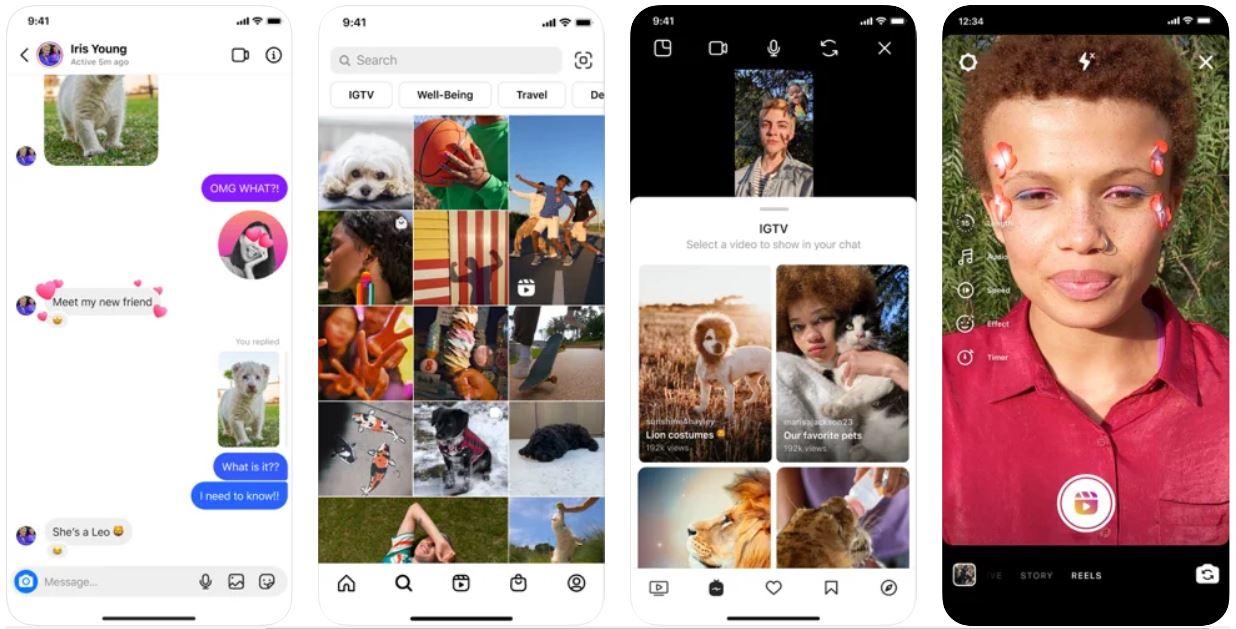 Well, for most of the users, the primary aim after editing their images is to share them on their social media platforms. You can edit your images right on the Instagram app and share them directly to your Instagram feed. And mind you, Instagram does offer plenty of cool filters, AI effects, exposure, color, and sharpening adjustments, perspective correction, etc. tools to make your images pop.
Good thing is that the app is free of cost and you can also directly save all the edited images on your device. Though the adjustments may not be granular, they are good enough to share on your social media feeds. You will find the AI effects pretty interesting to play around with.
9. Afterlight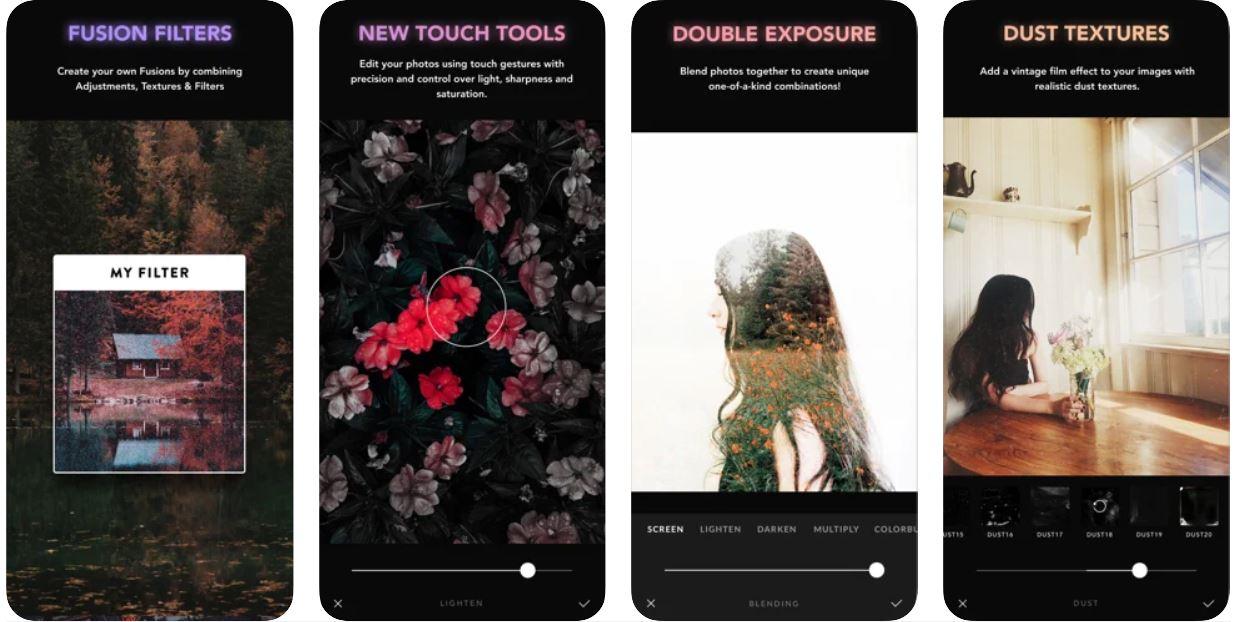 Afterlight is definitely an image editing app an iPhone user can use to make their images pop out with a minimum effort. The app offers all the basic image options along with over 70 frames to choose from.
Afterlight also has a cool collection of filters that are of high quality and also offers precise editing tools. Additionally, there are over 60 textures and overlays, 130+ filters, 120+ fonts, and much more. So, the app basically offers an "all-in-one" package.
10. Canva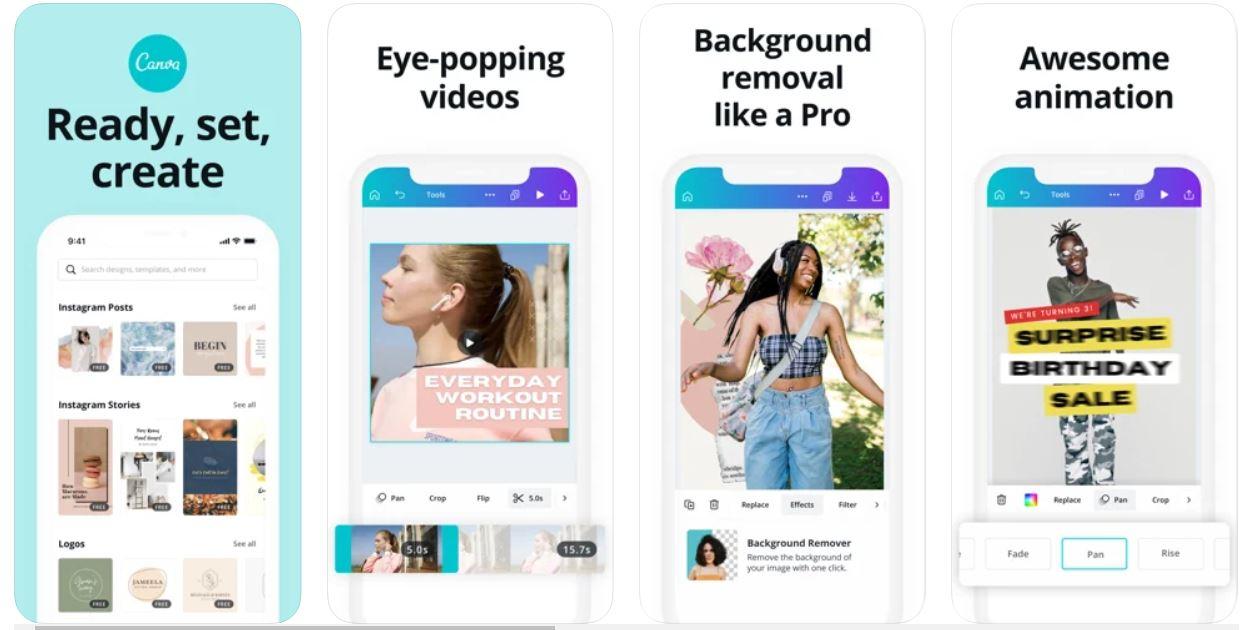 Want to take your social media game to the next level, then Canva is a must-have app on your iPhone. Canva not only helps you edit photos, but you can also edit or create videos using the app. The app is a creative solution for users in the marketing field or someone who wants to share creative images or videos on their social media apps.
You can create Instagram Story, create creative logos, and even create brilliant invitations as well. Canva can also be used to create a Twitter banner, YouTube thumbnails, photo collages, book covers, and whatever you want based on your creative minds. A high-rated app on the App Store which is available for free and a must-try.
11. VSCO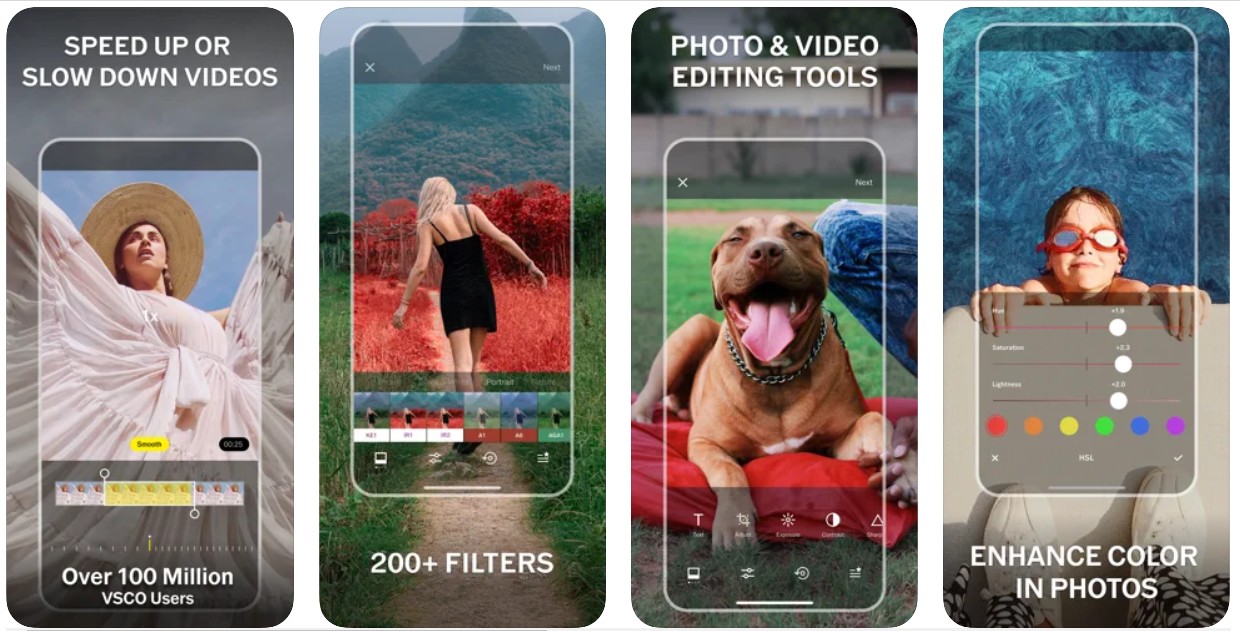 VSCO should be your go-to option if your priority is film-style presets. Most of the presets are available to use for free, thus you can try them and conclude whether you are in need of this application or not. After purchasing its premium plan, you will unlock 200+ filters.
12. Pixlr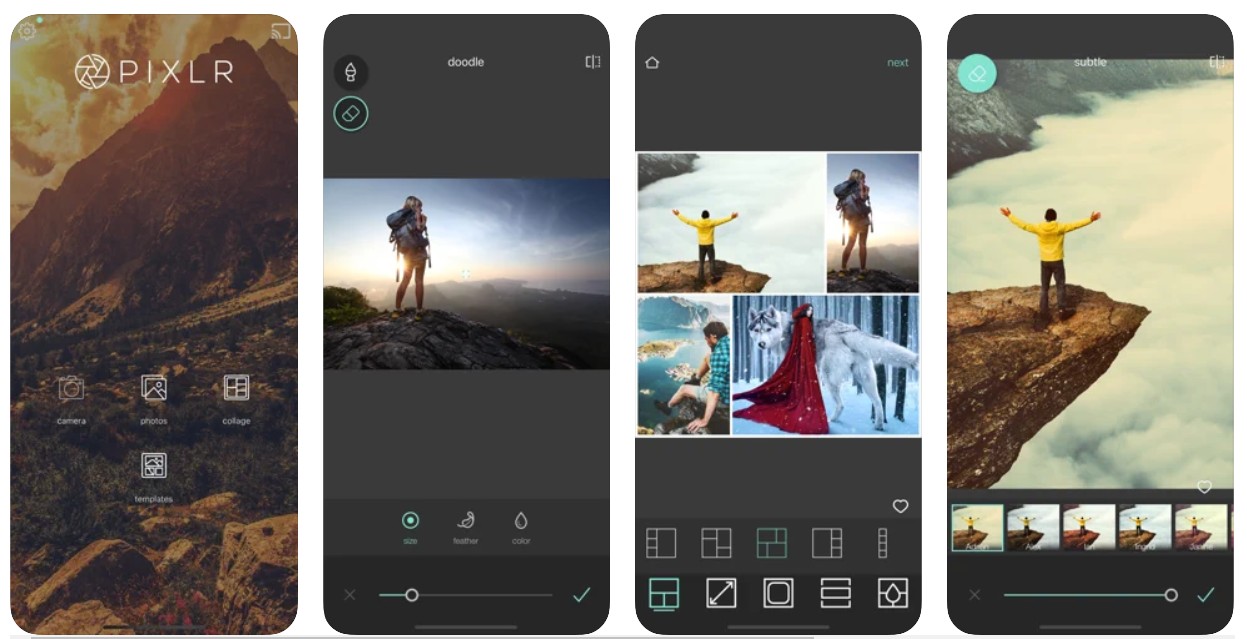 Pixlr is a free and easy-to-use photo editing tool for iPhone. Plus, unlike other apps, you don't even need to register to access its services.  Feature-wise, there are more than 2 million combinations of FREE effects, overlays, and filters. Further, you can share your creativity to different social media platforms directly from the app itself.
Conclusion
That's about it from my side in this post. The list is covering the best 10 apps that we think would let you get the most out of your images taken with your iPhone. There are plenty of apps that you can use from the App Store at your convenience. You can let us know which of the above-listed apps you use and like the most. For more such awesome coverage, follow DigitBin. Until the next post…Cheers!
If you've any thoughts on 10+ Best Image Editing Apps for iPhone, then feel free to drop in below comment box. Also, please subscribe to our DigitBin YouTube channel for videos tutorials. Cheers!