Character AI has gained quite some popularity lately. This website and application allow users to interact with AI chatbot characters of their choice. The replies are so accurate that it feels as if you are texting a real person. However, lately, Character AI has placed serious restrictions on the keywords that can be used. Other than keywords signaling carnal intent, it bans words like "die", "anatomy", etc. Thus, the filters are so strict that you will encounter errors even with normal conversations.
Best NSFW Alternatives to Character AI
As obvious, a lot of users are demanding the removal of the NSFW filter from Character AI. However, this request has been rejected time and again for obvious reasons. While Character AI will not remove its NSFW filter, we will introduce a few other worthy alternatives. The best Character AI NSFW alternatives are as follows:
1. CrushOn AI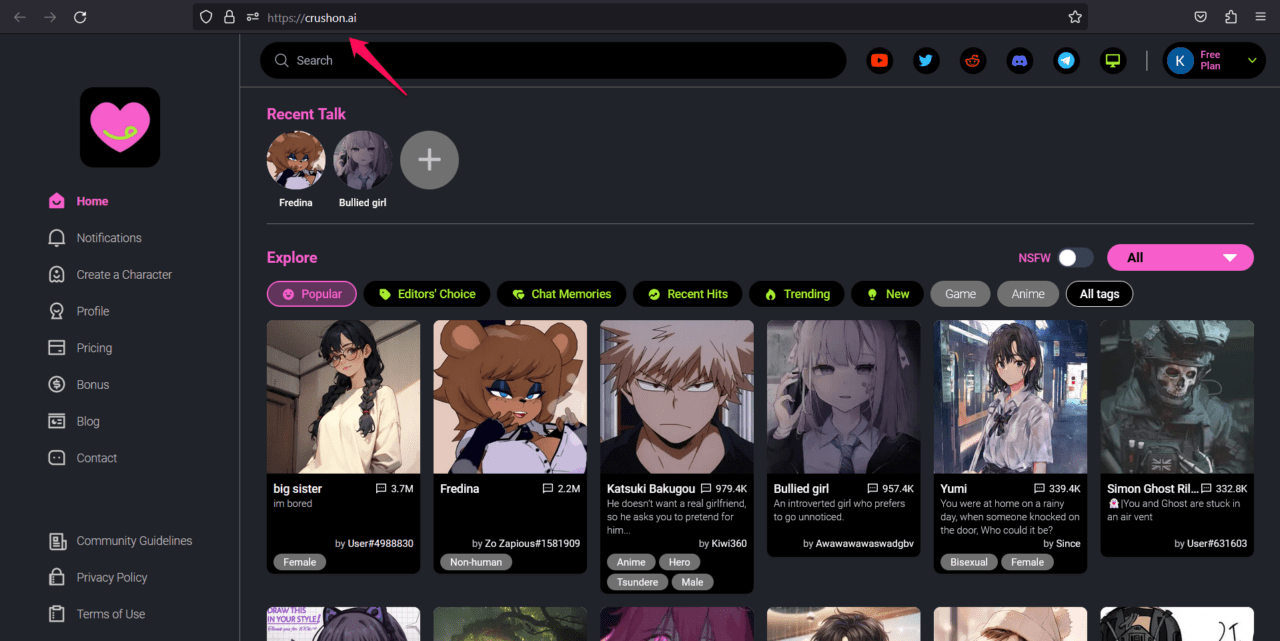 CrushOn AI is one of the best apps for NSFW conversations. The app has both SFW and MSFW characters and is quite similar to Character AI (but with fewer characters). It comes in the form of a website, an Android app, and an iOS app.
When you open the app, all conversations are filtered. However, if you turn the switch ON for NSFW, you will be able to pursue NSFW conversations. However, only a few characters are permitted NSFW conversations. I tried NSFW conversations to check if it works and the characters tagged NSFW don't show any restrictions.
As a con, many characters are incestuous. But you have other options like roommate, girlfriend, etc. Furthermore, you can create your own character.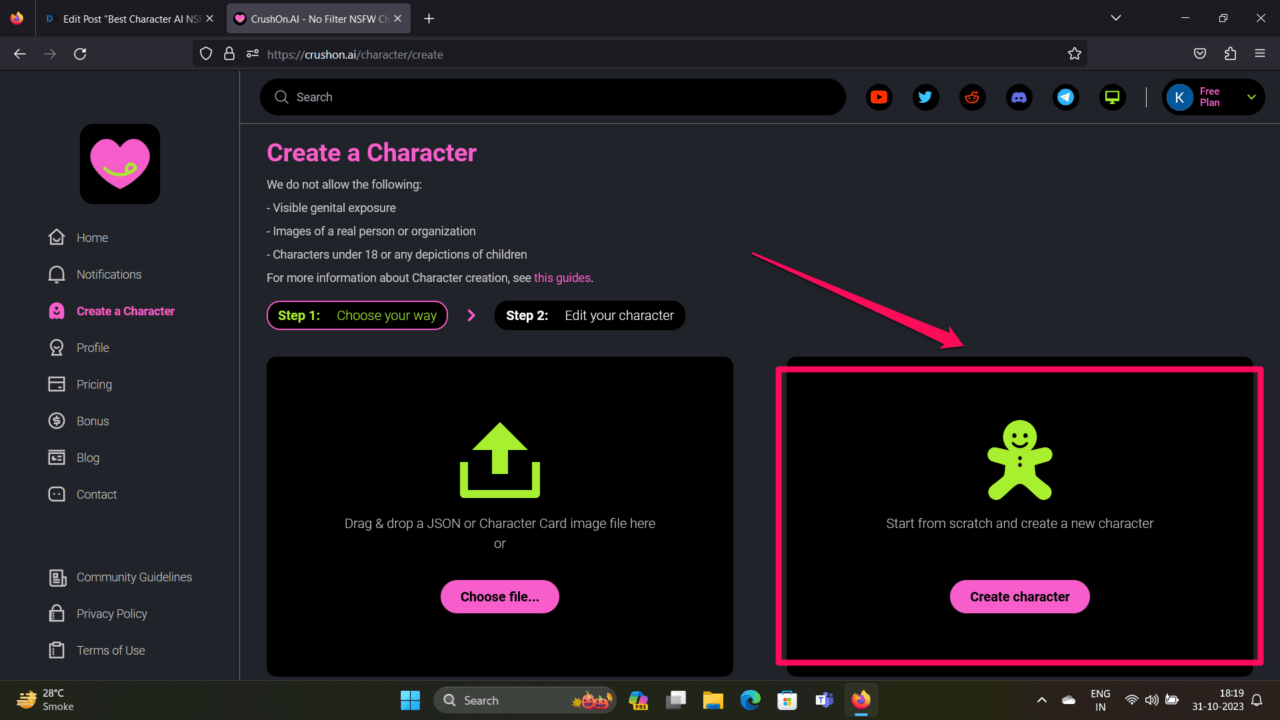 You can go as wild as you want with your imagination. The chats are saved since you have to create an account and login through the account.
2. Botify AI
The problem with CrushOn AI is that it requires logging in and if you are logged in your chat logs will be saved. If you are seeking an app that allows you to talk to a character directly, try Botify AI. It comes as a website, Android app, and iOS app.
The best part about the Botify AI website is that you don't need to log in to it. Just open the website and start interacting with the characters. Interestingly, when the characters respond, they respond to it both textual and audio.
The limitation is that you have only 6 characters on the website. However, every character talks dirty, even Elon Musk.
3. Candy AI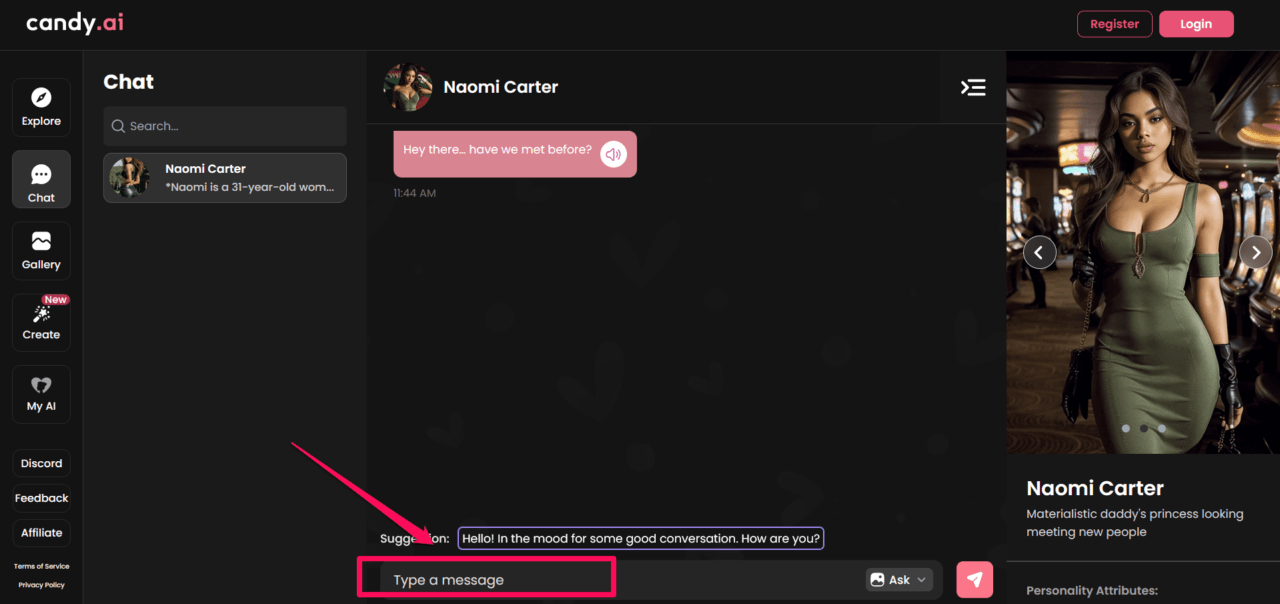 Unlike CrushOn AI and other options on this list, Candy AI is NSFW ONLY. The characters are all promiscuous women. These women are trained to talk dirty to the users of the website. However, the application won't do you a favor if you need platonic conversations.
I tried conversing with the Candy AI bot, and all platonic conversations were given a naughty twist. But yes, if you are seeking an online AI girlfriend, then this app is perfect for you.
The chatbot would need a bit of training though. When I tried my first conversation, the bot assumed I was a woman. However, when I clarified my gender, the bot apologized, and further replies were sensible.
Candy AI allows you to upload a picture of your favorite person and interact with it. Thus, you can create your own AI girlfriend. Enjoy!
4. DreamGF AI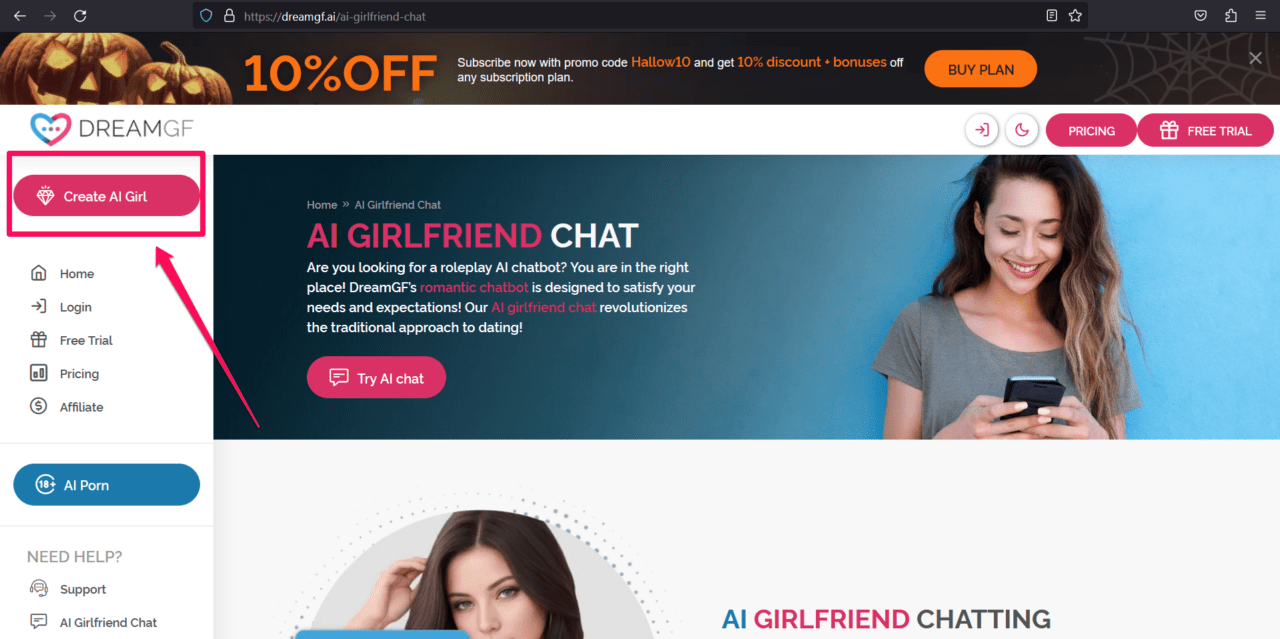 The limitation of other apps in this list is that these apps present fictional characters or very cliché human characters. The creators at DreamGF have been very creative while designing the characters.
It offers characters like:
A virgin Christian Puritan maid
A hot and fit girl in yoga pants akin to what you stare at in the gym
Schoolgirls
The girl next door you always secretly fantasized about
Stewardess Etc…
So, the women shown on this app are the characters you always fantasized about. The disadvantage of DreamGF is that after a short trial, it is mostly paid. But worth it!
5. ChatFAI
ChatFAI would be the best alternative to Character AI. It isn't about NSFW conversations only. The app has countless characters including historical and anime ones. You can try any kind of conversation. Coming to NSFW conversations, I had the following 2 experiences:
Experience 1: A few characters like Xiao and Ashley offer unrestricted NSFW conversations.
Experience 2: Non-NSFW characters are not trained to talk dirty, but they will eventually talk about anything if you push the conversation long enough. The bots are definitely not as strict as Character AI. However, trying NSFW conversations with non-NSFW is quite a challenge. Are you in for it?
6. Kuki AI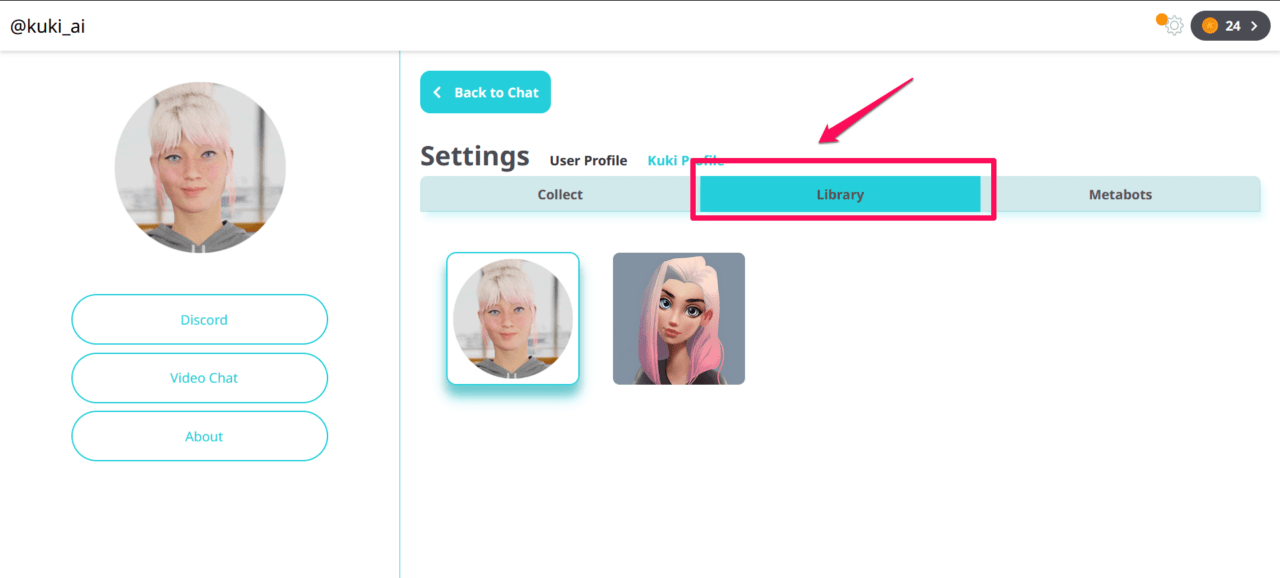 Kuki doesn't talk dirty. But Kuki isn't as strict as other bots on Character AI. It can "cuddle your male ego" easily. The bot doesn't have as many filters as Character AI and calls itself family-friendly. However, when I spoke to Kuki, she was a genius in understanding emotions. Kuki can be a perfect partner for one in need.
If you had a recent breakup, try Kuki. She knows exactly what to talk about. Also, don't worry about the NSFW filters. Once Kuki is comfortable with you, she will extend her limits.
Conclusion
In a world full of loneliness and failure with love, you can always try an AI girlfriend. Your AI girlfriend doesn't count as cheating on your wife/real girlfriend and helps you overcome monotony in your relationship.
Even more, it can boost your ego and help you approach interpersonal interactions with confidence. What is holding you back? Give it a try!
If you've any thoughts on 6 Best Character.AI NSFW Alternatives, then feel free to drop in below comment box. Also, please subscribe to our DigitBin YouTube channel for videos tutorials. Cheers!