Anime is more or less synonymous with Japanese animation. There is a huge fan base for Japanese Anime and is a global phenomenon. Many Japanese Anime Shows and Movies have caught global prominences like Naruto, Your Name, Hunter x Hunter, Bleach, Spirited Away, Death Note, One Punch Man, Pokemon, GTO, Dragon Ball Z to name a few.
The Anime shows have a wonderful blend of culture, abstract life, technology, and are presented in a very fascinating way of storytelling. The themes and colorful presentation make the Anime content very appealing stuff to watch. Basically, Japanese Animes are available in the original Japanese language which is later translated into regional languages and more popularly into English. So, only a few popular Anime is dubbed while most of the Anime is Subbed.
There are a number of Android Apps available which claim to be the best platform for streaming Japanese Anime. Most of the online illegal streaming apps do not work or are deceiving in nature. But today I will list down some of the best anime streaming apps to watch Japanese Animation in English Sub or Dub.
| | | |
| --- | --- | --- |
| Apps | Price | Features |
| AnimexStream | Free | All Anime Shows and Movies |
| Crunchyroll | Freemium | All Popular Animes Shows and Movies |
| Animania | Free | All Anime Content (Direct Download Available) |
| AnimeLab | Freemium (Australia) | Free Subbed & Paid Dubbed |
| Retrocrush | Free | Classic popular Animes |
| Netflix | Paid | Popular Anime in Dubbed and Subbed |
| FUNimation | Paid | All popular Anime (Subbed and Dubbed) |
| Freeflix HQ | Free | All Anime Content |
| Tubi TV | Free | Popular Anime (Ads) |
Best Free Anime Apps
Here are the Best Free and Paid Anime Streaming Apps for Android to Watch Anime in English Dub and Sub.
1. Crunchyroll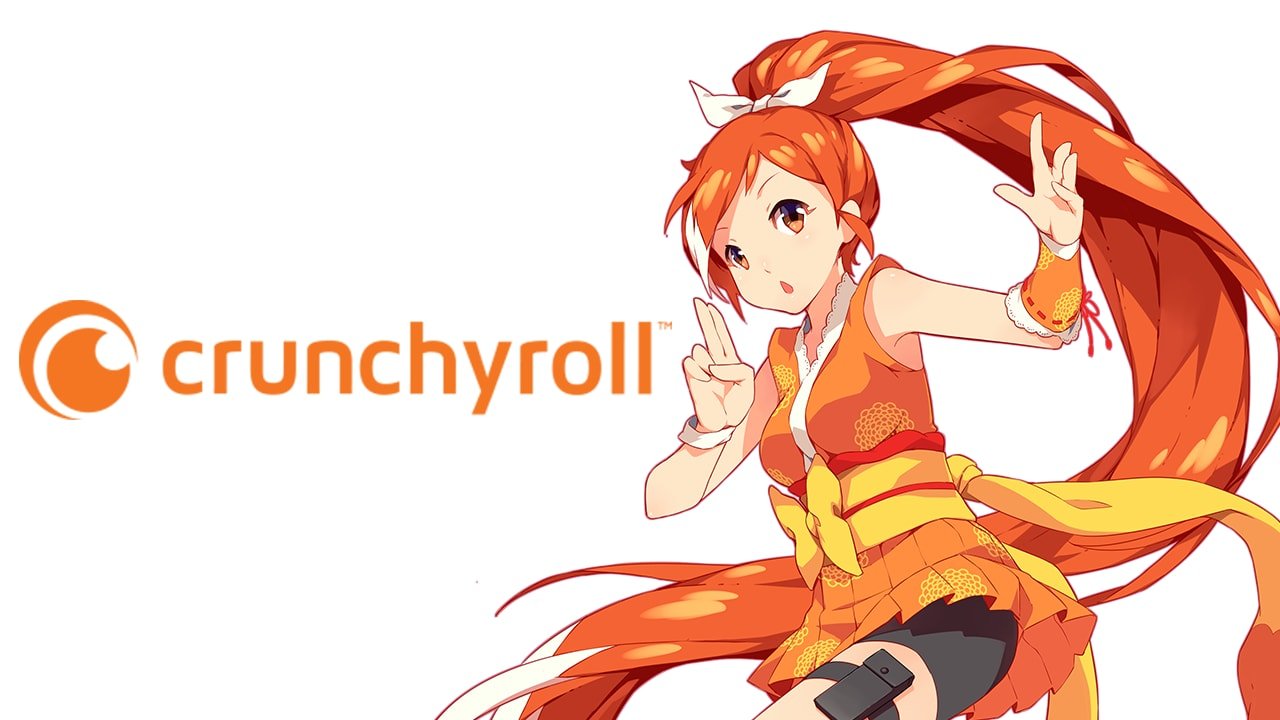 Crunchyroll is a popular anime app with over 20 million monthly visits which majorly focuses on east-Asian content primarily on Anime, Manga Series, Music, and Shows. Crunchyroll is the one-stop destination for all Anime Lovers and is much recommended as it is safe and legal. A legal and simple way to stream all your favorite animation. The service has rights to popular Anime Series like Naruto, Dragon Ball, Titan, Ace of the Diamond, Bleach, etc. Though all the content is not free, you get a free trial to access the shows and programs. Here's the list of English Dubbed Anime Available on Crunchyroll
The Content Provider uses a freemium model. That means they offer anime for free at a lower definition and with advertisements. The latest episodes of ongoing shows can't be accessed for free unless you wait for a week. The site is solely made for all anime lovers to enjoy Japanese content.
Features Crunchyroll
All popular Anime
East-Asian Movies and TV Shows
All Shows Subbed
Simulcast on select titles
Popular Anime and Manga Series
2. Anime X Stream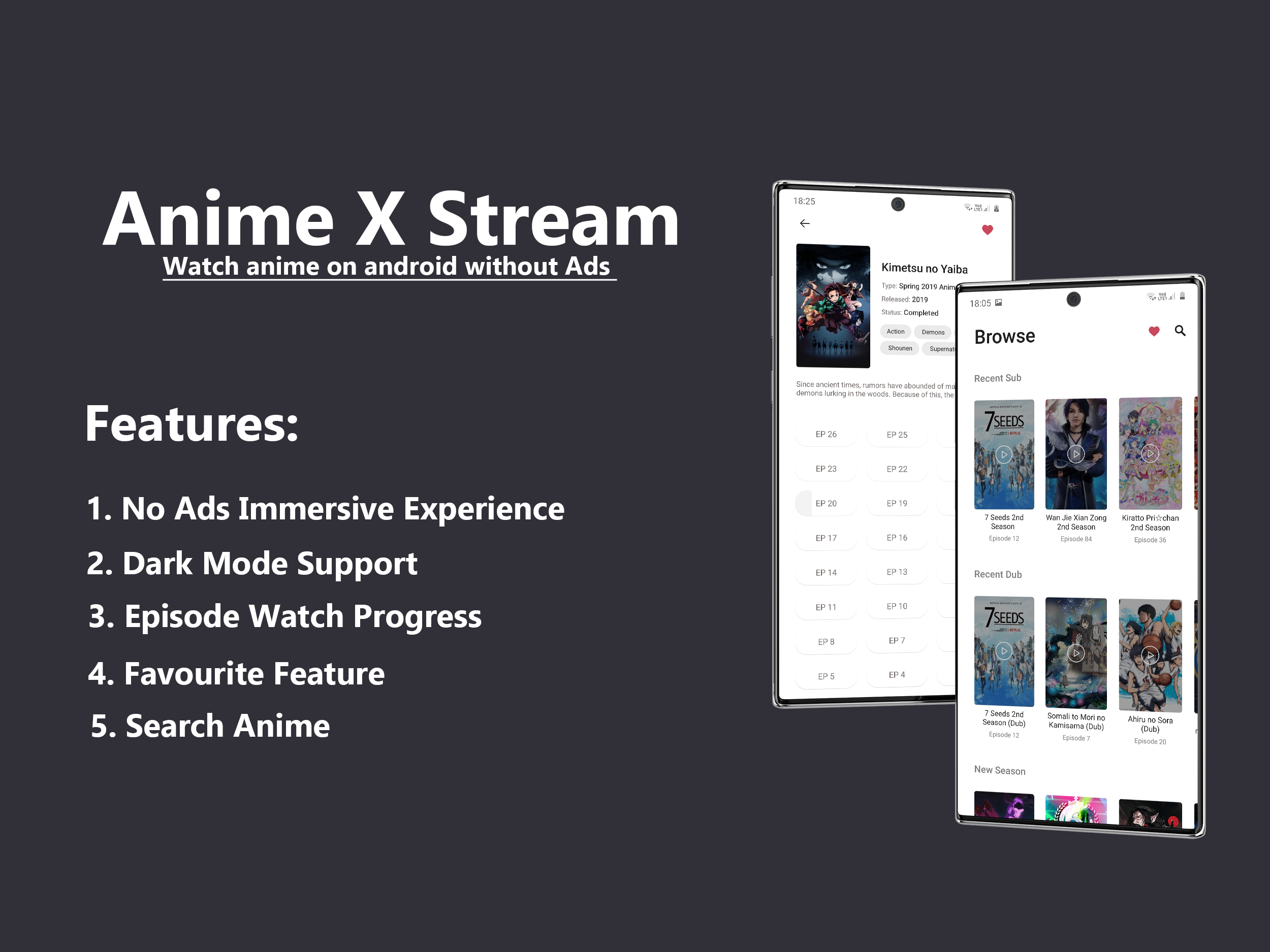 Anime X Stream is an illegal Anime streaming app specifically built for Anime Lovers, specially designed and crafted to watch anime at ease. Search for any of the anime you are interested in watching, click on the title. You can either download the movies and shows or stream them right in the app with English dub and/0r sub.
You can stream or download the latest anime for free without any complications. The interface is pretty simple smooth and you will love the app. Just search for the anime and click on the episode to load. The app supports PiP mode and has HD video support.
3. AnimeBoya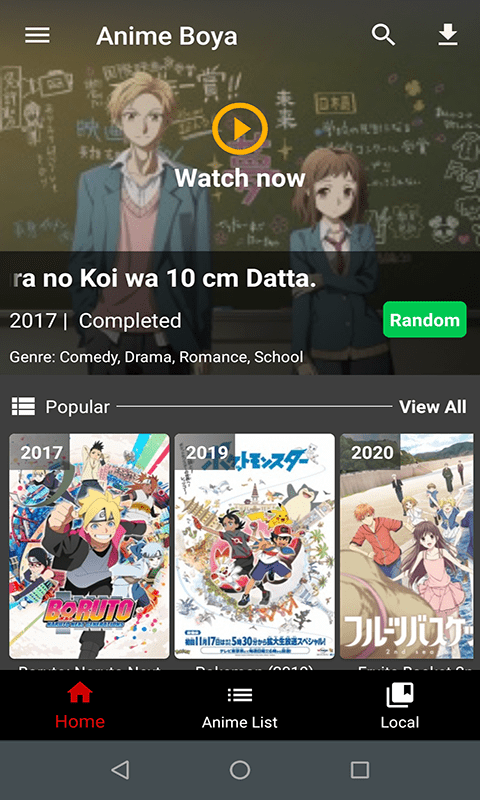 Anime streaming and downloading android applications developed by Tu2l by using Jsoup and other open-source libraries. The app offers a comprehensive catalog of all the popular anime, recent, ongoing, and completed anime.
All you have to do is browse the catalog and discover anime, whether by exploring the categories or by using the search function. All of the material features technical specifications and credits so that you always know what you are about to watch.
4. AnimeLab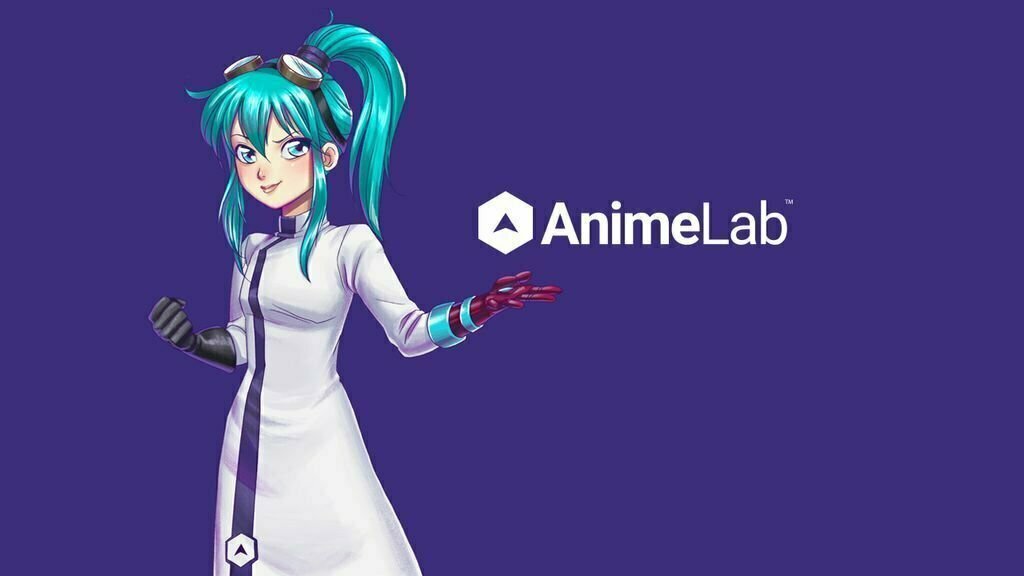 AnimeLab is a free and legal anime streaming service. It offers you all the popular and demanding Anime in one place. The site has a very clean and easy-to-use interface. The platform is available for Australian and New Zealand users but a VPN will do the trick. You get free anime shows and movies subbed and dubbed. Stream the latest episodes as soon as one hour after broadcasts. The basic version comes with pre-roll and mid-roll ads with standard quality and only sub support.
A premium version that costs around $7.99 will offer you English Dubbed Anime. You get some of the best Anime on the platform like Attack on Title, Tokyo Ghoul, Black Clover, Berserk, Kenichi, One Man Punch, Boruto, Death Note, Haikyu, and more. Here is the complete list of English Dubbed Anime on AnimeLab.
Features of AnimeLab
All Popular Animes at One Place
Subbed and Dubbed
Simple and Easy Interface
Simulcast Available
5. RetroCrush TV
As the name suggests Retreocrush is a home for old classic anime. It is a free Anime app that starts with the go. No registration needed but if you wish you can create an account for making a watchlist and access some restricted content. The site though has a very small library but most of the shows are classic popular Anime shows which you can watch on the go. You also get all kinds of Anime from each genre with the English dub and English Sub Support.
A few of the popular titles available on the site include Great Teacher Onizuka, Flame of Recca, Bubblegum Crisis, Fushigi Yugi, Ultra Maniac, Deltora Quest, Blue Seed, and Many More. You get some of the favorite classic Japanese Anime of the Platform for free. The app also has a very basic and simple video player that can load even with decent internet speeds.
Goods About RetreoCrush
Classic Popular Anime
Simple Video Player
Fewer Ads
6. AnimeDroid
AnimeDroid is a one-stop destination for all your quest for Japanese Animation. You get all Anime Movies, Shows, and OVAs from old classics to new and latest shows. The app is simple to use though the initial load may take some time but the videos are loaded pretty quickly. They offer direct video links are Chia-Anime, KissAnime, AnimePlus, and other Streaming Sites embedded in the app. It is one of the best Anime App
Features of AnimeDroid
Simple to Use
Offers Streams from various sites
English and Spanish Dubbed
7. FUNimation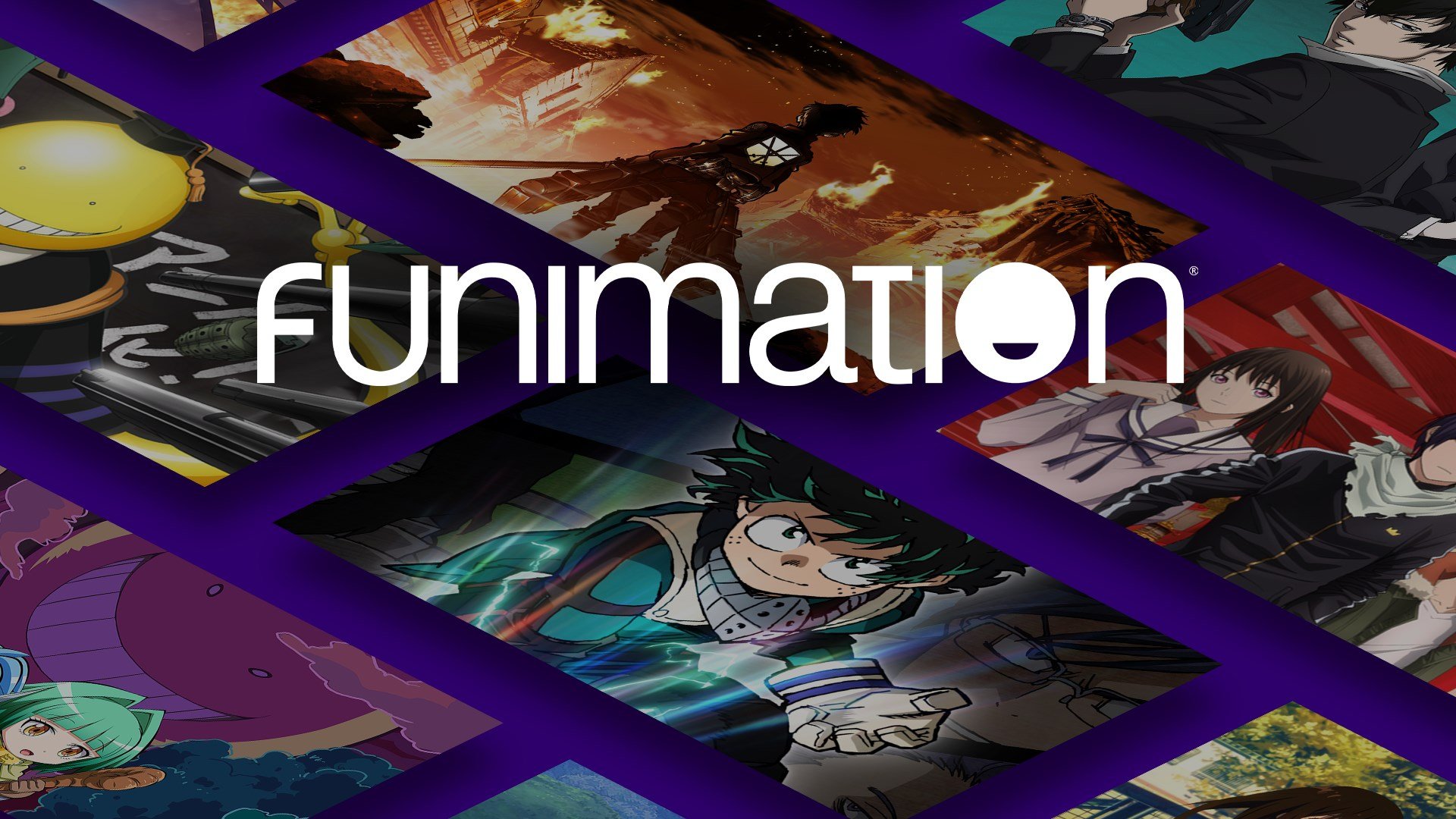 The Funimation streaming service has an impressive collection of anime series and feature-length films, including many hard-to-find titles. Funimation offers curated content with dubs and subs. You get plenty of shows for free with Advertisements and for a few premium Shows, you need to subscribe to the service.
Funimation is owned by Sony, so you can expect all the Sony-owned Anime to be available on the platform. Currently, the simulcast lineup consists of D.Gray-Man, The Disastrous Life of Saiki K, Izetta: The Last Witch, Puzzle and Dragons, and Tales of Zesiria the X. A Premium account on Funimation unlocks access to all of the service's nearly 400 TV shows and 80-odd feature-length films. You get all the popular series and content with a 14-day test trail which is easy to cancel. Here is the Complete list of Shows in English.
Goods About Funimation
Large Library of Anime
Simple to Navigate and Clean UI
HD Quality with Subs and Dubs
Good for Dubs
Visit Funimation | Paid ($5.99/mo)
8. Netflix
You would be leaving in the stone age if you have not heard about Netflix. Netflix is the best place to binge-watch shows, watch movies, and other highly rated programs. The service hosts most of the popular TV shows along with classics, animations, animes, movies, documentaries, and its own originals.
If you are seriously looking for some high-quality anime movies and series, Netflix is the destination to reach out. The platform offers popular series like Naruto, Clash of Titans, My Hero Academia, Hunter X Hunter, Stein Gates, Robotech, Kill La Kill, Violet Evergarden, Soul Eater, etc and movies like Blame!, Miss Hokusai, Naruto and more. Netflix is paid service with Free Trial for one month. It may be called the epitome of online entertainment given its reach and quality of content offered.
Goods About Netflix
Popular Anime Movies and Manga Series
No Ads
Support 1080p
Highly rated Shows and Documentaries
Bads About Netflix
The free 1st month followed by a subscription
Supports limited devices with an account
No manual video quality settings
9. Tubi TV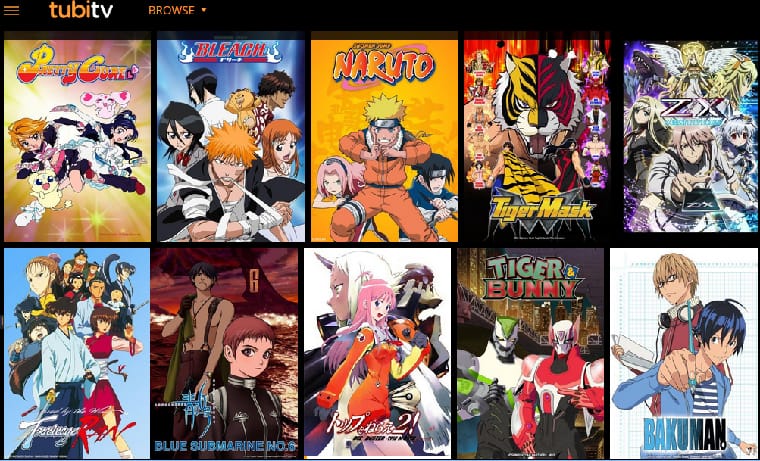 This free service is available globally and houses a bunch of movies and TV shows which is difficult for you to find elsewhere. You can watch Japanese Anime either subtitled or dubbed on Tubi TV. The Tubi offers shows like Sola, Angel Sanctuary, Yukikaze, Spider Riders, etc. The Tubi is regularly updated with anime movies and shows.
With a library now surpassing 50,000 titles, second only to Netflix, Tubi TV is the best source of Movies and TV Shows. The site hosts a number of anime movies and TV Shows for all the age groups and that too without any subscription. But as a necessity, it runs on Ads.
Features of Tubi TV
Subtitle Support and Dubbed Animes
Less Frequency of Ads
Popular Anime Movies for Free
10.
AnyMe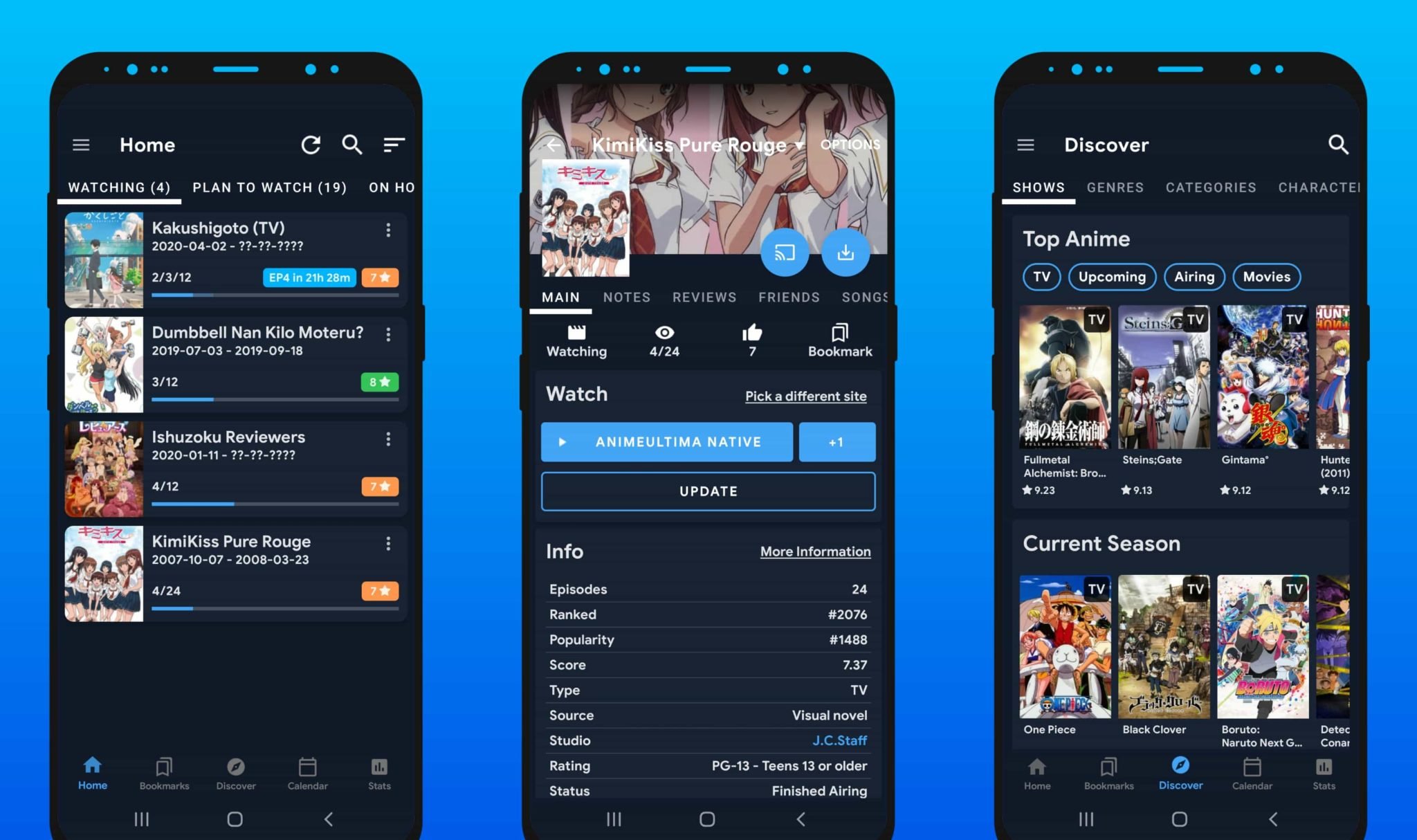 If you are an Anime fan then AnyMe is the App for you. AnyMe is a free Anime Streaming Platform and can be dubbed as Netflix of Anime. You get all the Japanese Animation in one place. Get access to thousands of episodes, movies, and anime OVAs, directly on your Android smartphone. A simple to use app which provides Anime in Subbed, English, and Spanish Dub. The site loads streams from global resources.
You can either directly play the video in the app and if not supported then the app lets you stream the video in any video player like MX Player. Best Anime App if you wish to stream Dubbed and Subbed Anime for Free.
Features of AnyMe
All Anime Shows at One Place
Dubbed and Subbed Anime Videos
Free with No Ads
Internal and External Video Support
11. AniMania
Animania is an illegal Anime streaming app specifically built for Anime Lovers, specially designed and crafted to watch anime at ease. Search for any of the anime you are interested in watching, click on the title. You can either download the movies and shows or stream them right in the app with English dub and/0r sub.
The only issue with the app is unskippable video Ads. Though the Ads are not very frequent, they are good 30-40 secs. If you are comfortable with this then the app is just a blessing for you. You can stream or download the latest anime for free without any complications. The interface is pretty simple smooth and you will love the app.
Features of Animania
Free Anime No Account Needed
English Dubbed and Subbed
Direct Download Support
Simple UI with Easy Navigation
Conclusion: With the apps listed above you can watch all your favorite Anime Movies and TV Shows for Free in English Dubbed and Subbed Versions. Few of the Apps also offer download options for you to watch the anime on the go.
If you've any thoughts on Best Anime Apps for Stream and Download | Eng Dub and Sub, then feel free to drop in below comment box. Also, please subscribe to our DigitBin YouTube channel for videos tutorials. Cheers!