Windows is the most popular Desktop OS with over 75% global market share. The popularity of the Windows OS can be attributed to its ease of usage and support application which allows a number of 3rd party software and services to be used without any complications. The popularity of the OS led to many windows emulators to be used on various systems. Next most popular Desktop OS after Windows is MacOS. It is both open-source and closed system with some limitations. If you are looking to run Windows OS on Mac then there are a number of emulators and virtualization machines applications you can try.
Virtual machines can be called as an advanced Emulators. An emulator is a software duplicate of hardware that exists. For example, an ARM chip emulator. A virtual machine provides services that don't exist, such as the Java Virtual Machine, which provides things like accurate timers and locks that may not be easily available on certain hardware. With a Virtual Machine, you get more than with an emulator.
Emulators are hardware or software devices that enable the host computer system to emulate or mimic any application, software or an entire Operating System. There exist tons of emulators, some are capable of running Linux OS inside Window, Gaming Emulators in Windows or Mac, some allow to run Android on the Windows and macOS ecosystem and so on. If you are looking for applications to run Windows on Mac then I have listed some of the best emulation systems and VM for macOS.
Best Windows Emulators and Machines for macOS
Here are the Best Windows OS Emulators and Software Machines for Mac to run Windows Sofware.
1. Parallels Desktop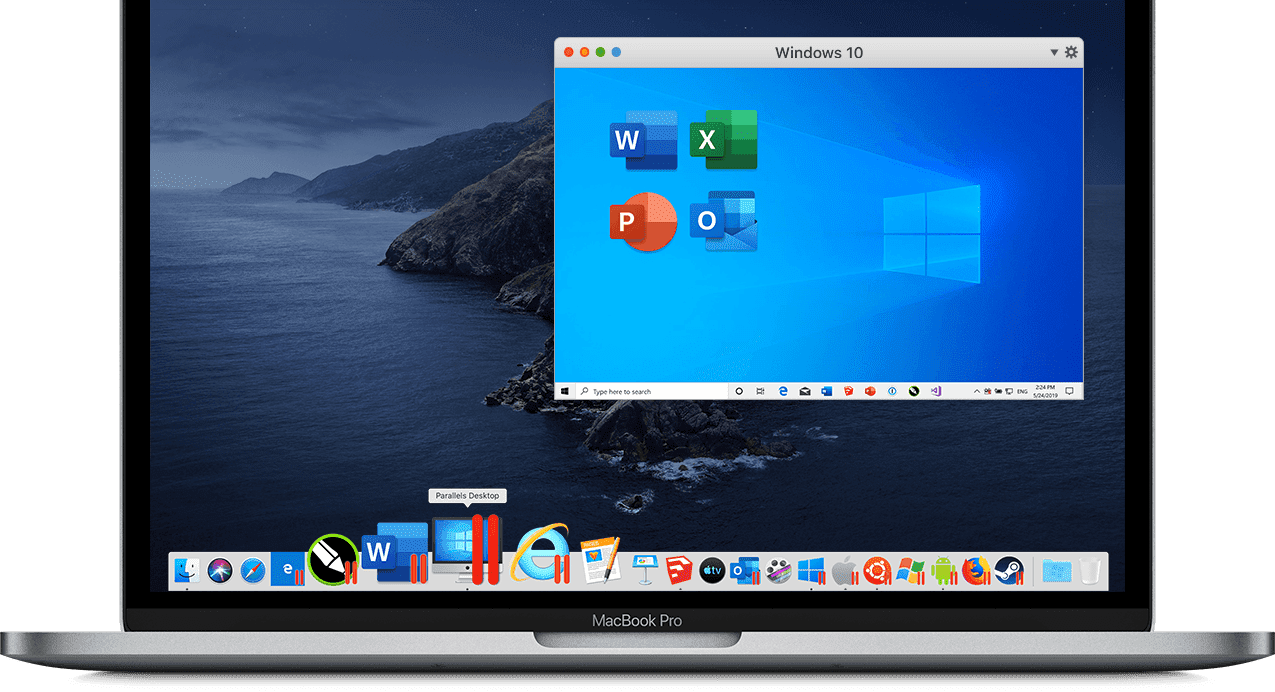 Parallels Desktop lets you run the Windows OS and applications on Apple's macOS as if it is native to the operating system. It's quite a claim to make but we can't help but mention the ease with which it runs Microsoft's OS. It allows booting of the Windows Operating system via three different methods;
From an external drive using an image (ISO) file
Migrate Windows from a PC
Even use Windows from a Boot Camp (if you have used the latter before at least once).
Apart from that, it also holds pretty useful features, that you wouldn't find in other emulators or Virtual machines.
It allows the all-important copy, paste, and drag-and-drop operations related to files and folders from your Mac directly to the Windows platform. Parallel Desktop also includes other handy functionalities like a drive cleanup feature, video convertor, ability to create GIFs, cast and record your screen, audio recording feature, tools to download videos and plethora of other options that are probably hard to find in other emulators. You could even play some of the less-graphic intense games on this emulator. With its recent update, it has also added support for macOS Catalina.
Features of Parallels Desktop
Use Windows Seamless along with macOS
Very simple and easy setup without any complications
The software supports and loads all the resource-hungry apps without any drag.
Download: Parallels Desktop
2. VMWare Fusion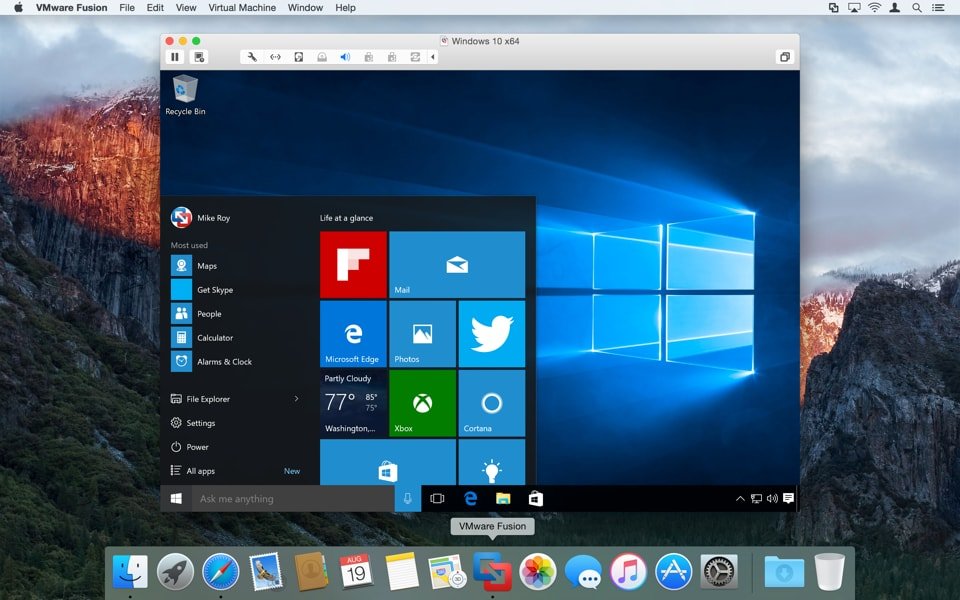 Giving tough competition to our first entry on our list, VMWare Fusion could also be considered as a heavyweight in this sector. One interesting feature of this Virtual Machine is that it has a Unity Mode. This breaks the boundary between the VMWare and your Mac, thereby giving you a feel that your Windows exclusive apps are running in macOS rather than inside any Virtual Machine. Furthermore, the software's Unity View Mode allows you to launch Windows either from the Dock, Launchpad or the Spotlight section.
The software has also undergone a recent update, which has witnessed some major useful additions. Noteworthy among them is an Application Windows that allows you to directly access all your frequent and recent activities. Definitely a time-saver. Moreover, if trying out Windows-based games on your Mac is one of the major reasons why you are onto this guide, then you should definitely go for this software. The reason? Well, this software has incorporated a 3D accelerated graphics engine for DirectX and OpenGL 3.3.
On the other hand, there exists one major difference between Parallel and VMWare Fusion. The former is licensed on a per Mac basis, whereas the latter works on a per-user basis. So if you have more than one Mac at home, choosing VMWare Fusion is a no-brainer.
Download: VMWare Fusion
3. Virtual Box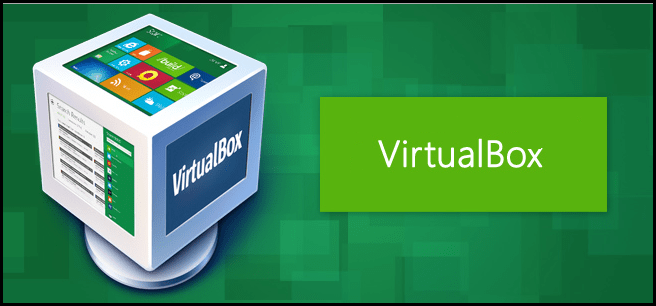 The software provided by Oracle is not as polished and ready to use as the other two that we mentioned above. You will have to get yourself acquainted with some technical jargon for the setup process. Like determining the amount of RAM and the processor's core is all you have to allocate it beforehand itself. The best part about this software is the fact that it's open-source and free of cost (the basic version).
If you want to run a few Windows apps and aren't mostly concerned about going ahead with the entire OS, then this is the application to take the help of, without a shadow of a doubt. Plus it also has tons of tutorials on the internet, so if you ever get stuck during the process, the internet archives will surely be up for rescue. This is something we can't really say for Parallel Desktop and VMWare Fusion.
Download: Virtual Box
4. WineBottler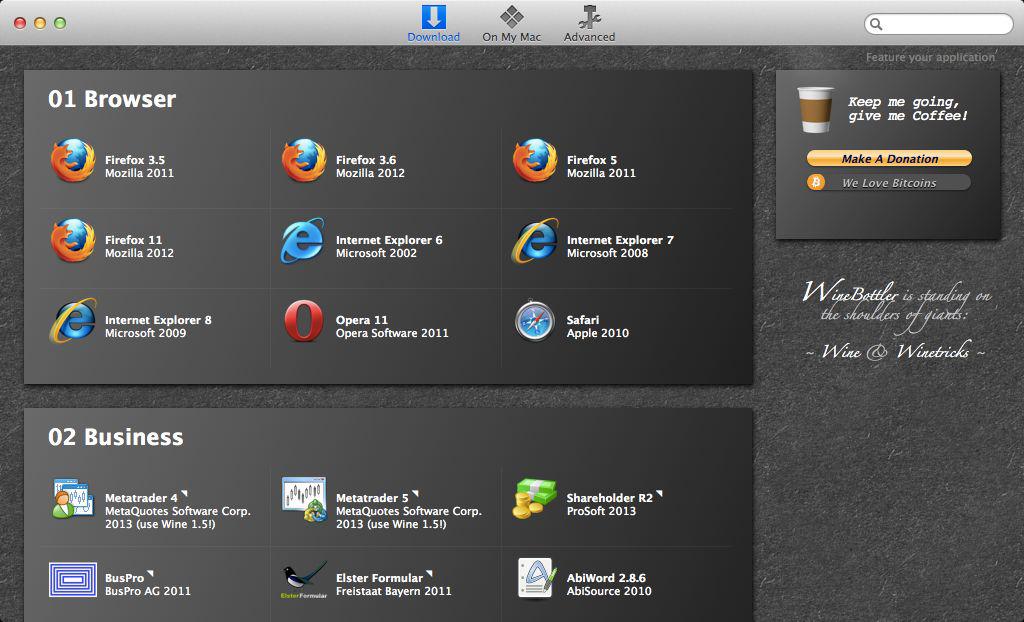 Winebottler is perhaps the most unique software on this list. This is not a Virtual Box and doesn't intend to work that way either. And the biggest plus point that comes out of it is the fact that you don't need to download a Windows OS (ISO file). To clarify things further, WineBottler acts as a middleman between Windows and macOS. It provides an interface that allows you to directly import Windows app in.exe format or create a.app file for your Mac.
So if you are really into testing or trying out a few apps, then choosing this over others is indeed what you should opt for. This is because it saves a lot of time, effort and even your internet by not downloading the heavy image file of Windows OS. However, this software comes with a few caveats too.
The major among them is not all apps are currently supported by it. Even if WineBottler doesn't show that app in the compatible list, try force opening it by right-clicking on that app and selecting Open With > Wine. But doing so might crash this software altogether, so work accordingly.
Download: WineBottler
5. CrossOver
If WineBottler cannot, then CrossOver definitely can. Similar to the former, CrossOver is also a Virtual Machine, rather it also provides a platform for various Windows applications. It supports many of the common Windows applications, including but not limited to MS Office, Adobe Lightroom, DirectX, etc. Apart from that, it also manages to run popular games like Counter-Strike, Diablo, and StarCraft.
The only thing that might stop you from trying it it's complicated setup process, but once you go through it, you will definitely be loving it. Just to reiterate the facts, use this software if you want to try out some of the Windows applications. For a complete Windows OS experience, Parallels Desktop, VMWare Fusion or Virtual Box should be your go-to choice.
Download: CrossOver
6. Boot Camp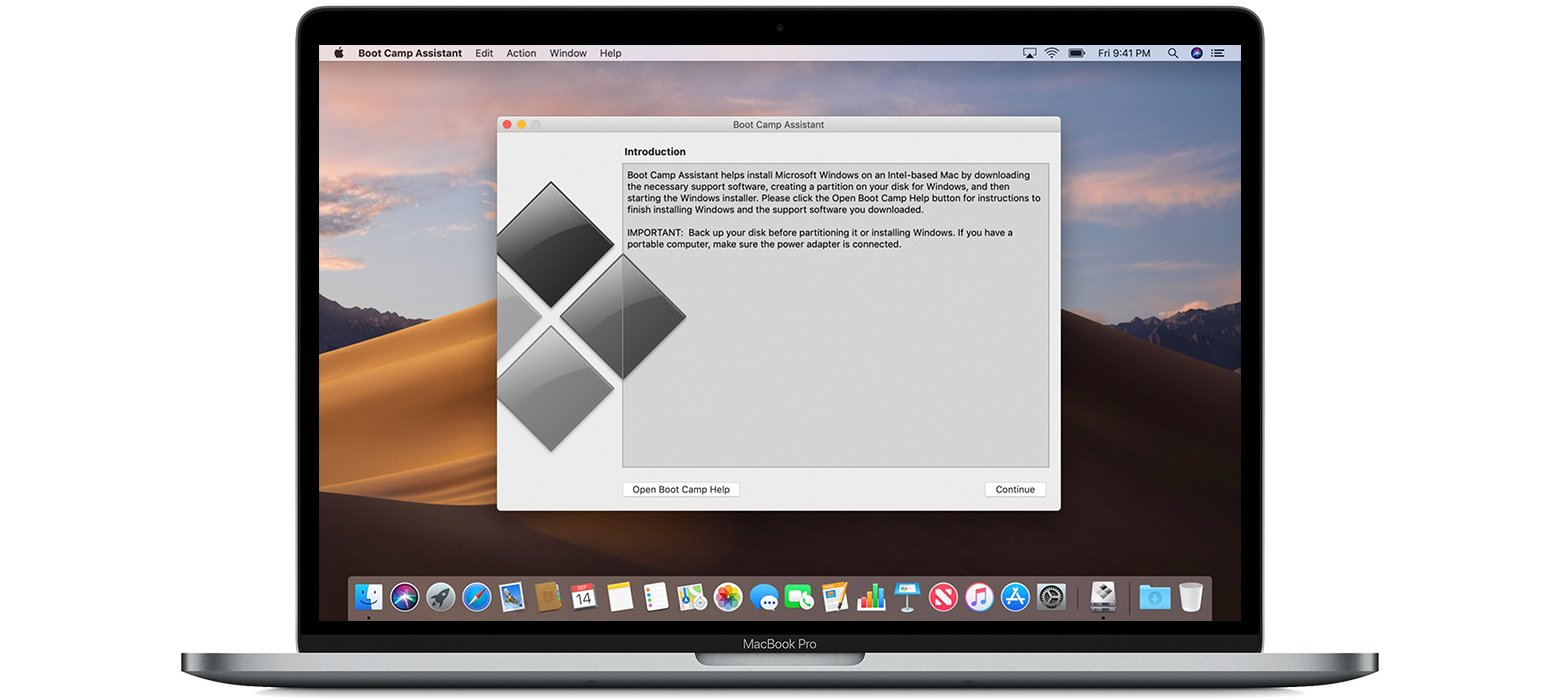 Installing Windows as a real OS on Macbook is the best solution if you are looking forward to running Windows-specific games and software on Apple laptops. Boot Camp Assistant can do the job of installing Windows 10 as a boot OS. These give the Windows OS leverage to all the specifications and power of the Macbook to perform the tasks without any lag or issues. Apple has
guidelines to install Windows 10 on Mac
with the help of Boot Camp. But the only issue is you can run only one OS at the time and need to restart each time to switch between Windows 10 and Mac.
Download: Boot Camp 
Conclusion: The post above provides all the Virtual machines (emulators) which can assist in running Windows Softwares and Applications on macOS. The VM's have their own restrictions, some can be run simultaneously along with macOS while for some you may need to boot with access the Microsoft's OS.
Credit – Saddique Hasan
If you've any thoughts on How to Run Windows Softwares on Mac OS?, then feel free to drop in below comment box. Also, please subscribe to our DigitBin YouTube channel for videos tutorials. Cheers!