Microsoft initially labeled Windows 10 as the final version and planned to provide periodic updates instead of introducing a new version altogether.
Nevertheless, this changed with the announcement of Windows 11, which went from being an abstract idea to an official declaration in just a few weeks. Currently, the firm is developing a new operating system, and it will be Windows 12. At this point, here is what we know.
When Will Windows 12 Be Released?
There has been no official announcement from Microsoft regarding the release of a new version of Windows. It remains uncertain when Windows 12 will be released, as the official launch date has not been confirmed.
However, sources suggest that the next release of Windows will be available in 2024, following Windows 11 in 2021.
According to the updated Microsoft roadmap, future versions of Windows will be released every three years, indicating that Windows 12 should be launched at some point in 2024.
What Features Should You Expect from Windows 12?
It is expected that Windows 12 will introduce new features and enhancements to existing ones when it is eventually released.
The operating system's primary objective is security and optimization, which means you can anticipate a significantly improved level of protection and faster performance compared to previous versions.
Since there has been no official communication from Microsoft regarding the features of Windows 12, it is difficult to know precisely what to expect.
Here are some of the features to expect:
Enhanced Security
People are always worried about security, and Microsoft might aim to improve security with the release of Windows 12. As cyber-attacks continue to increase in frequency, Microsoft may prioritize improving security to offer you a more secure operating system.
Anticipated improvements in Windows 12 include significant enhancements to the existing Windows Defender and firewall protection, which should help safeguard you from malicious threats.
Enhanced Performance
Many of you have been requesting better performance, and although Windows 11 has improved in this area, Microsoft may still work on improving performance with Windows 12.
This could involve using newer processors, including ARM chips and GPUs, to provide a smoother experience with faster boot times, optimized memory usage, and improved overall performance.
Experts anticipate a more optimized operating system with fewer release bugs, errors, and system-breaking problems in the next major version of Windows.
New User Interface
A new operating system is expected to have an updated visual interface, and Windows 12 may be no exception. The new interface will have more dynamic visuals and an improved user experience.
Recently leaked images have given us a glimpse of what the new Windows 12 interface may look like, which was accidentally revealed during the 2022 Microsoft Ignite keynote.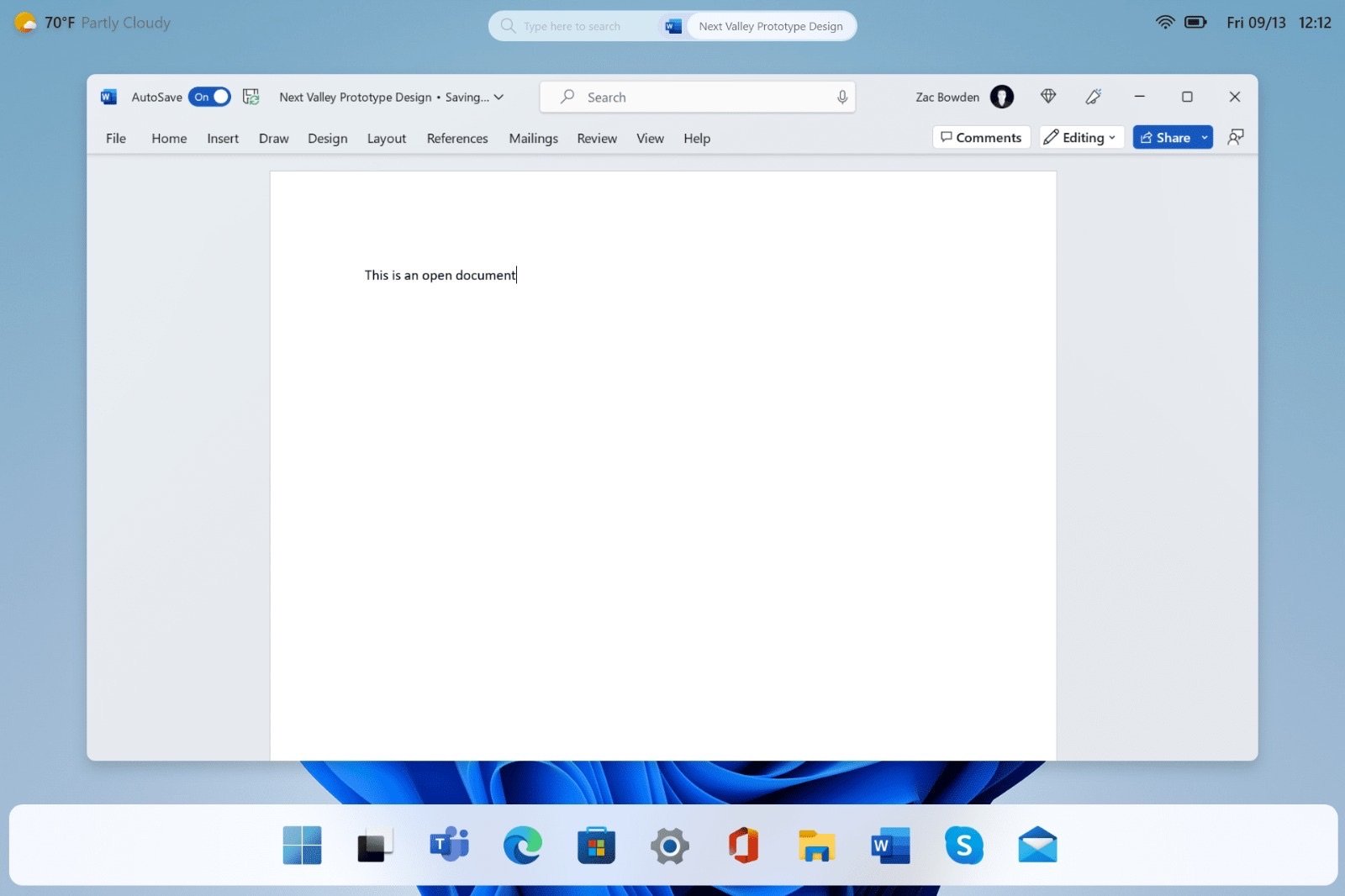 The start menu is likely to be updated, allowing you to customize the appearance of their OS easily. The taskbar is also expected to be more user-friendly, with powerful shortcuts enabling quick program access. Some of you are even hoping for a floating dock instead of the traditional taskbar seen in Windows, similar to macOS.
Rumors suggest that widgets will receive a significant update in Windows 12, allowing you to add and customize them as needed. Dynamic widgets for weather, notes, and calendars are expected to be available and can be moved around the desktop to suit the user's preferences.
Integration of Artificial Intelligence
As artificial intelligence (AI) becomes increasingly integrated into our daily lives, Microsoft may consider incorporating AI as a central component of Windows 12.
The new operating system is expected to feature significant enhancements to Cortana, Microsoft's AI assistant, and machine learning capabilities that can enhance performance and security. Windows 12 will likely have built-in machine-learning capabilities to help you complete tasks more efficiently.
AI could also enhance the OS's security by identifying and responding to threats in real time. Such advanced security features would be precious for businesses that deal with sensitive information.
Additionally, you can look forward to improved cloud integration with AI-powered capabilities embedded in OneDrive and other Microsoft services. This will make it easier to back up data, share files with colleagues, and collaborate on projects in the cloud.
What You Need to See in Windows 12?
Here are some more features and improvements you can expect in Windows 12 that will boost the performance and makes the OS more palatable.
Access Many Android Apps
Currently, you can utilize Android apps on Windows 11 through the Amazon Appstore. However, Microsoft may consider extending this functionality with the release of Windows 12.
This would enable you to access more of their preferred applications on the Windows operating system, making it a more desirable option for individuals accustomed to using Android devices.
Virtual Reality Support
As Virtual Reality (VR) gains popularity, Microsoft might consider integrating VR support in Windows 12. With the growing acceptance of VR technology, it would be logical for Microsoft to include VR support to offer users a more engaging and immersive experience
Enhanced Gaming Performance
Gaming is an essential aspect of the personal computer industry, and users are eager to witness enhanced gaming performance in Windows 12. This may encompass improved graphics support, reduced load times, and seamless gameplay.
Customization Options
Users desire the ability to tailor their operating system according to their preferences, such as altering themes, colors, and fonts to personalize their user experience. Additionally, many users prefer built-in support for animated desktop backgrounds and the ability to add interactive widgets and other elements.
Windows 12 System Requirements
Your computer needs to satisfy the minimum system requirements to install Windows 12. These requirements are expected to be comparable or identical to those for Windows 11.
You'll need a 64-bit processor, a 1 GHz CPU clock speed, at least 8 GB of RAM, and 64 GB of storage. The initial setup will also require an internet connection and a Microsoft account.
Processor: 1 GHz or faster with 2 or more cores on a compatible 64-bit SoC
Memory: Min 4 GB RAM
Storage: 128 GB or more
System firmware: UEFI, Secure Boot capable
TPM: TPM Trusted Platform Module (TPM) version 2.0
Graphics card: Compatible with DirectX 12 or later with WDDM 2.0 driver
Display: High definition (720p) display, greater than 9-inch diagonally and 8 bits per color channel support
What's the Price of Windows 12?
Windows 12 may be offered as a free optional update for those with Windows 11 and possibly even for those with a legitimate copy of Windows 10. However, if you require a new license, you can acquire the digital version from Microsoft's website or other authorized retailers.
According to current information, Microsoft will set the price for Windows 12 at a comparable level to that of Windows 11. The Home edition will likely cost $139.99, while the Pro edition will cost $199.99.
Meet Windows 12 (Concept)
Final Word
There is a lot of anticipation and excitement among tech enthusiasts about the potential of Windows 12.  Windows 12 is expected to have many new features and improvements compared to its predecessor, Windows 11. It will offer a better computing experience for casual and power users. We will continue to update you as new information becomes available.
If you've any thoughts on Windows 12: Everything We Know and Need to Know , then feel free to drop in below comment box. Also, please subscribe to our DigitBin YouTube channel for videos tutorials. Cheers!