Diablo is a very famous gaming series running from the past 23 years. This game is based on the main, Diablo Universe. This will be there first game, which they are developing for mobile users. The teasers of this game have shown that the storyline of this game will be like Diablo II and Diablo III.
In the game, players will have the option to team up with other members and fight with the evil forces or battle alone in combat. You also have to build the strength of your character by fighting with different monsters.
Diablo's experience on touch-screen devices would be smooth. Intuitive actions, gestures, and touch controls put you in full command of your hero.
Diablo Immortal Release Date
The game is set to have a regional beta test version released at the end of 2020. But there is no official word on the global stable release. The game is still in development and the Developers Blizzard regularly come up with news of new developments being made in the game.
But you can surely pre-register the game to get a early access if released or be the first to download the game once launched.
GamePlay
The mobile display has a directional thumb and abilities/power buttons. The player can aim the ability by holding its button. For example, Wizard's abilities include electricity ray that boomerangs back to the character, dealing damage twice. Similarly, you can unlock multiple skills and use them in the character class according to the enemy and game level. Defeated enemies drop loot that can be equipped to enhance your skills and battle abilities.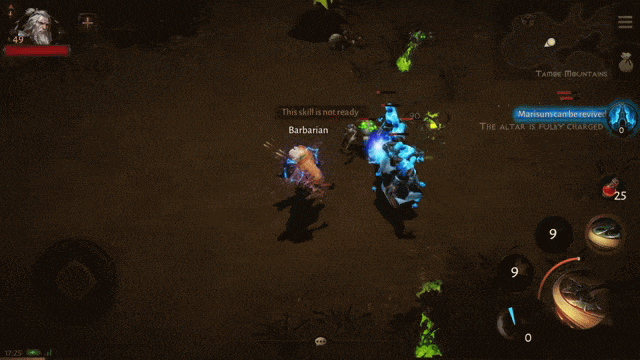 Character Classes
Barbarian – A savage wanderer and mighty weapons expert.
Wizard – A rebellious academic and living conduit of arcane power.
Necromancer – A commander of the dead and manipulator of life and death.
Demon Hunter – A vengeful stalker and crossbow-wielding adept.
Crusader – A towering colossus and wrathful zealot.
Monk – A swift, sacred warrior and a master of martial arts.
Is Diablo Immortal free-to-play?
It's currently unknown if Diablo Immortal is going to be free-to-play, although it does look like it. During the BlizzCon, even in later 2019, the developers said they are unsure how to monetize the game so we can't say where it will ve a free-to-play, freemium, or have to make a one-time purchase.
Diablo Immortal Gameplay | BlizzCon 2019 (EU)
Conclusion: The game is still in the development stage. If you need any information on game-related updates follow the official blizzard page.
If you've any thoughts on Diablo Immortal | Mobile GamePlay | Release Date & Everything you Need to Know, then feel free to drop in below comment box. Also, please subscribe to our DigitBin YouTube channel for videos tutorials. Cheers!