Audio files, like any other data type, can be easily corrupted in case of software failure or a virus attack. WAV file is one of the standard audio formats we use daily in the form of podcasts, audio tapes, or music. Because of its huge demand, file corruption will likely affect this format, so what can you do to repair those corrupted WAV files? Many MP3 repair tools on the web can help you in that scenario, such as Wondershare Repairit, which we will discuss thoroughly in today's article, along with its exciting features.
Part 1: Understanding Why WAV Files Get Corrupt on Computer
Before tackling any issue, we first need to be aware of its source to avoid it in the future. Video downloader plus no audio or other WAV file issue can occur for various reasons. So, let's discuss those reasons:
1. Incompetent Compressing Software
Often while dealing with large files, we need to compress them because not every platform can deal with huge files. Internet is crowded with countless compressing software but are they all reliable? Of course, not every compressing software is trustworthy to deal with your essential audio files. Poor and incompetent software can corrupt your important WAV files, so always ensure you're using reliable compressing software.
2. Irregular System Shutdown
Usually, in a hurry, we shut down our computers without closing the running files, which can damage those files. Irregular or improper system shutdown can corrupt your running files easily, which can cause a panicking situation. It can create glitches or even make a WAV file inaccessible to you. So now, before thinking of shutting your computer in a hurry, you must also consider the consequences.
3. Virus Raid
Viruses can be a cause of countless issues in a computer, but how do these vicious viruses and malware enter your computer system in the first place? The internet is a hub of these viruses, which enters the computer system through pop-up ads and websites. After entering the computer system, these viruses start corrupting your essential files without letting the system know. Virus attacks can only be avoided if you've got a solid anti-virus installed on your computer.
4. Interrupted Transfer Process
Interrupted or incomplete transfer process of WAV files can result in getting corrupted. Sometimes during a transfer of audio files, the process gets interrupted or canceled due to unstable internet or the sudden removal of an external device. This interruption might seem normal, but it can corrupt your essential files. To avoid this stressful scenario, ensure you have a proper running system before making any transfer.
5. Bad Sector on Storage Device
If a storage device such as a hard drive or SSD card has a bad sector, it can corrupt your WAV files. The hard drive is a primary data storage source; it must remain stable to protect your data from any unfortunate situation. Bad sectors on a hard drive or a damaged hard drive can cause file corruption, so always keep your hard drive well-maintained.
Part 2: Guide to Use Wondershare Repairit for Repairing Corrupted WAV Files
As we know, corruption in the audio file is just as common as in another file format, so we must feel a need to have a reliable audio repair tool that can repair every commonly used audio format. Wondershare Repairit falls perfectly as a contender for an audio repair tool; its easy-to-use and stylish interface makes it effortless to navigate, even for beginners. Besides having a handsome interface, this tool supports M4A, WAV, AAC, FLAC, and MP3 audio file formats with a high success rate of 95%. Impressive, right?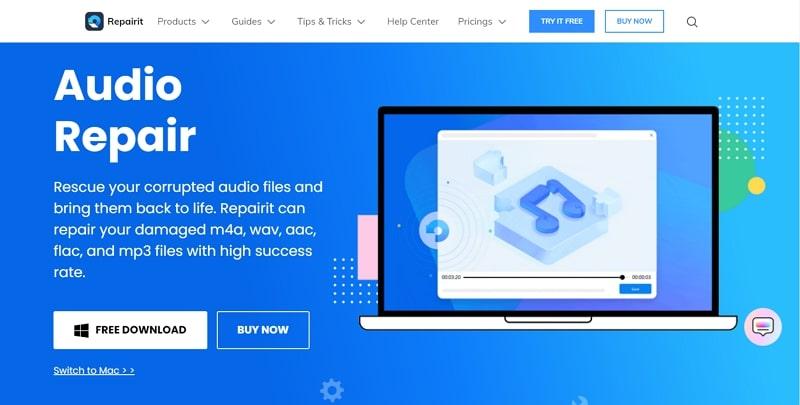 Typical scenarios of audio corruption, such as Humming, Clipping, Rumbling, or Sibilant audio, can be repaired with the Repairit audio repair tool. Further, this excellent audio repair tool offers a preview feature by which you can review the repaired WAV files before saving them on your computer.
Guide on Repairing WAV Corrupt Files on Wondershare Repairit
Step 1: Install Wondershare Repairit Audio Repair Tool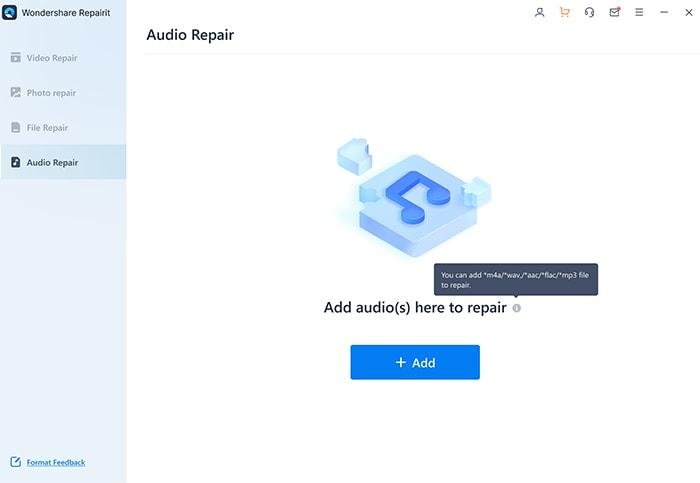 Download the Wondershare Repairit audio repair tool and launch it on your computer. Now from the left sidebar, click on the "Audio Repair" bar, then click on the "Add" button with a + sign to upload the corrupted WAV file(s). Once you upload the corrupt file(s), you'll see the display's basic file info, such as name, format, size, and path.
Step 2: Start Repairing the Corrupt WAV Files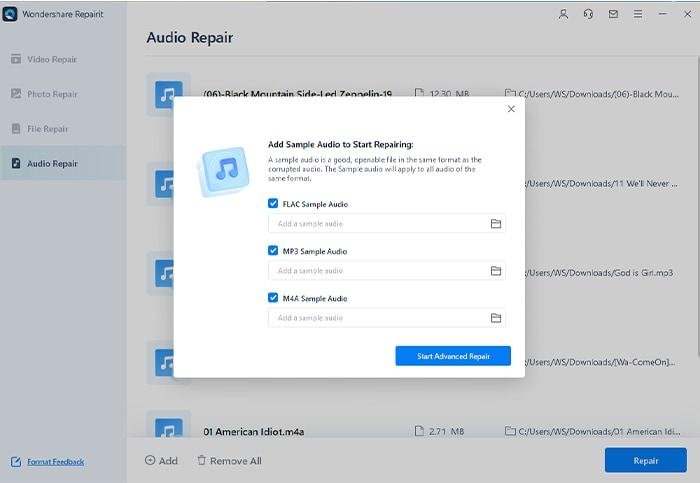 Now click the "Repair" button to start the repairing process; a small window will appear on the screen, asking you to upload a sample audio file. Remember to upload a file recorded from the same device as the damaged one.
Step 3: Preview the Repaired WAV File(s)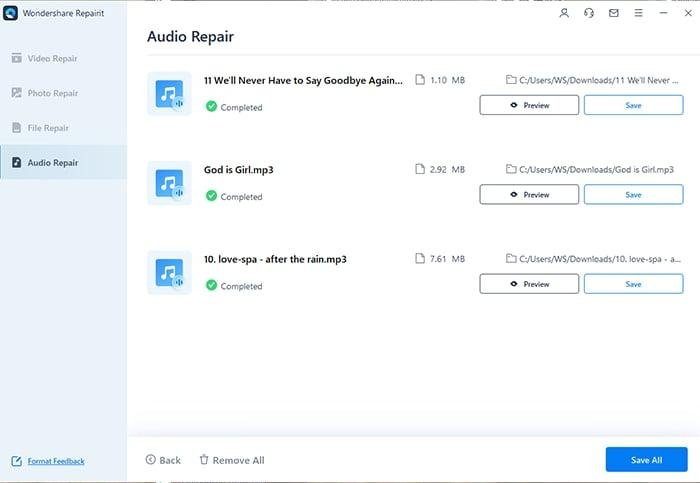 Once the repair process is done, you can preview the repaired WAV file(s) with the preview feature. Click on the "Preview" button under each file to review the file to ensure the repair was up to the mark. After being satisfied with the repair, you can save a file on your computer by clicking the "Save" button under the file you want to retrieve.
Part 3: What Are the Other Prominent Features Offered by Wondershare Repairit?
Wondershare Repairit comes with some exciting features besides the audio repair tool. So, let's shed some light on those prominent features as well.
1. Video Repair
Repairit is popularly known for its video repair feature; if you've faced a video corruption issue and want to fix it immediately, then Repairit must be your top choice. It offers to repair various standard video formats such as MOV, MP4, M2TS, MKV, MTS, M4V, MPEG, and ASF in only three simple steps. This impressive tool comes with two modes, Standard and Advanced. Standard Mode deals with basic issues, while Advanced Repair Mode repairs severely corrupted files.
2. Photo Repair
Photos can get corrupted in case of incomplete download or virus attack. Issues like inaccessible, pixelated, or grey area photos are common, but with Repairit smooth photo repair feature, you can fix them quickly. It offers JPEG, PNG, JPG, CR3, CR2, NEF, NRW, RAF, DNG, ARW, and many more photo formats, along with advanced batch repair features. Further, it can repair photos regardless of the device clicked on, such as USB flash drives, memory sticks, SD cards, digital cameras, and phones.
3. File Repair
Corrupted or damaged PDF, Excel, PowerPoint, or Word files can be repaired on Repairit without compromising the file's content. Issues like inaccessible unreadable, and garbled files can be stressful, especially if you want to access those files immediately. With Repairit, these panicking scenarios can be repaired in a few minutes with a one-click repair feature. You can repair multiple files simultaneously and preview them afterward before retrieving them on your computer.
Conclusion
Wondershare Repairit facilitates its user in fixing their damaged WAV files without compromising the original file's quality. The easy-to-navigate interface makes the repairing process super easy and smooth. This audio repair tool is not only classy in appearance, but its fantastic features like preview and the quick system make it an ideal choice. So now you know what tool to choose if you're facing an issue of WAV file corruption.
If you've any thoughts on Is Your WAV File Corrupted? Repair Your Audio with Repairit, then feel free to drop in below comment box. Also, please subscribe to our DigitBin YouTube channel for videos tutorials. Cheers!