India is a vast country with people living in cities, towns and villages which itself range from plain regions to the hilly area. It is a big problem for Indian Tele companies to provide its services with consistency in every corner of the country. It's the general experience for Indians that a SIM card giving good internet speed in one of the rooms in the house may not even catch signals in other rooms.
At present the Indian telecom sector is under great turmoil, which we can comprehensively call as 'Telecom revolution of India'. The companies are fighting hard to get new customers and also retain the old one by offering their services at an inexpensive price due to the competition.
The growth in telecom usage has been on exponential surge within a decade thanks to affordable smartphone arena and development in new digital services along with cheap bill plans which have made India one of the biggest consumer of internet and telecom services.
In India, there are around 13 big and small mobile network operators offering prepaid and postpaid services but all can't top the charts. So, let us look at the top 10 best GSM and CDMA mobile cellular network in India:
Note: The rankings are based on various surveys, research, polls and users opinions. Your views may vary. Discretion is advised. Below is the list of telecom companies in India.
Top Mobile SIM Networks in India | Best Operators
Here are the Best Mobile SIM Card Networks in India offering high 3G, 4G internet speeds, good coverage and great offers.
1.  Airtel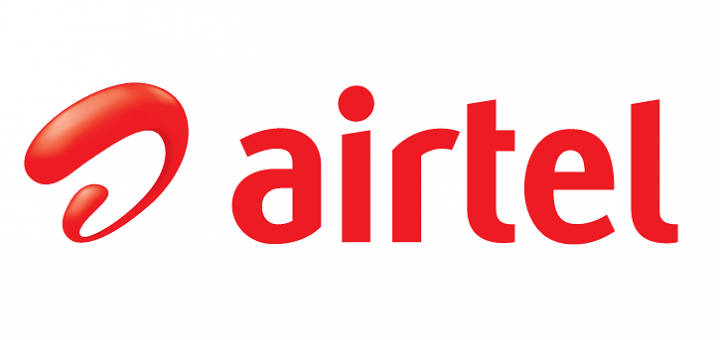 Airtel is one of the biggest cellular networks in India. It's services like My plan and Airtel Money is quite popular. Airtel provides some of the very good internet speeds and with its solid coverage, you will rarely have any connectivity issues when travelling. But it is a bit pricey as compared others but their services are worth paying that little bit extra.
You can say that Airtel is second next to BSNL in terms of remote regional availability. Airtel network also offers some exclusive online service
Now due to increased market competition, they are offering data and voice calls at an affordable price. They are offering some great internet offers to keep their customers happy.
After complete acquiring Telenor. Airtel has opened its wings to give a stiff fight. Airtel will get Telenor services which are available in 7 circles, serving more than 55 million customers at very low internet price and call rates. This will boost the Airtels customer base and also the coverage network.
Read: Trick to convert 2G data into 3G speed
Airtel is second only to BSNL in nationwide coverage providing best connectivity & reliability with good average speed. With the 4G rollout, the Airtel network is going to be even better given its 4G speed.
It has established itself as the biggest competitor to the Jio and was able to retain and regain the subs which were once on a flow outward.
Goods:
Nationwide coverage (Urban and rural)
Good connectivity
4G services
Solid network
A lot of offers
Good customer care support
Telenor users can rejoice as Airtel's acquisition will increase network coverage and connectivity.
Bads:
Pricey as compared to others
Not the fastest of net speeds
2. Jio
Reliance Jio is said to be the world's biggest startup with over Rs. 1.5 Lakh Crore invested in this mega project. The company has acquired rights for 4G services in all circles of the country. With its cheap tariff plans and a number of occasional freebies, the project for sure created ripples across the telecom sector of this country. All other companies were forced to lower their tariff plans due to the outflow of subscribers.
Jio can be said to have created what is called Telecom Revolution by offering free voice calls, no roaming charges, unlimited night data and a free subscription to the bunch of useful apps like JioTV, JioSaavn, JioCinema etc along with other exciting offers.

Under Jio Prime membership it offers extra benefits which are surely exciting the customers to avail the new services by Jio. The prime offer is a good strategy to retain the customer base and excite new potential customers to buy their service.
Jio for sure has given head-to-head competition to the already established telecom networks. Sooner or later Jio is looking forward to making big with offering MSO cable services.
Goods:
No charges over voice calls
Good 4G Speed
Free subscription to Apps
Low tariff plans rate
Bads:
Poor voice quality
Call Drops
Unstable connectivity
No 3G phone support
3.  Vodafone
With the merger of both the networks, Vodafone Idea is now India's largest telecom operator. The drawbacks and benefits of both the companies balanced each other to make it one of the best SIM Card Provider in India. One offers good stability while others give high speeds. This bonhomie will benefit the customers the most, giving them a stable network along with good data and call quality.
Idea cellular provides good coverage in urban and rural areas. It provides good internet speed but generally has expensive tariff plans. You may face few issues of call drops and low signals while travelling but still Idea is a very good choice when it comes to net speed and customer service.
If you are looking for something with good speed and stability with good rural coverage then Idea is for you. 
Vodafone used to be one of the weakest nationwide mobile carriers but with time, this carrier has shown its potential. The services provided by Vodafone are good and so is its 3G & 4G speed which is very high as compared to others. But it's rural coverage is poor and is, therefore, suitable mostly for urban areas.
With average network coverage and the high price, it is liked only by masses but given that its speed is awesome, it gives great user experience for any general internet user.
Goods:
Excellent internet speed
Good coverage with excellent stability in urban and rural areas
Appreciable price
4G Services
Good customer care service
Bads:
Not for remote areas
Not good during travel
Issues with call connectivity in many regions of the country
4. BSNL
BSNL or Cellone is unarguably the biggest and most widespread cell phone carrier in India with coast-to-coast nationwide coverage with consistency. With BSNL SIM card in your pocket, you can travel to any corner of the country. The best part of BSNL is it offers 2G and 3G at the same price but its net speed is substandard with very poor internet connectivity. It has not acquired 4G rights for PAN India.
With solid coverage and great value for money, BSNL is the best Bang for your Buck but its poor internet speed and connectivity could be a critical factor.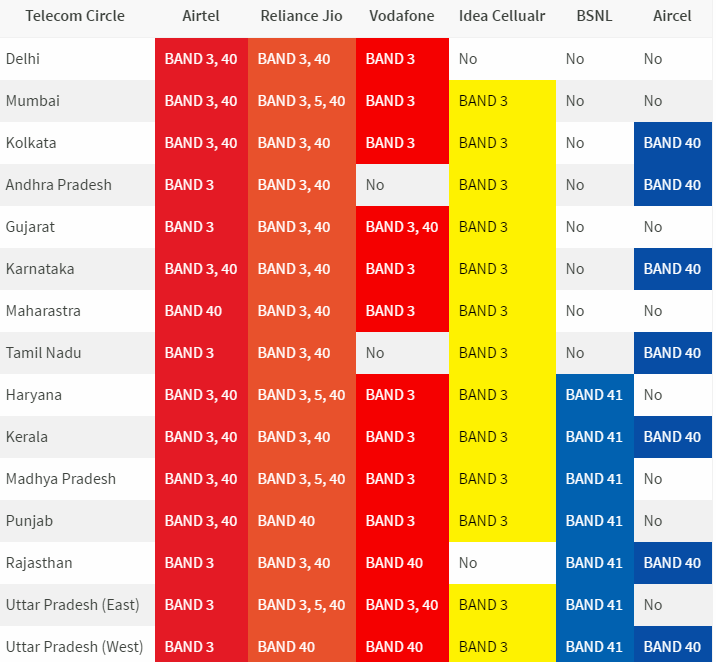 BSNL is offering a great value for the price on the internet which is just enough to create headaches for the counter companies. They are always coming up with some exciting offers to keep the users engaging with the network provider.
Goods:
Widest network in the country
Low internet price
3G and 2G at the same price and same speed
Many offers based on different categories
Bads:
Poor internet speed
Issues with call and connectivity
Average customer care support
5.  Tata DoCoMo
Tata's collaboration with the Docomo telecom of Japan gave birth to Tata DoCoMo. Docomo's weakest attribute is its network which is limited only to cities and towns. If you live in an urban area, you're probably safe, but stepping out too far into the suburbs will cause connectivity problems. But it offers its 3G services at prices which are very low as compared to others. It also offers other value-added services at fairly low cost.
If you live in an urban area than Docomo is meant for you giving you a top-notch service with some cheap tariff plans.
Note: The Tata Docomo is in talks with Airtel to sell out.
Goods:
Low internet prices
Excellent network of towns and cities
Good internet speed
Exciting offers
Bads:
Not recommended even when travelling
Extremely poor rural coverage
Unstable signals in many parts of the country
6.  Aircel
(Aircel is Shutdown.) Aircel may not have a PAN India network but its presence in limited demography in southern and eastern India with lower customer base has made it favourite one because of low congestion in the networks, excellent customer support,  low prices and good offers.
It provides 3G and 4G services at affordable price and super high speed. A survey conducted by Mint-instaVaani ranked Aircel as a top cellular network in India better ranked than Airtel and BSNL but looking at its limited presence they love to be customer-centric organisation.
Read: Best 4G Networks and 4G Circles in India
Goods:
Superb speed
3G and 4G at an affordable price
Excellent network and connectivity
Excellent customer care support
Bads:
Only serves the limited demographic region in the country (South and eastern part)
Do not have a nationwide network
7.  Reliance Telecom
Reliance was first introduced as CDMA network and later it stepped into GSM field. With reliance, you will get some very good 2G and 3G data plans at very low cost. It didn't acquire many circles for 3G but still, it offers good speed on EDGE. You may face some issues while calling like voice echo and zero response. It is also going to launch its 4G services in the near future as the company has partnered with Reliance Jio.
With good internet speed and low pricing, reliance is a great network to use but it has poor rural coverage. As of the reports the Reliance industries are selling their telecom wing to Jio Digital.
Note: The Reliance is also selling its stocks to Jio
Goods:
Low internet price
Affordable 4G prices
Good connectivity and customer service
Lots of freebies
Bads: 
Average rural coverage
Voice call and network issues
8.  MTNL
Mahanagar Telephone Nigam Limited (MTNL) is a state-owned service provider headquartered at New Delhi which provides its services in metro cities of Mumbai and Delhi. Due to heavy competition in the market, the company is losing its base and money. It offers broadband internet and 3G services. The company also operates in Mauritius as Mahanagar Telephone Mauritius Limited (MTML).
Read: Download Paid Android Apps for Free 
9.  MTS India
Mobile TeleSystems provides wireless voice, broadband Internet, messaging and data services in India. MTS operates in 9 circles across India. It offers high-speed broadband data and serves around 9 million subscribers. MTS has its stronghold in the broadband network in metro cities.
Frequently Asked Questions (F.A.Q)
1. Which is the best SIM Card in India for the internet?
Ans: If you look for the country as a whole rather than different circles, BSNL is the best. It acquired the right to provide 3G services in the entire country. Also, it offers 3G and 2G at the same price. In fact, there is no 2G for BSNL. They are also offering great exciting data offers at a nominal price. After BSNL we recommend Airtel.
2. Which is the best SIM in India for rural/village areas?
Ans: Every region has a respective network king, different service providers offer their best in different regions. In rural areas, network stability is the most important factor as coverage is limited and therefore in such case, Airtel is the best. BSNL is also a good option to choose but after all, it all depends on the consistency of connection in your area.
3. What is average 2G, 3G and 4G internet speeds in India?
Ans: TRAI has set limits for internet speed over cellular networks in the country. So, all the network providers have restrictions on net speeds. Actually, all SIM Networks provide an average 2G speed of 40 – 130 Kbps, 3G speed of 1 – 1.8 Mbps and 4G speed from 14 – 25 Mbps.
4. Which is best the SIM for travel to India?
Ans: BSNL and Airtel due to solid nationwide coverage.
5. Which SIM provides the fastest internet speeds?
 Ans: There is no sure answer for this question but Vodafone has proven to be the fastest among its counterparts when it comes to 3G. And Jio and Airtel are great speed for the 4G network.
6. Which is the Best 4G Network?
Ans: The market is under intense competition for retaining the subscriber base and gaining new subscribers. The telcos are offering all types of goodies to retain the user.
I think Jio should be the first choice followed by Airtel India.
7. Which SIM Network is best for North East India?
If you have a dual SIM device I prefer you to use BSNL and Airtel given the hilly and mountainous region. I don't know how the other SIM card works but BSNL and Airtel are the ones for which you should go for.
Subscribers in Millions as of December 2018:
Vodafone Idea – 433.80
Airtel India – 343.53
Jio Infocomm – 252.21
BSNL – 113.07
Reliance Communications – 102.40
Tata Docomo – 21.98
MTNL – 3.59
Conclusion: 
With the Data above I have tried to rank the telecom mobile operator companies in India according to their availability, usage, price and user experience.
The rankings are based on polls, survey, and other research. Readers personals views may vary. If you have any suggestions for improvements please comment below. Do share your views. Cheers!
If you've any thoughts on Top 10 Best Mobile SIM Networks in India (2019), then feel free to drop in below comment box. Also, please subscribe to our DigitBin YouTube channel for videos tutorials. Cheers!