Rainbow Six Siege is a strategy game that will leave you in a good mood more often than not. There are some crazy and unpredictable things that can happen in this game, whether you get matched up in a 1v4 or 1v5 with low health or if you are in a squad with friends. However, there are some frustrating things as well. Rainbow Six Siege has apparently been stuck in a long queue on PS5.
Nevertheless, as we already stated, there is no need to panic since we can solve this error with some easy fixes. However, if you are interested in knowing those magical fixes, make sure you read this guide through. Hence, let us begin.
Are There Anyways to Fix The Rainbow Six Siege Long Queue Time On PS5?
Yes, of course, there are some easy and effective fixes available that you can use to resolve the Rainbow Six Siege long queue time on PS5 error. And guess what? We have gathered and compiled all the fixes here in this article.
Therefore, make sure to perform them and check if these fixes help you to resolve this error or not. But, before that, let's check out some of the potential reasons behind the occurrence of this issue.
Potential Reasons:
A Poor internet connection.
Outdated OS.
Your game may have some pending updates.
Servers are facing downtime.
Account gets banned.
Fix 1: Restart Your Game
One of the foremost things you should perform in the initial stage is to restart your game, as there are chances that your game may have some technical glitches due to random bugs. So, when you restart your game, it should be freshly started without any glitches, which gives you a smooth experience.
Also, chances are there that the Rainbow Six Siege long queue time on the PS5 issue gets resolved by this. However, in case the issue won't get resolved, then don't get panic, as we have more fixes for you further in this guide.
Fix 2: Power Cycle Your PS5
If restarting your game won't let you fix the issue, try rebooting your PS5. Well, it is recommended to not just reboot your PS5 but instead to power cycle it. Yes, this will make sure to remove all the cache files stored on your PS5 over time while using it. However, to power cycle your PS5, perform these steps:
Initially, hold and press the PS button. This will open the PS5 control center menu.
After that, select the Turn off PS5 option from the opened control center menu.
Now, simply plug out all the cables from your PS5 and wait for a few minutes.
Then, plug in all the cables and boot your PS5.
That's it. Now, launch the game and check if the issue gets resolved or not.
Fix 3: Make Sure Your Are Connected to PSN Network
Did you check if your PS5 is connected to the PSN network or not? Well, chances are there that you may have accidentally logged out from the PSN network due to which your console fails to connect to the server and resulting in this type of error.
Therefore, you can use these steps in order to connect your PS5 to the PSN network:
Go to your PS5's settings.
After that, reach to Account Management.

Click the Sign In button and enter your PSN network credentials (email and password).
Finally, hit the Confirm button to log in.
Fix 4: Check The Game Servers
As we know that this is a server-based game, and to play the multiplayer option, you need to connect to the game servers. But, sometimes, due to a network or downtime issue, your console isn't able to connect to the Rainbow Six Siege servers, resulting in this type of annoying error.
Therefore, to verify if the game servers are working or not, you must check the DownDetector to see if other users are experiencing this downtime issue with the game or not.
Also, if possible, then follow the Rainbow Six Siege on their official Twitter handle as that's where they're constantly updating their users.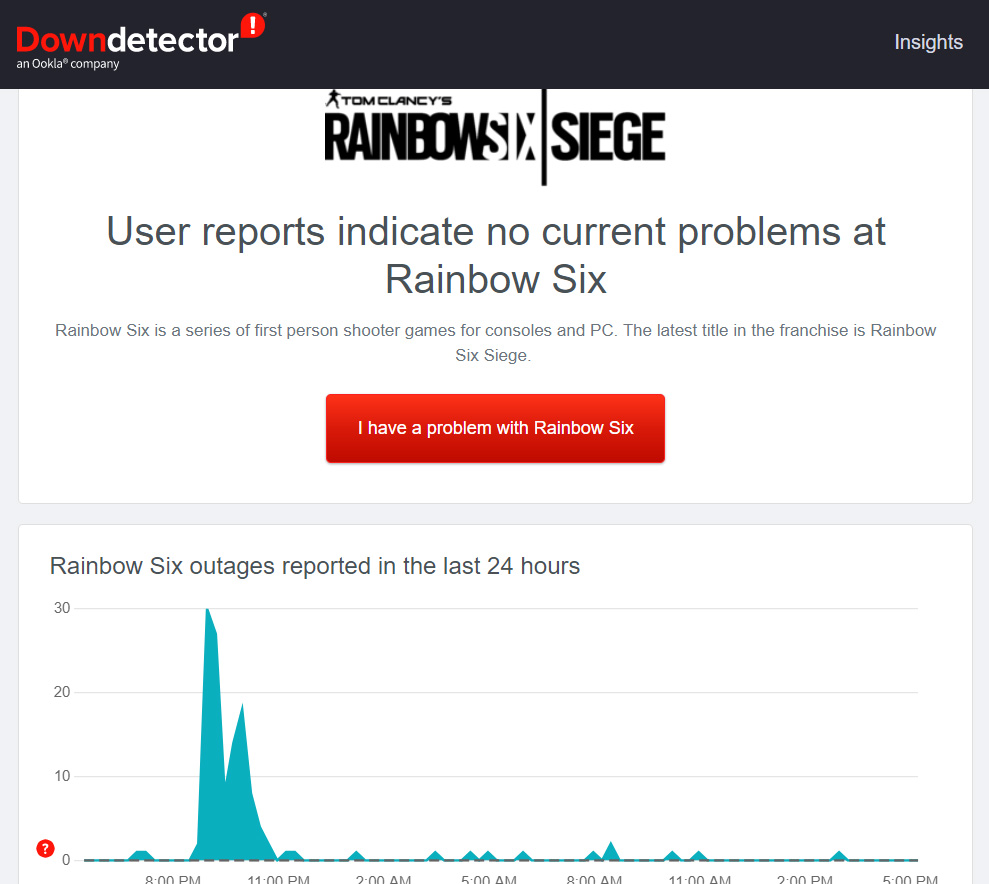 Fix 5: Wait For Sometime
So, in case you find that the game servers are facing a downtime error, then you have no other choice except to wait. This is because the developers intentionally down the servers for maintenance purposes, and there is no option to fix it from your side.
Fix 6: Verify If Your WiFi is Working
Have you made sure that your home WiFi is working? Unfortunately, there are high chances that your WiFi may not be working or functioning properly, due to which your PS5 fails to connect to the Rainbow Six Siege servers, which becomes the main reason why you are facing the Long Queue Time on PS5 error.
So, to check whether your WiFi is working or not, you must go to the Ookla Sepped tester and test your internet speed. However, after the test is completed, if you find that your WiFi is not giving you proper speed, try power cycling your router and check again.
Keep in mind that once your internet starts working, the Rainbow Six Siege Long Queue Time on PS5 error gets resolved automatically.
Fix 7: Check For Game Update
Sometimes an older version of the game also is come up as the main culprit behind why the user is facing this type of issue. Yeah! I know the games and applications automatically get updated on your PS5.
But, in some cases, due to network issues, your system may fail to update the games and apps automatically. So, you need to check for updates manually, and here are the steps for that:
Boot your PS5 and hover to your Home Screen.
Then, select the Games tab located at the top main menu.
Now, locate the Rainbow Six Siege and highlight it.
Then, press the Options button using your DualShock Controller.
Finally, on the next page, hit the Check For Update button.
Fix 8: Make Sure Your Device is Running On Latest OS
Another aspect that is very important when it comes to running the application properly is that you just have to make sure that your PS5 does not have any pending OS updates.
If so, then install it immediately and then check again if the Rainbow Six Siege Long Queue Time on PS5 error is fixed or not. Therefore, in case you don't know how to check for PS5 OS updates, follow these steps:
Initially, boot your PS5 and hover to the Settings.
Then, tap on the System tab and choose System Software.
After that, tap on the System Software Update and Settings.
Now, hit the Update System Software button, and if prompted, select the Update Using Internet to continue further.
If you've any thoughts on How to Fix The Rainbow Six Siege Long Queue Time On PS5?, then feel free to drop in below comment box. Also, please subscribe to our DigitBin YouTube channel for videos tutorials. Cheers!