We are all faced with the challenge of transferring large amounts of data over the Internet at one point or another. In light of recent events and with more everyday activities shifting online, we may need to exchange information even more often. Whether you need to share photos from your recent trip, send a game to a friend, or transfer a work project, having a reliable way to get that data delivered is essential.
While there are lots of services and applications that let you send and receive files over the Internet, most of them require you to pay for a long-term subscription — especially when you need to transfer particularly large files. On top of that, some apps limit the size of the files that you can transfer — and this means that you need to spend extra time on either zipping your file or folder or splitting it into several parts before you can send it.
Fortunately, there is now a different way to go about it. You can use a service called FileWhopper for the quick and easy transfer of files and folders of any size — and there is no need for a paid subscription.
What Is FileWhopper?
FileWhopper is a service for sending large files and folders online. With it, you can transfer data of any type and size in a matter of just a few clicks. What sets FileWhopper aside from the competition is that it's not a subscription-based service. To use most storage and file-sharing programs, you will need to commit to their services for a period of time and purchase a subscription, whereas FileWhopper lets you share large files and folders online by making a single payment — you will only pay for what you are transferring. But that's not all.
Send Files and Folders of Any Size 
FileWhopper sets no limit on the size of the files or folders that you can transfer. This means that you can send photo albums, video folders, apps, and games, to name but a few. You will be able to transfer your file or folder to its destination without worrying about zipping it or splitting it into several smaller parts. No matter how large your transfer is, you will be able to send everything at once without any added steps.
Download Right Away
The person you are sending your data to can start the download right away. They won't have to wait for your file or folder to be fully uploaded. This makes the whole transfer process significantly faster, and both you and the recipient get to save lots of time.
Choose Who Pays for the Transfer
FileWhopper is really flexible when it comes to payments. You can choose who pays for the transfer: the person sending the file or folder or the one receiving it. This feature can be particularly useful for freelancers — instead of overcomplicating the billing process, they can simply ask clients to pay for file transfers right there and then. Plus, as mentioned above, there is no need for a paid subscription. One-time payments make arranging file transfers much easier.
Zero-Knowledge Encryption
With FileWhopper, your transfers are safe and secure. The service uses Zero-Knowledge Encryption, which means the service providers will know nothing about the contents of your transfer. Your files and folders are protected throughout the whole transfer process.
Each data unit you transfer with FileWhopper is secured with a password and a unique ID, and no original file or folder names are used. Any information that may be exchanged during the transfer is kept on secure servers with no third-party access. Your transfer is encrypted with a password, and FileWhopper has no access to this password, so there's no way to decrypt your data even if someone manages to get unauthorized access to it.
No Bulky Software
All you need to send files and folders with FileWhopper is the service's small app, which will auto-delete when it's no longer needed. You won't have to deal with hefty software taking up valuable storage space on your PC and won't need to spend time searching for it and removing it from your system manually.
Super Easy to Use
FileWhopper is easy to use, and you need zero specialized knowledge to send or receive files with it. The program will guide you through each step of the process, and you will be able to get your files transferred in just a few clicks.
Extra Features on Demand
FileWhopper provides a very straightforward service — it helps you send large files and folders online. However, you can add on extra functionality to the service if you want to. As an example, for an additional fee, you can transfer your file or folder to multiple recipients (up to 6) all at once or increase the storage time.
Windows and macOS Support
You can use FileWhopper on Windows and macOS — sending and receiving files and folders is simple and fast on both systems. This way, if you are transferring your data to someone using a different operating system, you will have no issues whatsoever.
Your First Transfer Is Free (Up to 5 GB)
If you are not sure whether FileWhopper is the right file transfer solution for you, you can first give the program a try to see how it works. If you are a new user, you get to make your first transfer on FileWhopper (up to 5GB) for free. This can be a safe way to get to know the service and check if it's what you need.
How Does FileWhopper Work?
FileWhopper is very easy to use — sending and receiving data with it only takes a few simple steps.
Here's what you will need to do:
First, head to FileWhopper.com and spend a few minutes getting acquainted with the program. You can also check the How It Works section for a preview of what the whole process will look like.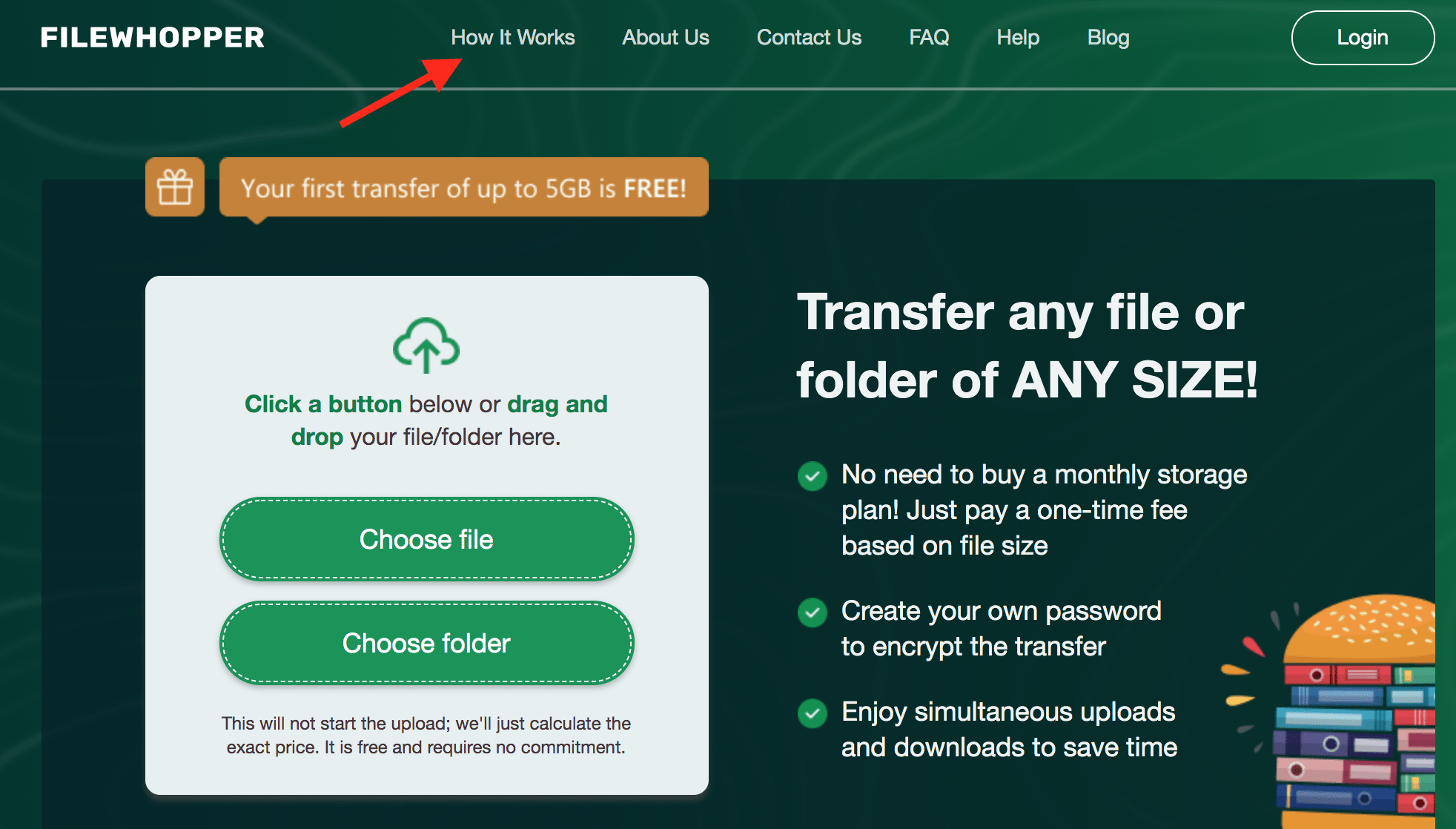 When you are ready, you can start the transfer process. Browse for the file or folder that you want to transfer on your PC and select it on your computer. Hold on while FileWhopper evaluates its size and calculates your potential fee.

You will then get a quote for your transfer and will be asked how you want to pay for it: you can do it yourself or ask the recipient of the file or folder to make the payment. Note that all the payments you make with FileWhopper are safe and secure and you won't need to commit to recurring payments.
You will then need to download FileWhopper's tiny app. The app is designed to make the transfer process quick and easy and will auto-delete once it's no longer needed.
Next, you will receive a personal link to the file or folder you have just uploaded. You can then share this link with the person you want to send the file or folder to.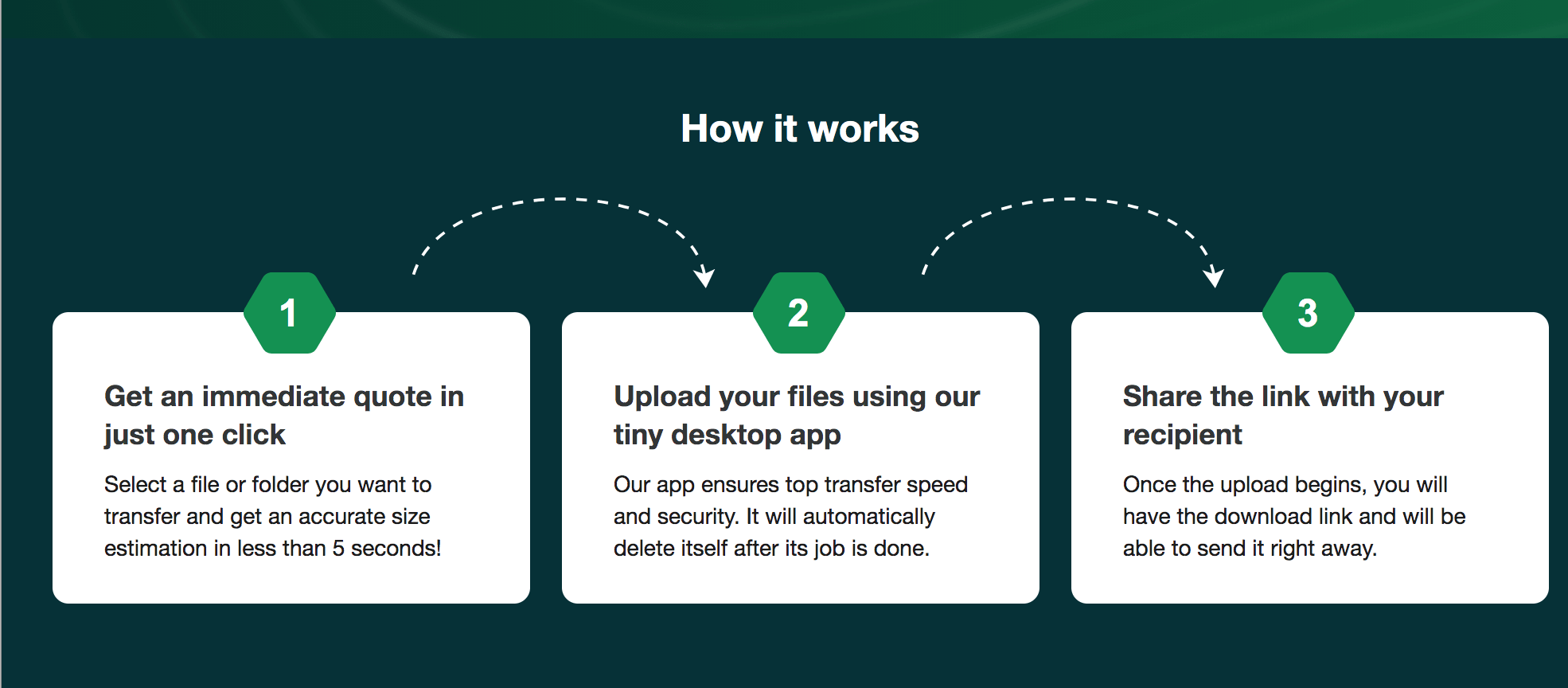 Note that the file or folder you upload to FileWhopper will remain on the program's
servers for up to 14 days. Once this period is over, it will be deleted from the servers.
Before your file or folder is sent to its intended recipient, it will be encrypted with a secure auto-generated password. You will also have the option to create a password for it yourself if you feel more comfortable with this.
Next, the person you've sent the link to will be able to start downloading your file or folder. As mentioned earlier, the recipient won't have to wait for it to be fully uploaded — they will be able to start downloading it as soon as they receive the link.
Once the transfer is over, the little app you've downloaded to upload your data will auto-delete from your system. You will then be welcome to use FileWhopper again when you need to transfer data in a quick and secure manner.
Verdict: It is the best bet if you do not wish to transfer large files without filling up your cloud storage, as the service just act as a transfer protocol without taking up any storage space.
Also, you and the client to whom you want to share the file may need to download an additional app which may not well go down with many users. Though you get many more features with Cloud Storage Platforms like G-Drive and Dropbox but still Filewhooper is best if you wish to share large files without filling up your Cloud Storage.
If you've any thoughts on How to Transfer Large Files Online: Use FileWhopper, then feel free to drop in below comment box. Also, please subscribe to our DigitBin YouTube channel for videos tutorials. Cheers!