Have you lost your Android device, or did it got stolen? Then worry not. I will explain to you through this guide, how to track and find a lost Android phone. Often it happens that either you keep your phone somewhere and forget to put it back in your pocket. If you are not so fortunate, then maybe the phone is retrieved by a thug who may wish to sell it away to make some quick bucks.
Thankfully, Google has an in-built feature, Find My Device planted on every Android device out there. I will tell you how to use this feature to keep your Android device safe from falling into the hands of thieves.
Even if your phone is not stolen and you stumbled upon this guide as an enthusiast, learn the important guidelines to set up the device locating mechanism on your Android phone. In case, in the future, you lose your device, you can find it or secure it using the tips shared in this guide.
Steps to Set Up Find my Device on Android
When you log in to any Android phone, you do so using a Gmail account. As soon as you log in, the Find my Device is enabled automatically.
I suggest that you should never turn off this feature manually. Otherwise, once you have lost your phone, it will be gone for good. With Find My Device turned off, there is no way you will track and find your lost Android phone.
Open the Settings app.
Then scroll to Security & Lock Screen. Tap on it.
Navigate to Find My Device and tap on it.
Ensure that it is set to On. If not, tap the switch to enable it.

What if You Have Misplaced the Android Phone in Your Home
This has happened to us all. We are in our homes and misplaced our phone somewhere and then forget it. In such a situation,
Grab your PC and open the browser.
In the URL bar, type android.com/find and press enter.
You will see the device name, battery percentage, network, etc.
Also, you will see the location at which the device is present unless the device has been switched off. This is how your device will be tracked in case it is lost or stolen.
On the left-hand side, there will be an option Play Sound. Tap on it.

Doing this will make your phone ring for five minutes. Even if the device has been set on silent mode, the ringtone will sound loud. Thus, it will help you pinpoint the phone's location and retrieve it within your house.
Even while finding the lost phone somewhere else, during tracking and getting closer to the phone, use this option to ring the phone and locate it.
Set Up Secure and Erase Android Phone Using Find My Device Feature
Considering a worst-case scenario, if you think you cannot track and find your Android phone, then you can erase the device. This you can do using your PC or another smartphone. For that, you have to set up a few things when you have your smartphone with you. This means you have to perform the above steps as a precaution.
Go to your PC and launch the browser.
Then access android.com/find
On the left-hand panel, click on Setup Secure & Erase.

Google Play Services will send a notification to your Android device.

Again on your PC browser, go to android.com/find.
You will now see two options Secure Device or Erase Device.


If you select Secure Device, you have to enter a custom message that will be displayed on the lost phone. Also, you can mention an alternative phone number so that when some good samaritan picks up the phone, they can call you and initiate the return process of your phone.

Selecting Erase device will wipe out all the data present on the lost Android phone. To confirm and proceed with the erase, you have to sign in to your Gmail account from the PC or other mobile device that you are using.
Your Android phone can only be erased if it is connected to WiFi or is running on the mobile data. If you have confirmed erase action, but the phone is not connected to the internet, the erase process will occur when the device is connected to a network.
Take Help of the Police
If you confirm in some way or the other that your Android phone has been stolen, visit your nearby Police Station. File a lost FIR. Even if you may track the phone, you will have no idea who is currently handling the phone. Instead of attempting any heroics, let the Police handle the matter. It may not sound as easy as I wrote here, but still, having an FIR will be helpful.
You can claim insurance in case the phone could not be retrieved by showing the FIR. Also, if the phone is retrieved along with the thief, having an FIR will help create a case against the burglar and get your device back.
Extra Tips to Keep Your Android Phone Safe
Here are some additional tips that you should follow to keep your device safe from being cracked by miscreants.
Use Multiple Screen Lock Mechanism
This means, along with the pin code, do set up the facial lock and fingerprint unlock system on your Android device. A pin code may be cracked with trial and error. However, a face lock and fingerprint lock can only be passed by the person who set that up. So, if your phone gets stolen, the thieves will not get access to personal info stored within the device.
Remember to Check your Pockets Before Leaving a Place
Silly it may sound, but I always follow this technique for my bike keys, wallet, and of course, phones. Wherever I go, before leaving that place, I thoroughly check that I have put my phone, wallet, and keys in my pocket. It is a small but good practice to be sure of not losing your belongings.
Noting Down the IMEI Number of your Phone
Knowing your smartphone IMEI number is quite important. If your device gets stolen and you take the help of the police, tell them the IMEI number so that they can block all network access to that device. In the worst case, even if the phone is not retrieved, the thieves cannot use it or sell it as the Android phone will now become useless.
You can get the IMEI number from the box in which your Android device was packed. Otherwise, you can go to Settings > About Phone > Status to know your Android phone IMEI number.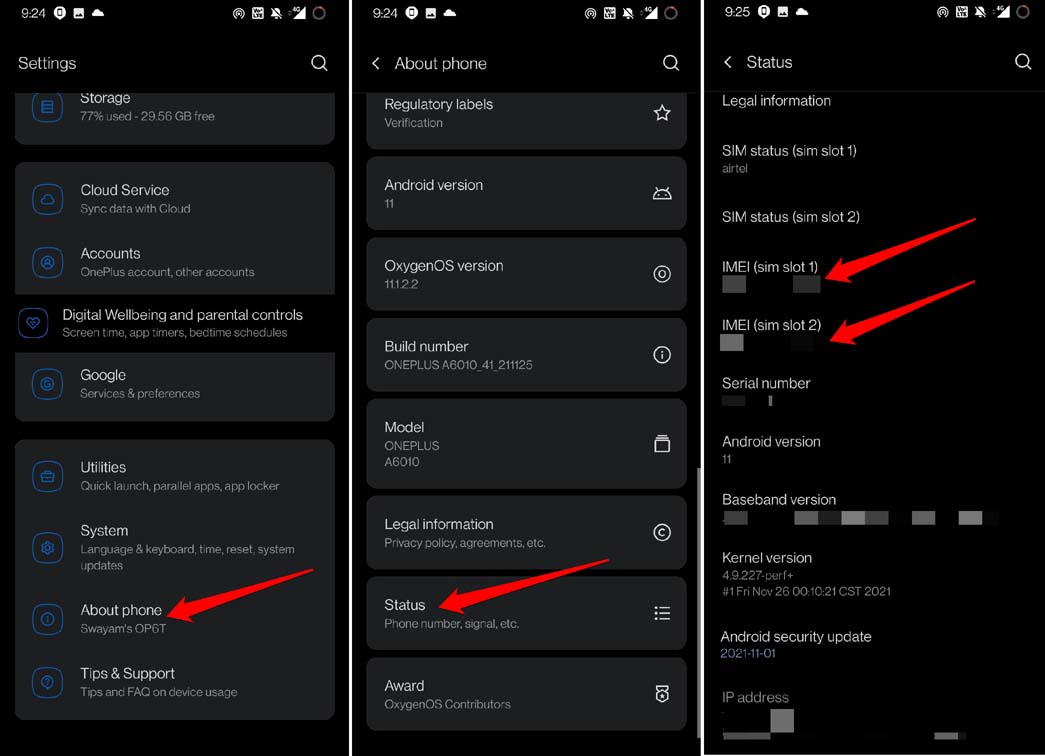 Conclusion
No one in their right mind would ever want their personal information, bank details, or financial apps on their smartphones to be breached by some miscreant. Today, every user puts their minute details on all smartphones for easy accessibility.
Always be careful with your smartphone and try not to lose it. Unfortunately, if your Android device has been stolen or lost, use this guide to locate it at the earliest.
If you've any thoughts on How to Track and Find a Lost Android Phone?, then feel free to drop in below comment box. Also, please subscribe to our DigitBin YouTube channel for videos tutorials. Cheers!