WhatsApp Groups are some of the best mediums to make your message reach a big audience. If you have an announcement, proposal, idea to share, etc., you can simply drop a message in the appropriate WhatsApp group, and it will reach all the members at once. However, there are several groups of which, although you want to remain a part of to know the latest happenings, but don't want to receive the notifications.
Admit it; it becomes annoying to see multiple WhatsApp group notifications at once popping on your phone. You can mute all notifications, but that becomes impractical if some are important. In this guide, we will show you a few methods that will allow you to mute or hide group notifications on WhatsApp and keep your smartphone's notification shade clutter-free. Let us jump straight into it.
1. Mute A Specific Group On WhatsApp
Not all groups are filled with people who constantly keep on chatting, not caring if others will be disturbed. However, if you are a part of such a group, which is important to you, but you do not wish to receive any notifications from it, you can mute them specifically in WhatsApp.
Open the WhatsApp application on your phone.
Now tap and open the group of which you want to mute or hide notifications.
Tap on the 3-dot icon and select the Mute notifications option from the drop-down menu.

The mute notifications menu will show you multiple pre-defined options: You can mute notifications for 8 hours for this group.
You can mute notifications for 1 week for this group.
Last, you can also select the option to mute notifications for 1 year for this particular group.


After you have selected your preferred option, simply hit the OK button.
Alternatively, you can also long-press on the particular group and tap on the crossed-speaker button at the top to open the Mute notifications menu. From here, you can select the option to mute the notifications for the group for 8 hours, 1 week, or permanently.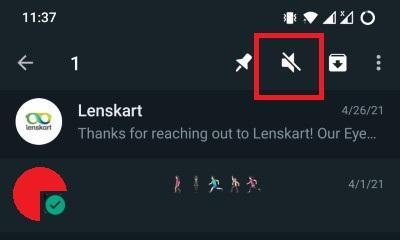 2. Mute All Group Chat Notifications
You can also go ahead and mute all group chat notifications on the WhatsApp application, if you do not wish to receive group notifications from any of the groups, you are a part of. Here is the process:
Open WhatsApp and hit the 3-dot icon.
Select the Settings option.

From the list of options that appears, select Notifications.


Scroll down and under the Groups section, make sure to turn off "Vibrate," set "Light" to none, and toggle off the "Use high priority notifications" option.

If you still believe the above two methods aren't sufficient to keep yourself away from the distractions of group notifications, you always have the option of leaving the group. Simply open the group, tap the 3-dot icon, and hit More. From here, select the Exit group option. This will exit you from the group and also get rid of the annoying notifications, once and for all.
If you've any thoughts on How to Hide Group Notifications on WhatsApp?, then feel free to drop in below comment box. Also, please subscribe to our DigitBin YouTube channel for videos tutorials. Cheers!