You can become a member of Discord HypeSquad by helping others and willingness to go beyond expectations. You need to be highly active and influential members of the Discord community to earn the Discord Hypesquad badge. So, from providing feedback on new features, to running events, to helping with technical issues, the HypeSquad is always looking for new ways to support and grow the Discord community. So, in case you don't know how to get the Discord Hypesquad bandage, read this guide until the end.
What Is Meant By Hypersquad? 
If you are a member of the HypeSquad, then you will be entitled to exclusive bonuses, advantages, and remarks. These members serve as ambassadors and market Discord. Basically, the Discord officials want to get the word out about Discord and invite as many people as possible to try out the wonderful chat tool.
You will receive a badge for your username once you become a member of HypeSquad. In either case, two badges are available. Let's take a closer look at Discord HypeSquad's three homes and two levels.
How Many Tiers Are There In Hypersquad?
So, basically, the Hypersquad has two types of tiers; one Online Tier and the other one is Event Tier. I think you may have gotten an idea of their work with their names. So, let's know about both the tiers in detail form:
1. Online Tier
Instagram, Facebook, and YouTube are some of the social media platforms Discord HypeSquad uses to spread the word about Discord. For Discord marketing, you must create online activities and events. Membership in the Online Tier will give you access to in-house challenges, a HypeSquad badge, and a newsletter exclusive to HypeSquad members.
2. Event Tier
A HypeSquad event coordinator and an event attendee are two roles in the Event Tier. Conventions and offline events fall under the responsibility of Event Tier members. Members of the Discord HypeSquad Event Attendee tier are entitled to participate in offline events and conventions. In addition to the Events Badge, you will receive access to the HypeSquad Event Server, t-shirts, stickers, swags, and the HypeSquad newsletter.
How Many Hypersquad Houses Are There on Discord?
There are three houses and tiers within Discord HypeSquad. It is not possible to choose the House here. Discord will determine which House you will be added to based on your test. The three houses of Discord each have a slogan or saying which conveys the House's mission.
House of Bravery: 

Represents leadership values, tenacity, and unwavering self-confidence.

House of Brilliance:

Those who are disciplined, composed, and patient is ideal candidates for the House of Brilliance.

House of Balance:

 The Discord Hypersquad Balance Badge can be obtained if you possess the exact quantities of Brilliance, Bravery, and Peace.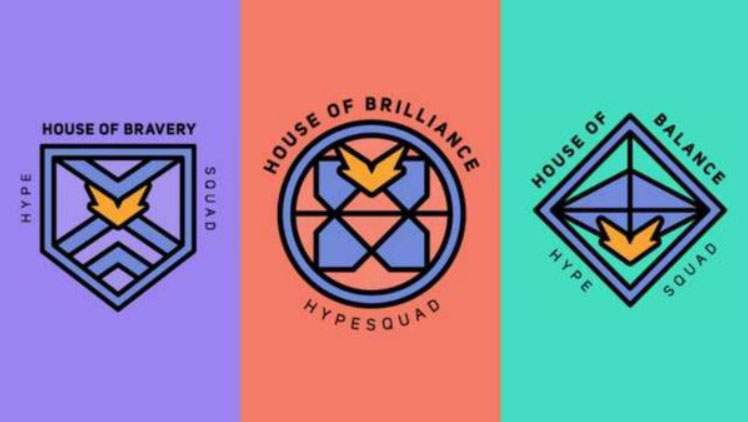 How To Get Discord Hypersquad Badge?
Getting the Discord is an easy task, but you need to fulfill some requirements, which we have mentioned below: 
The HypeSquad Discord community requires that you be at least 13 years old.

Participation in event tiers and gaming-related events is also limited to those who are 16 years old.
For PC Users:
Click on the Settings button in Discord.

Choose Join HypeSquad from the menu in the HypeSquad section.

After that, you will be asked five questions. Members of Discord will judge your responses to determine which House suits you best.

Discord Hypesquad Badges will be added to your profile after passing the test.
For Mobile Users:
Open Google Chrome, as you'll not find this option on the mobile application of Discord.

In the top right corner, tap on the three dots to switch to the desktop site.

Once that is complete, go to 

discord.com 

and select 

Use Discord on Browser

.

Click 

Settings 

and then 

Hypesquad

. 

You can now take the Discord Hypesquad quiz.
Conclusion
It is possible that you may not get the badge that you want, but nothing to worry about, as after some time, you can retake the quiz in order to get your desired Hyperquad badge. So, that's it from my side. I hope you have learned something new from this article. 
If you've any thoughts on How To Get Discord Hypesquad Badge, then feel free to drop in below comment box. Also, please subscribe to our DigitBin YouTube channel for videos tutorials. Cheers!