Google duo is Google's very own video calling product. The duo is gaining much popularity thanks to its ease of use, very stable quality even in poor connections, and quite a simple user interface. With Google Duo, video calling has become so simple and affordable too, as it only requires a stable internet connection and nothing much. You can connect with your family and loved ones for free, no matter where you are, how far away from them, just a few clicks, and you are with them, having a face-to-face conversation. Due to this coronavirus pandemic, we all are separated from each other, most of the people are out of station either they are a Corona-Warrior or they were gone to another city before the lockdown due to some work and now stuck there, they can't get back to the home until lockdown ends.
In such a situation, video calling is the only option to stay connected and safe. Google Duo is a safe and secure way to stay connected and to enjoy the moment together. Google Duo is in high demand and getting immense popularity all over the World. As it is Google's very own video calling product with numerous features and functioning and well-reputed too as because of Google's Branding. However, it is slightly different from Google Hangout.
Features of Google Duo Web
Google Duo Web has numerous fascinating and useful features, some of them are
Video-calling
Google Duo supports high-quality video calls, you can enjoy face-to-face conversation without any hassle. Video calling is always preferred among all other calling and contacting methods because it is easy to understand the feelings and emotions of any person by looking at his/her facial expression compared to listening to their voice, for that Google Duo provides high-Quality video calling.
Voice Calling
Google Duo web also supports Voice calling, if you do not have recharge in your phone and connect with the Internet through Wi-Fi, so Google Duo helps you to make voice calls, It offers an extreme quality clear voice calling.
Make one-to-one calling
Find who is available to receive a call or invite your friends to join the call on the Google Duo web.
Voice Notes
Using Google Duo you can leave a message or Voice note to your friend, informing them that you are missing them. Suppose someone has called you on Duo and at that time you weren't available to answer so you can leave a voice message to inform them that you are available now to join the call.
Video Messages
You can send video messages to brighten up someone's day. Record a video message using Google Duo, moreover, you can use some animations and effects to make your video message more attractive and loving.
Knock-Knock
Knock-Knock is one of the quite useful and best features of Google Duo Web, by enabling Knock-Knock you can see the live preview of the person who is calling you. This is a very helpful feature when you receive unknown video-calls through Google Duo. And it is the best way to know who is calling you from another side. Moreover, if you make a call and Knock-Knock is enabled then your recipients will also know who is calling them.
Group Video Calling
By using Google Duo Web you are able to create a group of maximum 12 people and can enjoy video calling with up to 12 people at the same time, it is a very much useful feature for someone with a large group of friends and also people with large family members who are miles away from each other. Benefits of Group video calling
You can celebrate birthdays, anniversaries, any other event together.
Being the part of bed-time, you can share stories and exciting moments together.
You can keep each other motivated and fit.
You can enjoy a family discussion.
You can learn things together, and many more.
Calling quality
Google Duo supports a very high-quality video calling, with a stable internet connection you will enjoy video calling in 720p-HD.
Network balancing
Google duo uses a very decent quality network balancing technique if your friend or recipient is in a low-network area, still Google duo balance the network, you may observe a little buffering or lagging in the video but audio will be clear and sharp. So no message will be dropped if you are using Google Duo web for video calling. It uses WebRTC and QUIC over UDP for low-bandwidth. Also, Google Duo uses WaveNetEQ for the concealment of lost data packets. Moreover, it automatically switches between Wi-Fi and cellular networks.
Picture in Picture Mode
While using Google Duo on the web, you can switch to other Google applications, or you can use them simultaneously like you can open a calendar, you can view keep notes, you can access all other Google products. Just you need to tap on the nine-dots square in the top-right corner, you can access all other services.
Security
Security is another important point of Google Duo, you can share your precious moments together without worrying about the security of your data. Google Duo uses the end-to-end encryption security method, which means no one (except caller and recipients) can listen or view the data even not Google itself. Your privacy matters a lot and Google understands this, so with the end-to-end encryption method, your calls are safe.
How to Set up Google Duo Web?
Google Duo Web has a very easy set-up process, by following some simple steps you can easily use it on your desktop. To set-up, Google Duo web on your computer, follow the given steps
Open the Web browser on your desktop.
Open Web version of the Google Duo app.
As you have opened the Web Version, a Welcome window will open with two options, 'I'm new to Duo', and 'I already use Duo'.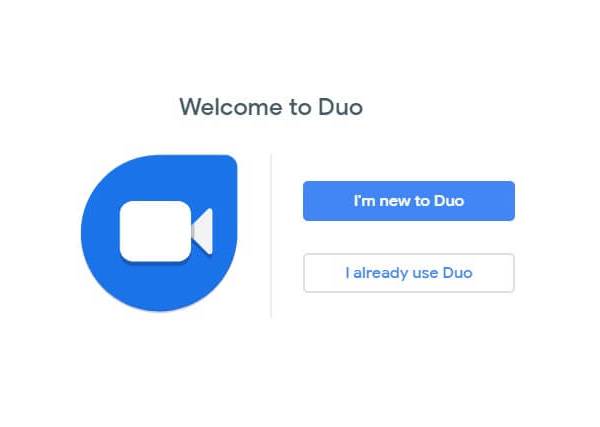 If you are New to Google Duo
Step 1. If you are new to Duo. Click on "I'm new to Duo".
Step 2. Create a new google account or use an existing one, as you are new to Duo.
Step 3. Now on moving to the next screen, you have to enter your phone number that has been linked with the Google Duo app on mobile.
Step 4. Tap on Next to verify your mobile number.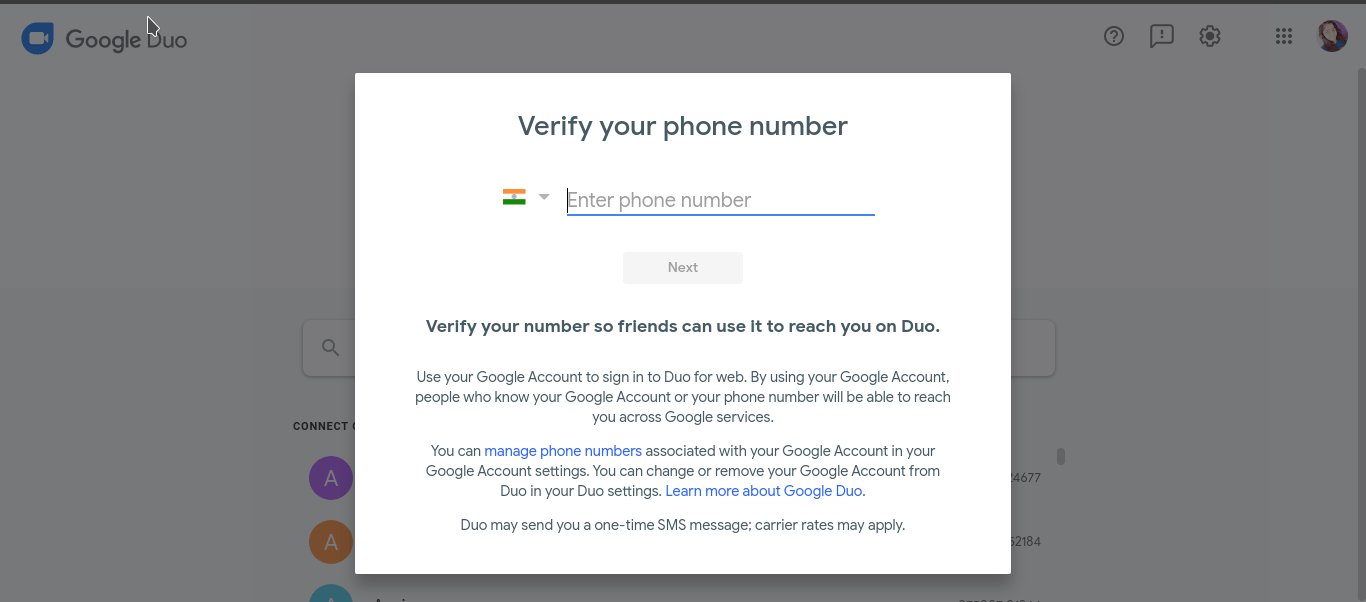 Step 5. A verification code will be sent to your mobile number (that you have entered in step 6).
Step 6. Type the verification code into the screen, received on your mobile.
Step 7. A pop-up will appear on the screen, you need to click on "Allow" to receive all the notifications on the web.
Step 9. Now with this, you have reached the Home Screen of the Google Duo web and start making calls.
In the home screen, you will be able to find all of your contacts synced to your Google account and also you can contact people by using Google ID, also you can search in the search bar for available contacts.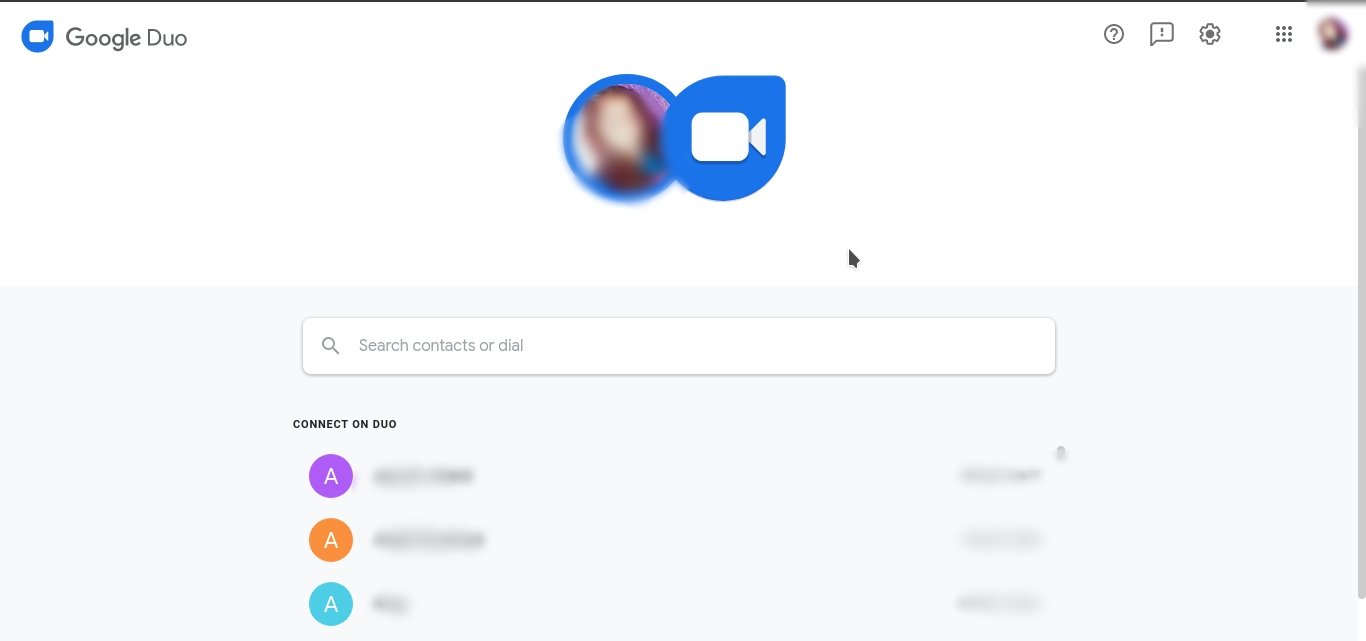 Step 10. Choose any contact you want to have a call with.
Step 11. Now, it will ask you to grant permission for using the microphone and camera. Click on the "Allow" button.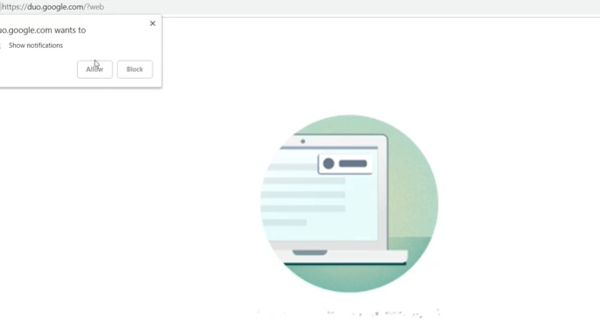 Step 12. Choose between Voice call or Video call to contact your favourite person using the Google Duo web and enjoy.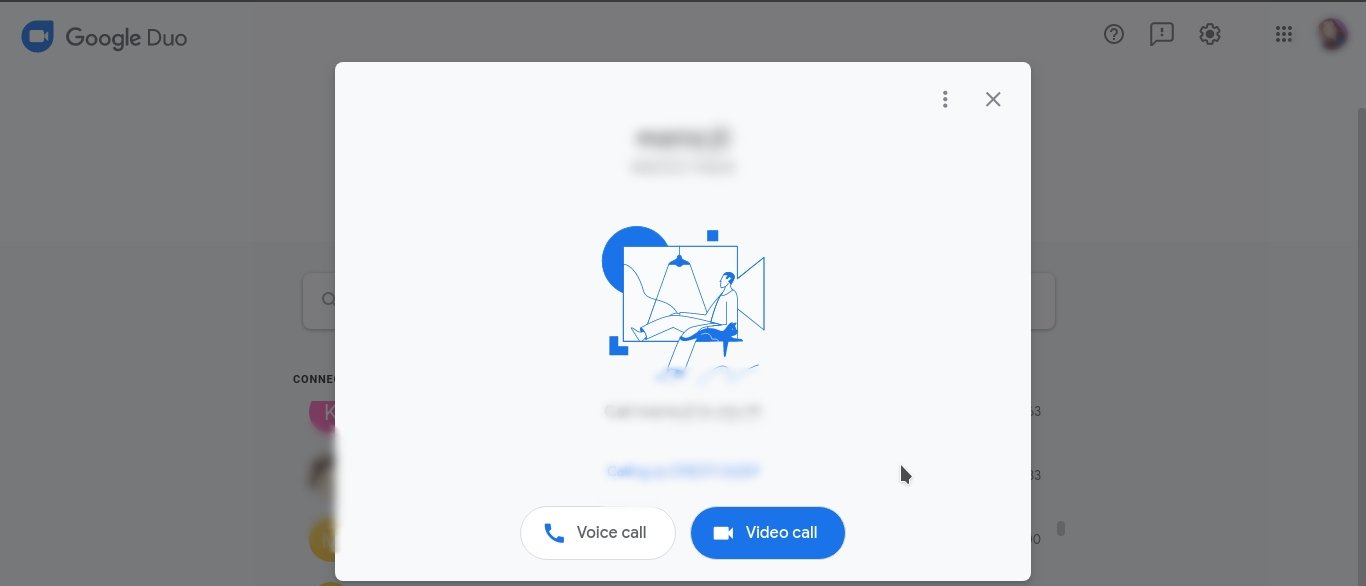 If you are already a Google Duo User
Step 1. Click on "I already use Duo", if your Google account is already associated with Google Duo.
Step 2. Click on Set up as a New User to use Google Duo with a different account or choose I've added my account to continue with the google account that is already synced on your device.
Step 3. Create a new google account or use an existing one, as you are new to Google Duo.
That's it, you have successfully set-up Google Duo Web, now enjoy the video calling with your family, friends, colleagues (whoever you want to connect with).
 How to Disable Knock-Knock?
If you want to disable knock-knock from your desktop, you can do that in simple steps:
Go to Google Duo Web home Screen.
Go to Settings, by clicking the settings icon in the top-right corner.
Disable the toggle button in front of Knock-Knock.
That's it.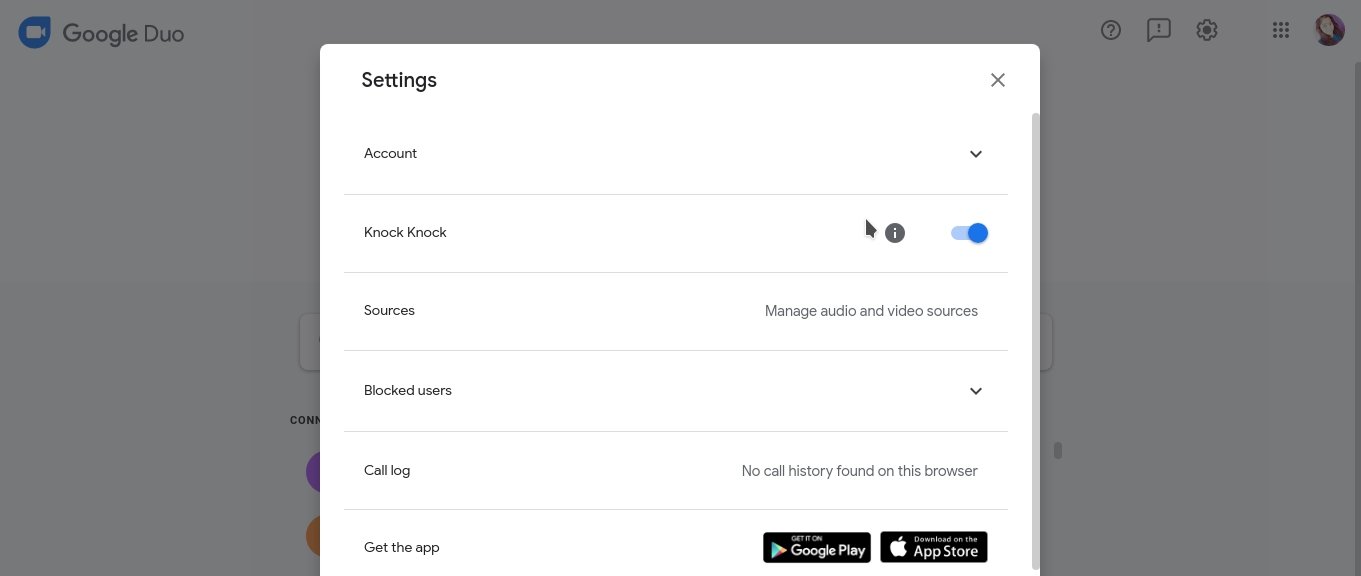 How to delete a Google Duo account?
If you want to remove or delete google Duo account, complete the process in a few steps:
Open Google Duo Web in your web browser,
Go to settings by clicking the settings icon in the top-right corner.
Click on Account.
Choose the option Delete Duo account or Remove Google Account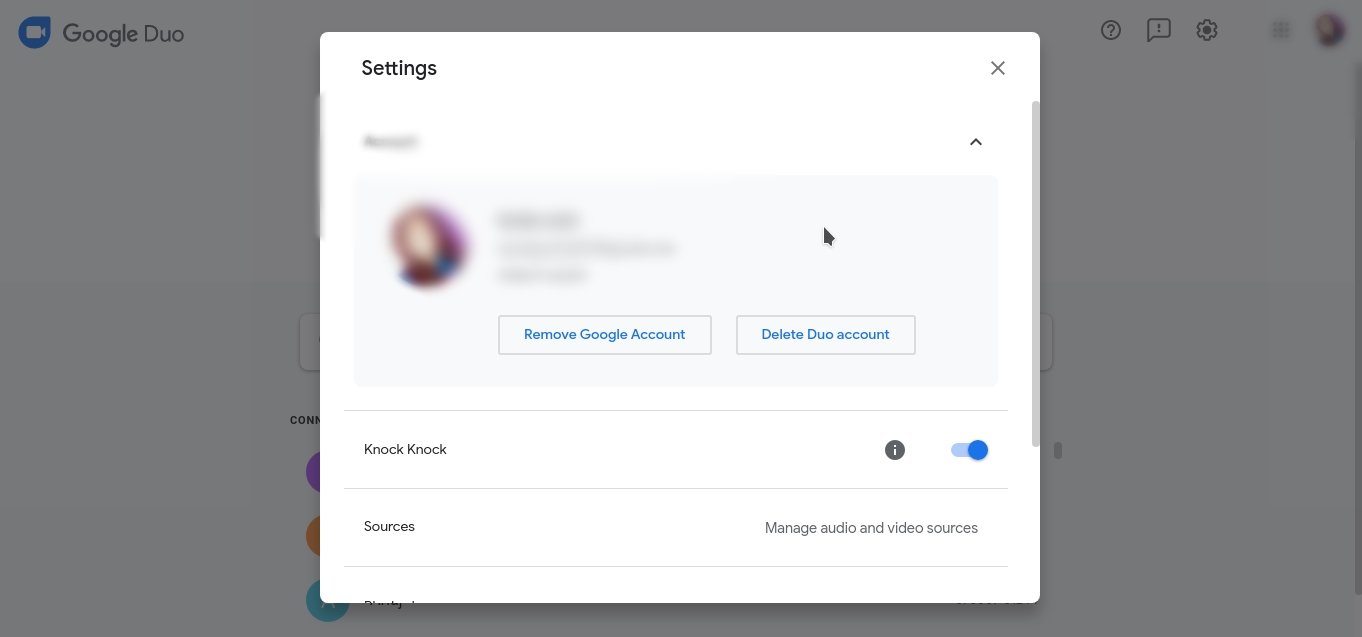 Compatible devices for Google Duo Web
Google Duo can be used on various devices, here we are providing a list of compatible devices with Google Duo Web, so you can check whether Google Duo web is compatible with your device or not.
Google Duo for Mac
Google Duo for Linux
Google Duo for Ubuntu
Google Duo for Windows.
Google Duo for Chromebook.
Conclusion: In this article, we have discussed almost every feature and functionality of the Google Duo web. I hope you found this information useful and will try Google Duo Web for once to experience video calling over your desktop without any hassle of network-connectivity because Google Duo uses a very decent network balancing technique.
If you've any thoughts on Google Duo Web | Make Web Login on Desktop Browser, then feel free to drop in below comment box. Also, please subscribe to our DigitBin YouTube channel for videos tutorials. Cheers!