This is not a clickbait article, we are serious, there is an AntiVirus Application developed by Google for Android mobile. Just the thing is, the application provides its service under a different name. The app uses more than 100 Antivirus engines to scan for any vulnerability and provide you with detailed info if it detects any application, file, or web with suspicious codes, permissions, and scripts.
The application we are talking about is called VirusTotal Mobile developed by FunnyCat. VirusTotal is a website created by the Spanish security company Hispasec Sistemas, it was acquired by Google Inc in 2004. Later the company's ownership switched to Chronicle a security company owned by Google. The same Antivirus elements are incorporated into a mobile app for Android mobile.
Unlike other Antivirus, applications that use their won proprietary detection software. Google's Virus Total incorporates many antivirus vendors and online scan engines to check for viruses that the user's own system antivirus may have missed.
Note: The app is developed by the free community developers and uses the VirusTotal API to Check for any Vulnerability.
Download the app for free from Google Play Store.

Or Directly Download APK File
Features of VirusTotal Mobile
The service is owned by Google and maintained by Google Cloud Platform
The app houses more than 100 Antivirus engines and Web scanners
You can scan installed apps and system apps
You can also search the website for malware
The app allows you to upload few specific files for scanning
App gives a detailed report on the number of scans performed by the engines
It also gives a complete report on any potential vulnerability
How VirusTotal Mobile Works?
VirusTotal Mobiles inspects your smartphone apps with over 70 antivirus engines, it also uses a number of tools to detect malicious content, codes, and permissions in the app. The file and URL characterization tools are available within the app with viruses and web scanners. It also incorporates miscellaneous mechanisms like heuristic engines, known-bad signatures, metadata extraction, identification of malicious signals, etc.
How is the Interface of VirusTotal?


VirusTotal lacks the modern minimalistic app design with touch graphics that most of the popular antivirus apps presently use. It has a very simple interface where you have four tabs on the homepage; on top, you get User Apps and System Apps, and at the bottom, you have Apps and News.
At the top bar of the application, it houses a search icon and Scan button, along with menu options. At the right bottom of the screen, you get the Plus icon where you can perform further functions like search website for virus or upload a file for scanning.
How to Use the VirusTool?
The app is straightforward and very simple to use. Click on the Apps Tab and tap on the Scan button on top, the app will take a few seconds to scan all the installed apps, you can also scan the system apps.


Once the apps are scanned you get a detailed report of the application;
Information – Provides a number of virus engines used and issues found. The below image shows 76 antivirus engines were used and two engines detected issues.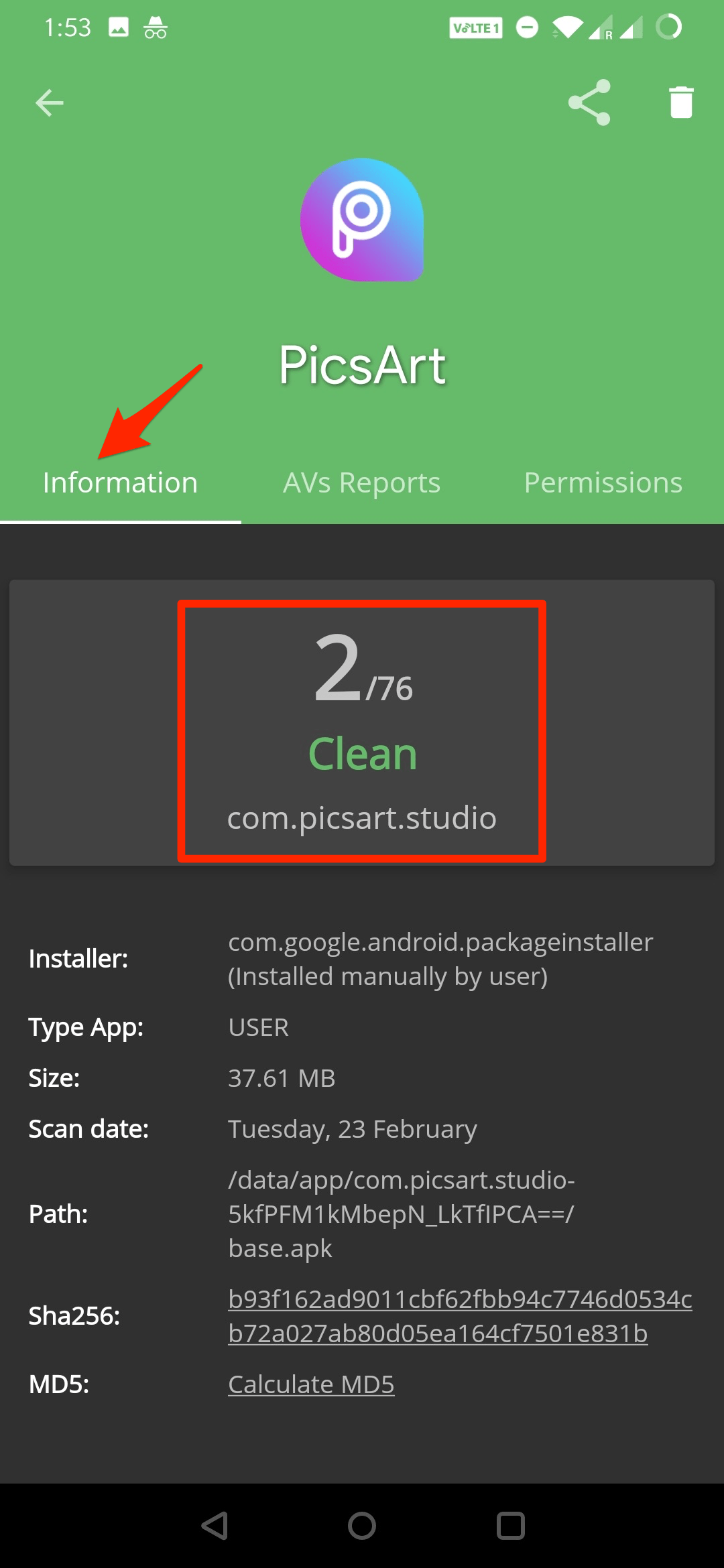 AVs Report – Antivirus report shows a detailed report of each antivirus vendor if it detects any problem or app passed cleaned. The image below shows Trustlook and Qihoo-360 detected potential issues.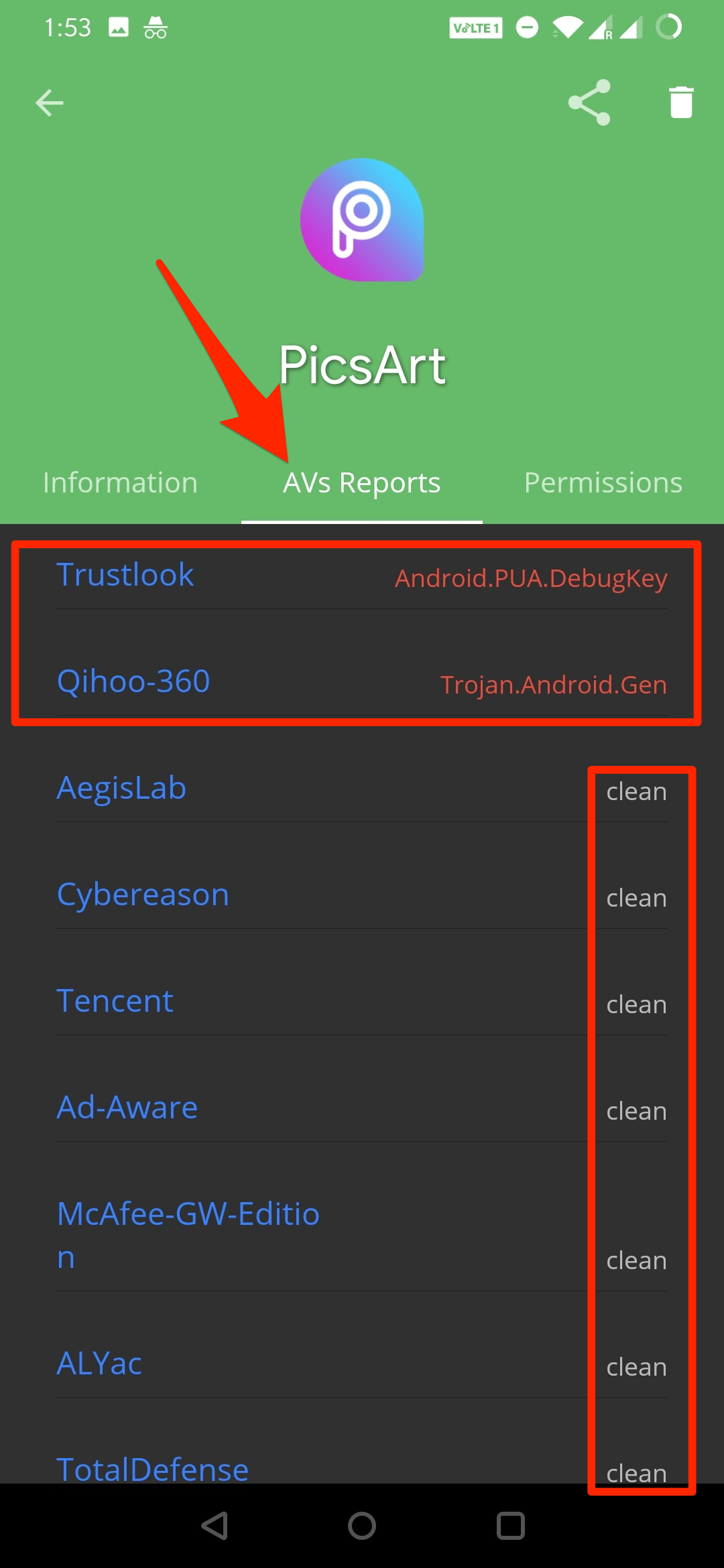 Permissions – If it thinks if the app asks unnecessary permissions, the app will list it here.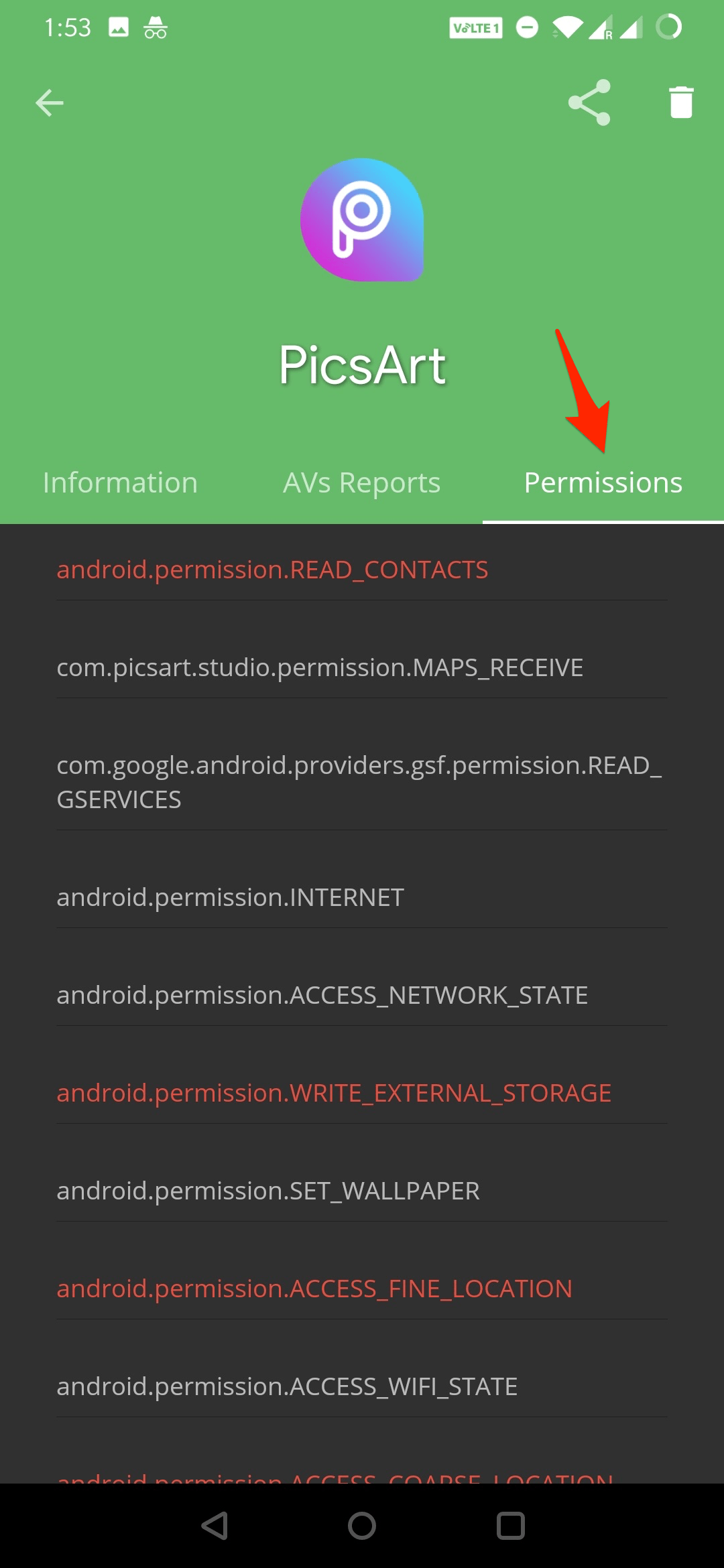 When you click on the Plus + icon, you will get two options internet and files. You can search any website for malware, virus, adware, or phishing. You can click on the file to upload any file to scan for any virus threat.


Difference Between VirusTotal and Other Antivirus Application
| | |
| --- | --- |
| VirusTotal | Other Antivirus App |
| 100+ Antivirus Engines | Proprietary Engine |
| Manually Scan Apps, Files, and Web | Option may be or may not be available |
| Detailed Results with Full Info | May Not Provide Detailed Information |
Few Popular Antivirus Engines Used by TotalVirus
ALWIL (Avast! Antivirus)
AVG Technologies (AVG)
Avira
Baidu (Baidu-International)
BitDefender GmbH (BitDefender)
Cat Computer Services (Quick Heal)
CMC InfoSec (CMC Antivirus)
Comodo (Comodo)
CrowdStrike
Doctor Web Ltd. (Dr.Web)
Emsi Software GmbH (Emsisoft)
F-Secure
G Data Software (G Data)
Hacksoft (The Hacker)
Hauri (ViRobot)
IKARUS Security Software (IKARUS)
INCA Internet (nProtect)
Invincea (Invincea, acquired by Sophos)
K7 Computing (K7AntiVirus, K7GW)
Kaspersky Lab (Kaspersky Anti-Virus)
Kingsoft
Avira Checkurl
Websense ThreatSeeker
Google Safe Browsing
Malwarebytes Corporation (Malwarebytes' Anti-Malware)
McAfee
Microsoft (Malware Protection)
Microworld (eScan)
NANO Security (NANO Antivirus)
SentinelOne
Sophos (SAV)
SUPERAntiSpyware
Symantec Corporation (Symantec)
Tencent
Conclusion: I hope the guide was helpful for you to know about the Antivirus application by Google to Scan the Apps and Files on your Android Mobile. I hope the post was helpful, do comment below.
If you've any thoughts on How to Download and Use Google Antivirus App?, then feel free to drop in below comment box. Also, please subscribe to our DigitBin YouTube channel for videos tutorials. Cheers!