Microsoft Edge was originally developed and published by Microsoft, Inc. for Windows 10 operating system and Xbox One. It was launched in the year 2015 with its native EdgeHTML and their Chakra JavaScript engine. Later in 2019 Edge was rebuilt on Blink and V8 engine on Chromium Source Code, and the latest upgraded version of Microsoft Edge with Chromium Engine was released on Jan 15, 2020.
As the Software is developed on the Chromium Project you can expect speed and other features similar to Google Chrome. You can download extensions from Chrome Web Store and also use the popular Flags. Though the Flags are native to the browser the Edge has come up with some of the best Edge://Flags for the Microsoft Edge Browser.
Note: Edge Flags are experimental features and may be unstable on some devices. The guide contains all the flags that have been tested on the Stable Edge Desktop Browser. If you face any issues disable the Flags.
How to Enable Edge Flags?
The steps to enable the Edge flags are the same for flags belonging to any domain, across any platform (Windows, macOS or Android).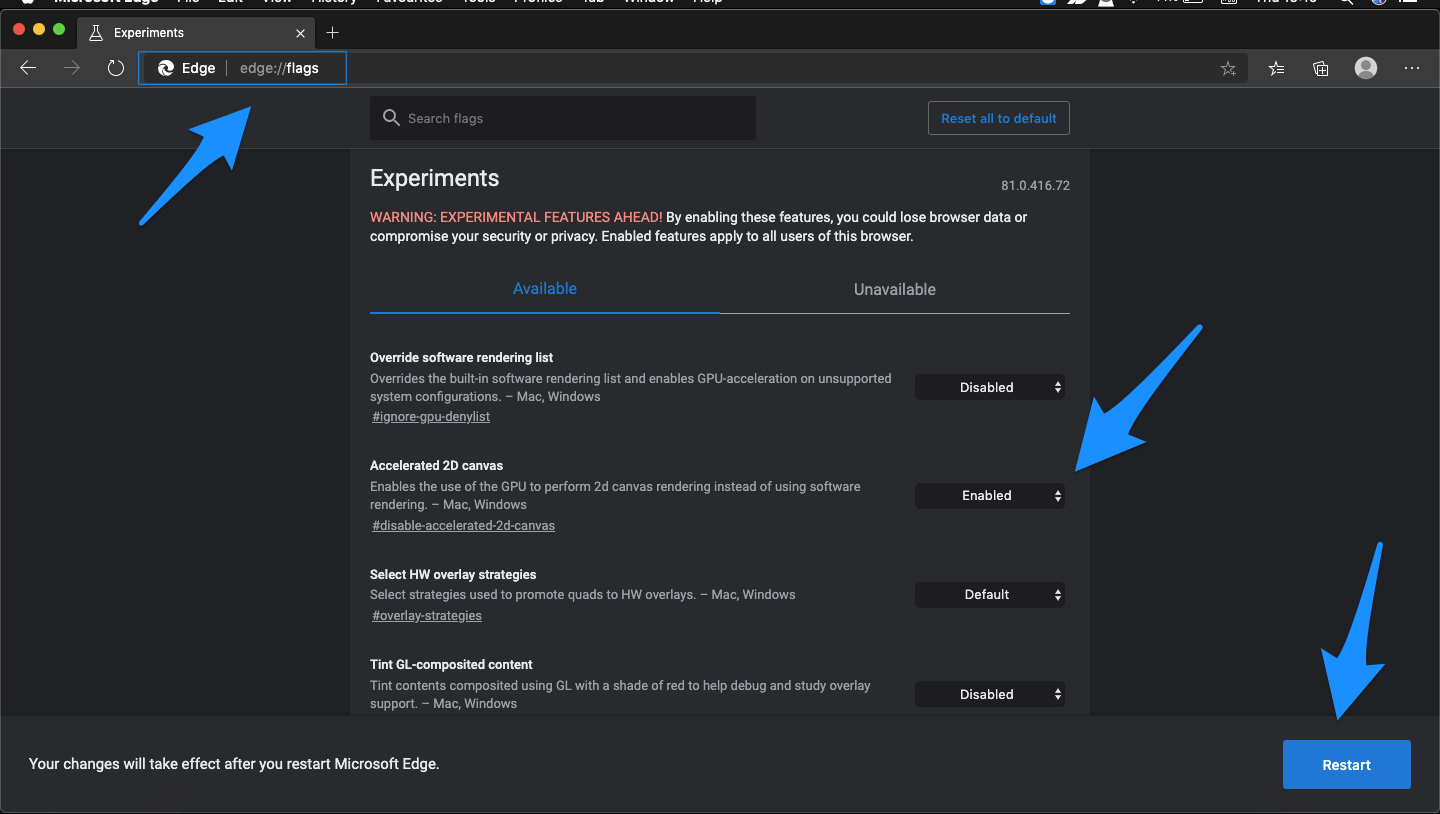 Here are the Steps to Enable and Access Edge Flags Across all the Supported Devices.
1. Open Edge Browser on your Device.
2. Head over to the Omnibox (i.e. address bar), type Edge://flags and hit Enter.
3. Now you may take the help of the search bar to look for the desired flags.
4. Now look for any of the Flags you need, by default it is either 'Disabled' or in a 'Default' state. Just click on it and change its state to 'Enabled' to access the flag.
5. As soon as you do so, you will get notified to restart your browser. Just click on the Restart button to do so.
6. That's it! As soon as the Edge Browser relaunches, the said flag would be enabled and you will see the associated effect.
Best Edge Flags to Enhance your Browser
Here are the Best Edge Flags for your Windows and Mac PC to Improve Productivity of the Microsoft Edge Browser.
1. Lazy Image Loading
Lazy Image Loading as the name suggests delays the image loading time, the edge flag will only render the images when the user comes in the viewport i.e only when the user scrolls down the page. It is a very helpful flag which can help speed up page loading and reduce your internet data as images are only loaded when you scroll across the page. It defers the loading of images marked with the attribute 'loading=lazy' until the page is scrolled down near them.
#enable-lazy-image-loading
2. Heavy Ad Intervention
A webpage without ads can load 75% faster than the webpages with Ads. Many times the site may force you to load the content with Ads. Heavy Ad Intervention prevents the load of such Ads which consume many resources of the device. Thus making the page load faster without the use of Adblocker.
#enable-heavy-ad-intervention
3. Previews Allowed
Many a time you might have come across a link of which you might not be sure whether is it of any significance or not. This is because there exist many click-bait articles with catchy titles but actually, they hold some completely different contents, which might not be of much use to you. The Previews Allowed Flag shows a preview snippet for the link when you hover the cursor over the link showing some excerpts to get an idea of what the link actually contains.
#allow-previews
4. Secure DNS lookups
Basically, this flag forces the website to load over HTTPS encryption. It does the same thing as HTTPS Everywhere extension do by forcing to the website to go HTTS. When this feature is enabled, your browser may try to use a secure HTTPS connection to look up the addresses of websites and other web resources. You might have to change your DNS server to Google Public DNS, Cloudflare, etc take advantage of it.
#dns-over-https
5. Microsoft Voices Extension
Can't read the text but can listen then this flag is just perfect for you. The flag enables Read Aloud software and other web-based applications to read the text in a human-like manner using Microsoft-provided online voices from theSpeechSynthesis API.
#edge-microsoft-voices
6. Hardware-accelerated Video 
Generally, the bulky stuff like video play and graphic load (browser games) are handled by CPU causing heavy CPU usage. Hardware Accelerated Video reduces this load on the CPU by making other Hardware accessories like GPU to handle the Video Play. Thus making other operations smooth while exporting in H. 264/AVC and HEVC codecs.
#disable-accelerated-video-decode | #disable-accelerated-video-encode
7. Force Dark Mode for Web Contents
Use can use Force Dark Mode for Web Contents flags to get completely dark on the content of the web page. The dark mode is available for Edge. But if you wish to read the Web Content in Dark Mode this flag is ideal for you. This Flag automatically renders all web content using a dark theme.
#enable-force-dark
8. Parallel Downloading
This functionality breaks down heavy files into numerous batches of files, downloads these batches parallelly or simultaneously, and then combines them into one single file at the end. Well, in fact, this is what all the torrent downloaders also does. And the good news is that this same technique could well be carried over to Edge as well.
#enable-parallel-downloading
9. Experimental QUIC protocol
Google has recently launched a new connection protocol that it calls QUIC. This protocol is a mixture of both TCP and UDP protocols. When these two combine together, it gives not only a much faster browsing experience but also provides a much safer experience. It creates a single trip between client and server. This greatly reduces the time taken to transfer data packets, which improves the data exchange speed and hence the overall speed on the web.
#enable-quic
10. Potentially Unwanted App Protection
Internet is filled with malware and spyware. You may be tempted to download an app without knowing that the software may contain a harmful virus that can infect your device. By enabling this flag the Microsoft Defender SmartScreen will protect you against downloading potentially unwanted apps.
#edge-smartscreen-pua
11. Security Warnings for Sites using Legacy TLS Versions
Suppose if you are visiting a website where you want to make some payment or fill a form with your personal details. And if the site uses older SSL TLS security then your card details and personal details may be at risk. Enabling this flag will show you security warnings for sites that use legacy TLS versions (TLS 1.0 and TLS 1.1) as these older TLS are deprecated and will be removed in the future.
#show-legacy-tls-warnings
12. Lite Video Play
Lite Video Media Player will help load videos quickly by reducing the video bitrate and thus reducing the data usage. The flag is helpful in case you have slow internet or wish to save the internet bandwidth. With Lite Video optimization users can save data on media streams by encouraging media players to use lower bitrates
13. Back-Forward Cache
This experimental feature caches the forward and backward pages which are already loaded making smooth and quick navigation across the pages without loading. If you have a high-end device with a large amount of space that can store cache build-up then the chrome flag can do wonders for you.
#back-forward-cache
14. Microsoft Edge Tracking Prevention
Every site comes with a number of trackers to collect the data. This Flag auto automatically blocks the trackers and prevents the data to be sent to the site owner. Enable this edge flag to block site trackers a simple yet good Flag if you are concerned for privacy.
#edge-tracking-prevention
15. Treat Downloads over Insecure Connections as Mixed Content
Internet is filled with malicious files. This flag blocks downloads of unsafe files that can potentially execute code, where the final download origin or any origin in the redirect chain is insecure if the originating page is secure.
#treat-unsafe-downloads-as-active-content
16. Tab Hover Cards
The tab hovercard allows users to replace the current tooltips with a pop-up hovercard. The edge flag enables a popup containing page title and domain information to be visible when hovering over a tab. It is very helpful when you work simultaneously over a number of tabs.
#tab-hover-cards
17. Global Media Control Picture-in-Picture
PiP Mode is a very cool feature that can help you have a multitasking experience while you can perform any other operation on your PC. It creates a small floating media box to enjoy programs or videos on a PC. The global media control flag when enabled will add a small control button on the taskbar from where you can pause, play, next, previous, or PiP mode.
#global-media-controls.
18. Latest Stable JavaScript Features
Some web sites use non-standard JavaScript codes that may conflict with the latest JavaScript features on the web browser. This flag allows disabling the support of those features for compatibility with such pages. This flag works on both Windows and Mac.
#disable-javascript-harmony-shipping 
19. Fill Passwords on Account Selection
Generally, when you create an account for some website, your credentials are saved and every time you open the app site the account is already logged in. But if you have multiple accounts for the site (e.g Google Accounts) and wish to select different accounts very frequently then this flag is very useful. The flag only Fills the passwords when an account is explicitly selected by the user rather than auto-filling credentials on page load.
#fill-on-account-select
20. Show Autofill Predictions
This is a very useful Edge Flag that can assist you in filling the forms or signing up for the site. The flag can Autofill the forms with an email, location address, names, mobile numbers, and other pre-filled details so that you do not need to repeat the same every time.
#show-autofill-type-predictions
Conclusion: These are some of the best Edge Flags for your Edge Chromium Browser to Boost your Browser Productivity. The flags are experimental and may not work in every case.
If you've any thoughts on Edge Chromium Flags to Boost your Browsing, then feel free to drop in below comment box. Also, please subscribe to our DigitBin YouTube channel for videos tutorials. Cheers!