Didn't like any App icon or looking to experiment with App name on your Android phone? Today I will tell you a few tips and methods to set the App icon of your choice on your App Drawer home screen. You can also change the App name with this simple method.
With the method below you can not only change the App name or icon but also the version number of the App build. So without much delay let us see how you can change the App icon and name without any Root or complications on your Android device.
Many Smartphone manufacturers by default provide the option to edit the App name and icons. Just long-press on the app to check whether there is any such option.
Method I: Using APK Editor
This method is quite permanent and icon sticks with the app until you change it manually.
Step 1. Download APK Editor app from Google Play Store.
Step 2. Now open the Apk Editor App.
Step 3. Click on 'Select Apk from file' if you have an Apk file or 'Select Apk from App' if you have the app installed on your device.
Step 4. Select the app on which you want to edit the name and/or icon.
Step 5. Now you will see three options and tap on the third option by the name "Common Edit".
Step 6. At the top, you will find the option to edit the name and icon.
Step 7. Once the desired changes are made just click on save.
Step 8. Now Uninstall the already installed app.
Step 9. And now install the edited app from APk Editor. You are Successful in changing the name and icon.
Method II: Using 3rd Party Launcher
Some launchers have the ability to change icon names with a simple method. One such launcher is Nova launcher. You can download it from here.
Step 1. Install the launcher.
Step 2. Long press on the app shortcut in your android home screen.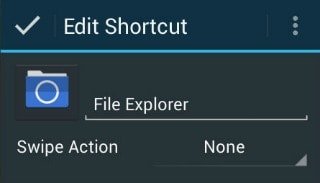 Step 3. Click on the Edit option or Drag the icon to edit (at the top) and release your hold on the icon.
Step 4. Now you are in the "edit app" popup, where you can edit the name and icon.
Note & Conclusion: You can also use QuickShortcutMaker to edit App name. Look for the app and "Tap to change label" to change app name.
I hope the post helped you in editing the App icon and name. Also, you can edit the App version and SDK code using APK Editor app.
If you've any thoughts on [Easy] Edit App Icon and Name on Your Android Device., then feel free to drop in below comment box. Also, please subscribe to our DigitBin YouTube channel for videos tutorials. Cheers!