If you use mobile data on your Android smartphone and do not have an unlimited plan, you will quickly exhaust your bandwidth because there are apps running in the background, and they use the internet. Also, there are some instances where we might need to disable internet access for some particular app.
Not all apps are connected to the internet all the time, but there are a few that need active internet access to function. In case you want to restrict any particular app from accessing your data, this trick below will help you. Also, it makes sense to limit the internet usage of your apps on Android smartphones if you have a limited data plan or a broadband WiFi connection with a monthly bandwidth cap.
Top Ways to Disable Internet for a Specific Android Apps
Yes, it is still possible to restrict internet access to apps individually on some smartphones with built-in tools. Unfortunately, Samsung has removed the ability to do so on most of its devices. There are a number of options available using which you can easily do this. So, if you are looking to block the internet for specific android apps, make sure to check out the methods we have mentioned below.
Method 1: Block Internet Natively
It is very easy to block internet access for specific Android apps, as on most Android devices, there is an in-built option to do this. So, in case you also don't know how to block the internet natively, make sure to check out these steps:
On your Android smartphone, tap on the Settings icon.
Look for Mobile Networks and open Data Usage.


Then, on the next page, look for the app that you do not want to have access to internet data, open the app and Toggle the buttons to Disable the internet for that particular app.

Method 2: Use Third-Party Apps
For Android devices, you will need to download and install a third-party app from Google Play Store in order to block internet access for specific apps. There is some free app available that you can use. So, let's check out those applications:
NetGuard:
Using this app, a particular app is locked, and internet access is restricted to it. Using this method doesn't require you to root your device. To use this app,
Download the NetGuard app on your device and install it.
Now, launch the app.
After that, tap on the toggle switch to initiate the NetGurad app functions located at the screen's top-left corner.
Now, a list of applications will appear with two icons (WiFi and Mobile data).
All the options are, by default, disabled. So, you can locate the app for which you want to block internet access and toggle the button.
No-Root-Firewall:
NoRoot Firewall is one of the most popular firewall apps on the market today. It offers advanced capabilities. Not only can you block mobile data/WiFi access for apps, but you can also set custom IP addresses, domain names, and host addresses for filters and conditions. It's free and available, so you can take a look at it even if its interface seems clunky.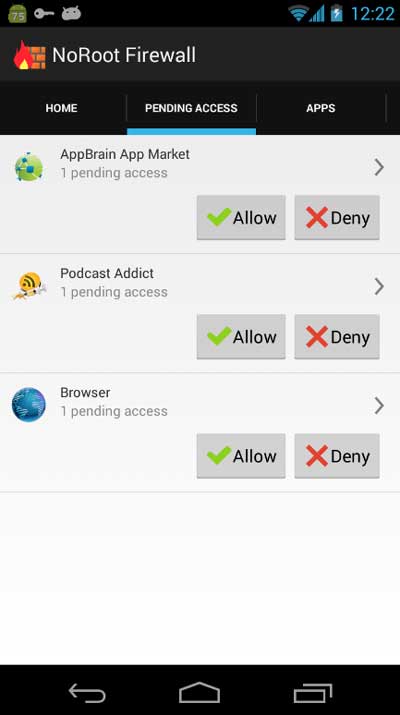 Can We Turn Off Internet Access For Apps in Samsung?
Yes, you can turn off internet access for any particular application on your Samsung device, but unfortunately, there is no direct method using which you can do this. The reason is simple Samsung optimized its OS in a way that forces the apps to consume less data. But, if you still want to do this manually, you can use the third-party applications that we have described above in this article.
Can I block an app on Android?
Click Manage next to Blocked Applications next to the Blocklists icon at the bottom of the screen to select which apps you wish to block. When you click Manage, you'll view a list of your device's apps organized by category. You can choose which apps you wish to block during Freedom sessions from this screen.
From Author's Desk
It's now easier to block specific apps when connected to mobile data and WiFi. Apps may be blocked from accessing the internet primarily to save data on mobile data. Nonetheless, there are other factors to consider, such as unnecessary updates, notifications, taking up space, and many other similar background activities. To minimize data usage, use the default data saver feature or use NetGuard to block all internet access in Android. So, that's it from our side. We hope you find this guide helpful.
If you've any thoughts on Block Internet Access for Android Apps: Disable Data on Specific App, then feel free to drop in below comment box. Also, please subscribe to our DigitBin YouTube channel for videos tutorials. Cheers!