Are you looking to download videos on your iPhone but have no idea how to do it? Then, you need to check this guide where I have compiled the 10 best video downloader apps for iPhone. iOS is an amazing mobile operating system. However, iPhones are not known to come with official means to download videos from any websites.
Usually, Apple operating systems(iOS, macOS, iPadOS) are restricted ones that value other parties' data ownership. So, to avoid any content data infringement, they don't encourage the system of the open download of content from the web.
Thankfully, many third-party video downloader apps have solved this problem, and you can use these apps to grab a video of your choice on the iPhone. Downloading a video from anywhere on the internet gives you the liberty to watch it at your leisure without having to depend on the internet.
Free Video Downloader Apps for iPhone
The apps that I have discussed in this space are official apps that are present on Apple App Store. Make sure to get the video downloading apps for iPhone from the official app store only. Rest assured, as you do not have to modify your iPhone in any way or perform a jailbreak to download videos from the internet.
Simply use the downloaded apps mentioned in the guide and grab the video URL to download the same to your iPhone.
FoxFM
Try out FoxFM, which is quite a popular app when it comes to downloading videos from YouTube and other video-sharing platforms. You can also save videos from DailyMotion, OneDrive, and similar cloud storage services.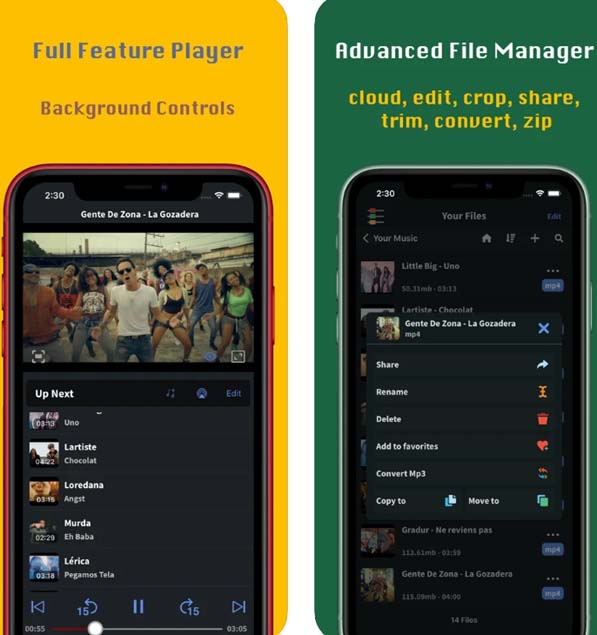 Simply let the video content play in the background, copy the URL and paste it into FoxFM's downloader to start the download of your video immediately. It also allows file sharing between various social media apps. MP4 files are supported by FoxFM. Your iPhone needs to run on iOS 12 or the latest to be able to use FoxFM.
FileGet
FileGet uses its native browser to download videos from video hosting platforms. Although on App Store, the application profile says video content cannot be downloaded, you can indeed download videos from the internet. Let me explain the process.
Simply play the video on the browser of the FileGet app. Then copy the video URL and get back to the download section of the app. You should see a  prompt to paste the link of the URL. Once you paste the URL, the download will begin shortly.
AmeriGo File Manager
AmeriGo file manager downloads any video from any part of the internet in just one tap. Let the video play using the in-built browser of the app. Then a prompt will ask you whether you want to download the video content. Tap on the green tick mark, and you will be good to go.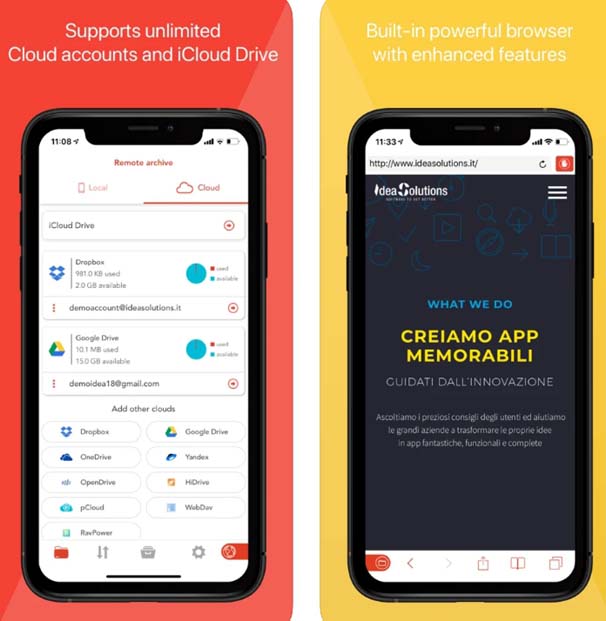 Apart from this, it offers spotlight indexing, and integration with all major cloud storage, comes with a PDF editor, and also has a flexible search function to immediately access all the content within the app and the cloud storage linked to your account.
To enjoy the app for free, you have to bear with display advertisements. To remove all kinds of ads, you can go premium.
iDownloader
What's best than having a video playing on the internet and you being able to download it directly? You can do this on your iPhone using the iDownloader app running in the background. No, it's not the official app from Apple as the name may sound, but it is efficient.
The app allows multiple downloads at one go. Along with the video, you may download audio, images, and other documents. With iDownloader, you can download around 50 videos at one time. Most of the popular video formats are supported by iDownloader.
Total Files
Total Files app for iOS uses its native web browser to download videos smoothly. It offers a one-click downloading option. Just start streaming the video, and you will see an option for downloading the video.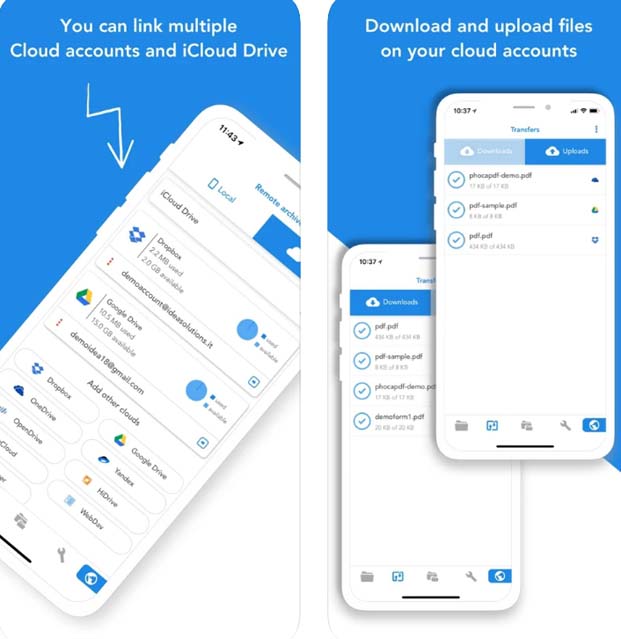 Along with downloading videos from video-sharing platforms, you can share and download videos from popular cloud storage. You can securely save your files using passwords. Also, it offers great scope for organizing the files that you have downloaded. While the app is free, you will see advertisements on the screen. You can enjoy ad-free premium services by upgrading at $4.99.
YouTube Premium
Yes, you heard that right. YouTube premium subscription allows you to download videos of your choice. Right below the video player, you will find an option to download your video in high quality.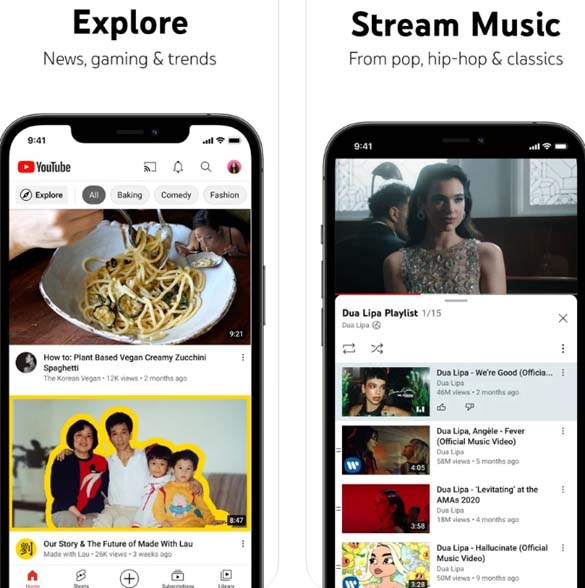 You have to pay $15.99(monthly)to enjoy the YouTube premium subscription. Along with the video download feature, you also get the feature to play videos in Picture-in-Picture mode. You may simply play the video in the background while only listening to the audio.
Offline Music Player
This app allows you to enjoy music and video from YouTube and save them for offline playing. Also, you can build your custom playlist for offline streaming and share the same with your friends.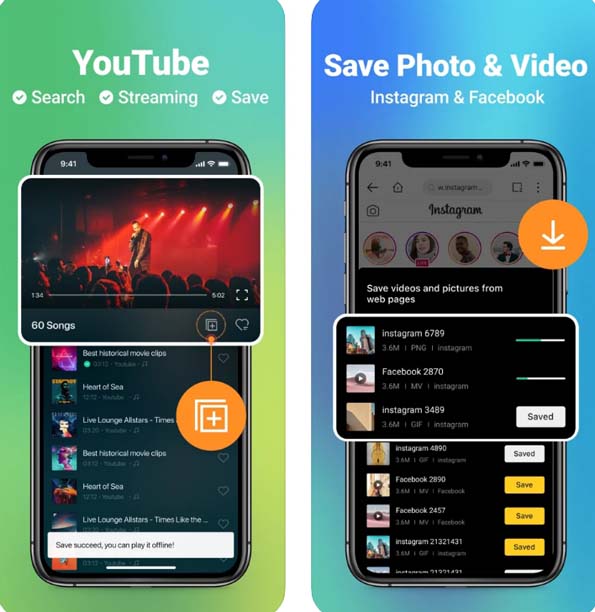 The best part of the app is it is available for free. It also offers saving videos from Facebook and Instagram. The app has a Power-saving mode that helps you find and grab your choice of video quite fast.
Video Saver Pro
You can download videos from video-sharing platforms through direct links. It also allows you to share and export your videos saved offline and through WiFi. The Video Saver Pro works on all models of iPhones. It has a desktop mode for better viewability of videos.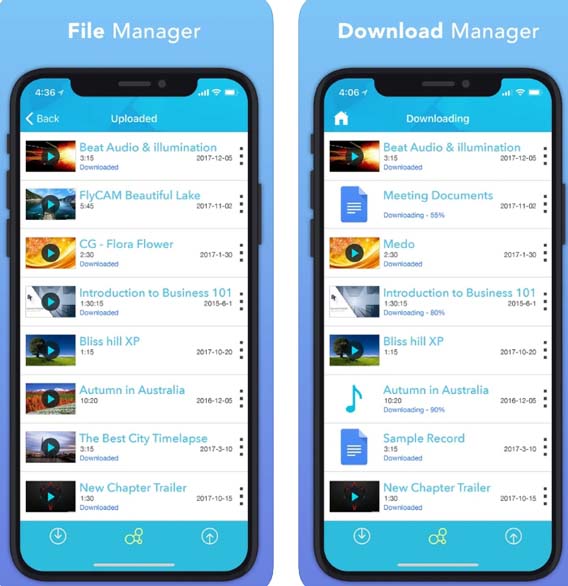 Video Saver Pro comes with native audio and video converter for various popular video and audio formats used in recent days. AirPlay and GoogleCast are supported by the app. While some of the features are available with the free version(which comes with Ads), to enjoy all the features, you can upgrade by spending $2.99 only.
Document by Readdle
This app has a unique name quite different than the regular downloaders we saw in this list. It still fulfills the requirement as a media downloader for iPhones. You can use its in-built browser to access any website and then download video content from the internet.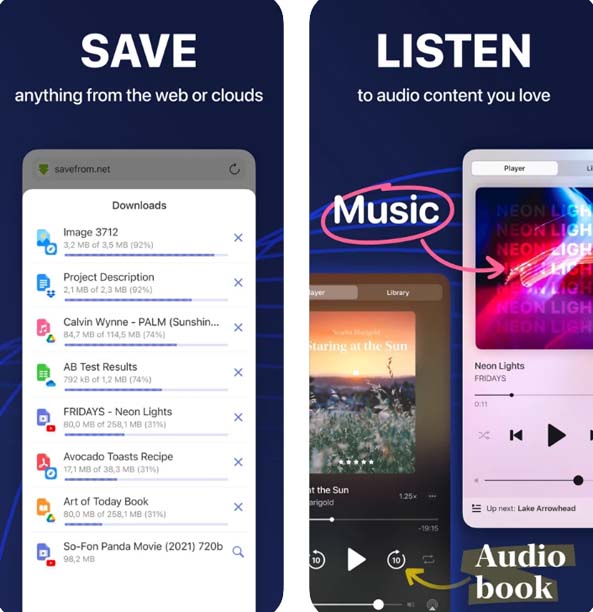 Apart from downloading, you can watch and share videos from various top platforms such as YouTube or Vimeo. It also has its native VPN, which it boasts to be quite fast and efficient. The native browser of Document by Readdle allows private browsing as well.
Download Videos easily on iPhone
If you like to watch videos from the internet offline by downloading the videos to your iPhone, then try out these best video downloaders for your iPhone. I hope this guide was helpful.
If you've any thoughts on 10 Best Video Downloader for iPhone, then feel free to drop in below comment box. Also, please subscribe to our DigitBin YouTube channel for videos tutorials. Cheers!