The world has been getting smaller and smaller with the progress humans have been making in technology. First, SMS was the preferred mode of communication, and then people moved on to messaging apps. Messaging apps are a great way to stay in touch with family and friends. Almost all messaging apps are free to use and require nothing more than just signing up. When we talk about these apps, a few like WhatsApp, Telegram, Facebook Messenger come to our mind, but there are other good alternatives.
If you are looking for messaging apps that are not popular but are pretty good to use, then you have come to the right place! We have compiled a list of the ten best random chatting apps.
Best Free Apps to Chat with Random People
Here are the Best Free Apps to Chat and Hangout with Random People Online for Android & iOS
1. Viber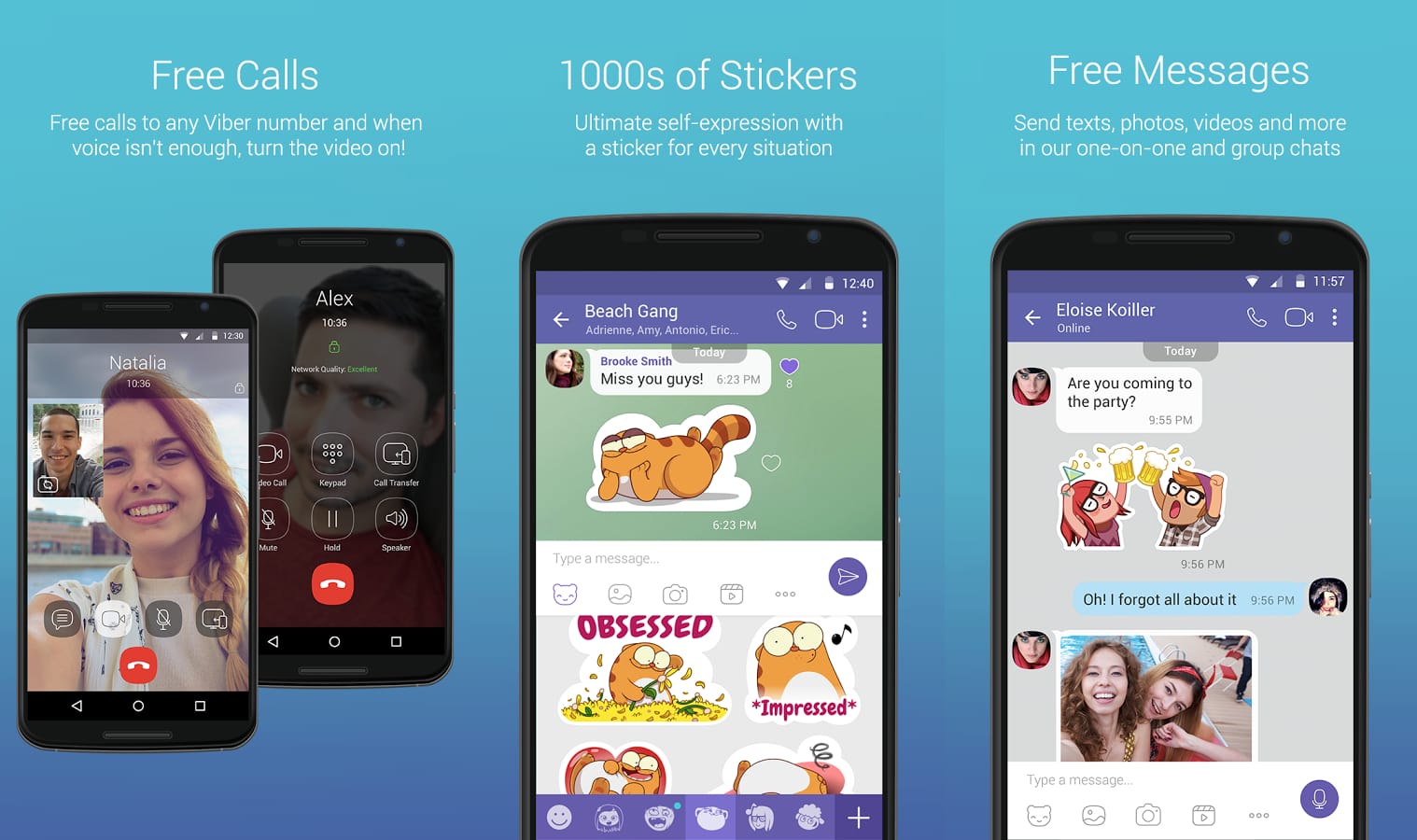 Viber, also called Rakuten Viber, is a free instant messaging app that allows users to send and receive messages, files, media and make voice and video calls using the internet. It was reported that in 2018 it had a whopping one billion users. Both individual and group calls can be made on the app.
Viber Out allows users to make international and domestic calls at affordable prices. It has a few other features like cute stickers, end-to-end encryption, and self-destructing features. It is available on Android, iOS, Linux, Windows, and macOS platforms.
2. Kik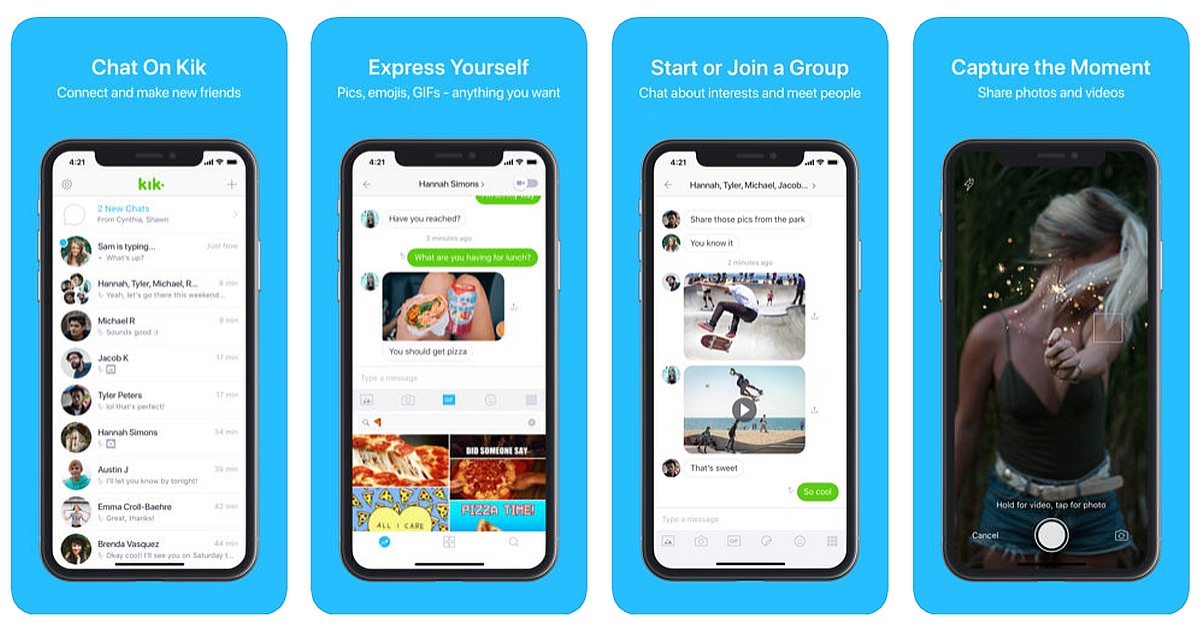 Launched in 2010, Kik is an internet messaging app that lets users chat with others while maintaining their anonymity. Available on Android and iOS, the app has users go by their usernames instead of their mobile numbers. The sign-up process is easy as users simply need to use their email and enter their birth date to sign up.
It has all the standard features of a messaging app while preserving the privacy of the user. Users can send and receive messages, photos, videos, GIFs, other media files. Group chats, live typing, video chats, and customizing chats.
3. Line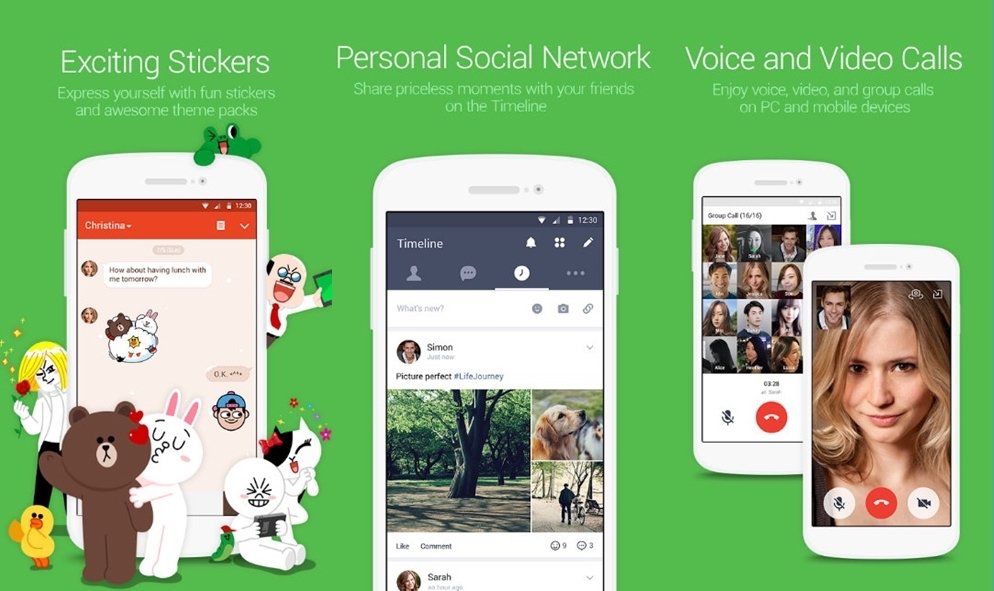 The Line app is one of the big players in the instant messaging app category. It has a lot of other products like Line Creators Market, Line Games, Line Taxi, and Line Pay. Users can send texts, images, videos, make video calls over the internet. The most notable feature of this app is the colorful stickers.
When the Line app started blowing up, its stickers were the most talked about! With support for Windows, iOS, Android, and macOS, the app has over 17 languages. Users can send texts, images, videos, make video calls over the internet.
4. Slack
This app is a bit unconventional. It is geared towards professionals who want to communicate with their co-workers and team members. The Slack app can be used for one-on-one messaging and group chats too. Apart from text messages, users can share files and media and also make voice and video calls.
All of the texts and media are searchable on the app. It has a free plan for individual use and a business plan for commercial use. If you run a business or have a job that requires you to constantly stay in touch with your co-workers, then Slack is perfect for you.
5. Kakao Talk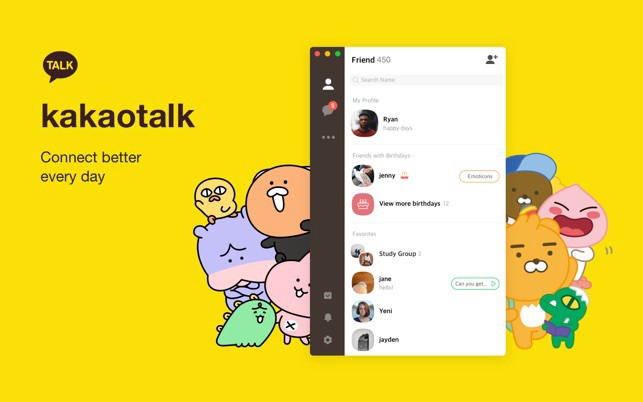 Kakao Talk, also called Katalk is a free instant messaging app that allows users to send and receive messages, photos, videos, voice notes, and location. It has more than 150 million users worldwide. It supports Android, iOS, Windows, and macOS. Other features include free voice calls, attractive stickers, group chats, voice filters, the ability to live stream with friends, video calls, and much more. The live stream is the highlight of the app. Even WhatsApp does not have the live stream feature!
6. Voxer Walkie Talkie Messenger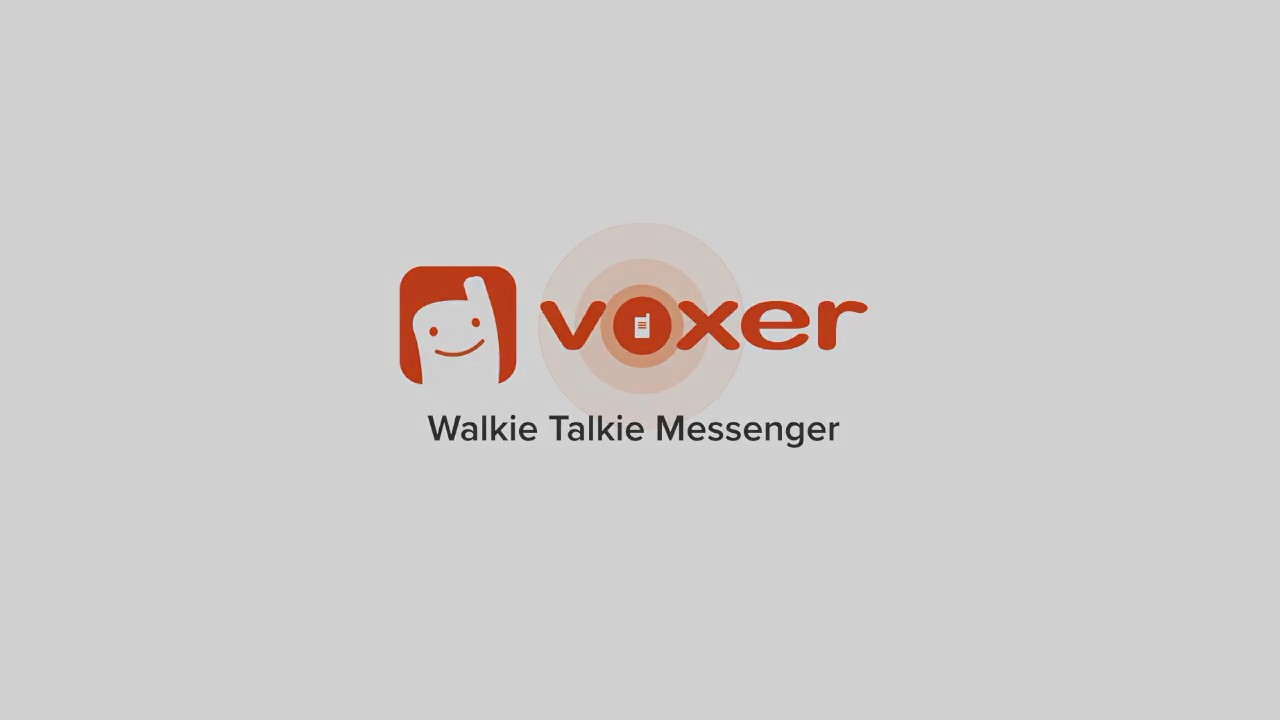 We all have played with walkie-talkies in our childhood and this app reminds us of those times! Voxer is a push-to-talk app that lets users communicate with others through text and voice messages. It has been built using Node.js for low latency. Some of its messages include message recall, group chats, end-to-end encryption, support for sharing media.
It supports Android, Windows, and iOS platforms. It has a fourteen-day free trial. For commercial use, it has a business plan too. This real-time push-to-talk app may seem unconventional, but it gets the job done.
7. GroupMe

The GroupMe app is meant for having group conversations but it can be used for one-on-one messaging too. It enables users to add 500 members to a group. The Microsoft-owned app is available on Windows phones, Android, iOS, and Windows 10 devices. Users can add contacts through their mobile number and email. Other standard features are sending text messages, photos, videos, and other media.
8. Wickr Me – Private Messenger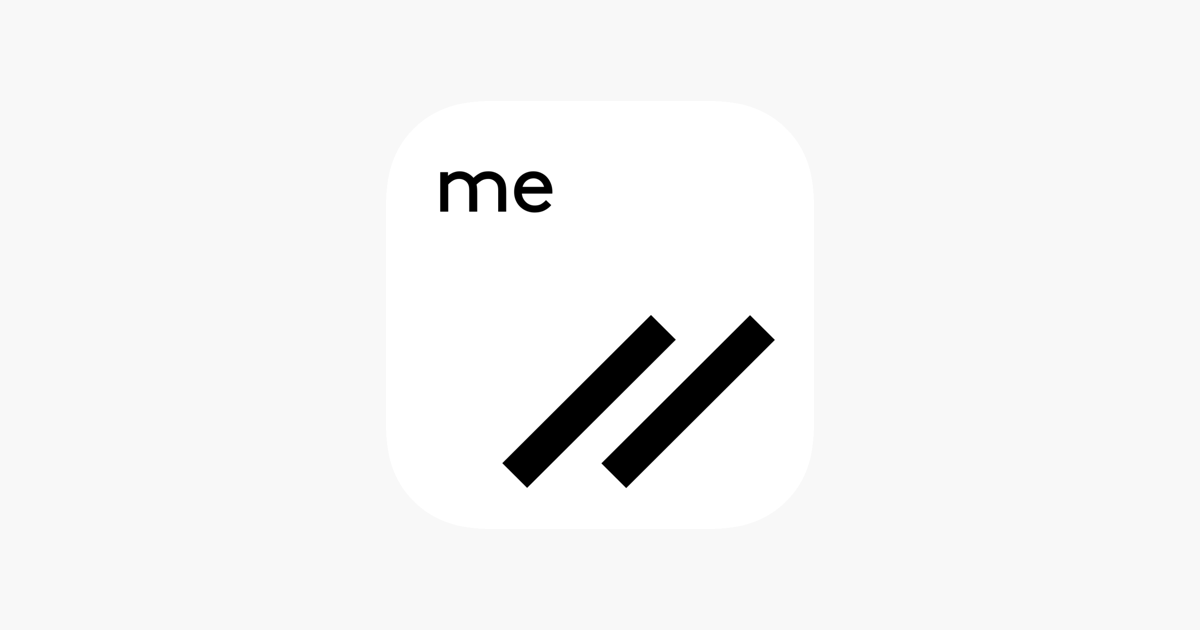 Available on Windows, iOS, Android, macOS, and Linux operating systems, Wickr Me is a secure instant messaging app with end-to-end encryption. The app does not access the user's contacts or any other personal information. Individual and group chats with up to ten members are supported. Users can set a timer for destructing the messages sent. Other products of Wickr are Wickr Pro and Wickr RAM.
9. Wire
Wire Pro, Wire Red, and Wire Enterprise are the three offerings of the Swiss company Wire Swiss. The basic variant of the app can be used free of cost for individual use. It can be used for both work and personal use. This secure app has end-to-end encryption that allows easy sharing of files and messages.
It has unique guest rooms, a one-click conference call button, and so much more. It is available on Windows, Android, iOS, macOS, and Linux platforms.
10. Google Chat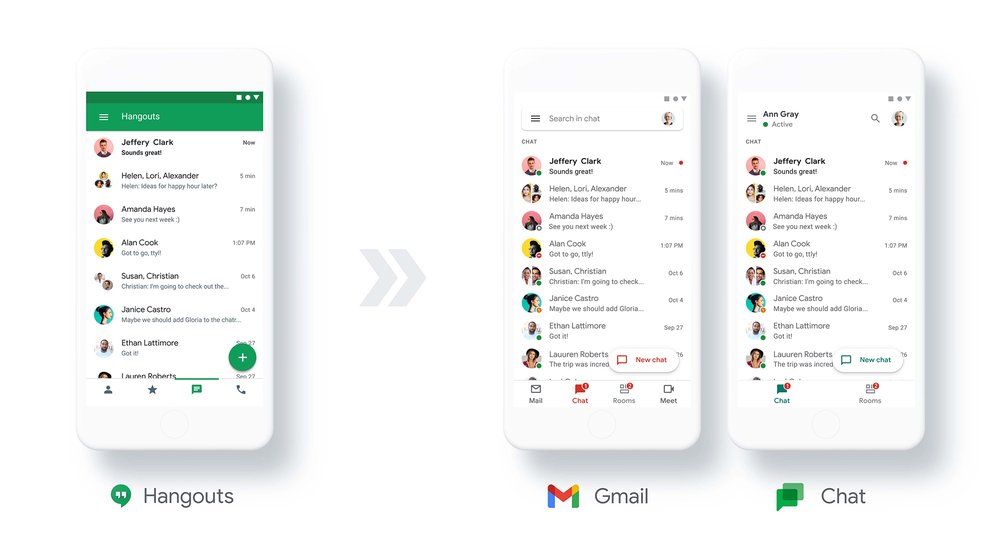 Google Chat was launched along with Google Meet to replace Google Hangouts. Its features include group messaging and content sharing from Google Docs, integration with Google Workspace, and other third-party apps.
Google Chat also has the basic feature of direct messages. Its current version is available for Google Workspace customers only. It is meant for commercial use but it can be used for individual use too.
11. Connected2.me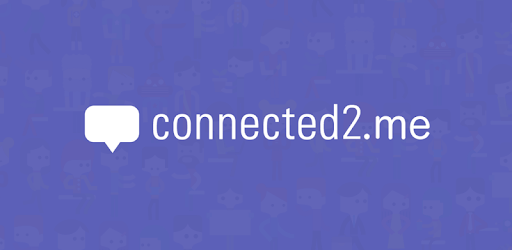 Connected2.me is a great application if you're looking to chat with random people sitting in different parts of the world. It uses your GPS location to locate people around your locality who are using this app. You can start the conversation with anyone by simply tapping on their profile.
The selling point of Connected2.me is that you don't need to create an account in order to enjoy its services. Similar to Instagram and Facebook, the app has story features as well. However, you will have to create an account if you want to post any stories.
12. Chatous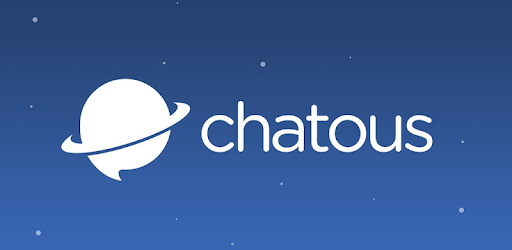 If you are looking for a platform to discuss politics, cricket, Hollywood, or something specific, then Chatous is the platform for you. The application helps in finding profiles with the same interest.
Chatous boasts lots of exciting features to make your conversation interesting. Above all, its hashtag feature is preferred by all its users as it helps in finding people of the same interests and choices.
Special mention – Some apps that did not make it to the list are Tox, IMO, Threema, Element, and Dust. All of them are decent to use but are not very popular.
Well, this is the end of our list of the ten best random chatting apps. All of them can be used as an alternative to your current messaging apps. Do give them a try!
If you've any thoughts on Best Apps to Chat with Random People, then feel free to drop in below comment box. Also, please subscribe to our DigitBin YouTube channel for videos tutorials. Cheers!