Car racing games will bring a lot of fun to an iPhone. You can tilt your iPhone left and right to steer the car and with the latest and eye-popping graphics, racing games have become more fun to play.  Modern-day phones are capable to play high-end games. However, the app store features a huge list of racing games which makes it difficult to choose the best racing games for the iPhone.
Free Racing Games for iPhone & iPad
To assist in your search for the best racing games, we rounded up a list of the best free racing games available for iPhone and iPad.
1. Asphalt 9: Legends 
Asphalt 9: Legends - Google Play Preview Video
Asphalt 9: Legends is undoubtedly one of the best racing games available for iPad and iPhone. It is the successor of Asphalt 8 and 9. This time developers improved the graphics quality with a completely new environment where you can explore plenty of challenges and stunts.
Asphalt 9: Legends also host a collection of new popular cars. With its new touch drive mode you can boot the power of your car and the car will accelerate automatically, all you have to do is take care of the car steer and drift. You also have the option to customize your car as per your preferences.
The game animations are quite impressive to keep you engaged for hours without a single break. If you're a fan of hard-core racing games then Asphalt 9: Legends will not disappoint you.
Download: Asphalt 9:Legends
2. Real Racing 3
Real Racing 3. Formula 1®. Season 2
Real Racing 3 promises to deliver the ultimate racing experience for iPhone users. This game is with a tutorial, where you can learn about the various controls of the game. Real Racing 3 features more realistic graphics and the handling of the cars is amazing.
The game has a career mode as well to keep track of all your gaming achievements. Real Racing 3 hosts more than 200 cars and around 30-different real-world locations. Along with the standard racing with your iPhone, you can also invite your friends to enjoy a real-time racing experience with them.
Download: Real Racing 3
3. CSR Racing 2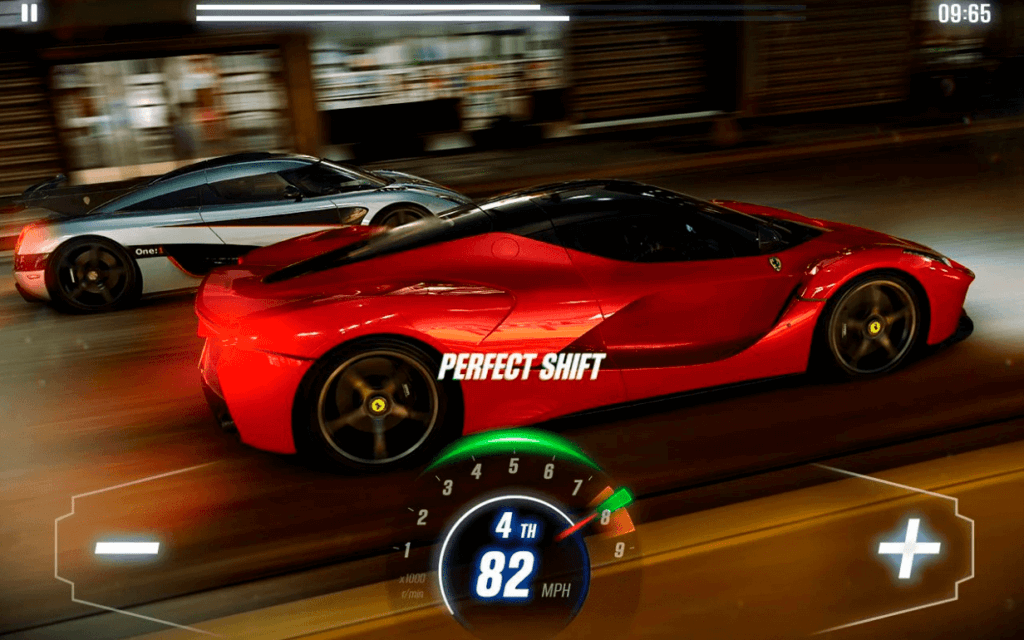 CSR Racing 2 is one of the great racing games. This game brings you the best urban drag racing game with its stunning-looking graphics. CSR Racing 2 lets you play in the standard mode where you will compete with your iPhone or you can invite your friends in online multiplayer battles to explore a real-time gaming experience.
As CSR Racing 2 is more into drag racing you don't have to worry much about the steer, all you have to do is take care of gear shifting. This game also lets you do some customization to make gameplay more interesting. You can customize the interior of the car as well as the exterior of the car.
Download: CSR Racing 2
4. Gear.Club – True Racing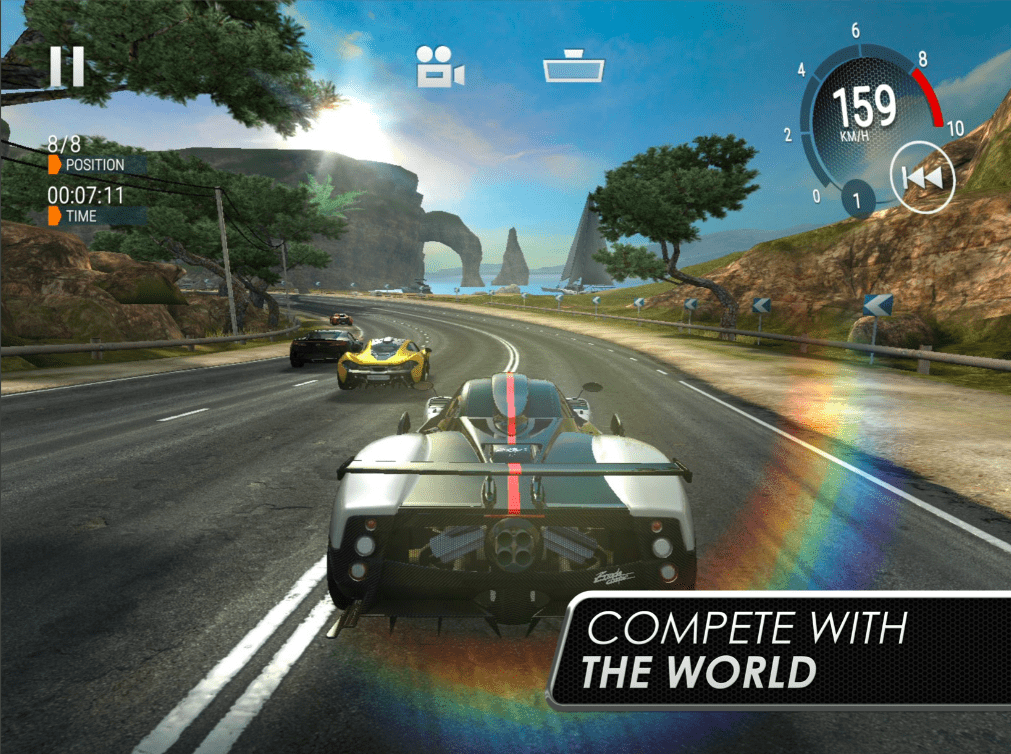 Gear Club True Racing offers you to explore an authentic world of amazing cars and a realistic driving experience. The game features some impressive graphics and visuals that are inspired by real-world locations.
Gear.Club – True Racing is much more than just a racing game, it is an experience. In this game, players build and customize their cars and run their garage. They take part in events, championships, races. Controls cannot be customized in the game, the graphics more than makeup for it.
Gear Club hosts a range of cars that can be upgraded and customized by the players as per their preferences. The simulation-style approach of the game seems adequate to keep you engaged for hours. The game can be downloaded from the App Store free of cost and offers support for almost all versions of the iPhones.
Download: Gear.Club -True Racing
5. Need For Speed: No Limits 
NFSNL Google Play Launch Trailer - Updated for 2021
Need For Speed has always been popular among racing game lovers. The game hosts around 30 cars that can be upgraded and customized as per the preferences of the player. The controls of the game are quite simple, all you have to do is tap on one side of the screen to accelerate and another side to put the brake.
Need for Speed has several types of racing modes that will make the game more attractive. The game has kept the racing time extremely short and will be completed within a few minutes. If you win the race you will be rewarded with points which will be used to unlock new cars, upgrade and customize cars as per your choice.
Download: Need For Speed: No Limits 
6. Traffic Rider 
Traffic Rider - Official Trailer
Traffic Rider is a first-person motorbike racing game that lets you zip through the traffic on your motorbike. Your job is to drive your bike at a high speed without hitting any vehicle for which you will reward with coins. If you manage to maintain the high speed for a longer period then you will be rewarded with bonus points.
This game has managed to retain the old school and simplicity. Traffic Rider lets you enjoy the endless racing experience by adding a career mode. Career mode offers a variety of fun missions.
The game hosts 32 motorbikes which produce a real motorbike sound that is recorded from real bikes. The day and night environment of Traffic Rider makes the game more realistic.
Download: Traffic Rider 
7. Asphalt Xtreme
Asphalt Xtreme - World Premiere Trailer
Asphalt Xtreme is another addition to the Asphalt game series from Gameloft. The game offers a huge range of offroad vehicles that will let you explore some marvelous locations without worrying about roads.
Similar to other Asphalt series games, Asphalt Xtreme also has a garage where you can customize your cars as per your preferences. The game also comes with the multiplayer mode which allows players to explore the head-to-head racing experiences with their friends in real-time.
Asphalt Xtreme is employed with the high-end graphics and fun-to-play element of the game that will keep you entertained for hours.
Download: Asphalt Xtreme
8. Grid Autosport
GRID Autosport – Out now for Android
Grid Autosport is often said to be very similar to console racing games. Its graphics certainly look like they are from a console. Featuring over 100 cars and 100 circuits, the game makes the journey of becoming pro-racer very enjoyable. Customizable controls, support for multiple languages, customizable difficulty levels, and various modes are features in the game. Unfortunately, the game has to be purchased to be played.
Download: Grid Autosport
9. Highway Rider
Highway Rider is a free bike racing game for iPhone and iPad users that let you, doge, through the traffic at high speed. Each time when you dodge the traffic you will be rewarded with points that will help you to unlock new bikes and level up the gameplay.
One of the best features of the Highway Rider is the intense multiplayer mode where you can test your racing skills with your friends. If the multiplayer mode doesn't excite you much,  there is another game mode as well called fugitive mode where you have to race against the vehicles that come in your way.
Download: Highway Rider
10. KartRider Rush +
KartRider Rush + is an extremely cute game. From the characters to the cars, the game hooks you in hook line and sinker. With more than 300 million players, it is one of the top casual, racing games of all time. It has several gameplay modes like Arcade mode, Story mode, Ranked mode, Speed Race mode, and Time trial mode.
Select outfits, accessories for your character, choose a kart and customize it with decals and other accessories. Players can join clubs to race with their clubs, race in over 45 race tracks, show off their rides in style. This free game is best for some casual gaming.
Download: KartRider Rush+
11. Assoluto Racing
Assoluto Racing is another car racing game for the iPhone which comes with highly impressive graphics and lets you explore a variety of locations. The game enables the players to upgrade or customize their car features such as car weight reduction, suspension, installation of the new exhaust, and so on.
The game has a powerful physics engine and unbeatable graphics which makes the game superior.
Download: Assoluto Racing
12. Reckless Racing 3
Reckless Racing 3 - Release Trailer
Reckless Racing 3 is one of the most popular racing games. The game features dirt racetracks, a wide range of trucks and cars, and marvelous graphics. It has different modes like Arcade mode, Drift mode, and Career mode. Its 'Reckless Mashup' mode pits trucks against cars and buggies. Over 30 routes, 6 locations, and 28 cars, trucks are featured in the game. Customizable touch control, gamepad support, and fun graphics make the game exciting. The game is not free and has to be purchased to be played.
Download: Reckless Racing 3
13. Top Speed: Drag and Fast Racing
Top Speed – Official Android Trailer || T-Bull
Top Speed: Drag and Fast Racing is a free yet interesting car racing game for iPhone and iPad which lets you choose from 69 interesting car models. As the name suggests, this is a drag racing game where you can enjoy drag racing in five different locations. The game is available offline and well suitable for players older than 12 years.
Download: Top Speed: Drag and Fast Racing
14. Horizon Chase – World Tour
Horizon Chase- World Tour is not a super-realistic racing game. Instead, it is a tribute to the classic arcade racing games. It is inspired by retro games like Lotus turbo Challenge, Outruns, and Rush. Featuring Barry Leitch's soundtracks, 21 cars, 92 tracks, 40 cities, and 10 cups, the game has a free trial with free levels after which the game has to be purchased.
Download: Horizon Chase
15. Dirt Bike Unchained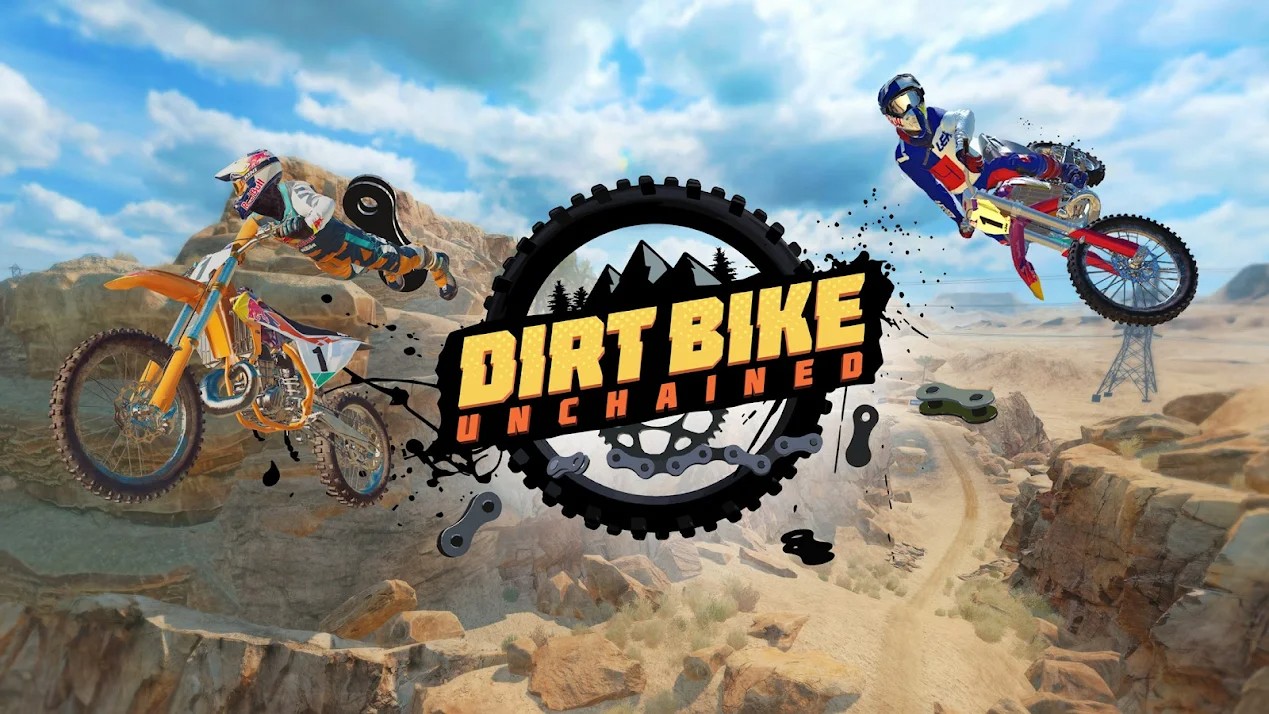 Dirt Bike Unchained is the next name of a list that boasts stunning controls, brilliant visuals, and thrilling race tracks. In the game, you will be performing nail-biting jumps, and tricks in different parts of the world, winning new bikes and getting rewards for your skills.
Dirt Bike Unchained features 20+ epic bikes that you can try in different areas including desert, swamp, and forest. You can even customize your rider's look with branded gear from famous moto firms like Red Bull, Kini, 100%, and many more.
Download: Dirt Bike Unchained
Final Take
And with that, you have the name of the top 10 car racing games for iPhone and iPad. So whenever you feel bored or want to explore racing thrill pick your iPhone and start racing.
In addition to these, if you have any suggestions which we should include in our list then let us know. At last, let us know which game you have chosen and how was your racing journey.
If you've any thoughts on 10+ Best Free iOS Racing Games for iPhone and iPad, then feel free to drop in below comment box. Also, please subscribe to our DigitBin YouTube channel for videos tutorials. Cheers!