Are you looking for a torrent client for your Apple computer running on macOS? Then you are in the right place. In this article, we are going to discuss torrent, and then we are going to list the Best Torrent Clients for macOS.
You'll need a torrent file or magnet links in order to initiate a torrent download. Following, the torrent file or magnet links should be opened by client software that can read the metadata in the file and start downloading the actual files. So in this article, we're going to list and brief the top best torrent client software for Mac OS.
Disclaimer: The below-listed best torrent clients for macOS are not categorized in some hierarchical manner. All the clients have their own pros and cons, go through the whole list and choose the one that fits your requirement.
Free Torrent Clients for MacBook PC
Here are the Best Torrent Clients for Mac PC to Download Magnet Files on your macOS Computer
Free download manager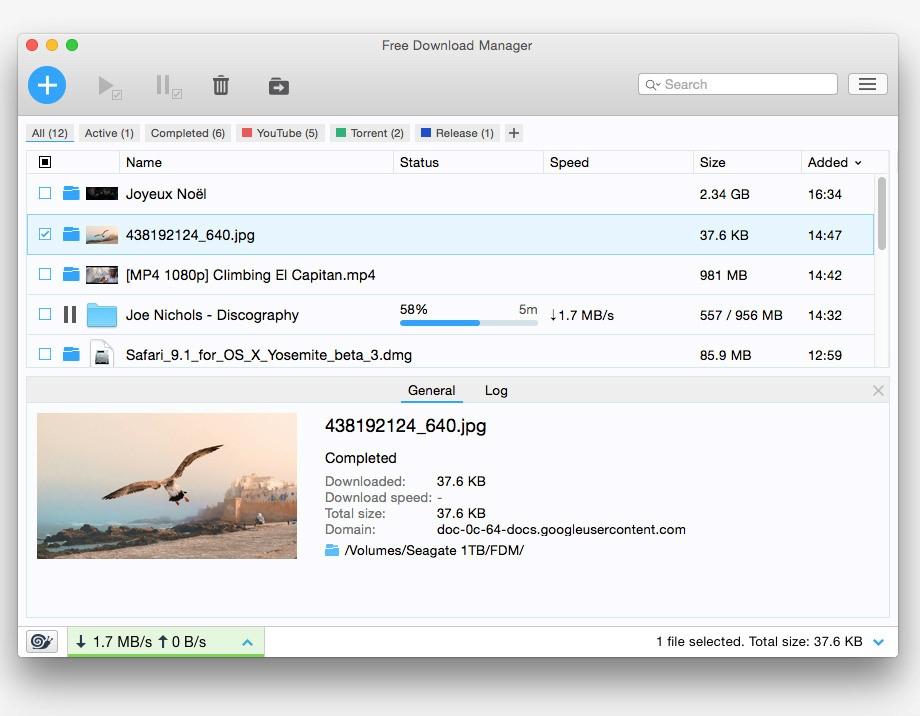 The free download manager is not only a download manager, but it is also a torrent client. The software is entirely free and available across platforms. Since the manager can integrate with popular browsers like chrome and Firefox, it can directly catch downloads from websites.
Here's the list of features:
It is completely free of ads and free of cost.
Simple and yet powerful UI also comes with dark mode.
Powerful Scheduler for automating downloads.
Snail mode allows freeing up bandwidth without breaking an ongoing download.
Cons:
As a download manager, it has great features. Although as a torrent client, it has the following cons:
No option to search for torrents.
No advanced options relating to torrent management as offered by other clients.
Transmission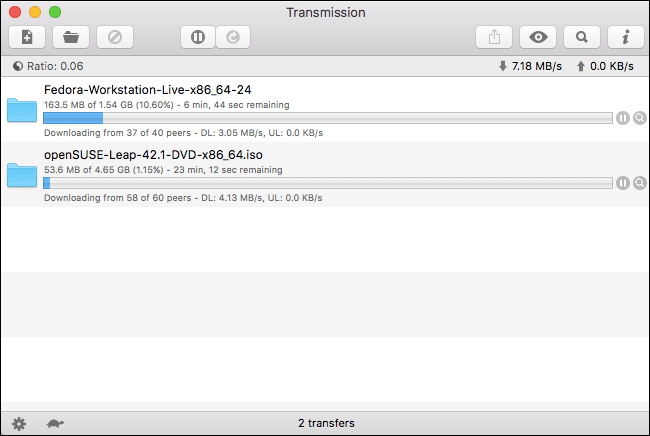 Transmission is the best choice for people using Linux-based operating systems. It's also available for Mac OS and will work with Mac OS Catalina as well. Since it is open-source, it's free to use, and there are no ads whatsoever. And the UI is very minimalistic that attracts users of both novice and advanced categories.
Here's the list of features:
Ability to integrate with the OS and use it seamlessly.
Fast and minimal UI.
Cons:
Since it's too minimalistic, there is no support for tracker management such as tracker exchange. It also doesn't have any built-in torrent file-searching utility.
qBitTorrent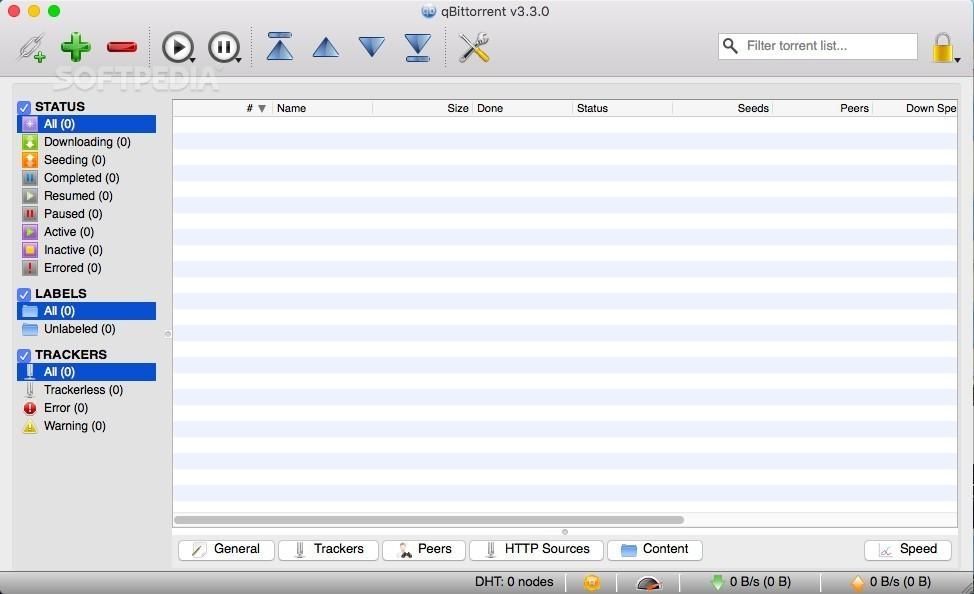 The qBitTorrent client is another cross-platform, free, and open-source BitTorrent client available for Mac. It has a well-integrated search engine for searching torrents. Also, it can run searches simultaneously on various torrent websites.
Since it has many other tools like extensive control over torrent files, it becomes the best choice for many users. Although features like torrent prioritizing and torrent file prioritizing are available with many other clients as well, the bandwidth scheduler is a vital feature for this client.
Here's the list of features:
Sequential downloading of torrent files. Hence you can download torrents in the order required.
Remote control using a web interface, although it is nearly identical to the UI in the client.
Support for multiple BitTorrent extensions like PEX, DHT, and LSD.
Since there are no ads or any types of distractions, you can choose this one.
Now that we've covered the best torrent clients for Mac OS, let's cover the best torrent sites to get some torrent files to download them using your favorite client.
FrostWire
FrostWire is a free and open-source torrent client for macOS that offers cloud downloads along with acting as a media player. It supports numerous platforms, has fast downloads, and has a user interface that is simple to use. Users may easily and smoothly search for, download, and play media files with FrostWire. It can be considered one of the best torrent clients for searching and downloading files directly from the BitTorrent network.
Here's the list of features:
Ability to play files while downloading.

Provide users with links to several search engines so they can quickly find millions of downloadable files covered under the creative commons license.

Search results won't show up in the browser as they do on other torrent clients; instead, they'll appear in the app.

Allow users to stream files from the cloud before they have finished downloading.
Cons:
Not effective in search results.
Folx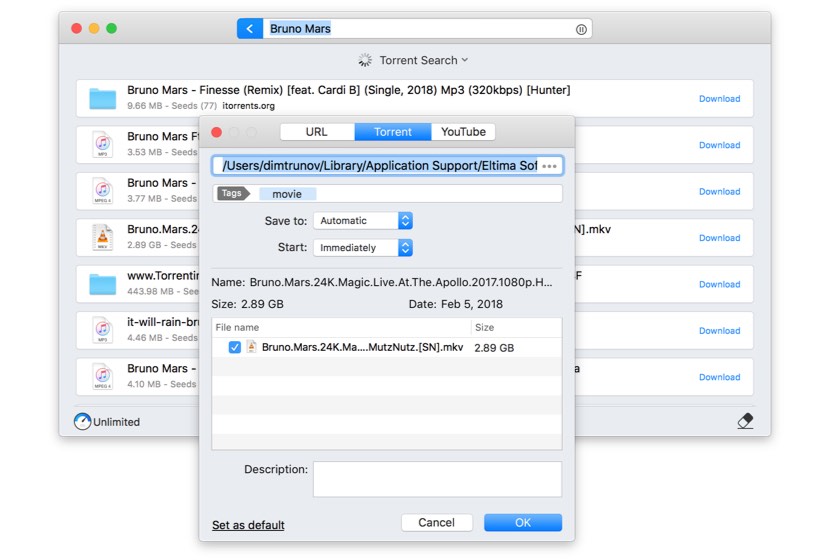 Folx is a very good-looking and beautifully designed torrent client for macOS, and specially designed for macOS only. It has many unique features that can only be found on Folx. Although there are many torrent clients for macOS, none of them provides these types of features, at least not on the free version.
Since it is meant for macOS, it is very smooth to use and provides a very convenient way to download and organize the files by proper categorization like Music, Video, Software, etc.
Features of Folx:
Smart tagging environment for downloaded files,
Downloads can be split into two tasks (downloaded simultaneously)
Also, have a browser extension to ease the download process
Resume feature for uninterrupted downloads
Inbuilt torrent search
BitLord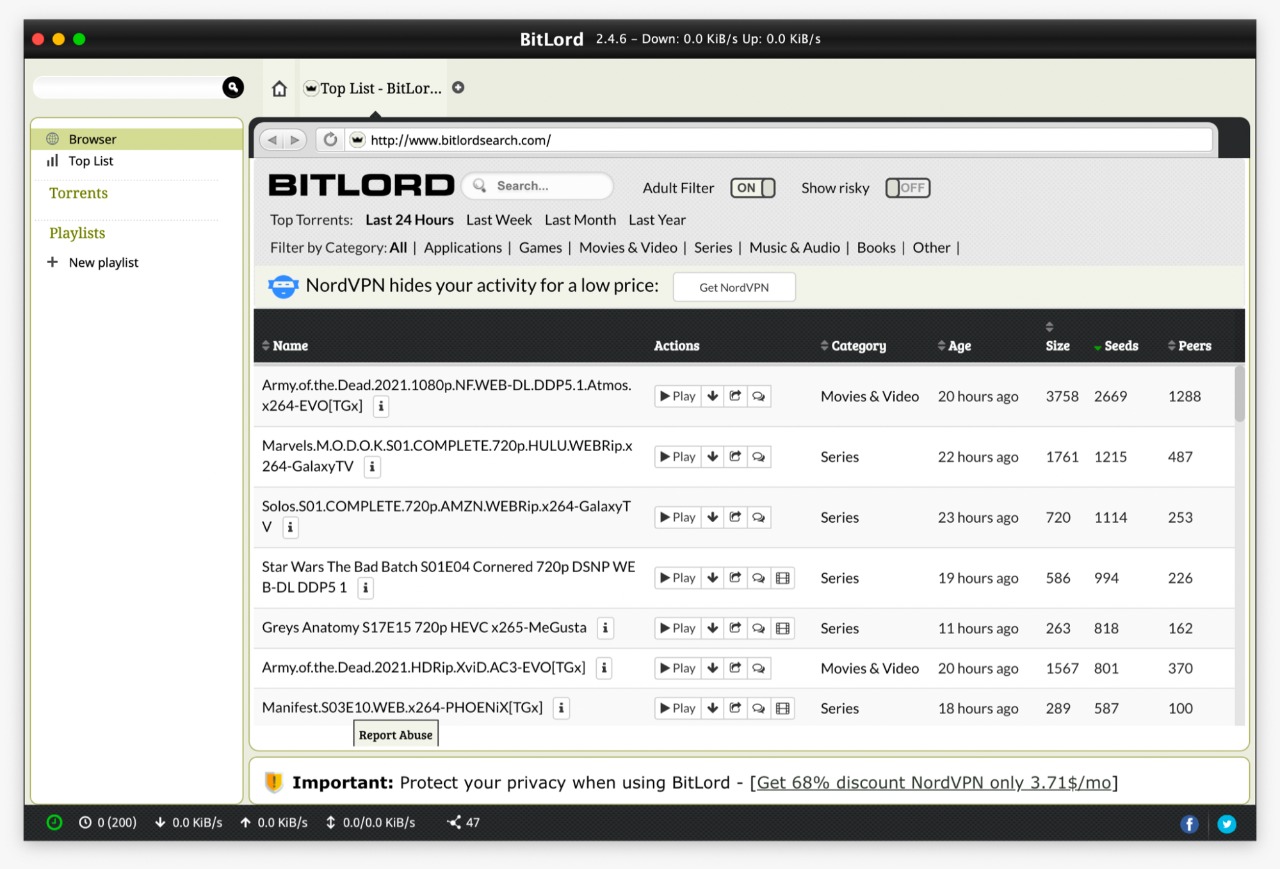 In case you don't need any fancy-looking download but a good and reliable downloader, then BitLord can be your option to choose. This is a simple torrent client for macOS.
The good thing about this client is that it works on the same base of the torrent, i.e., P2P compatibility. The client works on a P2P network only, which means there is no particular BitLord server to save the torrents, it is directly being fetched from the users only.
Features of BitLord:
Simple and straightforward user interface
Search feature for different torrents
Chromecast facility
Playable before fully downloaded content
Categorization  of downloaded contents
BitTorrent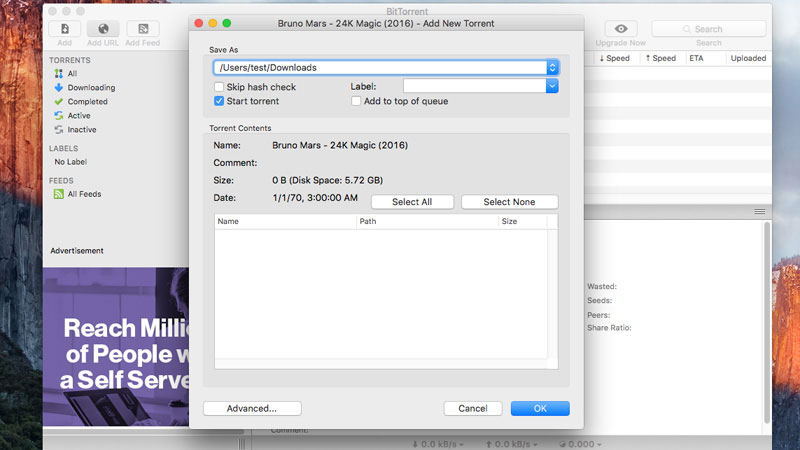 BitTorrent is one of the oldest and best torrent clients for macOS, which is basically available for most operating systems like macOS, iOS, Android, Windows, Linux, etc.
The good thing about this client is that it is the official client of BitTorrent (a web-based torrenting service). So, you will not find any kind of unexpected bugs or errors, and you will get frequent updates with more features and smoothness.
Features of BitTorrent:
Simple User Interface
Proper integration with most of browsers for magnet links
Limitless download limit
Feature to download as many simultaneous files
Very lightweight to download and install
Remote option to start downloads
Inbuilt search feature to download torrent
Vuze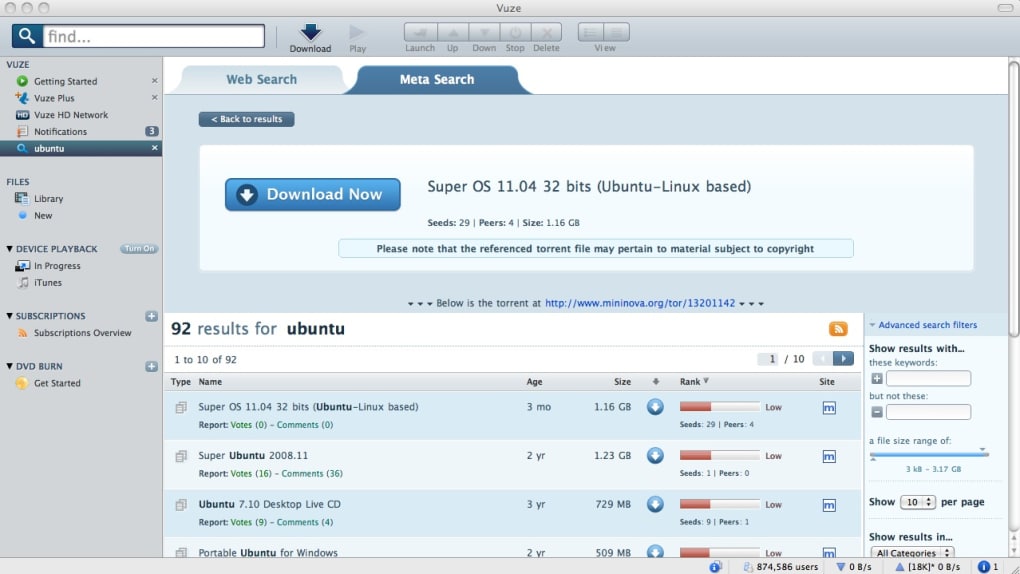 Vuze is another BitTorrent client that has a ton of features added to the official BitTorrent client for macOS. It is a freemium app, which means it is truly a free app that can be used without paying any penny.
It supports all the latest torrent features like PEX (Peer Exchange) and Magnet URLs, which are being implemented by BitTorrent.
The developers are very active, so we can expect regular feature updates and bug fixes; as it is a freemium app, so you don't have to worry about the charges.
Features of Vuze:
Support for BitTorrent features like PEX, DHT, and Magnets URLs
Inbuilt addons for more customizations,
Native support of VPNs in case of restricted websites
Search feature to find your favorite torrents within the app
WebTorrent Desktop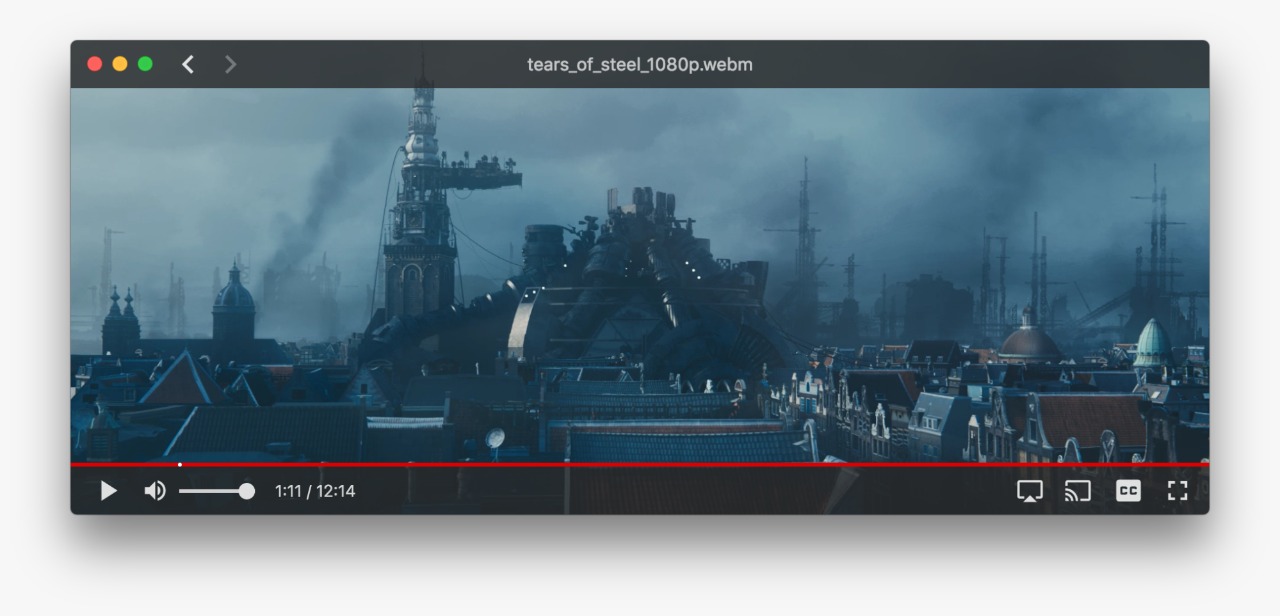 This is actually a very good torrent client, if your system has limited space, as this client will allow you to stream the video content from the client itself. The client can also fetch the data from various other sources like Internet Archive, or Creative Commons.
Also, you don't have to completely download the content to enjoy/view it, you can play the video content even before downloading it to 100%. This is basically another BitTorrent client that fetches the torrent from the BitTorrent server only.
Features of WebTorrent Desktop:
Stream Torrent files directly from the app
Totally ad-free interface
AIrPlay, Chromecast, and DLNA supported
Using instant.io script for fast buffering
Support for WebRTC peers
uTorrent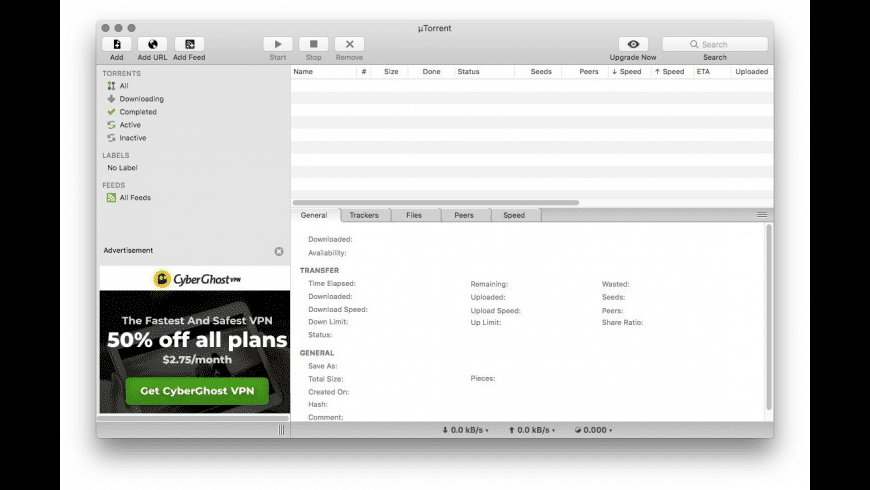 Last but not least, it is basically the oldest yet most reliable official client of the uTorrent service. The app is the oldest, but that doesn't mean it is no good; over time it has improved a lot.
From reliability to speed, it has everything you need, but the sad thing about this is that it has many ads that are being used to cover the server and development costs.
So, you can just download and start using the app if you don't care about a few apps here and there.
Features of uTorrent:
Online inbuilt torrent player
Supports magnet links as well
Search facility to find the best torrents
Provides many optional bundled software.
Deluge
Deluge is an easy-to-use torrent client for macOS that is free and open-source. It has a very straightforward, customized user interface that makes it simpler for users to download files. Advanced torrent users may find its compatibility with Windows and Linux, support for numerous plugins, and encryption allowing users to customize and enhance its functionalities according to their needs.
Here's the list of features:
Deluge comes with a tonne of helpful plugins that increase its capabilities.
really quick performance.
Deluge, a BitTorrent client, provides a variety of alternatives for responding to user questions, including emails and FAQs.
Highly Customizable.
Cons: 
Contain Bugs.
Heavyweight, so usability is not up to the best.
If you've any thoughts on 11 Best Torrent Downloader Apps for MacBook., then feel free to drop in below comment box. Also, please subscribe to our DigitBin YouTube channel for videos tutorials. Cheers!