In this article, we will discuss some of the best Android 3D wallpaper apps, looking at the best apps that will upgrade your device's visual. Whether you're looking for immersive landscapes, abstract designs, or mind-bending illusions, these hand-picked apps will turn your smartphone into a compelling 3D visual enhancer. Let's get started.
Top 3D Wallpaper Apps for Android
Here are Some of the Best 3D Live Wallpaper Apps for Android to Convert your Wallpaper into a Beautiful 3D effect.
1. Muzei Live Wallpaper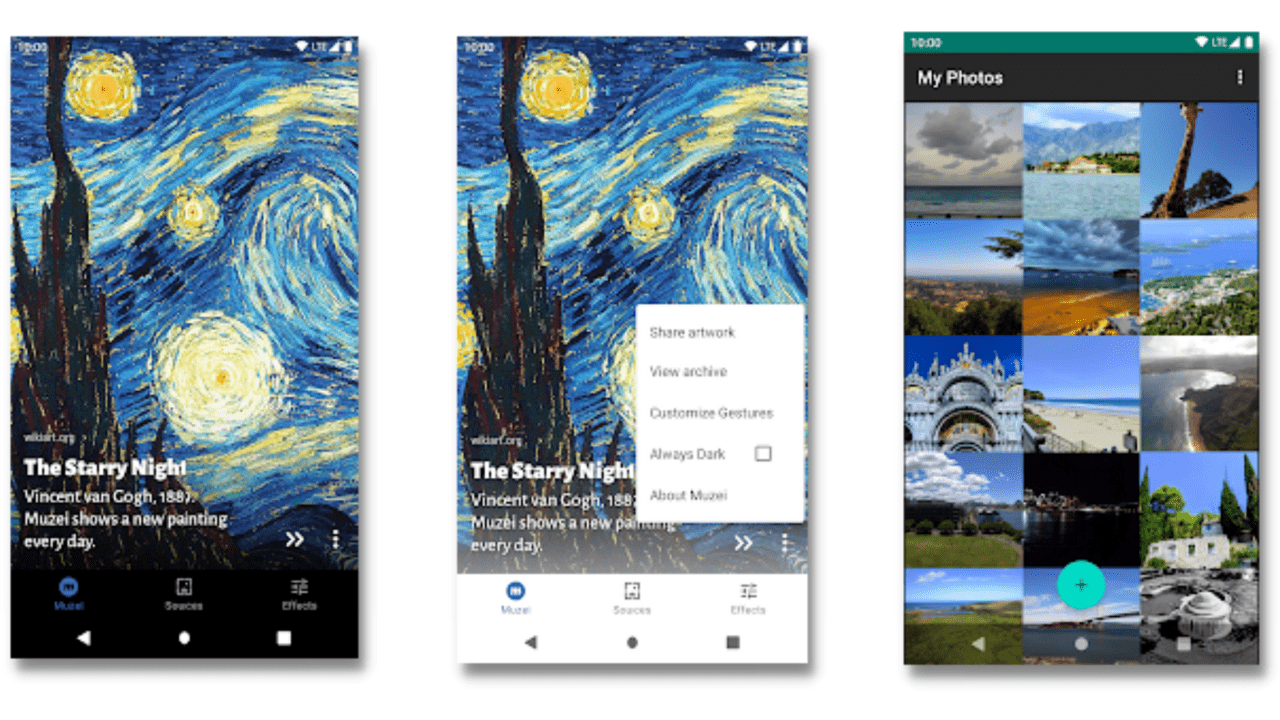 Muzei, a live wallpaper app that I've been using for over a year, adds a bit of creative flare to your Android home screen on a daily basis. Consider waking up to the sight of legendary paintings gracing your device, gradually changing with each passing day. Muzei not only displays amazing artwork, but it also fades into the background, making your icons and widgets shine clearly.
What's more fascinating is that Muzei is developer-friendly, allowing you to establish your own wallpaper source. What's the best part? This app is completely free to download and use, and you won't have to deal with any annoying advertisements in between the wallpapers.
2. Forest Live Wallpaper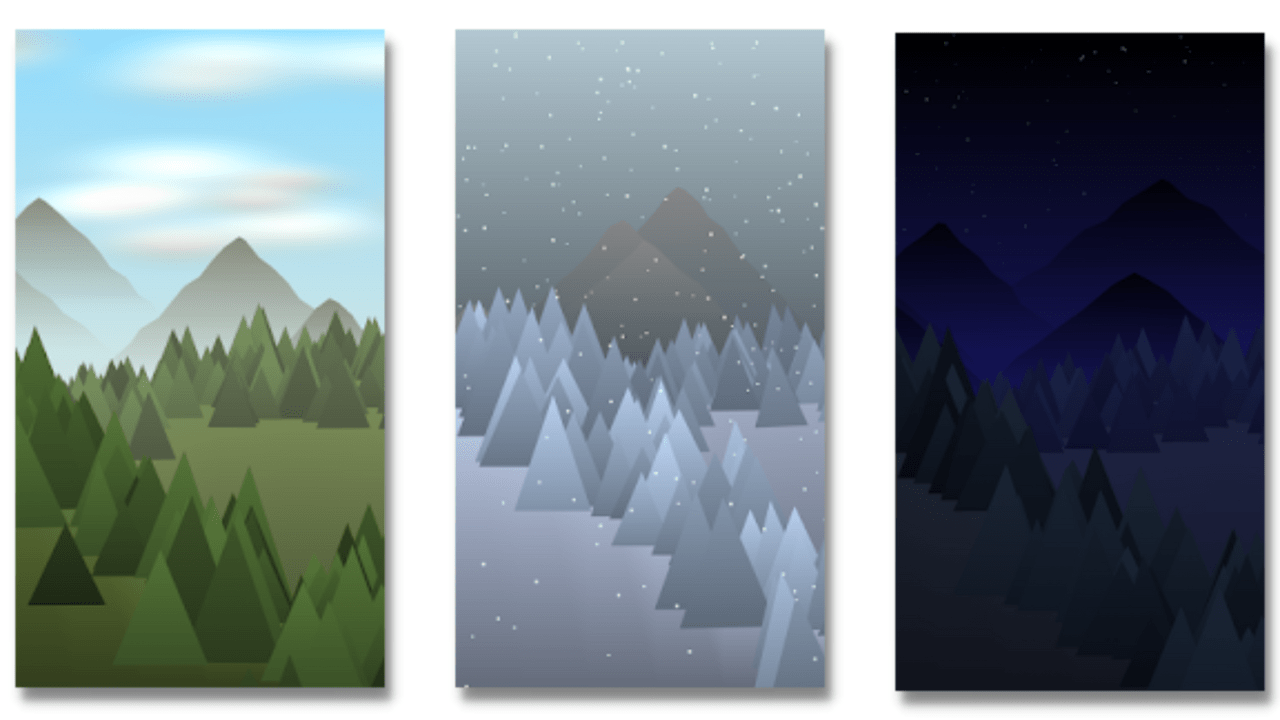 Forest Live Wallpaper allows you to experience the tranquillity of nature directly on your Android device. This amazing app creates a calm and attractive ambiance by providing a stunning animated woodland backdrop for your phone or tablet.
You can simply customize the appearance of the forest by modifying the time of day and weather conditions and even adding lovely animals to the scene. Best of all, Forest Live Wallpaper is intended to run smoothly on the majority of Android devices, delivering a good experience without depleting your battery.
3. Cartogram Live Map Wallpaper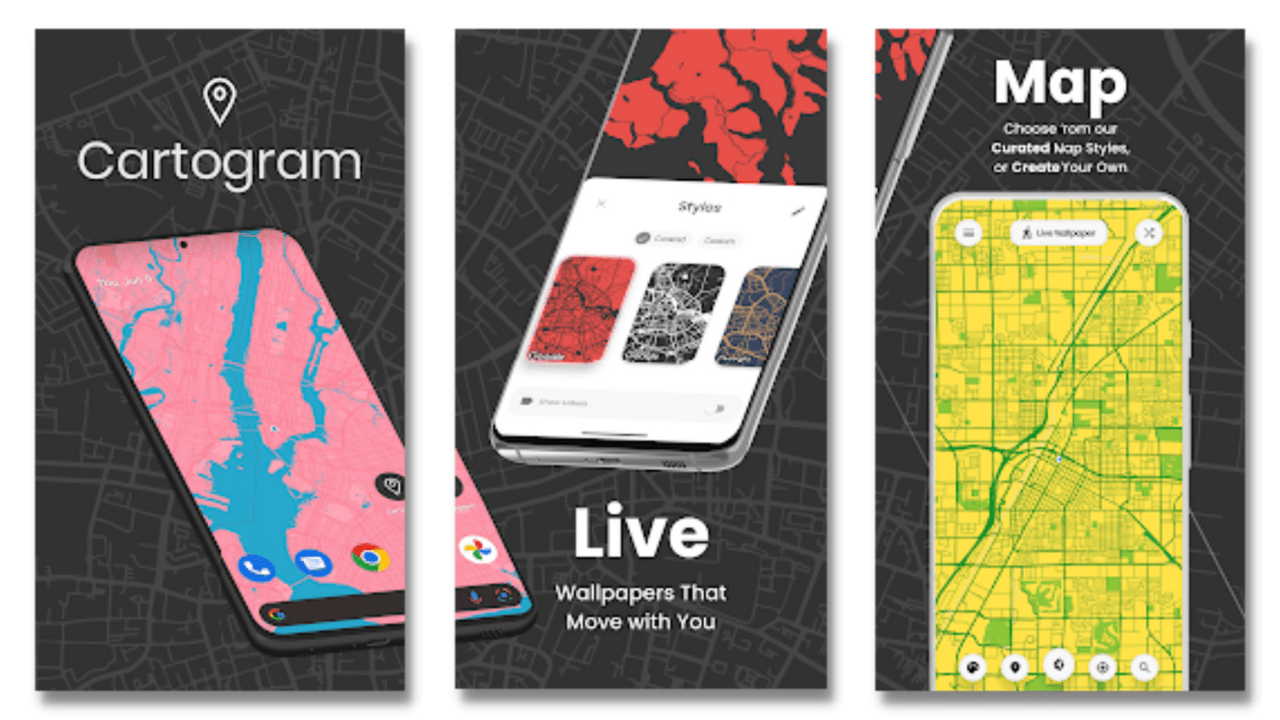 Cartogram allows you to create beautiful and easy map wallpapers for your smartphone. You can actually customize your wallpaper to match your personality with a large variety of over 30 diverse map styles, including eye-catching AMOLED versions ideal for darker screens.
The app goes above and beyond by allowing you to create and share your own unique map layouts with the thriving Cartogram community. Not only that, but Cartogram takes things a step further with its live wallpaper function, which changes based on your current position. You can now see where you are in the globe or follow your progress in real time, giving a sense of adventure and personalization to your Android experience.
4. Asteroid Live Wallpaper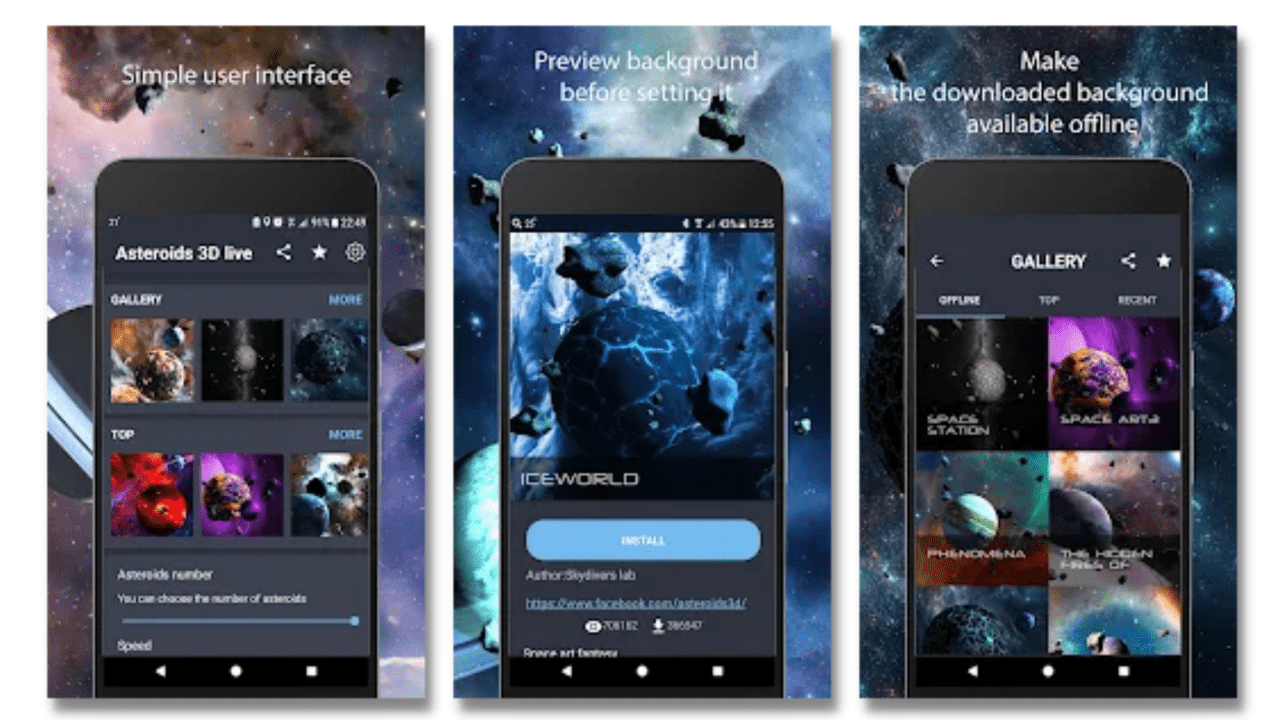 Imagine staring at a stunning asteroid field directly from your Android home screen – that's precisely what Asteroid Live Wallpaper offers, and it's completely free. This app allows you to personalize the appearance of the asteroids, from their size and speed to the colors in which they shine. You may even have them circle a planet or star smoothly. It's like bringing a bit of space exploration to your very own device, dramatically elevating your Android experience.
5. Paperland Live Wallpaper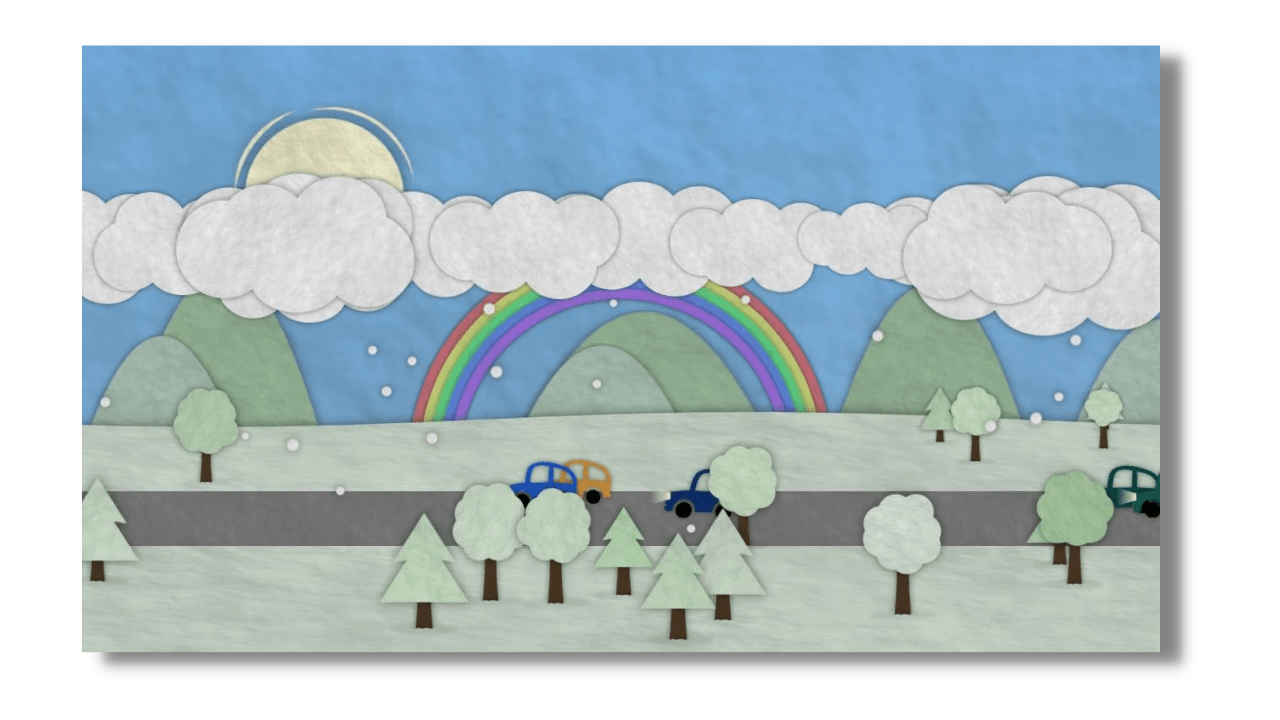 Paperland Live Wallpaper transforms the background of your smartphone into a good paper cut-out landscape. There are both free and premium versions available, with the free version including three themes: Grassland, Silent Night, and Desert Migration. But that's not all: if you upgrade to the premium version, you'll have access to even more appealing themes as well as the ability to adjust the colors and objects in your wallpaper.
You may even save your one-of-a-kind creations and capture screenshots to keep your masterpieces safe. Paperland Live Wallpaper connects you to the world by presenting the current time of day, sunrise/sunset periods, and real-time weather conditions at your location.
6. Rainpaper Live Wallpaper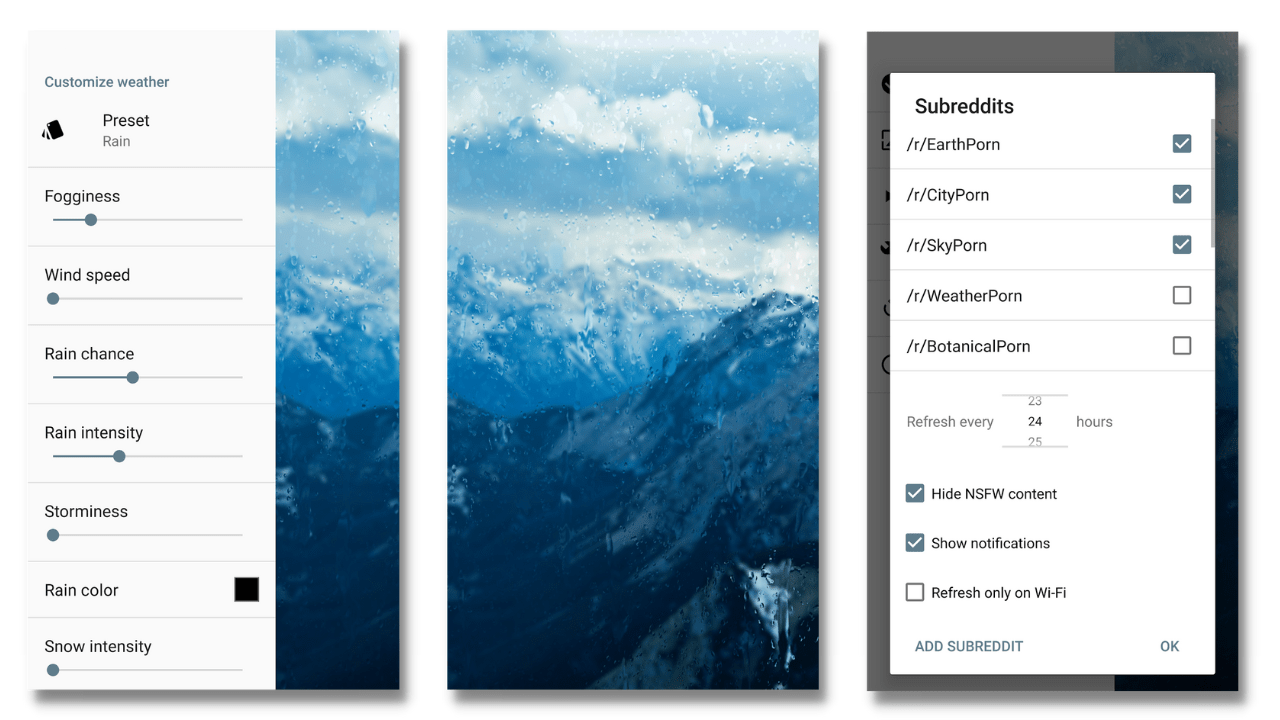 Rainpaper Live Wallpaper is a beautiful free Android app that adds a simulated rain shower to your home screen. Rainpaper allows you to customize your experience by adjusting the size, color, and frequency of raindrops. Not only that, but Add fog, wind, and other intriguing effects to your wallpaper to experience the magic of weather personalization. What's the best part? Rainpaper Live Wallpaper runs seamlessly on most Android smartphones and consumes little battery power. With this lovely app, you can create a beautiful and immersive backdrop for your phone.
7. 4D Live Wallpaper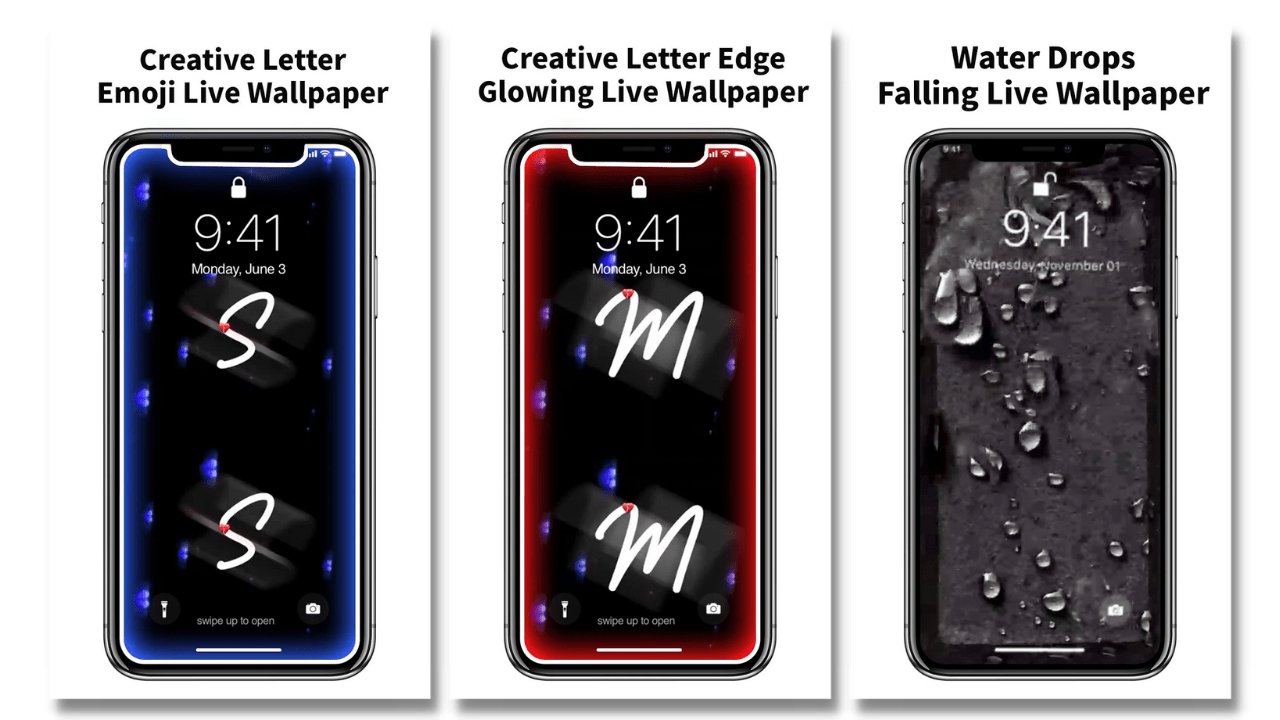 Motion sensors are used by 4D Live Wallpaper to provide the appearance of depth and movement. Consider this: when you tilt your Android phone, the wallpaper elegantly moves and evolves, creating the wonderful illusion that it is genuinely 3D. What's the best part? There are several 4D Live Wallpaper apps to pick from, each with its own unique collection of wallpapers. 4D Live Wallpapers 4D PARALLAX, Pixel 4DTM Live Wallpapers, and 4D Live Wallpaper-HD Wallpaper are all popular choices.
Consider how easy it is to add a splash of individuality and aesthetic charm to your Android home screen. This 4D Live Wallpaper app is not only visually gorgeous, but they are also reasonably power-efficient, allowing you to enjoy them without fear of exhausting your phone's battery. If you're looking for a method to bring your Android home screen to life, 4D Live Wallpapers is an excellent option that I would prefer.
8. Borderlight Live Wallpaper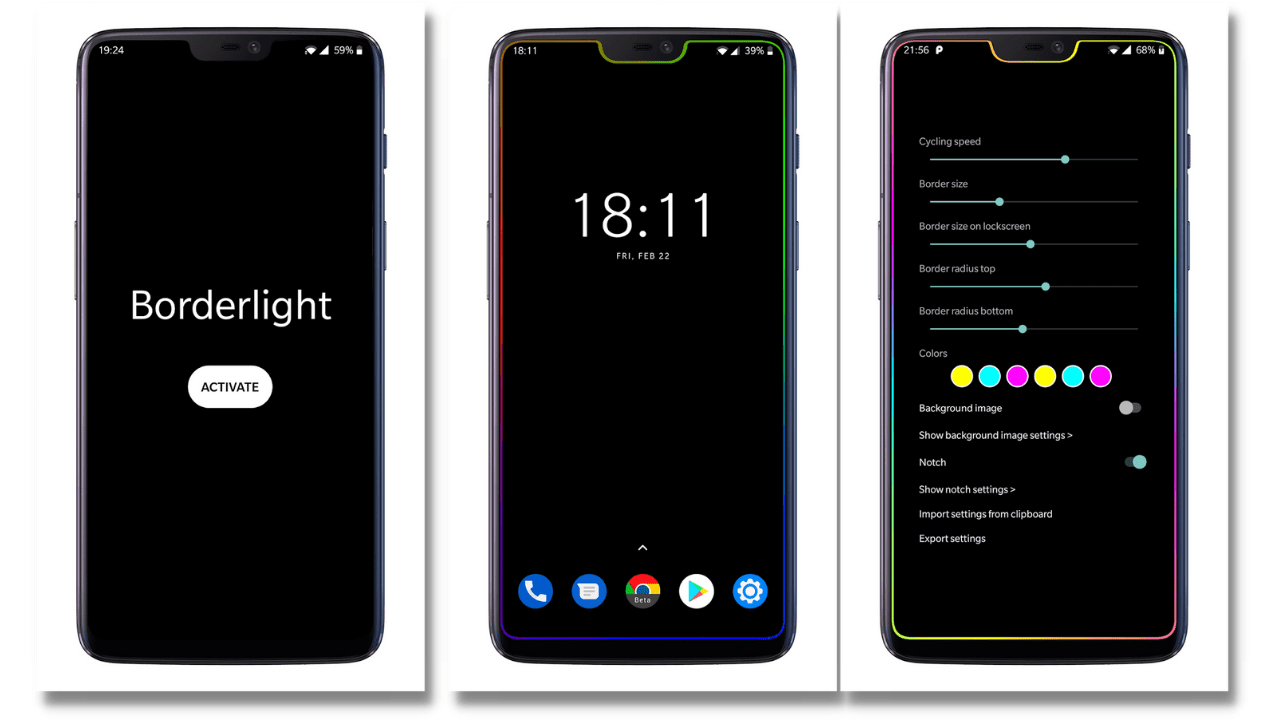 Borderlight Live Wallpaper adds a burst of brilliant colors to the screen boundaries of your Android device! You can quickly alter the border's appearance with this app by selecting your preferred colors, adjusting brightness, and even adjusting the movement pace.
Furthermore, it adjusts to displays with or without notches, making it suitable for any smartphone. You may also upload a standard background image that appears just when your phone is unlocked for more flair. Borderlight Live Wallpaper is a fun and easy way to add your unique flare to your Android smartphone, and it's completely free to download and compatible with the majority of Android devices.
9. ZEDGE Wallpapers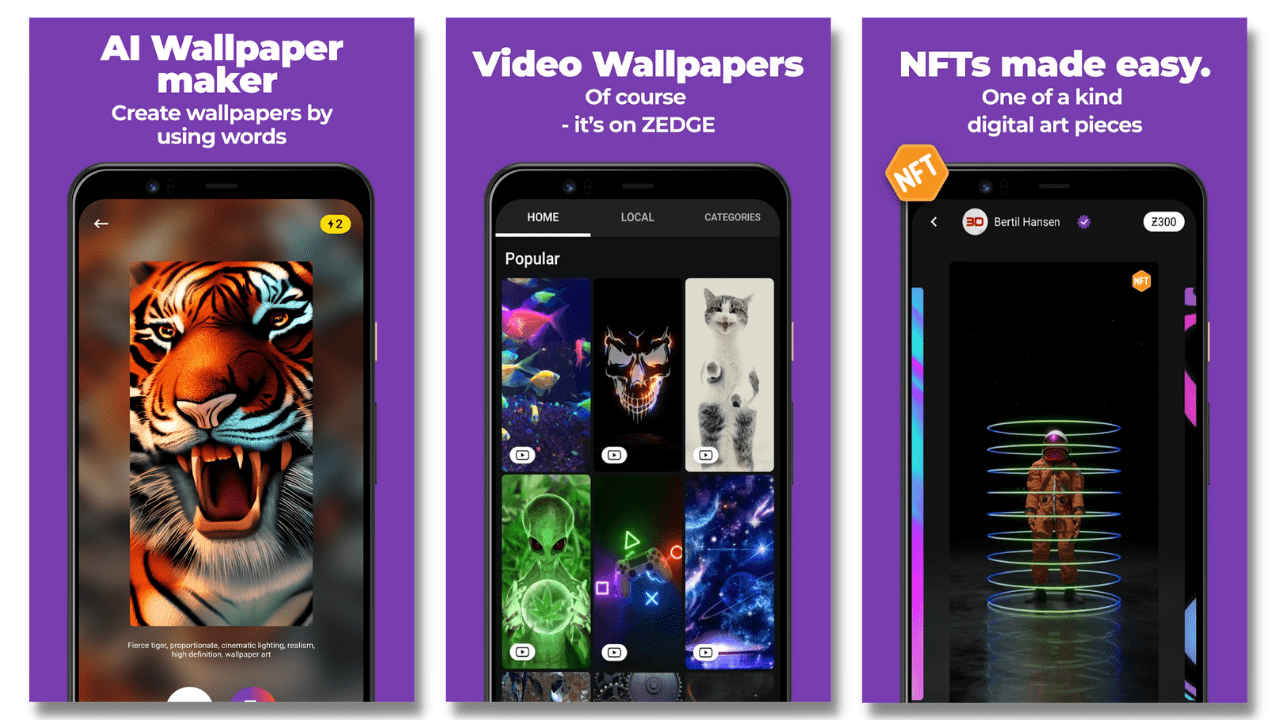 ZEDGE Wallpapers allow you to add a personal touch to your phone like never before. The app caters to all of your customizing needs with a huge variety of HD wallpapers, live wallpapers, ringtones, notification sounds, and even icon packs. To discover the ideal match for your style, you can also browse the large collection by category or search for a particular material.
You can also use the Zedge Paint AI art generator to express your creativity and create your own wallpapers. ZEDGE Wallpapers will enhance the appearance and sound of your phone, making it stand out from the crowd. Best of all, it's absolutely free and compatible with the majority of Android devices.
10. Rad Walls
Rad Walls was created specifically for Android users. With 16 wallpapers in the standard edition and an additional 15 in the pro version, you'll have plenty of alternatives. What's the best part? Because these wallpapers are all pre-rendered 6-second looping films, you won't have to worry about your phone's battery depleting.
Immerse yourself in outrun, synth wave, and retro wave aesthetics to give your device a fantastic retro-futuristic atmosphere. Rad Walls is compatible with all devices that allow live wallpapers so that everyone can experience this throwback on their Android phone.
Wrapping It Up
To sum it up, the world of Android 3D wallpaper apps provides a plethora of enticing possibilities for transforming the way we customize our smartphones. The 10 best apps featured here stand out for their remarkable features, user-friendly interfaces, and immersive backgrounds, ranging from breathtaking images to interactive designs. Hope you like it.
If you've any thoughts on 10 Best 3D Live Wallpaper Apps for Android, then feel free to drop in below comment box. Also, please subscribe to our DigitBin YouTube channel for videos tutorials. Cheers!