Looking for some sites to download and watch free Anime movies and TV shows, then you are at the right place. Anime has become synonymous with Japanese Animation. But the term itself means all kinds of Animation in the context of the Japanese cartoon industry. Anime movies and TV shows are top-rated across the globe. The Japanese animation has a cult following among the masses. The Anime shows have a wonderful blend of culture, abstract life, and technology and are presented in a fascinating way of storytelling. The themes and colorful presentation make the Anime content very appealing stuff to watch.
Basically, Japanese anime is available in the original Japanese language, which is later translated into regional languages and, more popularly, into English. So, only a few popular Anime is dubbed, and also, most Anime does not make a place on a TV program, but they are available to be streamed online.
Many online streaming sites on the internet are deceiving in nature, and they try to inject malware into your device. The sites that are not reliable sources, like Google Movies, Netflix, or Amazon Prime, could be potentially harmful and malicious for your device and to you as they can harass your privacy.
Free Eng Dub Anime Streaming Sites
Here are the Best English Dubbed Anime Sites for you to Binge Watch your Favourite Japanse Anime.
FUNimation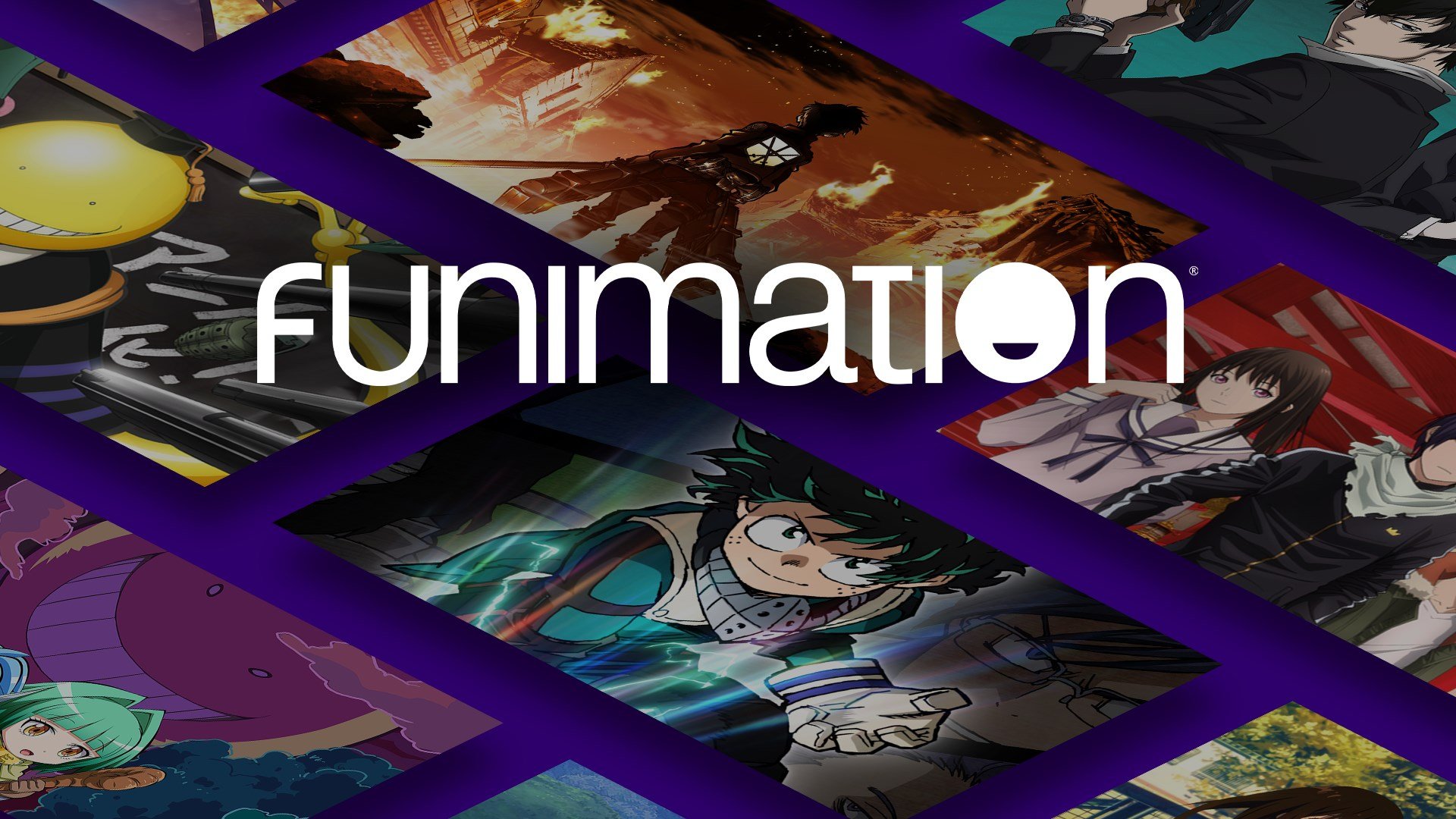 The Funimation streaming service has an impressive collection of anime series and feature-length films, including many hard-to-find titles. Funimation offers curated content with dubs and subs. You get plenty of shows for free with advertisements, and for a few premium Shows, you need to subscribe to the service.
Sony owns Funimation, so you can expect all the Sony-owned Anime to be available on the platform. Currently, the simulcast lineup consists of D.Gray-Man, The Disastrous Life of Saiki K, Izetta: The Last Witch, Puzzle and Dragons, and Tales of Zesiria the X. A Premium account on Funimation unlocks access to all of the service's nearly 400 TV shows and 80-odd feature-length films. You get all the popular series and content with a 14-day test trial which is easy to cancel. Here is the Complete list of Shows in English.
Goods About Funimation
Large Library of Anime
Simple to Navigate and Clean UI
HD Quality with Subs and Dubs
Good for Dubs
Bads About Funimation
Free Account has less content
Pricing little high
Visit Funimation | Paid ($5.99/mo)
AnimeHeaven
AnimeHeaven is one of the fastest-updated anime platforms. Though you may be greeted with some annoying video Ads, pop-ups, and banner Ads, the pain is worth bearable. The AnimeHeaven is regularly updated with new Anime shows and movies pretty quickly. You get subs and dubs if available. Being an unauthorized streaming site, you may need a proxy or VPN to access the content. The site is heavy in load; therefore, you may need a good browser. The site itself says it cannot load on mini browsers like Opera Mini and UC Mini.
Goods About AnimeHeaven
Simple UI
All Major and Popular Anime shows
Free without subscription
Subs and Dubs if available
Bads About AnimeHeaven
Needs a good Browser
Annoying Ads
May need a proxy or VPN
Netflix
You might be living in the stone age if you have not heard about Netflix. Netflix is the best place to binge-watch shows, watch movies, and other highly rated programs. The service hosts the most popular TV shows and classics, animations, animes, movies, documentaries, and its own originals.
If you are seriously looking for some high-quality anime movies and series, Netflix is the destination to reach out. The platform offers popular series like Naruto, Clash of Titans, My Hero Academia, Hunter X Hunter, Stein Gates, Robotech, Kill La Kill, Violet Evergarden, Soul Eater, etc., and movies like Blame!, Miss Hokusai, Naruto, and more. Netflix is paid service with Free Trial for one month. It may be called the epitome of online entertainment, given its reach and the quality of content offered.
Goods About Netflix
Popular Anime Movies and Manga Series
No Ads
Support 1080p
Highly rated Shows and Documentaries
Bads About Netflix
The free 1st month followed by a subscription
Supports limited devices with an account
No manual video quality settings
RetroCrush TV
Retreocrush is a free Anime site that starts with the go. No registration is needed, but you can create a wishlist and access some restricted content if you wish. The site has a tiny library, but most of the shows are classic popular Anime shows that you can watch on the go. You also get all kinds of Anime from each genre with the English dub and English Sub Support.
A few of the popular titles available on the site include Great Teacher Onizuka, Flame of Recca, Bubblegum Crisis, Fushigi Yugi, Ultra Maniac, Deltora Quest, Blue Seed, and Many More. You get some of the favorite classic Japanese Anime on the Platform for free. The site also has a fundamental and simple video player which can load even with decent internet speeds.
Goods About RetreoCrush
Classic Anime
Simple Video Player
Fewer Ads
Bads About RetreoCrush
AnimeLand
AnimeLand is a Free Anime Streaming and Download Platform. If you want to download Anime without any redirect issues with one click download button, then Animeland is the site you will love. The site interface is not very neat, but it does the job pretty easily. Also, you can stream the content, but the video player is not very good compared to other streaming platforms.
Though you are not offered multiple resolution options to choose from, given how quickly you can download the videos makes it a perfect Anime Downloader Site. Just search for any of your favorite Anime, open the link, and you will see the download button right above the player.
9Anime 
9anime is a free anime streaming website that houses subbed and dubbed anime. It has anime of several genres like romance, action, comedy, drama, paranormal, etc. People can watch their favorite anime in HD without any interruptions or lag. The website does not require the user to download any file or app. All a user has to do is go to the website, search for an anime, and start watching!
Searching for an anime is very easy on 9anime. A search bar is provided for this purpose, there's a quick genre filter at the side, and a list of all of the genres is also displayed. And, if you are still not satisfied with this, you can also search for anime alphabet-wise from A-Z. Both series and movies are available on 9anime. Some of the anime available on the website are Fruit Basket: The Final, Dragon Ball Z Special 2, Naruto Shippuden, Hunter x Hunter, and One Punch Man.
On the whole, 9anime is a great website for watching anime online for free. Its simple user interface and significant collection of anime make it worth it.
Crunchyroll
Crunchyroll is a popular anime site with over 50 million monthly visits, focusing on East-Asian content, primarily on Anime, Manga Series, Music, and Shows. Crunchyroll is the one-stop destination for all Anime Lovers and is much recommended as it is safe and legal. A legal and simple way to stream all your favorite animation. The service has rights to popular Anime Series like Naruto, Dragon Ball, Titan, Ace of the Diamond, Bleach, etc. Though all the content is not free, you get a free trial to access the shows and programs. Here's the list of English Dubbed Anime Available on Crunchyroll
The Content Provider uses a freemium model. That means they offer anime for free at a lower definition and with advertisements. The latest episodes of ongoing shows can't be accessed for free unless you wait for a week. The site is solely made for all anime lovers to enjoy Japanese content.
Goods About Crunchyroll
Best Place for Anime Lovers
East-Asian Movies and TV Shows
Popular Anime and Manga Series
Bads About Crunchyroll
Episodes delay by a week for Free users
Irritating Ads
Website design is poor
Need VPN if content blocked in your country
Tubi TV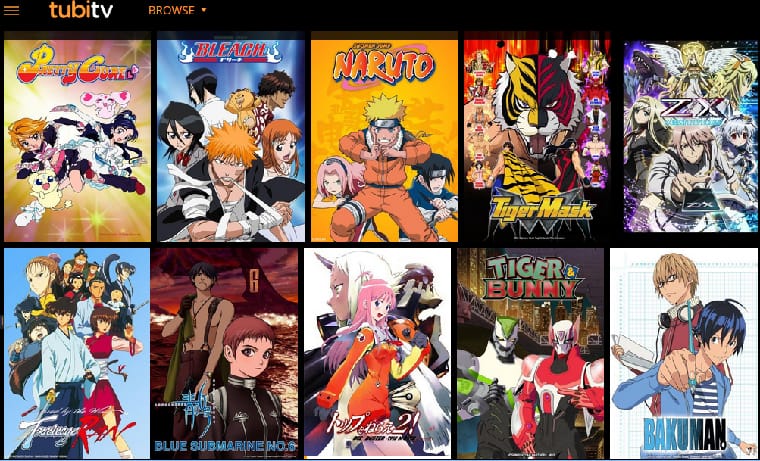 This free service is available globally and houses many movies and TV shows that are difficult for you to find elsewhere. You can watch Japanese Anime either subtitled or dubbed on Tubi TV. The Tubi offers shows like
Sola, Angel Sanctuary, Yukikaze, Spider Riders,
etc.  The Tubi is regularly updated with anime movies and shows.
With a library now surpassing 50,000 titles, second only to Netflix, Tubi TV is the Best Movies and TV Shows source. The site hosts several anime movies and TV Shows for all age groups, and that too without any subscription. But as a necessity, it runs on Ads.
Goods About Tubi TV
Subtitle Support and Dubbed Animes
Less Frequency of Ads as Compared to Crackle
Popular Movies for Free
Bads About Tubi TV
Some movies are for rent
Ads throughout the film
CONtv
A legal and legit site to watch movies and TV shows. The App is the best place to stream and download Anime, TV shows, movies, documentaries, comedy, and more programs. The quality of the streams is decent and at times changes dramatically based on internet speeds, so it is not recommended to be cast on the big screen if you have unstable internet.
The site has a very smooth and clean interface; you can directly jumpstart watching content without registration. As the service is free, it is supported by Ads that are not much irritating. But the only thing which could act as a setback is some poor video quality as compared to its freemium competitors Snagflims and Sony Crackle.
Goods About Viewster
No sign-up is required.
Large Bouquet of Anime Movies and Shows
Clean User Interface, search and  watch history
All the movies and shows are for free.
Parental control options.
Bads About Viewster
Video Play Issues on Poor Internet
No subtitle support on a few titles
Long Ads
KissAnime
If you are familiar with the Anime world, then KissAnime is not a new term for you. KissAnime is one of the oldest and most popular Japanese cartoon sites offering free movies and manga series for free. It is not an authorized streaming service; hence you can expect all the latest and old Anime for free. If an Anime has a sub or dub, then KissAnime won't disappoint you with a plain Japanese version. KissAnime releases the movie or a show soon after it is broadcasted. Most of the content is in HD quality, and there are multiple players and servers to choose from. KissAnime is strongly recommended if you wish to watch free Anime without any account or subscription.
Goods About KissAnime
Free Anime Streaming
Latest content
Download Free Anime
Subs and Dubs if available
Unlimited Movies and Shows
No Account
Free Anime Download
Bads About KissAnime
The site may be banned
Few links may not work
Needs VPN
Hulu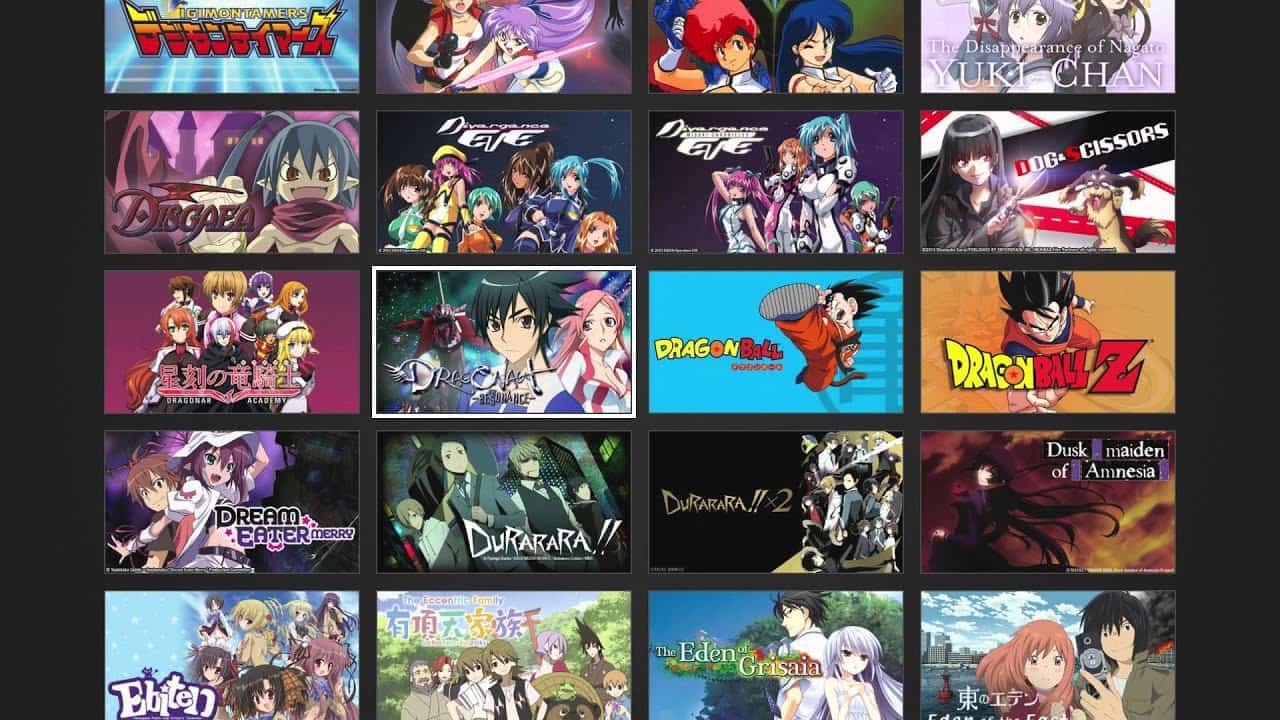 Hulu is a subscription-based online streaming platform. Hulu has over 500 Anime titles under its hood. It partnered with Yahoo to show the Anime for free, but the service was decommissioned in June 2019. Some of the popular Anime available on Hulu are My Hero Academia, Black Clover, Girls Und Panzer, Your Lie in April, Death Note, Blood-C, and more.
It works as a hybrid of Sling TV and Netflix, offering both TV Shows and Live TV to its users. You can opt out to pay and watch limited content for free, including more than 150 movies and TV Shows. The site's content and presentation vary with the cost; a low price will offer you content with Ads, while a high package offers Live TV with no Ads. Hulu Pricing starts at $5.99.  Though you may find the cost on a higher side, it's worth a buy.
Goods About Hulu
500 Anime Shows
Subtitled and/or Dubbed
HD Streaming
Dedicated Mobile Apps
Bads About Hulu
Premium Content needs Subscription
Video Ads
Vudu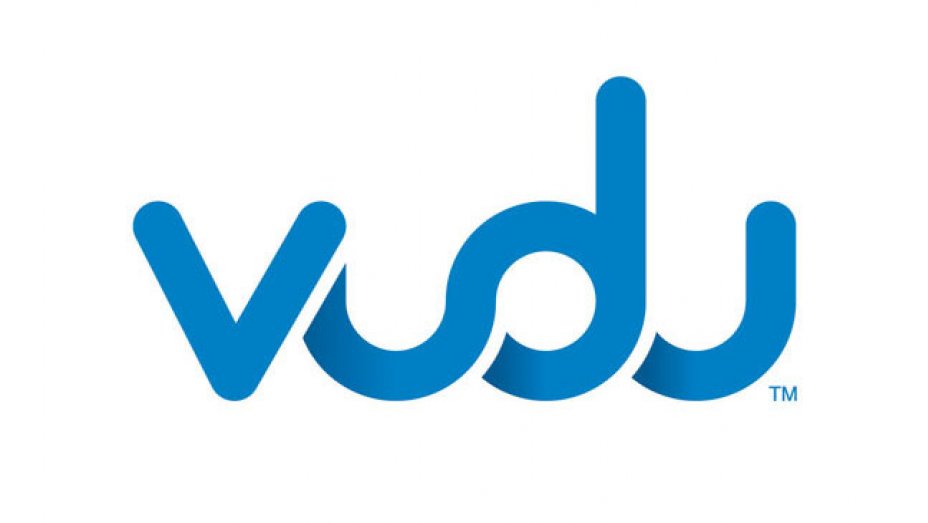 This is another popular content delivery platform. The best part of Vudu is it offers full-feature length Anime movies in 1080p, making it a very right choice for HD streaming. Vudu categorizes content into comedy, crime & suspense, action, family & kids, etc. At the same time, movies are available for rent. You can watch several free anime movies with Ad support. You need a User Account to watch movies at Vudu, even for the content, which does not cost, but registration is totally free. Vudu offers some of the best programs and TV shows to watch out with a library of over 20000+ Programs.
Goods About Vudu
1080p Support
Chromecast Support
Free Anime Movies
Less and Short Ads
Bads About Vudu
Needs Registration (Free)
All Programs are not free
Ads Support
Gogoanime 
Gogoanime is yet another website that houses anime for free. Anime from multiple genres like action, comedy, romance, and mystery can be found on this website. Searching for anime is simple, and with the help of a search bar, users can find the anime they are looking for. Of course, just like 9anime, Gogoanime also has the A-Z search option, allowing users to look through animes alphabetically.
On the homepage, categories like new, popular, movies are also listed. Currently, some of the anime in the popular category on Gogoanime are Tokyo Revengers, Boruto: Naruto Next Generations, One Piece, Yu-Gi-Oh! VRAINS, Yukikaze, Spider Riders, and so many more.
The best part about Gogoanime is that users can also request the anime that they want to watch. It goes without saying that users have to create an account on the website to do so.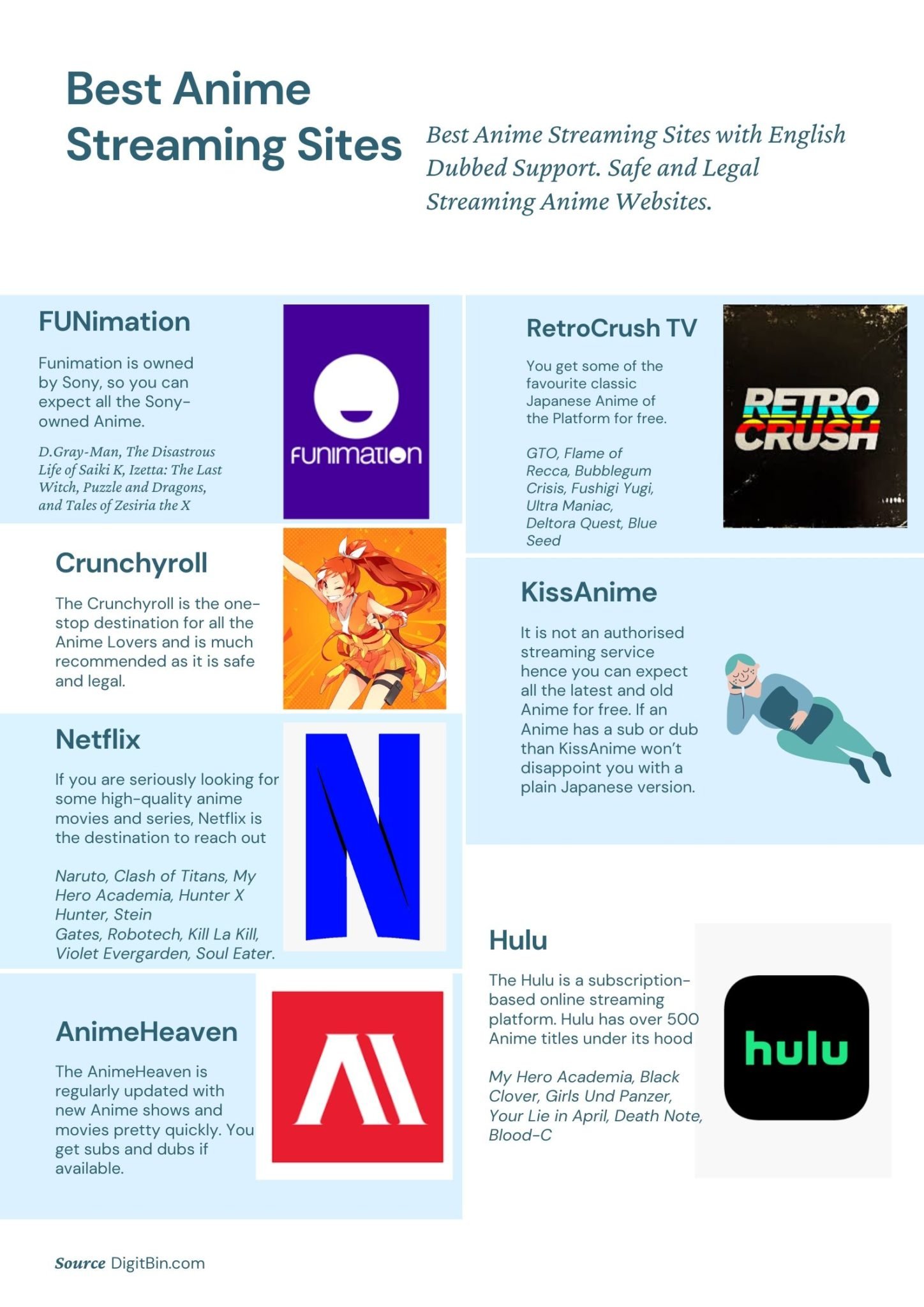 Conclusion: With the sites listed above, you can stream some of the best anime in English dub. The sites are simple to use and offer various Japanese Anime.
If you've any thoughts on 10 Best English Dubbed Anime Sites Free, then feel free to drop in below comment box. Also, please subscribe to our DigitBin YouTube channel for videos tutorials. Cheers!