Is WhatsApp not playing videos on your iPhone? Then check this simple guide that will help you fix this problem in no time. WhatsApp is a great way to connect personally and professionally with various people. It is free to use and allows sharing of various kinds of media including image files and videos. Often it happens that you receive a video from someone on your WhatsApp but you are not able to download it.
You have to allow a video to be downloaded before you can play it. Also, if you go a long time without opening a video link sent to you by someone on WhatsApp, then you won't be able to view the video later. At some times, the WhatsApp server may be down due to periodical maintenance or some bug fixing. During those times if you receive a video on WhatsApp, you may not be able to download or view it.
It also depends upon what file format the video is in when it was sent to you via WhatsApp. Usually, if a video sent through WhatsApp is of MKV extension WhatsApp won't be able to play it. Though the video can be played using some other video playing app once you can download the video to your iPhone.
Best Ways to Fix WhatsApp Videos Not Playing on iPhone
Let us check out some easy troubleshooting tips that will help you fix the issue of WhatsApp not being able to play videos on your iPhone.
Update WhatsApp on iPhone
Always remember to timely update WhatsApp on your iPhone. When left without updating an older build WhatsApp may turn buggy and show various glitches. One of which can be the video not playing at all.
To update WhatsApp open the App Store app.
Tap on the profile picture at the top-right corner to access your app store account.
You will see the list of applications installed on your iPhone waiting to install the latest updates available for them.
Scroll through the above list and check if WhatsApp is present in the list.
If WhatsApp is present, then tap on the Update button beside it. The update will begin.

Relaunch WhatsApp after the update is over. Now, try to play the video sent to your contacts via WhatsApp.
Check if WhatsApp Server is Down
As I mentioned previously, WhatsApp may have been taken down temporarily for fixing bugs or carrying out regular maintenance work. You can check that using the DownDetector website.
Go to the Downdetector website.
Check if WhatsApp is facing a global or regional outage.
Other people from various parts of the world who have been facing issues with WhatsApp lately would also be seen reporting and commenting regarding the issue.
You should also get an idea if the WhatsApp outage is going to be fixed in the next couple of hours.
As of this writing, there is currently no problem reported by anyone regarding WhatsApp. Check the screenshot below.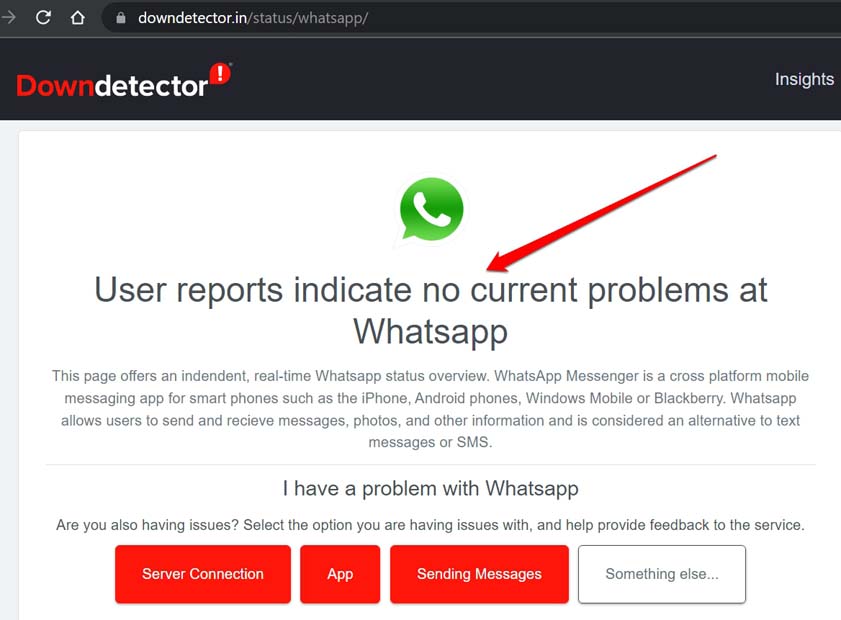 Download the Full Video on WhatsApp
You have to completely download a video on WhatsApp to watch it. Once the download is over, you will see a play button on the video. This means the video has been downloaded successfully and is now ready to play.
You can either play the video directly from WhatsApp or check out the Photos app on your iPhone. Though you must enable download to Photos then only the concerned video will appear there.
Save WhatsApp Videos to the Camera Roll of the iPhone
Here are the steps to enable the camera roll of the iPhone to save the videos sent to you on WhatsApp.
Launch WhatsApp on your iPhone.
Tap on Settings at the bottom right corner.
Then tap on Chats.
Tap the switch beside the option Save to Camera Roll to enable the feature.

Enable Auto-Download for Video Sent to You Via WhatsApp
You have to ensure that you have enabled auto-download of media sent to you on WhatsApp. This you have to set for both WiFi connection as well as metered mobile data. This means the videos will download whenever the iPhone is connected to a WiFi network or is even on the mobile data.
Open WhatsApp.
Tap on Settings.
Next, tap on Storage and Data.
Navigate to Media Auto-Download.
Tap on Video.
Set the option to WiFi and Cellular.

Now, any video sent to you on WhatsApp will be downloaded without any hassles.
Tell The Video Sender To Send You the Video Once Again
If you can do this then let the sender of the video know to send you the video once again via WhatsApp. This trick will come in handy if you have not opened a video shared with you by them for a long time.
Then after a certain time, the video link may have expired from WhatsApp. So, if the video was that important to you, simply contact the sender and tell them to resend the video. That will do the job.
Is the Video in MKV File Extension?
While you can download and play videos with the MKV file name extension you cannot directly play them on WhatsApp. Download the video to your Files app. Then you may use the VLC media player to play the video file.
You may download the VLC media player for iPhone from the App Store. It is free to download and use.
WhatsApp has become a part of our lives. So, missing out on videos sent by our contacts let it be funny videos or some serious work-related video from your manager is not done. So, implement the troubleshooting tips mentioned in this guide and easily resolve the issue of WhatsApp not playing videos on iPhone.
If you've any thoughts on How to Fix WhatsApp Not Playing Videos on iPhone?, then feel free to drop in below comment box. Also, please subscribe to our DigitBin YouTube channel for videos tutorials. Cheers!