NightCafe AI has become a gripping and ground-breaking platform in artificial intelligence, inspiring an abundance of original thought and driving the imagination to new heights.
It uses state-of-the-art algorithms to produce astounding artwork with incredible fidelity and precision. This cutting-edge technology allows artists and designers to explore fascinating new territory.
In this post, you'll understand what Nightcafe.AI is in-depth, how it works, and why you should use it.
What is Nightcafe AI?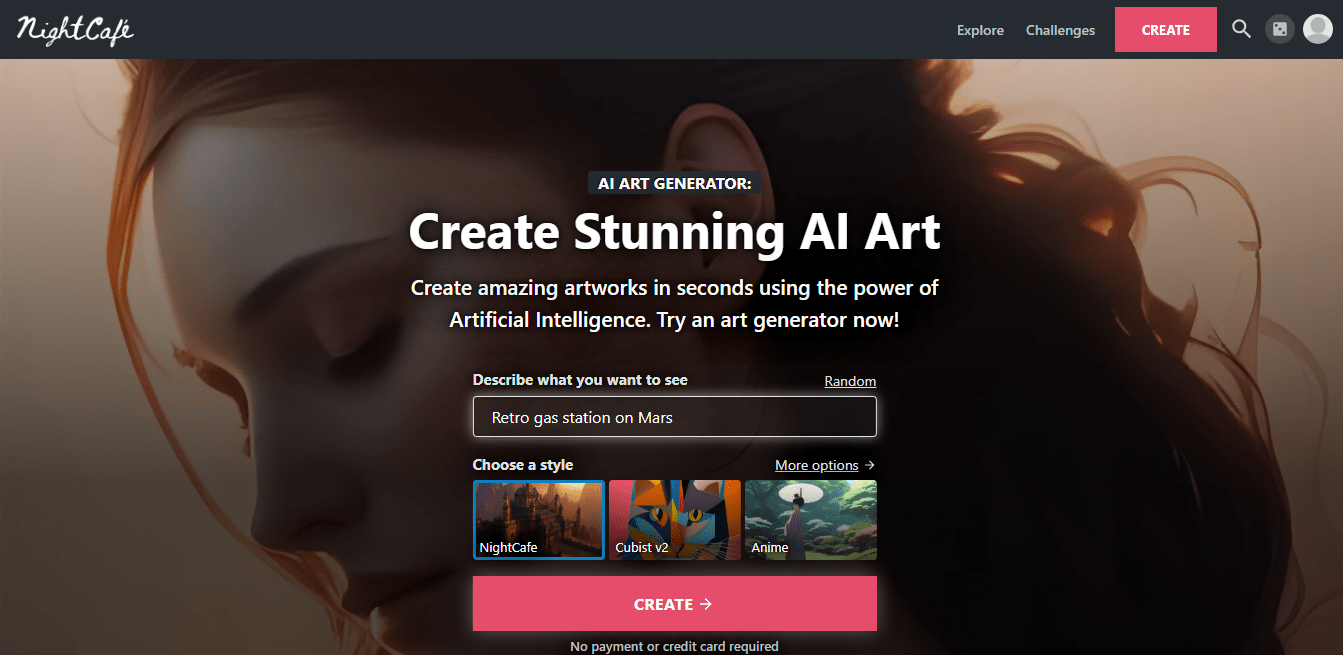 NightCafe AI is a platform that enables artists to produce diverse artwork and transform their photographs into stunning digital art. NightCafe utilizes various AI techniques to generate digital art and NFTs that surpass the quality of the original images.
To achieve this, NightCafe leverages high-performance Graphics Processing Units (GPU), significantly reducing the rendering time and increasing productivity.
Consequently, you can now complete your digital art projects within seconds. With NightCafe, artists retain complete copyright ownership of their generated photos, ensuring they have full control over their creations, whether they share them publicly or not.
How Does Nightcafe Studio Work?
NightCafe platform has two choices when it comes to creating AI-generated art. The original method, neural-style transfer, requires you to upload a photo and select a "style" image for the AI to recreate the artwork.
The second method: is a text-to-image art generator. With text-to-image AI, a work of art can be made from nothing but written words. Simply enter some text, and the generator will spit out beautiful illustrations.
It combines VQGAN, a generative adversarial neural network capable of generating images, with CLIP, which evaluates how closely an image aligns with the given prompt.
How to Create Digital Art on NightCafe?
NightCafe is designed to be user-friendly and accessible to everyone. To make digital art using NightCafe, you only need to log in.
First, click on Create in the top right corner of the homepage. The sign-in if it's your first time.


Then, enter a text prompt that describes the digital art you have in mind in the provided field. You can use multiple text prompts if you need more than one sentence to convey your idea.

Next, select from a diverse range of styles that are available. If you want more control over the creative process, opt for the "advanced mode." 
You have the choice between two algorithms: "Artistic" and "Coherent." Once you've selected it, click the "Create" button.

After a short period, typically a minute or so, depending on your preferences, your AI-generated digital art will be ready for download or publication.
The "advanced mode" in NightCafe allows artists to customize their prompts, adjust their weights, and include modifiers. In this mode, artists can specify their digital art's aspect ratio, resolution, and runtime before the NightCafe AI generates it. Additionally, artists can enhance their existing artworks by incorporating new elements.
It's important to understand that NightCafe serves as a creative tool and does not provide a means to create or sell NFTs (non-fungible tokens) directly. Once you have created your digital art using NightCafe, you can choose to auction it on various NFT marketplaces such as OpenSea, Sorare, Rarible, and Etsy.
However, NightCafe does offer a "publish" option. After minting your art as an NFT on NightCafe, you can publish it with a link directing interested buyers to the listing on other platforms. By doing so, your artwork becomes visible to other NightCafe you, who can choose to purchase it using the provided link.
Why is it Important to Use NightCafe AI
Creating Art from Photographs
NightCafe AI allows you to transform your photos into various artistic styles or textures of your preference. If you imagine your picture as a celestial work of art, this AI platform can take your creative vision into reality.
Using sophisticated algorithms, the platform analyzes your photo and applies the chosen art style, resulting in a remarkable metamorphosis highlighting your creativity.
A Vast Array of Algorithms
NightCafe AI sets itself apart from other AI art generators by providing an unmatched range of algorithms. Unlike its counterparts, NightCafe AI offers numerous algorithms, such as Neural Style Transfer, Stable Diffusion, DALL-E 2, VQGAN+CLIP, and CLIP-Guided Diffusion.
These algorithms present you with various patterns, artistic styles, and textures, enabling them to convert your photos into mesmerizing artwork easily.
Enthusiasts Community for AI Art
NightCafe.AI boasts a thriving community comprising millions of individuals passionate about AI art. This platform is a central gathering place for creators, sharers, collaborators, and art enthusiasts, facilitating the exchange of ideas and the admiration of AI-generated art.
The dynamic community fosters a feeling of inclusiveness and promotes artistic development by encouraging collaboration and providing constructive feedback.
A Variety of AI Generator Modes
NightCafe AI offers five unique AI generator modes, each generating results that vary in quality and presentation. By switching between these modes, you can tailor their creative process and achieve their desired artistic outcomes.
It provides various options to satisfy creative needs, from producing high-resolution photographs to dabbling in abstract aesthetics.
Fast and Simple Image Creation
NightCafe AI makes it simple to generate photos. The platform has a wide selection of pre-made effects, from spacey to oil painting. With these tools, you may easily create stunning photographs in minutes.
The preset effects in NightCafe.AI offer a speedy fix if you're short on time or need a quick artistic sample.
NightCafe Pricing
NightCafe Creator does not cost anything to use. It's possible to make stunning works of art for as little as one credit, and NightCafe gives you five free credits to get started when you sign up. In addition, every day at midnight (UTC), five extra credits will be added to your account at no cost.
If you run out of credits, you can purchase more or access more features for free. Secure payment processors such as PayPal,  Shopify, Visa, Apple Pay, Mastercard, Google Pay, etc., allow you to buy credits for as little as $0.08 each.
Frequently Asked Questions
Can I sell NightCafe AI-generated artwork?
The creator retains all financial and legal rights to any works of art made with NightCafe AI. However, before sharing or distributing the final product, be sure you've read and agreed to the platform's terms of service.
Since NightCafe AI values intellectual property, you must verify that they own the relevant permits and licenses to use any reference pictures or other copyrighted content in their artwork.
Can beginners use NightCafe AI without artistic experience?
Yes. NightCafe AI's user-friendly design makes it suitable for newbies and experts. NightCafe AI's open-ended algorithm library and intuitive interface make it accessible to anybody interested in experimenting with and making art.
Can I cooperate with other NightCafe AI artists?
Yes, NightCafe AI promotes teamwork amongst creatives. Thanks to the platform's active community, artists can meet each other, discuss their work, and work together on projects.
NightCafe AI is a community where artists may share their work, receive constructive criticism, work together on projects, or chat with others who share their interests.
Can NightCafe.AI make images of any size or resolution?
NightCafe AI allows you to produce high-resolution and lower-resolution outputs for their photographs. The various modes and settings available on the system enable it to meet a wide range of resolution needs.
However, the time required to process the image may change depending on its final resolution and size. Due to the processing requirements of the techniques, larger and higher-resolution images may take longer to generate.
Wrapping Up
NightCafe.AI allows artists of all skill levels to realize their full creative potential while simultaneously delving into the exciting field of AI-generated artwork.
Thanks to NightCafe AI's extensive library of algorithms, user-friendly interface, and active user community, it is a hub for people who want to turn their images into art pieces.
NightCafe AI is a one-stop shop for anyone looking for creative stimulation, teamwork, or a way to play around with AI in the visual arts.
If you've any thoughts on What is NightCafe AI Studio?, then feel free to drop in below comment box. Also, please subscribe to our DigitBin YouTube channel for videos tutorials. Cheers!