Gone are the days when you had to think twice before streaming an online video, because of high data cost. Thanks to service providers across the globe, accessing the internet has not only become feasible in places where it was previously impossible, but it has also become cheap. Online video streaming is now one of the best past times for people around the world. And for that, YouTube is the place to go.
However, for watching videos on YouTube, you have to pay a price. That price is in the form of ads. Well, it is understandable that YouTube has to generate money as it is providing content free of cost and pay to the creators of the video as well, these ads can sometimes become very annoying. In such situations, you can either purchase YouTube premium or download an app called YouTube Vanced.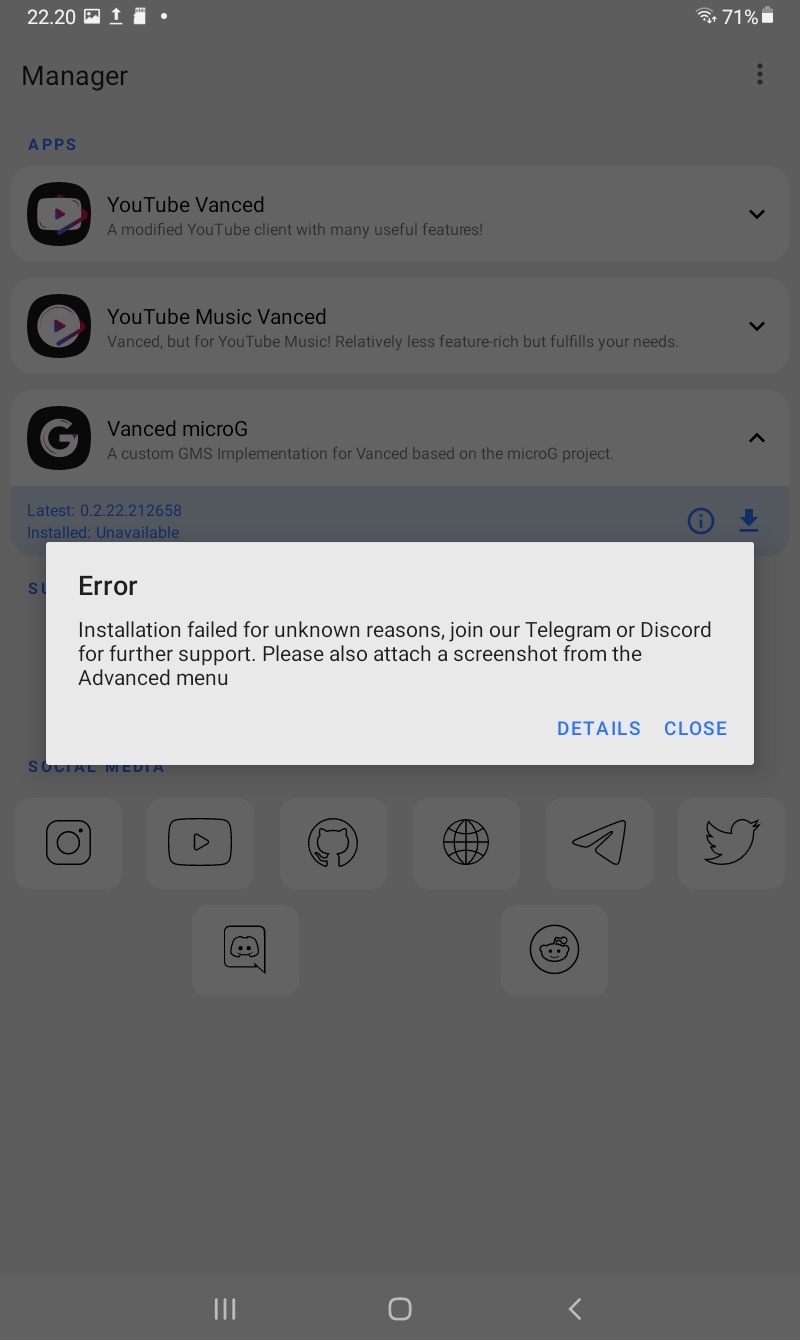 It lets you watch uninterrupted YouTube videos with no ads. Not only this, you can customize various options within the app such as slide up and down to reduce volume or brightness, tap and press to move to seek bar forward or backward, etc. There are so many features that you actually need to install the app in order to experience them.
But there are many users that have reported that for them the YouTube Vanced Manager, which lets you install the YouTube Vanced app isn't installing. If you are one of them, then in this guide we will share with you multiple solutions that you can apply and possibly fix the issue. Let us get into it.
Let us check out all the effective solutions that you can apply and try to fix the Vanced Manager installation error Installation Failed for Unknown Reasons.
1. Re-download and re-install
One of the main reasons you are getting YouTube Vanced Manager installation error could be because you have either downloaded from a wrong source, or the file that you downloaded is corrupt.
Do note that when you search for YouTube Vanced on the internet, you will be presented with multiple sources. However, the legit source for downloading this modded YouTube app is the DigitBin site.
All you need to do is visit the above-mentioned website, download the latest version of the Vanced Manager app listed on the homepage, and finally, install it on your Android smartphone. You should now be able to install the app without any issues. If not, then move on to the next solution.
2. Install an Older Version of the App
The issue may be with the latest version of YouTube Vanced and microG. The app may be incompatible with your Android device. So, it is best to download an older version of YouTube Vanced along with a compatible microG. The older version will have will help you fix this issue and you can install the app on your Android device without the error message Installation Failed for Unknown Reasons.
How to Install YouTube Vanced 16.02.35 without SAI Installer?
YouTube Vanced 15.47.36 APK Download
3. Enable install unknown app installation
You are going to download the YouTube Vanced app from a web browser, probably using Google Chrome. Do note that in order to install apps from a third-party source, you need to enable this option for particular apps. Meaning, if you wish to install apps downloaded from Google Chrome, you need to allow the system to let Chrome install a third-party app on your phone.
This layer of security is there in your phone to avoid downloading malware or virus-infected app. In order to enable install unknown app features, follow the steps, below:
Open Settings on your phone.
Select Apps & notifications.


Choose Special app access.

Tap on Install unknown apps.

Select Chrome and enable the Allow from this source toggle.

4. Restart your mobile
Well, many of us do underestimate the power of a simple restart. Restarting your phone lets your phone take a break, and also loads all of the system files from scratch, which may have been missed during the previous session.
Most of the common app errors can be resolved by performing a simple restart of your phone. So, we suggest that if you are facing YouTube Vanced Manager not installing error, then restart your phone and see if that helps.
5. Disable MIUI Optimization
If you are trying to install the YouTube Vanced Manager app on your Xiaomi phone and getting an error that you need to disable the MIUI optimization, then you exactly need to do so. MIUI comes with a ton of features that optimize different aspects of your phone to boost performance and battery life.
When MIUI optimization is enabled, you won't be able to install a third-party app on your Xiaomi phones. So, you need to disable it to install the Vanced Manager app.
Open System Settings.
Go to About phone > All specs.
Tap on the MIUI version multiple times until it shows you a message "You are a developer".
Head back to Settings and go to Additional Settings.
You will now see Developer Options, select it.
Scroll down and disable the MIUI optimization toggle.
Accept the warning.
Now open the Vanced Manager APK and try installing it. You should now be able to easily install the app on your phone.
If you've any thoughts on [Fixed] Vanced Manager Error: Installation Failed for Unknown Reasons, then feel free to drop in below comment box. Also, please subscribe to our DigitBin YouTube channel for videos tutorials. Cheers!