With iOS 17 Apple has dropped a few new and interesting features. One of those new iOS 17 features is screen distance. You may be holding the phone too close to your eyes unintentionally. When this goes on for a long time it may badly affect your eyesight. The screen distance feature in iOS 17 comes to your rescue and notifies you every time the phone is closer to your eyes for a certain time.
Additionally, screen distance suggests that you set some safe distance between the iPhone display and your eyes. This is a great feature considering how much smartphones are abused these days. The screen distance feature is available on iPhone models that come with Face ID as well as the ones with Touch ID. The devices must run on the latest version of iOS 17.
I have explained in detail how the screen distance feature works, how to set it up, and other related aspects to it. Let's check it out.
What is Screen Distance in iOS 17 and How Does it Work?
If you are holding your iPhone too close your eyes (less than 30 cm distance between the screen and the eyes) you will be alerted to increase the distance between them. The front camera on the iPhone will calculate the distance between the iPhone and the eyes to notify the user.
Apple assures that in the process of gauging the distance between the phone display and eyes, it won't capture any photo or video of the users. Screen distance abides by the strict privacy guidelines that Apple adheres to with all its devices.
iPhone Models that Support Screen Distance
The screen distance feature utilizes the camera on the iPhone. Here is the list of iPhone models that support screen distance features on them.
iPhone XR
iPhone XS
iPhone 11
iPhone 12
iPhone 13
iPhone 14
iPhone SE 2nd Generation
iPhone SE 3rd Generation
Additionally, if you use an iPad and wonder whether it supports the new screen distance feature, yes it does. On iPadOS 17 the screen distance feature works in the same principle as it does on iPhones.
Here is the list of iPad models that support the screen distance feature.
iPad Pro 11-inch (1st Gen/2nd Gen/3rd Gen/4th Gen)
iPad Pro 12.9-inch (3rd Gen/4th Gen/5th Gen/6th Gen)
Screen distance is supported on iOS 17 and iPadOS 17. So, if you use any of the supported models of iPhone/iPad, you must upgrade your device to iOS 17/iPadOS 17 to use the screen distance.
How to Enable Screen Distance on iPhone?
Here are the easy steps to set up screen distance on iOS 17.
Launch the Settings app on your iPhone.
Scroll to Screen Time and tap on it.
Within that, go to Screen Distance and tap on it.
Tap the toggle beside Screen Distance to enable it.

When you enable screen distance for the first time, you will see that two pages will pop up explaining how the feature works. Simply tap on Continue to head to Step 3 mentioned above.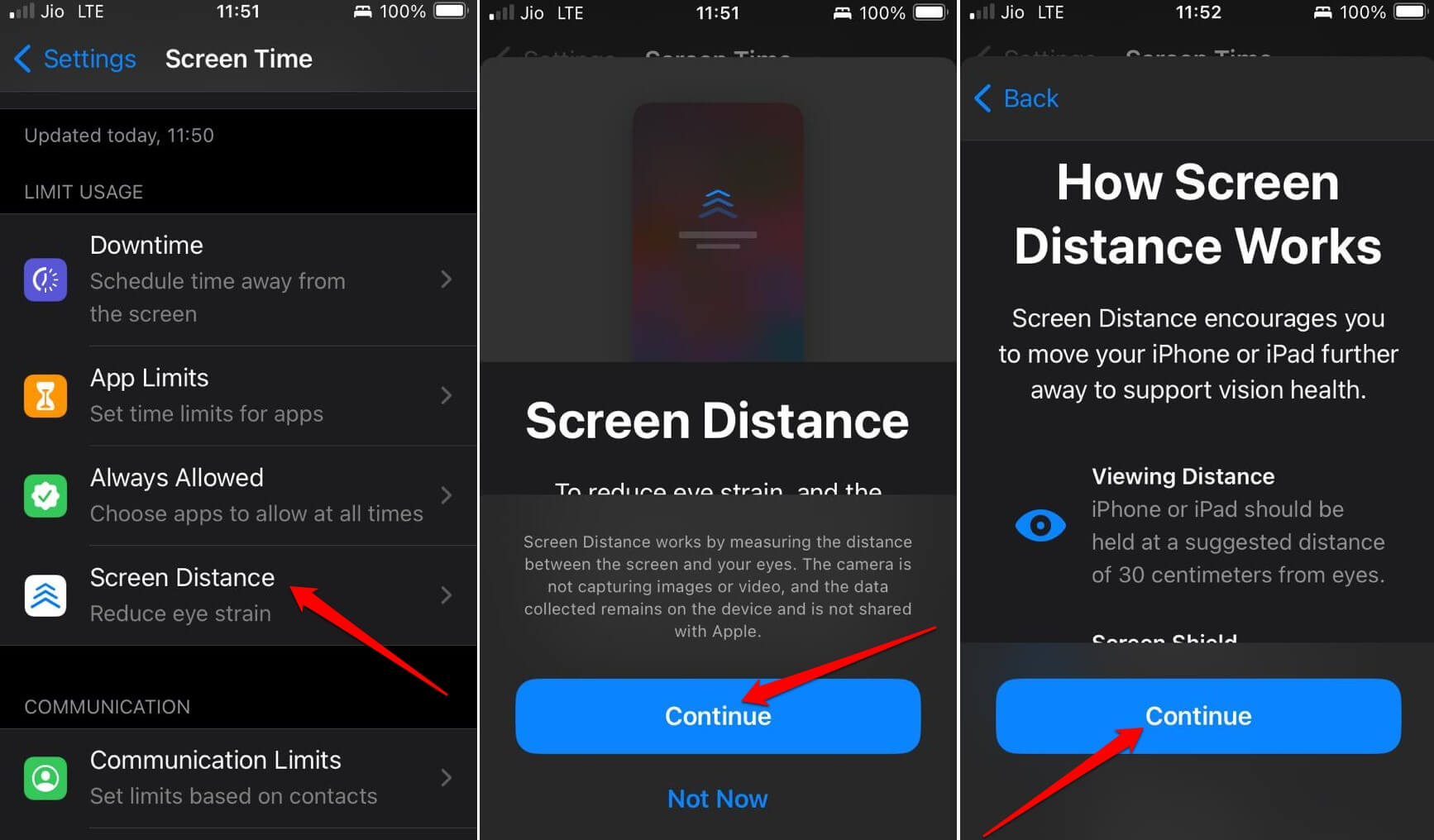 You can follow the same steps if you want to disable the screen distance on your iPhone. However, it is wise to have the feature enabled for the safety of your visual health.
Advantages of iOS 17 Screen Distance Feature
Apple clearly states under the toggle for Screen distance that enabling the feature will reduce the risk of myopia(short-sightedness) in children. For adult iPhone users, knowing to keep a safe distance between the device display and the eyes will promote better eyesight.
Holding the iPhone too close to the eyes will cause strain on the eyes. At night, the blue light from the display will affect your eyes and will disrupt your sleep. The screen distance will alert you of how close you are to the display, which will improve your focus.
Upon getting regular such alerts, you will eventually be mindful of holding your phone sufficiently away from your eyes.  Also, it will help you improve your overall posture while using the iPhone, thus promoting a comfortable user experience.
Frequently Asked Questions (FAQs)
What is Screen Distance on iOS 17?
It is a feature introduced with iOS 17/iPadOS 17. It notifies the users to keep a safe distance between the iPhone/iPad display and the eyes to safeguard their eyesight.
Is the Screen Distance feature Available on All iPhones?
The screen distance feature is only offered with iOS 17/iPadOS 17. It uses the camera of the iPhone/iPad to function. iPhone 11/12/13/14/X/XR/XS and iPhone SE 2nd/3rd Gen support the screen distance feature.
Go to iOS 17 Settings > Screen Time. Under Screen Time, if you see a tab for Screen Distance, then your iPhone supports the feature. You can follow the same drill for iPadOS 17.
Does iPadOS Also Offer a Screen Distance Feature?
Yes, on iPad Pro 11-inch(1st/2nd/3rd/4th Gen) and 12-inch(3rd/4th/5th/6th) models you get the screen distance feature. You can enable it under the Screen Time settings.
Is Screen Distance Enabled by Default on My iPhone?
Once you upgrade your iPhone or iPad to iOS 17/iPadOS 17 by default, screen distance gets enabled.
Can I disable Screen Distance on my iPhone?
Yes, in the iOS settings, go to Screen Time > Screen Distance. Then tap the toggle to turn it off.
Safeguard Your Visual Health with the iOS 17 Screen Distance
It is essential to understand how important your eyesight is for daily activities. You cannot afford to cause problems to your eyes by staring at the iPhone screen for long hours. Hence, enable the iOS 17 screen distance feature on your iPhone and safeguard your eyes for a comfortable user experience.
If you've any thoughts on How to Setup and Use Screen Distance in iOS 17?, then feel free to drop in below comment box. Also, please subscribe to our DigitBin YouTube channel for videos tutorials. Cheers!