Although Instagram has taken over as the most preferred social media platform for users, Facebook still hasn't lost its charm. People still use Facebook to find their lost friends from school and connect with family members. Facebook nowadays has become a quiet place, but just about a couple of years ago, it was a happening place. There are still billions of active Facebook accounts that are operated across the globe.
Out of these users, many Facebook users have recently reported that after sharing a post on the platform, it doesn't show up correctly. Meaning, others are not able to see what they have posted. When the link is opened, it simply shows an error saying, "Sorry, This Content Isn't Available Right Now." Well, this can be pretty frustrating. Who knows, someone may be regrouping with his/her old acquaintances only to find that their school image isn't visible and throwing up the error.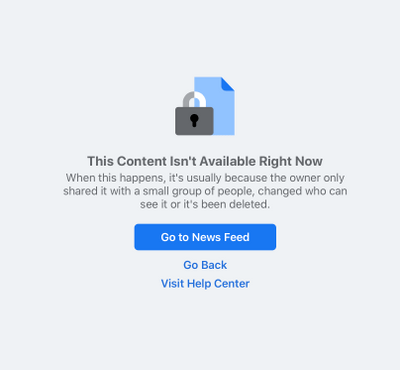 If you are experiencing this issue, then you are not alone. Thankfully, here is when this guide comes into the picture. In this post, we will share some practical solutions you cause to fix this error on Facebook. Without any further ado, let us get straight into it.
Why does Facebook show a 'This Content Isn't Available' Error?
Before you go ahead and try to fix this problem, the first thing that we always advise you about is to look for the reason behind the issue. This not only helps you to educate others when they come across a similar issue, but you will be able to apply fixes more quickly.
After looking at multiple user complaints, here are some reasons that could trigger this problem.
The content is deleted
The content is restricted
The owner has set privacy settings
You need to log in with your Facebook account
The Facebook server is having issues
Content owner's account is deleted
Due to the presence of malware or bug
There are high chances that if you cannot view any post on Facebook, then it may be due to one of the above-mentioned reasons. Let us take a look at the solutions for it.
1. The content is Deleted
If the owner of the post deletes the content, then not only you but no one can view it on Facebook. Besides, there are several other reasons as well because of which the post could get removed. Generally, if any post or content does not align with Facebook's policy and violates it, then the post is removed from the platform.
In such cases, when you try to view the post, it will show you a "Sorry, This Content Isn't Available Right Now" error. So, it is advised to check if the post is removed or deleted.
2. Check Facebook server
Being a social media platform that is used by billions across the globe on a daily basis, Facebook servers have to deal with a huge amount of traffic. And sometimes, it is just too much to handle, due to which the Facebook servers may face some issues. However, do note that even though there are some technical difficulties, the whole website will not always go down.
Often, a few key features or services are affected. In such situations, it is recommended that you check and see the status of the Facebook servers. You can make use of websites such as IsItDownRightNow or Downdetector to get the information.
3. You aren't logged in
It goes without saying that in order to use any social media platform, you need to have an account in it to access full features. The same goes in the case of Facebook. So, make sure that you are properly logged in with your account credentials on Facebook to view someone's posts.
This gets interesting because sometimes, even if you have logged in, Facebook often logs you out of its platform when you spend too much idle time on the platform. If you come across the error where the content isn't available to you, then ensure that you are still logged in to Facebook.
4. Location or Age Restrictions
Facebook, like other social media platforms, has its own set of guidelines. There are proper age and location restrictions in place that prevent users below the set restrictions from watching the content.
So, if the post owner has set some restrictions on a specific age or location, then you won't be able to view it. Ultimately, you will see the "Sorry, This Content Isn't Available Right Now" error. If it is a location-based restriction, then you can make use of a VPN to bypass the restriction.
5. Presence of Malware or a Bug
The presence of viruses or malware may also prevent you from not only viewing content on Facebook but could hamper your overall PC user experience. It is advised that you thoroughly check for viruses or malware using any of your favorite antivirus tools. You can check out our dedicated list of the best antivirus tools for Windows 11 by clicking here.
6. Owner's Profile is Deleted
Another popular reason which prevents you from viewing someone's content could be that the profile of the post's owner is deleted. Besides, if the owner of the post has deactivated his/her account, then also no one will be able to view their posted content. Facebook also deletes or deactivates several user profiles if they are found guilty of violating Facebook guidelines. So, the error could also pop up if the owner's profile is removed or deactivated.
If you've any thoughts on Fix – Sorry, This Content Isn't Available Right Now Facebook, then feel free to drop in below comment box. Also, please subscribe to our DigitBin YouTube channel for videos tutorials. Cheers!