Ever wondered if you could install any Android app from your PC browser straight to your Android smartphone? Wouldn't that be amazing? Well, if you are intrigued, then we would like to inform you that there is an official way via which you can install any Android application from your PC browser to your phone. This method could come in handy if you come across an app that you really want on your Android smartphone, but it is not physically present with you.
Additionally, if you wish to install a very important app on your friend's or family member's device, then you can also make use of this method. Notably, the method that we are going to talk about in this post is an official one. So, you need not worry about any mishaps or issues, provided that you follow all the steps correctly. With that said, let us jump straight into the article itself:
Step 1: Log in with the same account on an Android device and PC
First of all, you need to make sure that you have logged in with the same Google account on both your Android device and also on your PC, i.e. the Play Store website. Moreover, both devices should have an active internet connection.
Step 2: Head to the Play Store link in your PC browser
Now, open the Play Store link on your PC browser. If you have the app link itself with you, then you can paste that link on your PC browser and open it. However, if you do not have the app link, then visit Google Play Store from a non-Android web browser.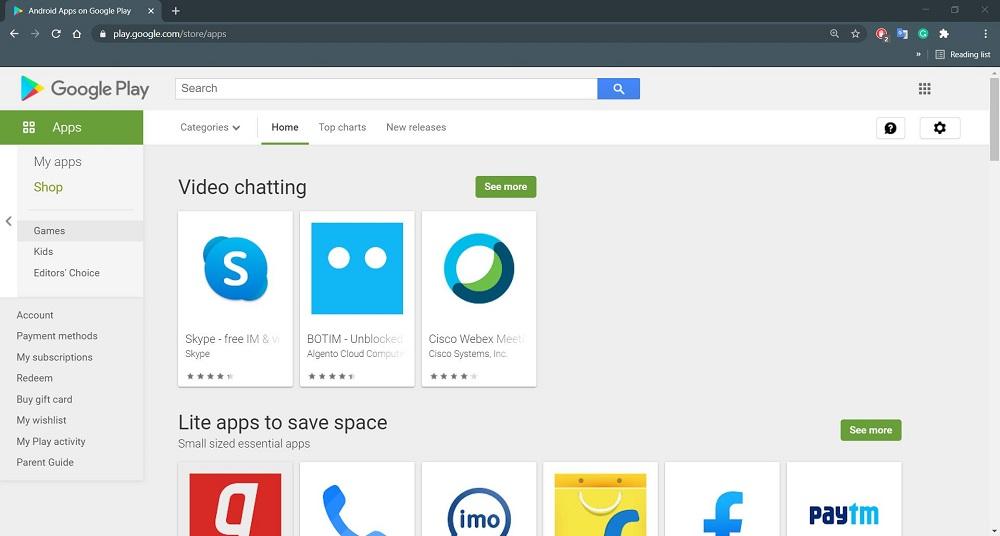 Step 3: Search for the app/game on the Play Store page
Afterward, you need to search for the app or game that you want to install on your Android device remotely in the Play Store page opened in your PC browser. For that, either enter the app's name on the search bar on top or browse through the category of apps. Also do make sure to select the Apps tab from the left column to search for apps.
Step 4: Install the app remotely
Once you have found the app you are looking for, then you need to open the app page and hit the green Install button. You will see all the Android devices associated with the Google account appear on your screen. Here, you need to select the Android device on which you wish to install that particular app remotely. After selecting your device, click the Continue button.
You will be asked to enter your account password before the installation could begin. Note that this step is un-skippable and you will have to enter the password of your Google account, every time you wish to install an app remotely onto your Android device.
Finally, you will see that the app has been successfully installed on your Android device. So simple, isn't it? Besides, if your device is turned off, then do not worry as the installation will take place once you boot up your Android device.
Conclusion
So, there you have it from my side in this post. Now you know how to install any app from Play Store remotely on your Android device. There are several use cases of this method which you can apply whenever required. Let us know in the comments below if you liked this post or not. For more such awesome content, you can follow us on our DigitBin YouTube channel. With that until the next post…Cheers!
If you've any thoughts on How to Remotely Install Android Apps from PC Browser? , then feel free to drop in below comment box. Also, please subscribe to our DigitBin YouTube channel for videos tutorials. Cheers!