WhatsApp has become a daily companion. We almost unknowingly use WhatsApp for more amount of time on our Android or iOS device that any other apps. Over the years, WhatsApp has added plenty of features to make the app compelling to use, and it sure has achieved that. The ease of texting, sending audio, video, documents, and other files, voice or video calling, has just made this app one of the first installs whenever someone buys a new phone.
Blame it on the user base as well, though there are other alternatives to WhatsApp like Telegram, the popularity of the former is huge. You can find WhatsApp on almost all the smartphones that you come across. However, there are several instances whereby, knowingly or unknowingly, the WhatsApp chats get deleted. Well, we will show you how to get those deleted WhatsApp chats back on your device. In this post, we will give you working solutions via which you can retrieve deleted WhatsApp chats.
So, with that being said, let us get straight into the article itself:
Restore Chat from Local Backup
If you do not keep a backup of WhatsApp data on Google Drive, then you can make use of the local backup data stored on your device to get back the deleted chats. However, there is one thing to note is that this method works on Android devices, so iOS users stay out of this method.
Here are Steps to Recover Deleted WhatsApp Chat with Local Backup Storage
Open Google Drive on your smartphone, and tap Menu option (the three vertical lines) → Backups. Now delete the WhatsApp backup. This will force your phone to restore from the local backup instead.

Now Go to the phone's File Manager.
Go to the WhatsApp folder → Database. The Database folder contains all local WhatsApp backup files.
Select the file msgstore.db.crypt12 and rename it to msgstore_BACKUP.db.crypt12. This is the most recent backup on your local storage and you just need to rename it.


Youc may also see many files in this folder in the format of msgstore-YYYY-MM-DD.1.db.crypt12. These are the older WhatsApp backups, you can pick the most recent one as listed in step 3. and rename it to msgstore_BACKUP.db.crypt12
You than uninstall the WhatsApp and reinstall it again.
After some time, it will ask to restore data and click on the "Restore" button. All deleted will restore immediately.
Restore from a Google Drive Backup
If you use WhatsApp more often then it is better to take a daily backup of the data on Google Drive so that in a situation where your chats get deleted, you can easily make use of the backup and restore the data back onto WhatsApp. Here are the steps that you can follow to restore the deleted WhatsApp chats from Google Drive:
You first need to uninstall the WhatsApp app.
Then head to the Google Play Store and re-install the app.

You will be prompted to verify your phone number.

When prompted again, tap the RESTORE button to restore your deleted chats from Google Drive.
WhatsApp will begin the process of restoring the deleted media.
However, note that in order for this method to work, you should have created a Google Drive backup which you can do by heading over to Settings>>Chats>>Chat backup. And only the chats that have been backed up to a specific date will be restored. Moreover, if you do not have any WhatsApp backups on Google Drive, the app will automatically restore the chats from a local backup.
Use the WhatsRemoved+ App
The above two methods allow you to restore the entire database of WhatsApp chats, which could come in handy when you are changing your smartphone or have a factory reset the app. If you want to read the WhatsApp chat which has been deleted by your friend as soon as it was sent, then you can download the WhatsRemoved+  app.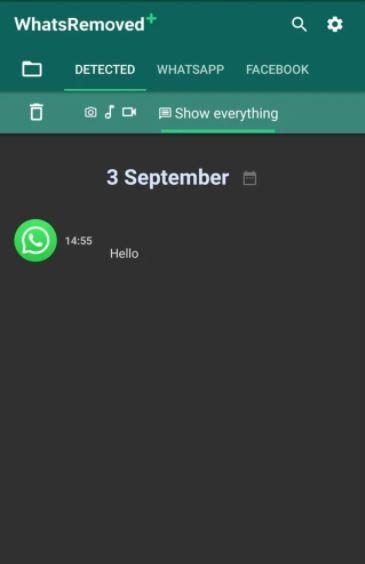 Download the WhatsRemoved+ app from Play Store.
Open the app and accept the terms and conditions.
Give access to the phone's notifications.
Then you will be asked which apps you want to save all notifications from. In our case, it is the WhatsApp.
Then WhatsRemoved+ app will ask you whether or not the app should save files.
Once you have done all these settings, you will be able to read WhatsApp messages.
To read deleted WhatsApp message, open the notification and tap on the Detected tab.
So, that's it from my side in this post. Well, if you would take our advice then you should create regular backups or turn on the Google Drive backup option and use it to restore that deleted WhatsApp chats. This is because using any third-party apps also gives them access to your private chats to read, and sometimes these apps can read and access more than they actually should. So, be cautious while using third-party apps to read deleted WhatsApp chats.
If you've any thoughts on How to Recover Deleted WhatsApp Chat?, then feel free to drop in below comment box. Also, please subscribe to our DigitBin YouTube channel for videos tutorials. Cheers!