IPTV APK is the form of broadcast streaming which allows the users to watch Live TV over the internet. Internet Protocol Television uses internet data bandwidth to send signal packages to the receiver's device. The delivery of television content over Internet Protocol (IP) networks is what makes it different from traditional terrestrial or satellite TV. Unlike downloaded media, IPTV offers the ability to stream the media to continue with the internet data.
IPTV Apps are Live TV Streaming applications which are always on demand as they let you watch the channels on your Android supported device. If looking for some cool apps to watch free and paid live TV on your Android smartphone. Then today DigitBin has come up with some of the best IPTV apps. Most of these Apps do not stream the TV Channels from their servers but search web directory and live torrent links to find the active platforms.
Many online streaming apps on the internet are deceiving in nature and they just try to inject malware into your device. These apps ask for permissions which are not required for their normal functioning. For example, apps may ask for contact permissions which of course is not required to stream your favourite channels. So, please grant the permissions which you think is indeed needed for the app to work.
Free IPTV Apps to Watch Live TV
Here are the Best IPTV Apps to Stream and Watch Live TV Channels on Android for Free
1. Mobdro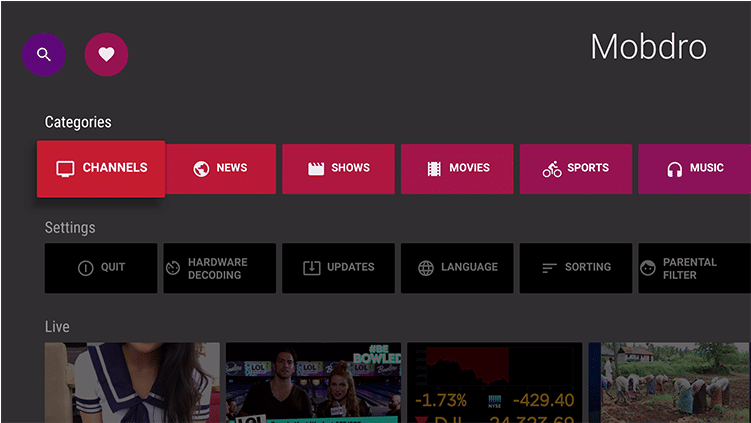 Meet the most popular IPTV live TV app for Android, Mobdro. It is a one-stop destination for live TV which is categorised into genres namely, Movies, Entertainment, Sports, Music, Tech, Animals, gaming, anime and spiritual. The app also houses popular TV shows which you can download.
The App indexes the TV links from all across the web and streams it on the App. The App is not available on Google Play Store but you can download Mobdro app latest Apk from the links below.
The app provides live TV in more than 10 different languages from more than 30 different countries. Thus giving a wide array of content to choose from. The app interface is user-friendly and easy to use. The app doesn't require you to have any login account. The App is not available on Google Play Store but you can download the latest Apk from their website. The app is
Features of the Mobdro App
Has a very friendly App interface
No sign-up needed to use the App
More than 1000 channels from all over the world
Download your favourite shows and watch them anytime
There are no annoying Ads (non-intrusive Ads)
2. LazyIPTV
LazyIPTV allows you to view TV technology on mobile. It is not a native streaming app but a client which lets you create playlist or streams. The app does not contain a built-in playlist, and is only a client platform, allowing a convenient way to watch TV online. You can use playlists in the format of m3u or XSPF. m3u-playlist support in open-view or v zip, GZ. You can play HTTP and UDP streams. Importantly for an IPTV app, it supports electronic program guides. You can also customise channels, playlist and other sections of the streams. You also get app customization and parental control feature.
Features of LazyIPTV
Support several UDP-proxies, that can be switched
Add Favourites and create a manual playlist
customizable main-screen in title-style view, playlists and most-watched.
Support nested folders, grouping the same channels in different playlists;
You can export playlists
Backup & restore application settings
Support several EPG
3. ThopTV
With an application of the likes of ThopTV, you won't miss a single one of your favourite TV programs. ThopTV hosts thousands of channels free and premium which you can stream for free without any account or subscription. You get Live sports, movies, entertainment and more on the applications.
The App hosts live tv channels from the US, UK, India, France, Germany, Canada, the Middle East and other European Countries. You can access all the live sports and general entertainment channel from across the globe. However, some of the channels may not be working in your country due to copyright reasons. In that case, it's advisable to use a VPN application to be able to access this application with a different IP address.
4. AOS TV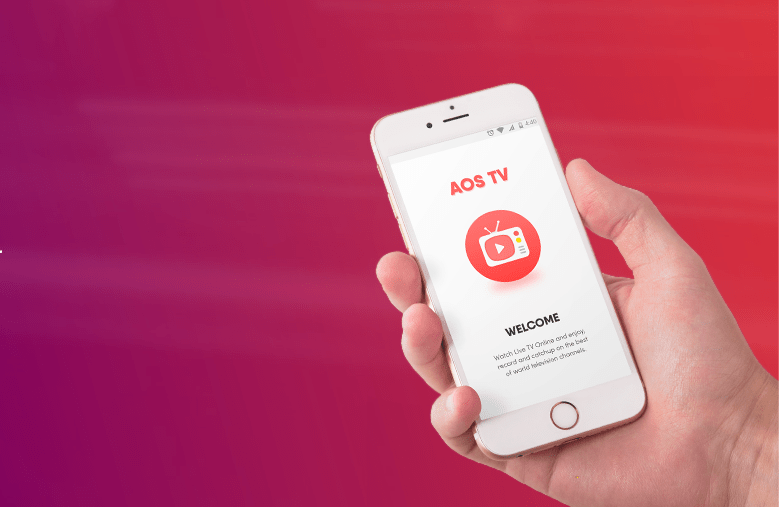 AOS TV is a free live TV app which lets you watch free tv channels on your Android supported device. The app claims to host more than 1000 channels. The interface is simple just search for your favourite channel which you wish to watch, you will see multiple links below the player. If any of the links are not working you can switch to other links present.
You can watch live tv from UK, US, India, Europe, South America, Australia, Canada and more. You can also stream live sports from across the globe. An easy to use the quick app for your live tv needs.
5. GSE Smart IPTV
GSE Smart IPTV is one of the most popular IPTV apps available on the Play Store. It's been downloaded more than 1.5 million times and has a 4.5 average rating. The app has a very appealing UI and is visually pleasing TV app for Android. GSE Smart IPTV is available on far more platforms than most of its competitors.
You can find the app on all major platforms. On the feature front, GSE supports EPG content in the XML, ZIP, and GZ format. It also offers native parental controls and subtitle (SRT files) support. GSE Smart IPTV can play live streams from HTTP, HSL, M3U8, MMS, RTSP, and RTMP sources. The app is ad-supported. You get dynamic language switching, beautiful themes and a built-in player.
6. Live Net TV
Live Net TV App is one of the most popular Live TV, Sports, Movies and TV Show Streaming App for Android OS. The App hosts more than 700+ channels from many countries that including UK, US, Middle Eastern Countries, India, Iran, Pakistan, Turkey and many more countries.
The App hosts multiple links for a channel with normal SD links and HD links. Open the link in video player preferably MX player (the software also supports a number of other popular players). Let the buffer complete and enjoy the stream on your mobile. Watch sports, entertainment, movies and much more right on your mobile device for free albeit Ad Support. But you can buy an Ad-Free Premium Subscription paying via Bitcoin.
Features of Live NetTV
High-quality Live TV stream support.
VOD for Movies
Chromecast support
More than 750 live channels from various categories and genres.
A large number of External Video Player Support
All the videos are absolutely free.
The interface is simple to use.
Filter the channels according to comfort
7. You Player TV
You Player TV is a multiplayer live tv streaming App which lets you watch live sports, movies and other premium content from counties like, Colombia, Chile, Mexico, Venezuela, Germany, France, Spain and more. You can enjoy live streaming for free with multiple player support adding advantage in case an encoder of a particular player is not broadcasting smoothly. You can also add channels manually in the App if you can't find what you're looking for.
Add New Channels
Open Add option from the menu
Write tutv in the Stream Name field.
Type in tutvgratis.tv in the Video URL field.
Choose manually the channels you want to add from the list.
Features of You Player
Filter the contents by country
Multiple format support: AVI, 3GP, FLV, M4V, MOV, MP4, WMV, etc.
Chromecast support
Inbuilt updates no need to look for APK's
8. USTVNow

Looking for some live US content than, USTV is the best choice to stream right from Television stations from the US and Canada onto your mobile phone. The USTV App hosts more than 150 live TV channels from the USA to enjoy.
Features of USTV Now
Get access to the popular channels of the United States even outside the USA.
The app has a very clean User Interface.
Large library of live streams to choose from.
The App not only hosts channels from the USA but also from other European countries.
There are no special requirements to play the App and device with 4.1 or above is up for running.
You will generally not find any issues with playback or buffer on a good internet network
Last but the best thing about the app is it is free to watch and does not require any subsciption to play the video.
Data Security and Privacy Concerns
The free streaming Apps which are not the legal content providers are always on the critical due to data breach and privacy invasion issues. The cyber rouges are always in a search for innocent netizens who could fall prey. The use of free non-legal streaming services may also be a crime in your region due to litigations imposed by law.
How to Be Safe?
Some of the App listed above have a lot of programming with copyright infringement under its hood, you may be under the scanner by your government for streaming the content which is not bided by the law. But looking at the nature of the App, there may be very few who could resist themselves from using. You can stream safely by using a VPN service. There are a number of VPN Apps and services covering all types of devices.
What is a VPN or Proxy?
VPN is a type of online services which hides your data by sending your web usage to another secure location. It forms a secure tunnel to provide end-to-end protection. Therefore, your ISP will not know what you're up to. In other words, it sends your data to a 3rd party country, making it difficult for the service provider to determine the internet behaviour of the user.
Miscellaneous Details
If you wish to use the apps anonymously then you can try any VPN services like OperaVPN which is available on Google Play Store.
In case any of the streams show any error or issues while loading then also you can try any proxy servers like VPN to stream the content.
If the app is not working or causing some issues then I recommend you to Clear Data & Cache of the app to fix it.
Conclusion: With the APK above you can watch live tv on your Android with all the programming without any issues.
If you've any thoughts on Best IPTV Apps for Android | Stream Live TV for Free, then feel free to drop in below comment box. Also, please subscribe to our DigitBin YouTube channel for videos tutorials. Cheers!