This is the beginning of a new era where Artificial Intelligence is bringing a new revolution to the world. Today we are getting so involved with AI, that we can hardly imagine days without these technologies. Tech giants are consistently bringing in big improvements in this field. And with that said, Google has also been working on massive futuristic projects this entire time. Google Bard is a great example to prove the enhancement of the company in the field of AI. Now, if you are not familiar enough, Google Bard is an AI-based chatbot similar to OpenAIs ChatGPT. And being a Google product, we can expect some phenomenal features in this chatbot.
However, as of now, the model is still under production, and thus it has very limited access. Google Bard is only available in UK and US at the moment, and it requires users to sign up for a waitlist. Well, that defines the demand for this all-new Google product. And if you are one of those lucky ones who finally have access to the platform, you would want to use it to its full potential in the most efficient way. And what better option than to use it as an app on your iPhone?
Unfortunately, Google Bard is still in its initial stage, and the platform doesn't provide a dedicated app in the App Store. But if that doesn't satisfy you, worry not, as we have brought some workarounds to make things as you want. This article shares a ninja trick that will instantly help you install and use Google Bard as an app on your iPhone.
Steps Install Google Bard as App on iPhone
Although both ChatGPT and Google Bard belong to the same ship, both have many differences. While Google Bard is built on the Lambda dataset, ChatGPT, on the other hand, is based on a massive dataset of text. Above all, Google's AI chatbot has access to the Internet, while ChatGPT doesn't. So, these are some of the major differences between both models. However, the basic purpose of both is quite the same.
Now, coming to Google Bard's native application, the company doesn't provide any official app neither for iOS or Android. However, this article is specifically going to be on how we can still use Google Bird as an app on our iPhones. Fortunately, the trick behind it is pretty basic. Just follow a couple of steps below, and it should take no time to install Google Bard as an app on your iPhone.
Firstly, open Safari browser and visit bard.google.com
Now, tap on the Sign in button to sign in to your account. If you haven't already applied for the waitlist, then go and tap on the waitlist button as well.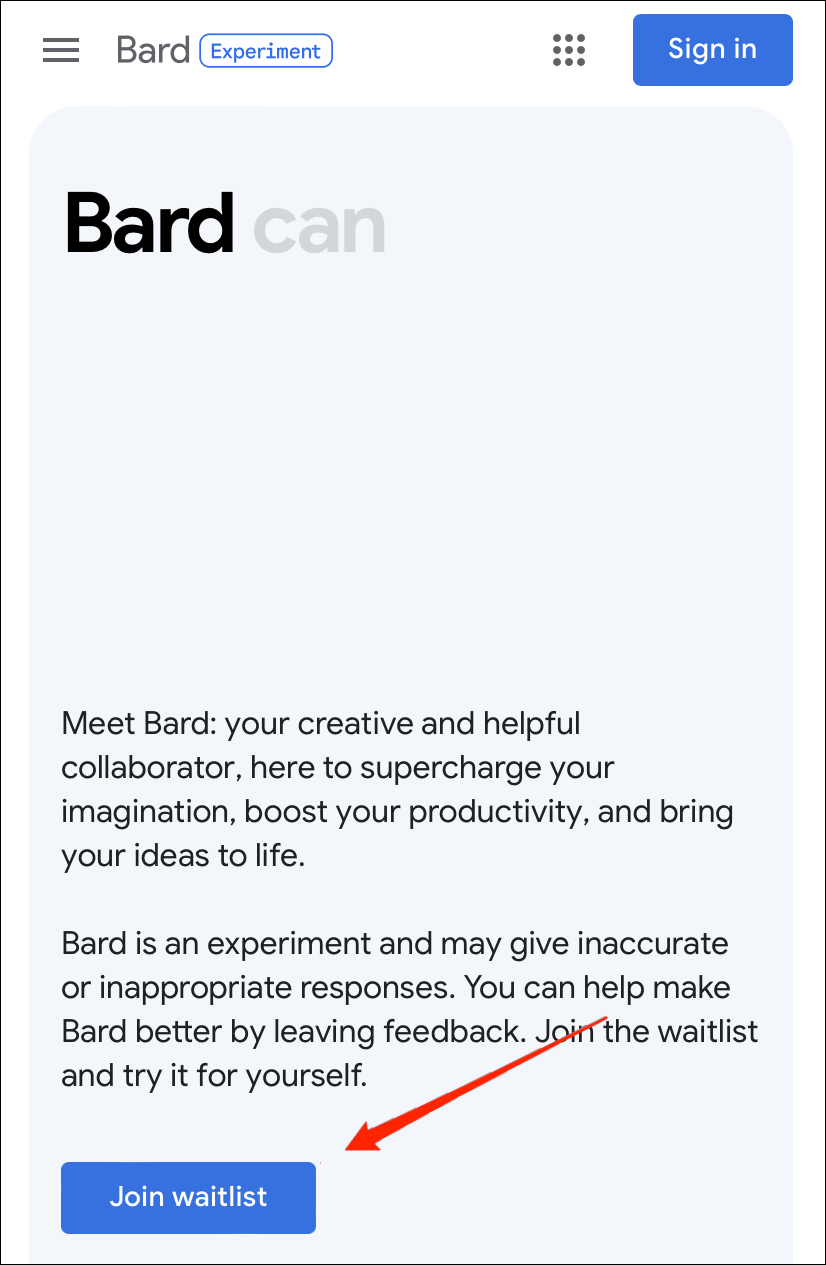 Once you are done signing in, click on the Share icon at the bottom of your screen.

On the list, click on Add To Home Screen option.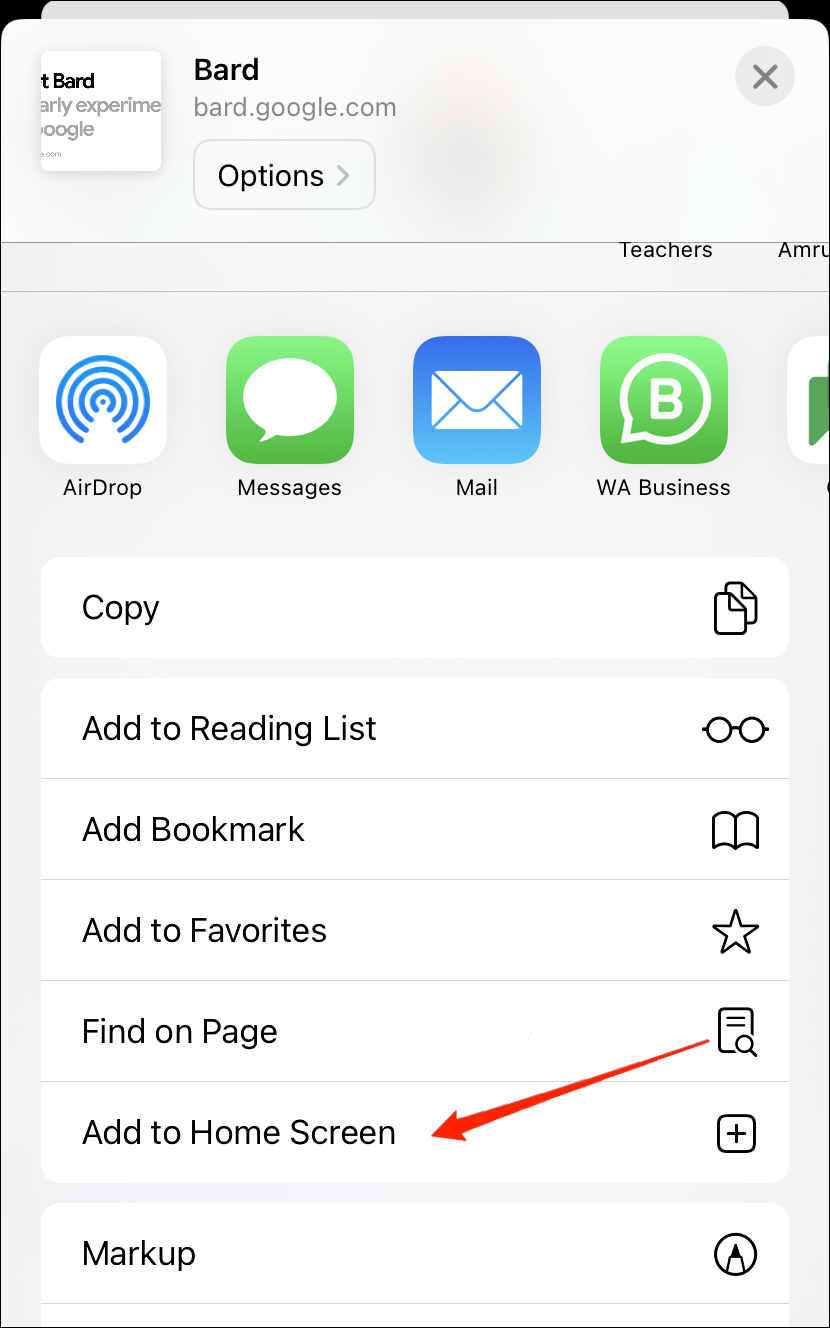 Now, simply enter the name you want to display under the Bard icon. For instance, 'Google Bard' or 'Bard' are mostly standard ones.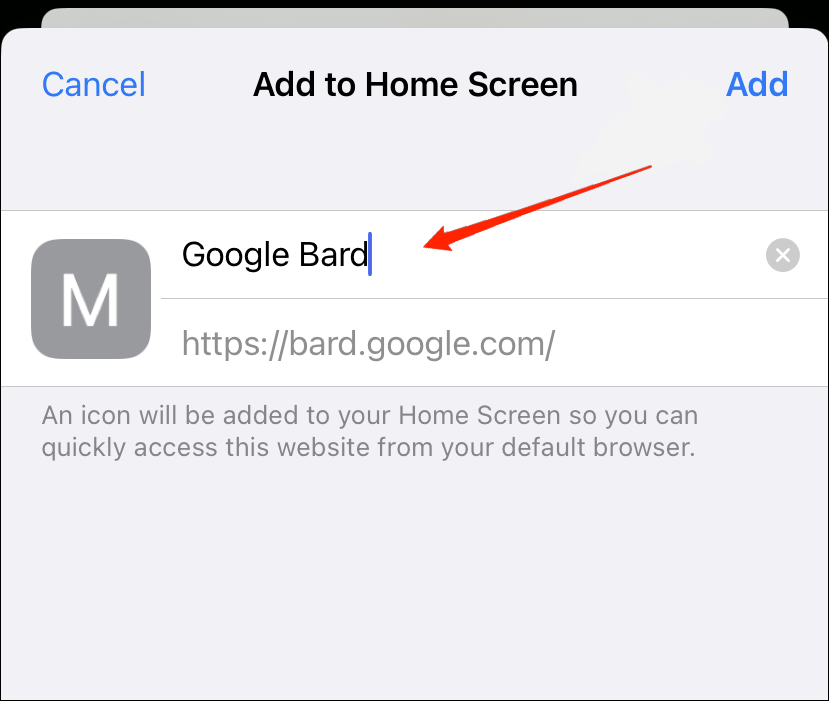 Finally, tap on the Add option in the top-right corner of your screen, and that is all.
Conclusion
So, that was all about installing Google Bard as an app on your iPhone. Until Google releases a native iOS application, the shortcut must work fine for efficient access to the platform directly from your home screen. For more queries about Google Bard, let us know in the comments, and we will contact you soon. Also, if you are one of the lucky ones who got access to Google Bard, feel free to share your experience and opinion on this new AI-based platform.
If you've any thoughts on How to Install Google Bard as App on iPhone?, then feel free to drop in below comment box. Also, please subscribe to our DigitBin YouTube channel for videos tutorials. Cheers!