While the iPhone is considered the most advanced smartphone in the world, it can have imperfections too. You might be familiar with some of the problems iPhone users encounter, including being stuck on the Apple logo, frozen screens, boot issues, application crashes, and more.
Resolving these problems without the assistance of software can be difficult and complicated, particularly if the home button is not responding. While many iPhone users opt for factory resetting as a solution, data loss is possible.
FoneGeek eliminates the threat of data loss by introducing an iOS System Recovery software that can solve all iOS issues easily and quickly.
FoneGeek iOS System Recovery Overview
FoneGeek iOS System Recovery software is unquestionably the top iOS repair tool on the market. This tool was designed by FoneGeek to offer iOS users a straightforward and dependable tool for fixing all of their iPhone and iPad problems without affecting their saved data.
Packed with many seamless features, FoneGeek iOS System Recovery can assist you in resolving significant iOS issues like update malfunctions as well as minor ones like getting stuck on the startup screen.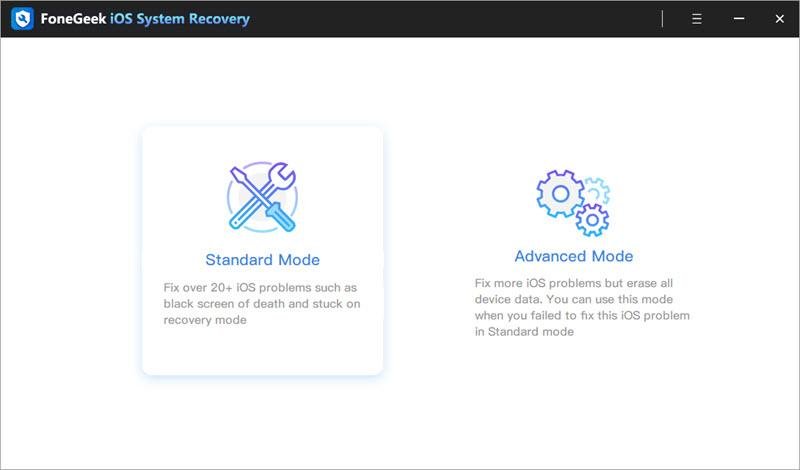 Scenarios Where You Need FoneGeek iOS System Recovery
FoneGeek iOS System Recovery possesses the capability to address all the complex situations encountered by iPhone/iPad users. This exceptional system can assist you in resolving more than 150 iOS issues, including the following:
iPhone/iPad screen freezing problems, such as black screen, blue screen, frozen screen, recovery mode loop, connection to iTunes screen, and headphone mode stuck.
iOS mode stuck problems, such as being stuck on recovery mode, DFU mode, zoom mode, shuffle mode, restore mode, and more.
iOS bugs, such as being stuck on the Apple Logo, issues with starting up the iPhone, disabled phone, stuck on verifying update, charging issues, and more.
Additionally, it can help you in updating your iPhone to iOS 15/16 Beta with just a single click.
FoneGeek iOS System Recovery Main Features
This program's most notable features include the following;
Fix System Issues without Losing Data 
With FoneGeek iOS System Recovery, you can resolve roughly 150 technical glitches with your iPhone and iPad, improving your device's functionality without any trouble or loss of data.
Using the Standard Repair mode in the software, you can fix your defective iOS device without sacrificing your media files or documents.
Factory Reset Your iOS Device 
Furthermore, with FoneGeek iOS System Recovery, you have the option to factory reset your iPhone or reset its overall settings, such as network and keyboard settings, among others. In the event that you forget your Apple password, this application can also reset your iOS devices.
Repair All iTunes Errors 
FoneGeek iOS System Recovery was specifically created to assist users in overcoming all iTunes errors. This software enables you to resolve iTunes issues like connection timeouts, download errors, update and restore errors, and more.
Downgrade iOS Beta to Published Version 
Suppose you recently upgraded your iPhone to the newest iOS 16 Beta version, but after thoroughly testing it, you want to revert your iPhone to its original version. Using iTunes to downgrade iOS Beta can result in several issues. However, with FoneGeek, you can effortlessly downgrade your iOS to its publicly released version without utilizing iTunes and therefore avoid some of the common issues users face.
How to Use FoneGeek iOS System Recovery?
The software is incredibly user-friendly, and with just a few clicks, you can promptly get your iPhone back to working condition. After downloading the software on your Mac or Windows device, follow these simple steps to fix your iPhone issues:
Step 1: Connect your iDevice to your PC or Mac, and click on the "Standard Repair" button to initiate the system repairs.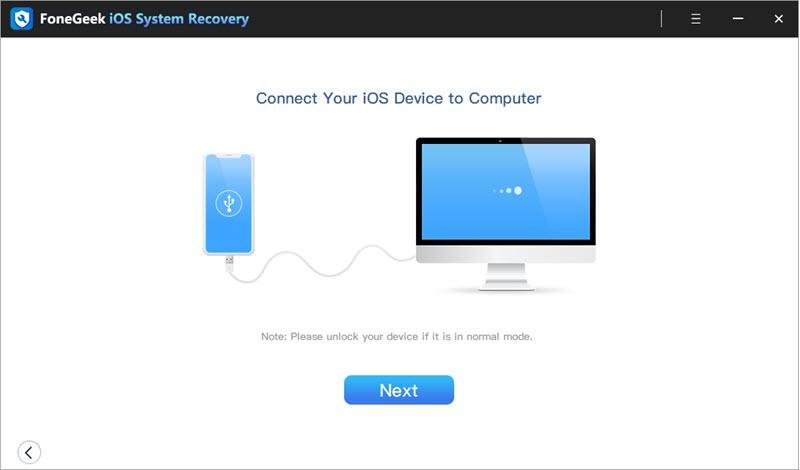 Step 2: The software will download the firmware package for your phone onto your computer.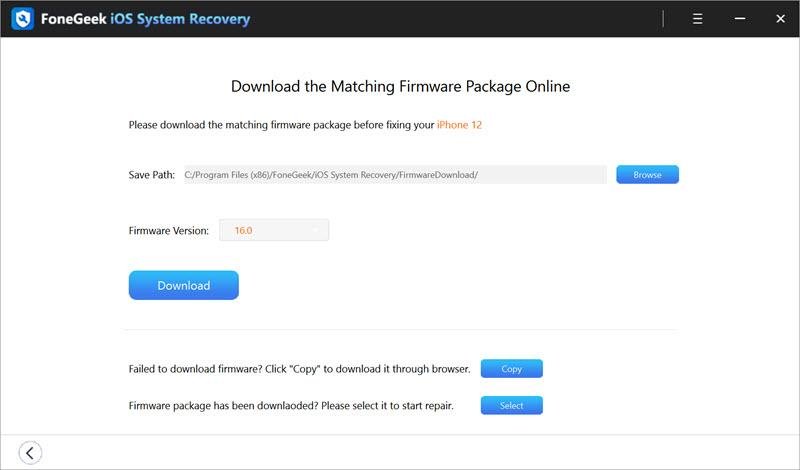 Step 3: Once the firmware package has finished downloading, click on "Fix Now" to proceed.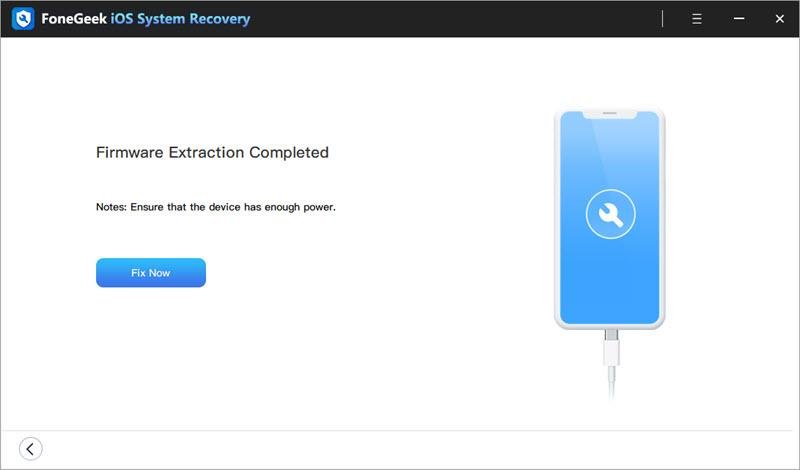 Step 4: After the repair process has concluded, your iOS device will automatically restart while safeguarding your data.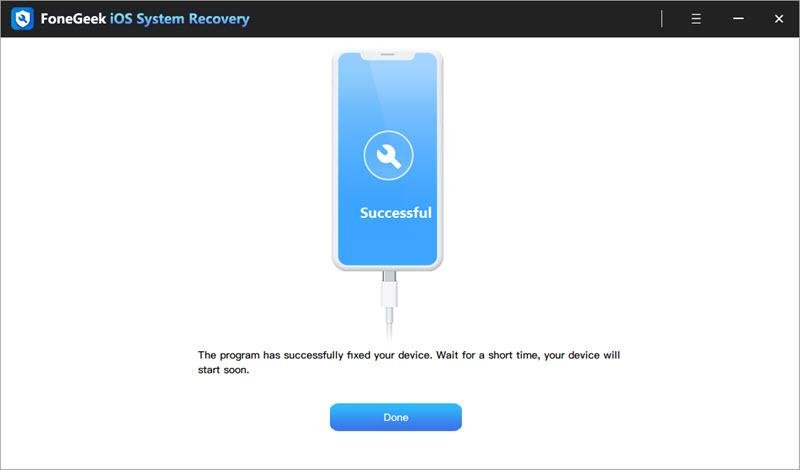 Why Choose FoneGeek iOS System Recovery?
FoneGeek iOS System Recovery comes in handy in many ways, allowing you to keep your iOS device functioning perfectly at all times. The following are just some of the reasons why you should consider this software;
Ease of Use
Users seek software that is user-friendly, and FoneGeek iOS System Recovery is the ideal tool for both novices and professionals alike. Addressing iPhone issues can be challenging, but with FoneGeek's straightforward interface, you can efficiently repair your iPhone in no time.
Cheaper Price
The trial version of FoneGeek iOS System Recovery is free of charge, but to access the software's full features, you must purchase the premium version. Fortunately, you can receive numerous advantages at an affordable price. FoneGeek offers three distinct plans:
Monthly use for $23.95
Yearly use for $33.95
Lifetime use for $45.95
Powerful Features 
Compared to other iOS repair tools, FoneGeek iOS System Recovery is considerably more robust, and its features are as user-friendly as possible. Its straightforward UI and UX interface are compatible with all iPhone models, including the iPhone 14.
Favorable Customer Ratings 
The success of software is often determined by the positive ratings it receives from customers. FoneGeek iOS System Recovery has received a 4.5 rating from customers primarily because of its very useful features and the fact that it is very easy to use.
Limitations of FoneGeek
Most advanced features are available only in the paid version.
The tool may not work too efficiently if your device doesn't have iTunes installed.
Does not support Windows 11.
Conclusion 
You can fix all your iOS issues with just one software – FoneGeek iOS System Recovery. This powerful tool is compatible with all iPhone, iPod, and iPad devices, making it perfect for solving any problems you may be facing with your iDevices. Best of all, it's available at a very reasonable price. Download it and have a try!
If you've any thoughts on FoneGeek iOS System Recovery Review: Fix All iOS System Issues At One Place, then feel free to drop in below comment box. Also, please subscribe to our DigitBin YouTube channel for videos tutorials. Cheers!