Thanks to an ever-growing list of alternative apps available on the Play Store, there is no shortage of keyboard apps for Android devices. However, most people do not go that deep in changing their default keyboard app. Most people make use of either the default Google Keyboard that comes pre-installed on almost all Android phones or some use their OEMs default keyboard, for instance, Samsung keyboard for Samsung phones, etc. One of the popular keyboard app alternatives that you may be aware of is Microsoft SwiftKey.
Microsoft SwiftKey has grown pretty popular over the years. With the addition of the latest features and functionalities, Android users who are into customization, use Microsoft SwiftKey as their default keyboard app. The app is touted to adapt to your writing style and help you write faster. But just like every other app, the SwiftKey application also suffers from errors. Luckily, in this post, we will give you some tips that can help you fix common errors associated with the app. With that said, let us jump straight into the article itself:
Fix SwiftKey Keyboard Not Working
Here are the Best Solutions to Fix Microsoft Swiftkey Keyboard not Wokring, Crashing or Loading on Andrid
Reboot your phone
Well, one of the first things the comes to our mind when an app gets suffers from an issue is restarting our phone. Often restarting or rebooting, the phone fixes the bugs or glitches with an app. So, you can check if restarting your phone fixes SwiftKey not working issue or not.
Close background apps
There are certain apps available for Android devices that are resource hogging. And by resource-hogging, we mean they leave very little resources for other apps to operate successfully. This could be one of the reasons the Swiftkey app on your phone is not working properly.
If SwiftKey does not have access to sufficient memory, then it could run into some trouble, and you will start experiencing lag. To fix this issue, you can try closing all the background apps or games. To do that,
Head over to Settings>>About Phone.
Tap the Build number 7 times to unlock Developer Options.
Now, head over to Settings>>Developer Options, and tap on Running Services.

Here, you will find a list of apps and services running on your phone. It will also show you the RAM status at the top.
Do NOT stop any system process. Look for any third-party app that you have installed and do not use much. Tap on it and hit the Stop button.
Disable battery optimization for SwiftKey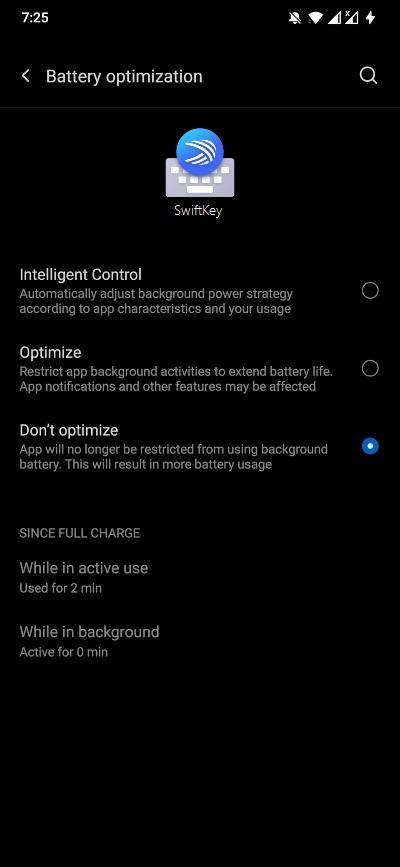 In order to save battery on your phone, there is an option called Battery Optimization. It limits the background activity of the app and also limits the resources for an app. This could be the reason behind SwiftKey not working properly. Head over to Settings>>Battery>>Battery optimization. Scroll down and see if SwiftKey is not set to Optimize. If the Optimize option is enabled for SwiftKey, then you need to tap on Don't optimize.
Clear the app cache and data
Sometimes, corrupt temporary files can also cause trouble for the SiwftKey app to run properly. One way of fixing this is reinstalling the app, and the second effective way is to clear the app cache and data of the app. In order to this, head over to Settings>> Apps & notifications>> See all apps>> SwiftKey. Here you need to tap on Storage & cache and one by one, first tap on Clear cache and then Clear storage if necessary.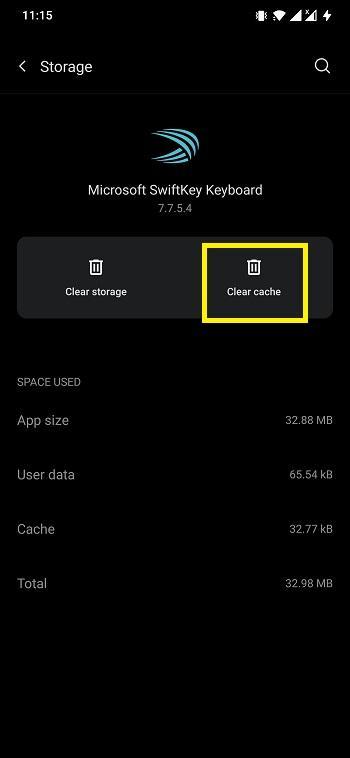 Note the steps to clear app cache or data varies depending on your phone model and Android version that you are running.
Reinstall Swiftkey
If you are still facing issues with the Microsoft SwiftKey keyboard app and it is still not working, then you should reinstall the app. For that head over to your app drawer and long-press the app icon to uninstall it. Later go to Google Play Store and install Microsoft SwiftKey.
Check Permissions
In order for the SwiftKey app to run properly, it requires a specific set of permissions. After installation of the app, the app asks for permissions, and if you by mistake did not provide certain permission, the app may not work properly. FYI, SwiftKey requires permissions to read SMS/MMS, permissions for storage, full internet access, and control vibration. So, make sure that you give complete permissions to the app.
Keep SwiftKey updated
Developers release a new update that along with adding new features also fixes the bugs present in the previous version of the app. It is very important that you keep SwiftKey, or for that matter, all the apps updated. To check for an update, head over to Google Play Store and go to My apps & games. See if a new update for SwiftKey is available or not.
Perform a Factory Reset
Going for a factory reset when an app isn't working properly might be a hard price to pay for some. If you echo this thought as well, then you may consider trying out some other third-party keyboard apps.
However, if you wish to continue using keyboard, and all the above methods didn't work out, then you would have to take the nuclear route of resetting your device. Do keep in mind that doing so will wipe off all the data from your device, so take a backup beforehand. Once done, proceed with the below instructions: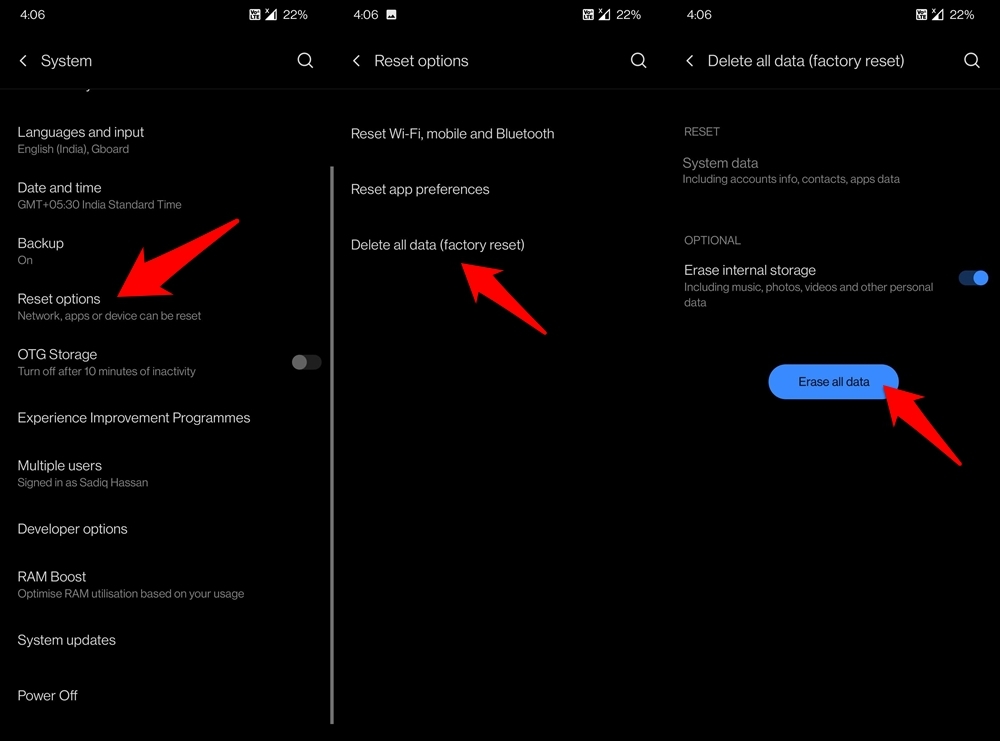 Head over to Settings on your device. Then go to System > Reset Options.
Tap on Delete All Data (factory reset) option (you may disable the Erase Internal Storage option).
Finally, hit the Erase System Data button and wait for the process to finish.
Once done, your device will automatically reboot. Sign in with your Google ID and set it up.
Now try accessing Swiftkey Keyboard, the issue should have been fixed.
Conclusion
So, there you have it from my side in this post. Note that the above-mentioned methods will help you fix most of the common issues that have been reported by SwiftKey users on various forums. Let us know in the comments below, which one of the fixes did the job in fixing the issue that you were facing with the Microsoft SwiftKey keyboard app. For more such awesome coverage, don't forget to follow us on the DigitBin YouTube channel. Until the next post…Cheers!
If you've any thoughts on SwiftKey Keyboard Not Working on Android, then feel free to drop in below comment box. Also, please subscribe to our DigitBin YouTube channel for videos tutorials. Cheers!