Can't add a link to your Instagram bio? Well, in this guide, I have compiled a few troubleshooting methods that you can use to share the link on your Instagram bio. A link in the bio can be very useful if you are a content creator who predominantly creates on Instagram or other social platforms or even a business.
Normally, a link on the bio redirects a potential visitor on the profile to a merchandise site. In some cases, it will send them to some other primary platform for which Instagram stands as social media support. A link may not be added if it has an invalid URL or incorrect spelling. Also, if the webpage the link targets simply don't exist, then the link is useless.
Using an older version of Instagram can often result in bugs and incompatible functions, which may disallow you from adding links to the bio. When the app cache is filled up with junk, it also causes trouble in adding a link to the Instagram bio. Some users have also reported that when they access Instagram using VPN, they are unable to integrate a link to their bio.
Reasons for Link Error on Instagram Bio
Here are the Probable Reasons for Not Being Able to Add a URL Link to your Instagram Bio
Instagram does not support Shortened URLs.
Do not use redirected links; Instagram considers them malicious links or spam.
If the link you are trying to add to the Insta bio contains legal grey or illegal content or links, the link will be barred.
Do not use non-popular domain extensions like *.me, *.rest, *.wtf, etc.
Best Tips to Fix Cannot Add Link to Instagram Bio
Here are the various troubleshooting tips that will help you fix the inability to add a link to your Insta bio.
Check and Fix the Link in the Instagram Bio
Make sure the link you're trying to add to your bio is a valid URL. If the link is broken, Instagram won't be able to add it to your bio. Also, avoid linking an URL too long. It may be deemed spam by Instagram algorithms.
Instagram allows a maximum of 30 characters in the bio link field. So, if your URL is longer than that, it won't fit. Also, make sure that you are not linking to any obscene site or a site that deals with illegal stuff. If multiple users report your link, it may be taken out by Instagram. Along with that, your account may get flagged as a spammer.
Clear the Instagram Cache [Android users only]
Clearing the Instagram app cache will remove the junk and temporary data, thus freeing the memory for the app. Here are the steps.
Long press the Instagram app icon. Then from the shortcut icon, tap on App Info.
Tap on Storage & Cache.
Next, tap on Clear Cache.

Close the App info and relaunch Instagram.
Try to edit the bio and add the link.
If it doesn't work, then try the next troubleshooting tips.
Install the Latest Update Available for Instagram
An outdated version of the Instagram app can cause issues with adding a link to your bio. Make sure you're using the latest version of the app by going to the app store or Play Store on your device and checking for any available updates.
Android,
Launch the Play Store.
Tap on Gmail ID avatar > Tap on Manage Apps & Device > Tap on Updates Available.


Scroll through the apps waiting to install the update.
If Instagram is listed, tap on the Update button beside it.

iOS,
Go to the App Store.
Tap on the Apple ID avatar.

Now, within the list of apps waiting for an update, check if Instagram is listed as well and is waiting to install any pending update. Tap on Update to proceed with the update installation.

Log in to Instagram from Web Browser
If you're having trouble adding a link to your Instagram bio, try accessing your account from a browser to see if the issue persists. Instead of your phone, you can also access Instagram from your PC.
Launch the browser on your PC.
Go to instagram.com.

Log in to your account.
Try to edit the bio and add the required link.
Disable the VPN App on Your device
If you're using a VPN or proxy, try temporarily disabling it and see if that helps with adding a link to your Instagram bio. Sometimes, these tools can interfere with the Instagram app and cause issues.
On iPhone,
Launch the Settings app.
Go to VPN and tap the switch beside the option to disable it.

Alternatively, you can launch the VPN app and tap the switch to turn it off.
Close and re-launch Instagram and edit the bio. You should be able to add the link without any issues.
On Android OS, launch the VPN app and tap the toggle designated for turning the VPN On/Off.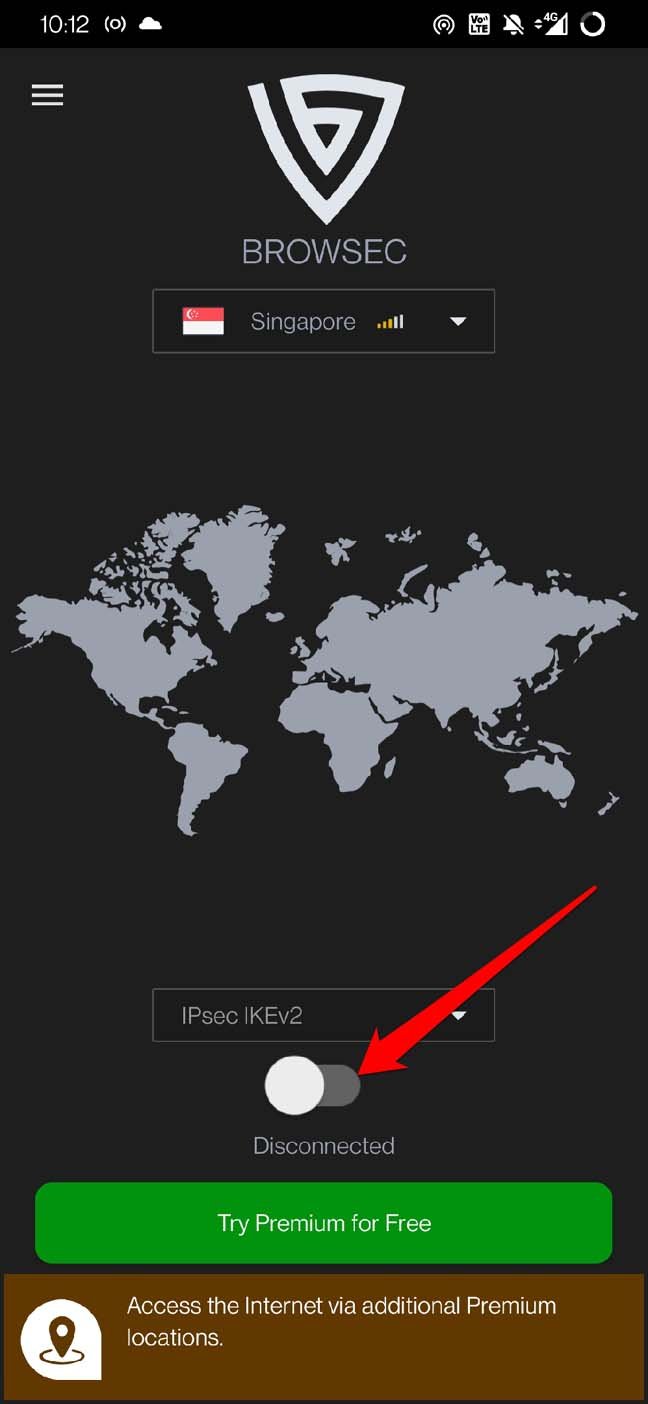 Contact Instagram Support
If none of the above solutions work, you may need to contact Instagram support.
Go to the Instagram profile > Tap the 3-bar menu button.
From the menu, tap on Settings > tap on Help.

Next, tap on Report a Problem. From the pop up choose the option Report a Problem.
Briefly explain the issue and add screenshots of your issues if required. Press Submit to send the report to the Instagram support team.

Explain the issue you're experiencing and provide as much detail as possible. Instagram support will get back to you with further instructions. Follow them accordingly.
Conclusion
To mark the presence of your brand or to sell your merch, having a link on the Instagram bio is quite important. If you can't add a link to the Instagram bio, follow these troubleshooting tips. I'm sure you can fix the issue and add links to fortify your Instagram presence or increase the sales of your business.
If you've any thoughts on How to Fix Instagram Bio Link Not Working?, then feel free to drop in below comment box. Also, please subscribe to our DigitBin YouTube channel for videos tutorials. Cheers!