Disney+ is a subscription-based video-on-demand platform and one of the best streaming platforms for all age groups. It has media content filled with all genres. This makes it one of the most versatile media streaming platforms. Recently Disney+ is collaborating with other media streaming networks to provide their services inside there apps and websites. This is why you might see a separate Disney+ product page in many popular streaming services. However, some people are not very happy with their Disney+ subscription. In some locations, the servers are too slow to playback 4K, and there are some minor app inconveniences.
About Disney Plus
Disney Plus is subscription-based video-on-demand which is dubbed as the biggest rival to Netflix. Considering it just started its operations quantity of content is pretty much low but the quality it offers is very impressive. You get some of the hard to find movies on Disney Plus like Star War Series and the very popular Marvel Movies.
Since Disney bought Fox Studios you can expect a large number of movies from Disney and Fox. You get premium content from Disney, Pixar, Marvel, Lucasfilm, 20th Century Fox, and National Geographic, as well as original television series and films from Disney Channel, Freeform, and select titles from 20th Century Fox Television and ABC Studios. It just costs $7 per month and it's worth.
Features of Disney+
Simultaneous streams: 4
Premium Movies from Disney, Pixar and Fox
Regularly updated movies
UHD Resolution Support
Access to hard-to-find Disney and Fox Movies
A promising alternative to Netflix
Cheaper than Netflix
In this post, we will check some of the best paid and free  Disney+ Alternatives. In case you are also not satisfied with your Disney+ subscription, then you can download or sign up for these Disney+ alternatives for a better experience. All of these alternatives are well established and rich with media content. Also, some of them support 4K streaming, as well.
There are countless paid and unpaid streaming platforms out there for both Web, Android and iOS devices. Today we will check out some of the best among them, which have active support, great titles and good servers for uninterrupted streaming entertainment. All of these Disney+ alternative apps are available for mobile and web streaming.
Best Disney+ Alternatives
Here are the Best Free and Paid Disney Plus Alternatives to Watch Movies, Shows and Series Right Now.
1. Netflix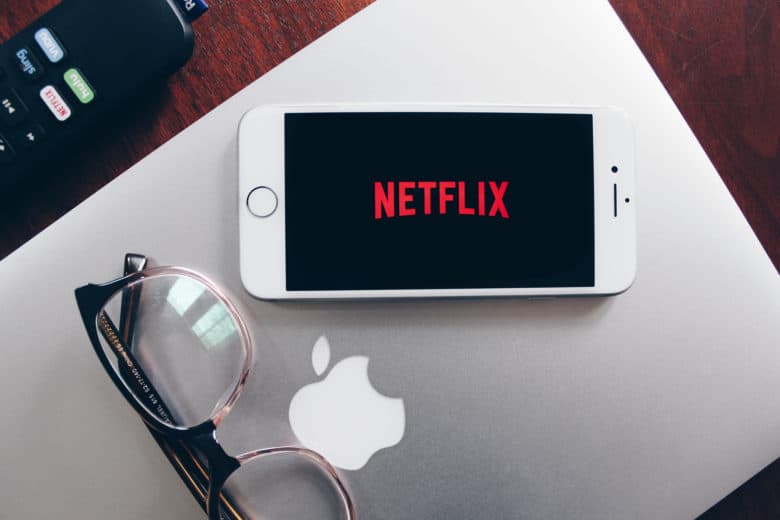 A global leader in the streaming industry, Netflix is the best Disney Plus alternative and is the invincible ruler from the beginning. It is presumed that Disney+ would be the biggest rival for Netflix. Nonetheless, Netflix has an enormous library of content, ranging from classic movies to Netflix's Originals, and that makes it the best Disney+ alternative.
The service hosts most of the popular TV shows along with classics, animations, animes, movies, documentaries, regional content and its own originals. Netflix may be called as the epitome of online entertainment given its reach and quality of content offered. But you won't get Disney owned movies on Netflix anymore.
To combat the loses due to Disney Plus, Netflix is pouring millions in the production of its own Original Series and Movies. Millennials are accustomed to the hit shows like Black Mirror, Stranger Things, Dark, The Witcher and more, most of these popular shows are not available on other platforms. Therefore, if you need a switch than just onto Netflix. Disney+ offers a package of $6 a month, whereas Netflix taking into the account, its vast library of content charges $9 to $16 a month.
2. Amazon Prime Video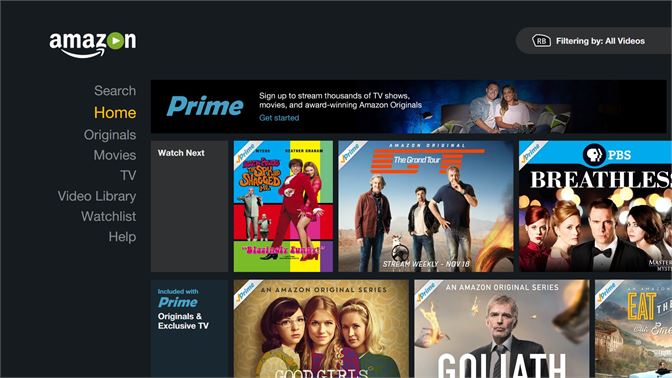 Amazon Prime Video an incredible streaming service with apparently 17,000+ titles on their platforms. It is older than Disney+ and has more rights for local content. Subscribing for Amazon Prime Video can get you all popular shows like The Boys, Flea Bags, The Americans, kids shows, documentaries, and much more content.
The content growth on this platform is very impressive. You can expect movies and shows from some of the best and big production houses in the world. Apart from entertainment also acquired digital rights for Live Sports streaming like NFL, ATP and Premier League.
One of the most significant qualities of Amazon Prime Video is its library, which is enormous and can be compared with Netflix. Amazon Prime serves worldwide and holds country-specific rights to some of the premium local content and movies. Prime offers the option to set video quality and customise captions.
Amazon Prime costs $12.99 monthly. It is quite expensive than Disney+; however prime members are given higher priveledges such as two-day shipping, exclusive shopping deals, unlimited reading, and much more.
3. Hulu Plus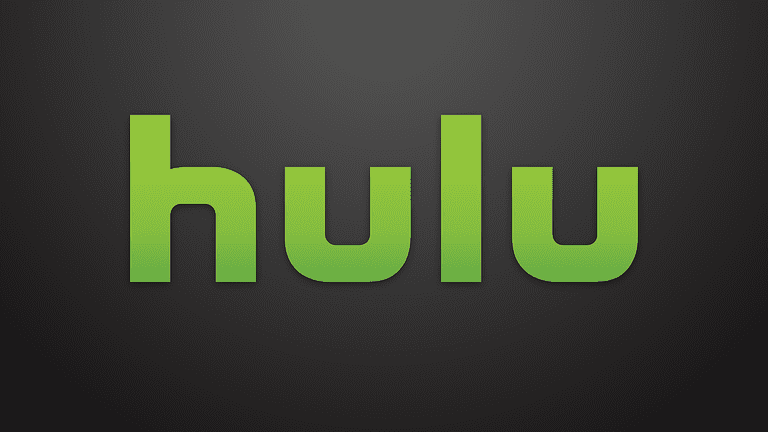 Hulu has different little services to offer to its subscribers when compared to Disney+. The services of Hulu into Live TV started in 2017, prior to that it just use to host a series of TV shows both old and new from ABC, Comedy Central, CBC, Fox, Bravo. Hulu streams content ranging from popular TV shows, classic movies, kids shows, other infotainment programs.
It works as a hybrid of Sling TV and Netflix, offering both TV Shows as well as Live TV to its users. However, unlike Disney+ and some other streaming platforms, Hulu sets a restriction for the access as only one device at a time with one subscription.
Moreover, at the very basic subscription program, Hulu loads the platform with ads that can be removed with a standard subscription. Hulu costs 11.99$ per month, which is more expensive than Disney+. What makes Hulu Plus a must try as Disney+ alternative is its quality of the better streaming options and a vast area of channels.
4. HBO Now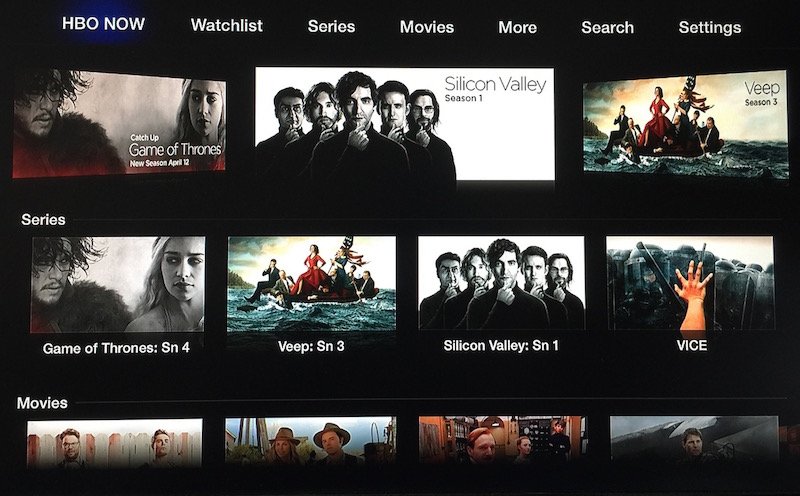 HBO Now presents everything that HBO has to offers. Furthermore, its movie catalogue is more diverse than Disney+. But there's a hitch, HBO NOW does not own all content on its platform permanently. So the list of TV shows and movies gets changed frequently.
You will find everything ranging from blockbuster action movies, kids shows, to academy award-winning documentaries. However, HBO NOW does not have its cable show. It does present HBO Originals: The Sopranos, Deadwood, Westworld, Watchmen, Veep, The Undoing, and the list goes on.
Though the HBO offers its content at a 'good' price, but looking at the vast assortment of movies and TV shows it has, HBO Now is a very good option to go for. There are plenty of shows on the way, but they are not coming any time soon. Talking about price, HBO Now costs 15$ monthly. It is more costly than Disney+. However, If you are looking for a diverse library of adult-oriented content, then you should try HBO now as Disney+ alternative.
5. Crackle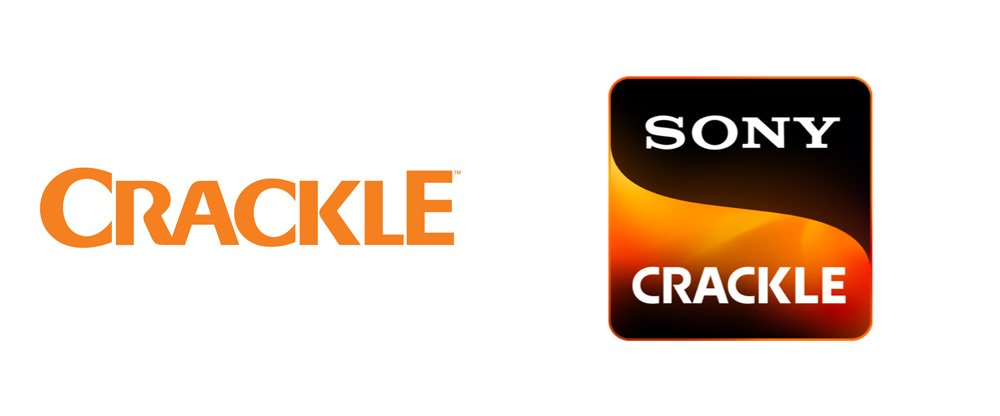 Crackle, a streaming service owned by Sony. Being a Sony Entertainment product you can expect a large number of movies from Sony Pictures. If you like to watch old classic content, you will adore Crackle. However, the library is not as distinct as Disney+. They constantly add more content.
Crackle is a free service available across 20+ countries which let you stream TV Shows and Movies online. Since you can stream the films for free without any subscription, the service supports itself by running short pre-roll and mid-roll ads every now and then. Given its wide range of movies and the trust of Sony, this service is surely the one which you should try
The Sony has partnered with a number of production houses like 20th Century Fox, MGM, Lionsgate, Funimation, WB, Walt Disney Company, Paramount Pictures, Village Roadshow Entertainment etc. The video library is huge and features content in good quality even if opt to watch it on big screens. It features blockbusters such as Once Upon a Time In the West, Moon, Mission Impossible, and the list go on. Crackle can be a fine Disney+ alternative considering it's free and presents exceptional Sony Original shows.
6. Apple TV+
Apple TV+ another popular streaming service, owned by Apple. It is well-known for qualitative shows at a very affordable rate. Apple TV+ does not have a vast majority of libraries, unlike Disney+ and most of the streaming services; however, Apple knows how to retain its users by offering some of the premium movies and shows.
Apple TV comes Integrated with Apple's product. If you buy an iPhone, iPod, Mac, or any other Apple product, you get the whole year subscription-free Apple TV+. Taking price into factor, Apple TV+ offers a great deal to its users coming with a starting price of 5$ a month, cheaper than Disney+, and it won't make your pocket light.
7. Acorn.TV
Acorn.TV might not strike you as a streaming platform by its name, but It offers some of the greatest shows. It streams class mystery, comedy, crime, drama, and much more. The New York Times quotes Acorn.TV – "Acorn is an absolute must for anyone who wants to spend hours every day touring around quaint villages and gritty British city streets, enjoying gentle comedy and hard-hitting crime stories alike." It has produced the greatest British TV shows and movies.
Acorn.TV presents the latest seasons of Millennial favourite shows such as A Place To Call Home, Doc Martin, The Brokenwood Mysteries. Furthermore, talking about its pricing Acorn.TV is quite cheaper than Disney+, offering its services for 4.99$.
8. Vudu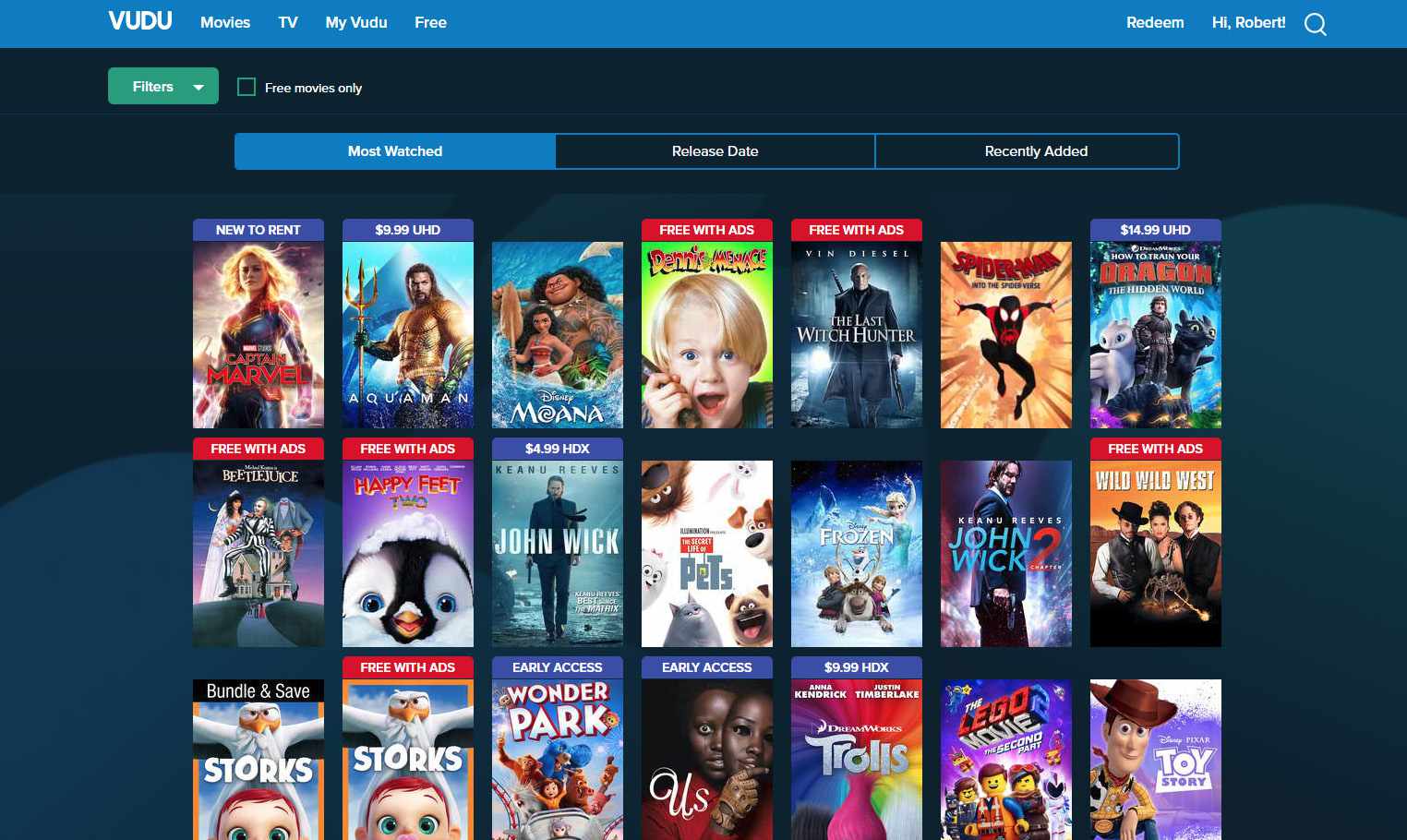 Vudu is an on-demand streaming service platform. All Vudu titles are true high definition in 1080 pixels, come with standard Dolby Digital Plus 7.1 surround sound. Basically, on Vudu, you rent movies and shows that means you only have to pay for what you watch. Another great good feature of Vudu is, it allows you to run one account on eight different devices, unlike other well-known streaming services.
The best part of Vudu is it offers full-feature length movies in 1080p making it a very right choice for HD streaming. Vudu categorises content into comedy, crime & suspense, action, family & kids, etc. While movies are available for rent. You can watch 1000's of free movies with Ad support on the VUDU at, Movies on Us and New Movies.
There is no subscription fee. Instead, you pay what you watch, as we discussed above. Price to rent a movie ranges from 0.99$ to 5$, and purchase prices range from 4$ to 24$. Vudu offers an extra service of free movies called "Movies On Us". Seemingly, Vudu has a different approach than other streaming services, and it can be a good Disney+ alternative to looking for.
9. Sling TV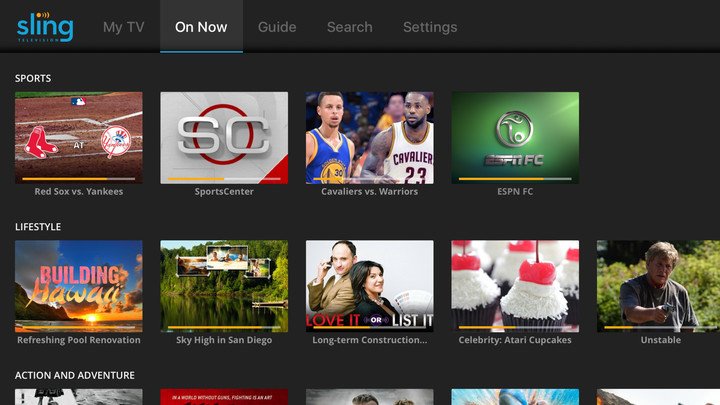 Sling TV offers live streaming services of local and cable channels. While it does not have original shows like Disney+, Sling TV has different packages for different channels. It offers sports packages for sports events like hockey, football, baseball. Sling TV is compatible with most devices, including smartphones, tabs, smart TVs like Disney+.
Being a live streaming platform, Sling TV does not promote hidden fees after the subscription, like various other cable channels. The Sling TV is pretty decent Live TV Streaming service available in the market. The ease of customisation, number of channels and just OK pricing make it a favourable platform for all the supported devices.
Sling's Orange package is $15 per month for 31 channels. It has a good mix of basic sports, news and entertainment Channels. The Blue package is $15 per month and consists of 45 channels. The Orange and Blue can be combined into one package for $25 a month.
10. Fandor
Fandor is home to old and classic movies. Its vast library hosts as much as 4,000 movies and shows that range in all genre and length. Its movie catalogue offers more than ten foreign language categories and a subgenre of documentaries and indie movies such as horror, crime, thriller. Fandor is compatible with almost every device, be it a smartphone, tab, smart tv, or Amazon Kindle.
The unique quality about Fandor is that a portion of your subscription goes to filmmakers and distributors, and I think that's a thoughtful thing to do. Talking about price, Fondor offers a monthly package of 5.99$ and an annual package of 49.99$. Its enormous library of indie movies and documentaries is enough to view Fondor as Disney+ alternative.
11. FandangoNow
Fandango is a streaming platform similar to iTunes. It adds newly released movies straight outta theatre. FandangoNow offers services like instant access to thousands of movies and shows from its enormous library anytime, anywhere. Similar to Vudu, there is no subscription fee; you only pay for what you watch. FandangoNow's library, however, is not as wide as Disney+ service.
FandagoNow is compatible with an array of devices, so whether you are staying at home or are on a world tour, you can stream movies from FandangoNow's immense library. You can rent 3D movies as well on FandangoNow with Oculus Go and Oculus Quest devices. The price to rent a movie or TV show starts from 2.99$ to 7.99$ and to purchase, and you have to pay 9.99$ to 19.99$.
12. Crunchyroll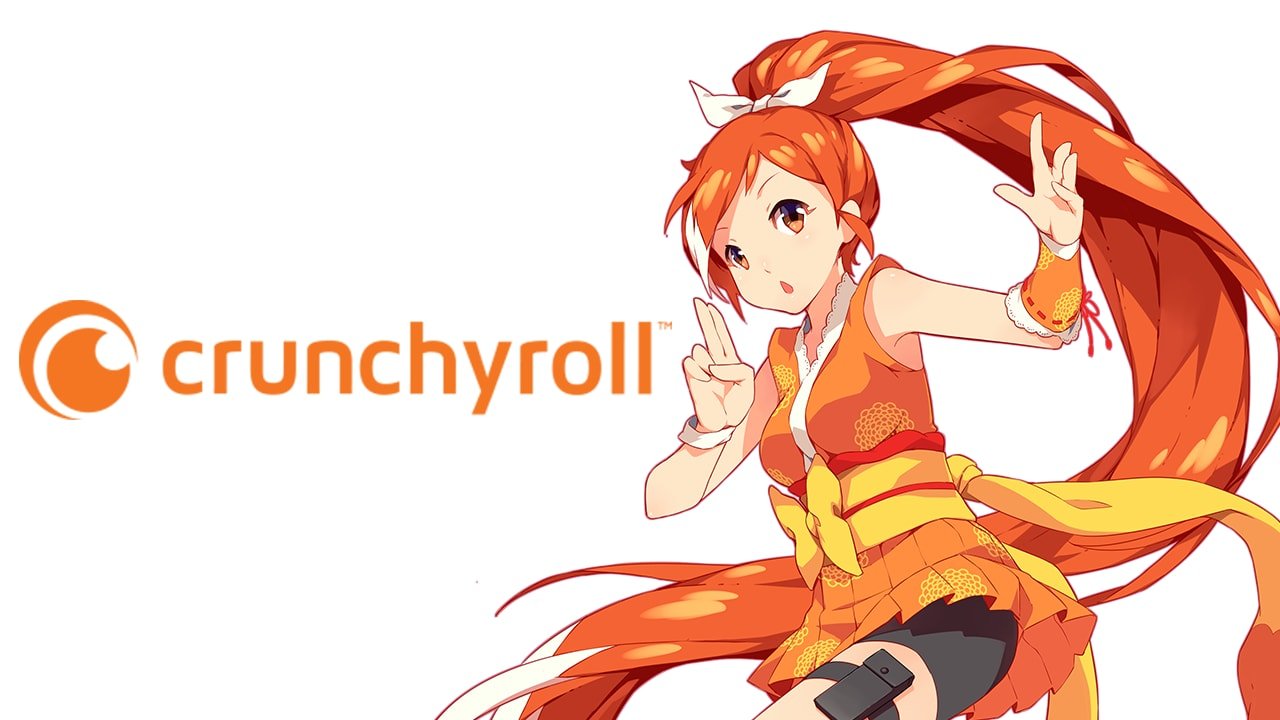 The Crunchyroll is a popular site with over 50 million monthly visits which primarily focuses on east-Asian content primarily on Anime, Manga Series, Music, and Shows. The site is solely made for all the anime lovers. A legal and simple way to stream all your favourite animation.
The service has rights to popular Anime Series like Naruto, Dragon Ball, Titan, etc. The Crunchyroll is the one-stop destination for all the Anime Lovers and is much recommended as it is safe and legal. Though all the content is not free, you get a 14-day free trial to access the shows and programs.
The Content Provider uses a freemium model. That means they offer anime for free at a lower definition and with advertisements. Latest episodes of ongoing shows can't be accessed for free unless you wait for a week. The paid version costs from $7.99.
13. PureFelix
PureFelix streams a variety of family-friendly content. It is owned by David A.R White, and you will find many of his films on PureFelix. PureFelix library includes full-length movies, exclusive PureFelix Originals, classic Tv shows, academic resources, and kids-only content. PureFelix is compatible with PCs, smartphones, smart TVs, Amazon Fire TV, Apple TV, and the list goes on. Although the movie catalogue is vast, It does not contain the latest hits.
PureFelix allows you to enjoy its service free for one week. After that, you are given options to purchase a membership, monthly, yearly, or lifetime access. Its monthly plan is 12.99$, annually plan 99.99$, and you get lifetime access by donating 1000$.
14. Vid Angel
Vid Angel is basically a streaming service for families. It lets you filter out content. Vid Angel provides some specific filters, such as removing a specific word or scene. Furthermore, It allows you to cut, mute nudity, strong languages to watch movies and tv shows with your family.
VidAngel also provides high-quality Original content, a vast library of clean comedy, learn about the world and current events in Life in BitCoin, and much more. It is compatible with almost every device ranging from smartphones to SmartTv. VidAngel lets you enjoy its free service before the subscription charges that are $ 9.99$ per month.
15. Philo
Philo is another on-demand cable tv streaming platform. It is moderately known yet, though it is getting popularity because of its amazing offerings. However, you can't stream sports channels on Philo. It offers some great channels to streams such as Hallmark Channel, Animal Planet, Food Channel, and the list goes on. Philo is compatible with Roku, Amazon Fire Tv, Android Tv.
Philo allows you to stream channels up to 3 devices from one account. Similar to PureFelix, Philo offers 7-days free trials. The subscription fee starts from 20$ a month. You also get unlimited cloud DVR storage for a month to record and watch shows later without caring about your data.
From Editor's Desk
No streaming platform is near perfect. All have their own set of pros and cons. If you're not happy with your Disney+ subscription, then you can try these Disney+ alternatives and see if they work for you or not. With time, we will keep updating the list with more alternatives. So bookmark our page to stay updated with the list.
If you've any thoughts on Looking for Disney+ Alternatives? Best Services you can Switch Too, then feel free to drop in below comment box. Also, please subscribe to our DigitBin YouTube channel for videos tutorials. Cheers!