ChatGPT took over the internet like a storm in a really short period of time. The way people spread its craze through social media couldn't stop but only attracted more users to this AI-based chatbot. No doubt, the world has already seen a bunch of chatbots earlier as well, but none of them came close to what ChatGPT is capable of.
Reports even say that ChatGPT-4 is going to be 571 times more powerful than GPT-3. Now, that is surely something to trigger users to use it more often. However, it doesn't apply to us all. If you, too, went with the hype, but now you are done with ChatGPT's experience and want to delete your ChatGPT account, it's pretty easy.
Surely, ChatGPT is way too helpful for the users as it generates extremely specific answers to your queries. And some even say it might as well replace Google in the coming years. But until it becomes such engaging, many of us still prefer to stick with the traditional. In this article, we will see how to delete your ChatGPT account and all your ChatGPT conversations as well. So, if you are one of those who want to delete ChatGPT account, stick to the end to know everything about the process.
How to Delete Your ChatGPT Account and Data?
Despite being such a highly advanced AI chatbot, ChatGPT is extremely easy to use. After all, you simply need to sign up/log in and you can start your conversation with the chatbot. With that said, there are not enough reasons to make us want to delete our ChatGPT account.
However, if you are just a regular internet user who doesn't have such requirements, you might not want to keep your account as well. Fortunately, the good news is that deleting your account is as easy as using ChatGPT. Here is a step-by-step guide to help you delete your ChatGPT account and its data as well.
Deleting ChatGPT Conversations
Starting with the easier method, instead of deleting your entire account, you can simply delete all your existing conversations on ChatGPT. By doing that, you will be able to easily login into your account the next time you feel it's a requirement. So, the following steps will guide you to delete all your ChatGPT conversations and keep your account clean like a brand new one.
Firstly, open any browser and go to "chat.openai.com"
Now, log in to your ChatGPT account.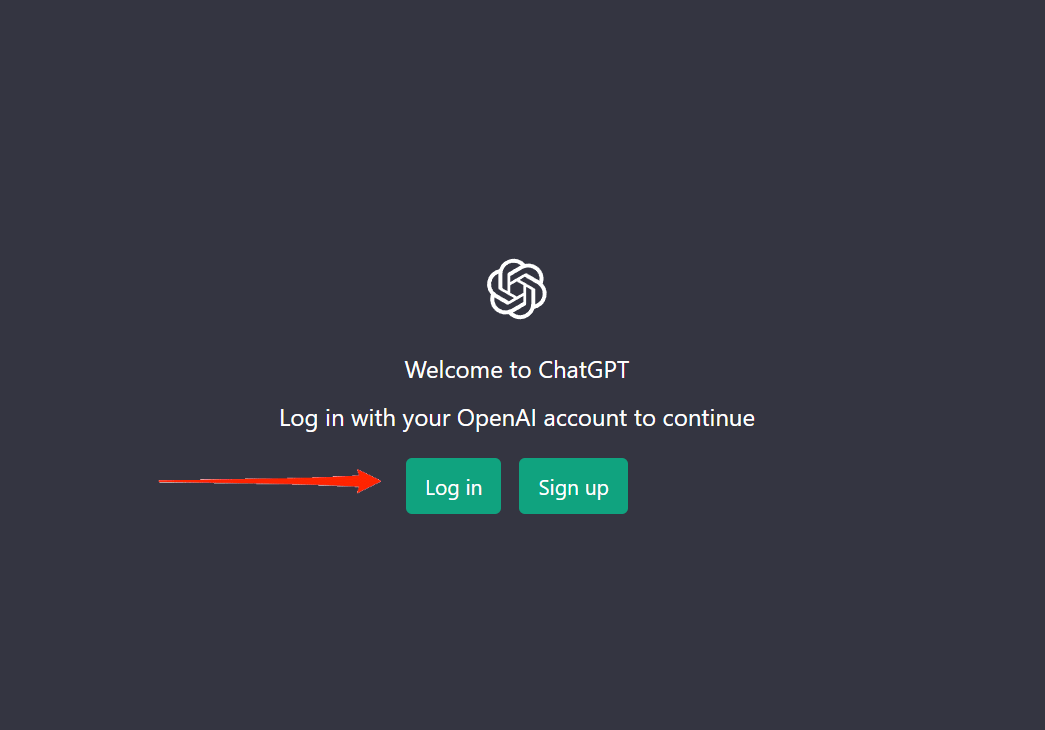 On the left panel of your screen, you can see all your existing chats. Simply click on the one you want to delete.
After opening the chat, you will see two icons on the chat topic in the panel.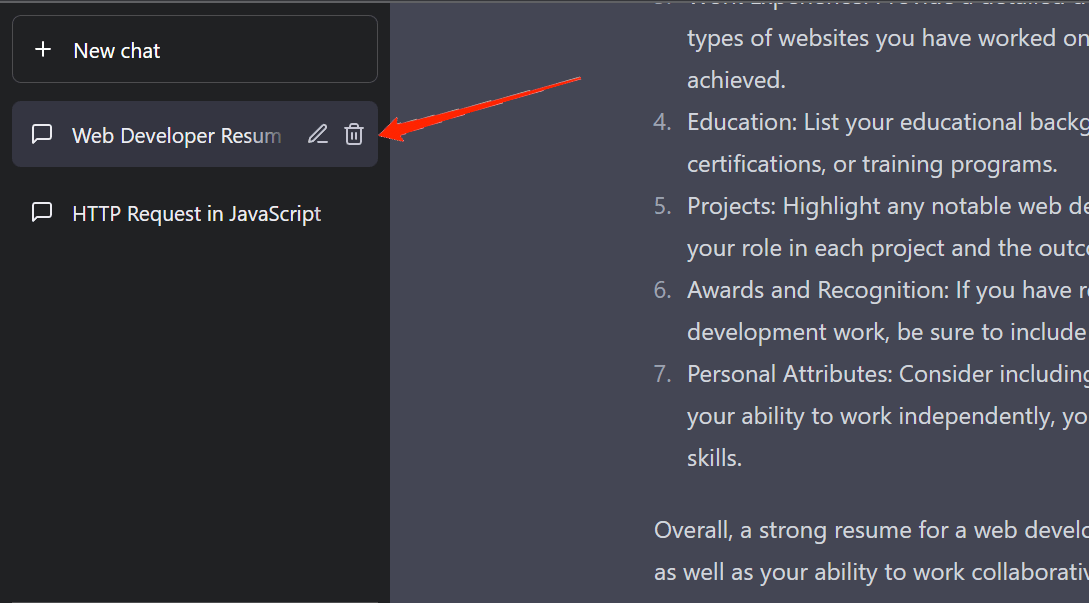 And finally, click on the delete icon.
Well, that will delete the particular conversation from the stack. You can repeat the same steps for all the specific conversations that you wish to delete.
Alternatively, if you want to clear your entire conversation stack completely, the good thing is you can do it at once. To delete all your conversation at once, click on the "Clear conversations" option on the left panel.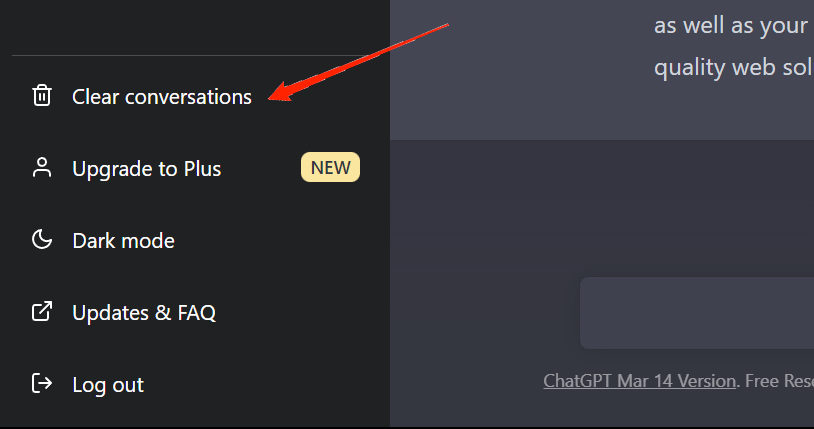 Deleting Your ChatGPT Account
Similar to deleting your chats, OpenAI has made account deletion easy as well. However, you cannot directly access the option on chat.openai.com. But no worries, we got you covered with that as well. Simply follow the steps below, and it should hardly take a couple of minutes.
 Visit platform.openai.com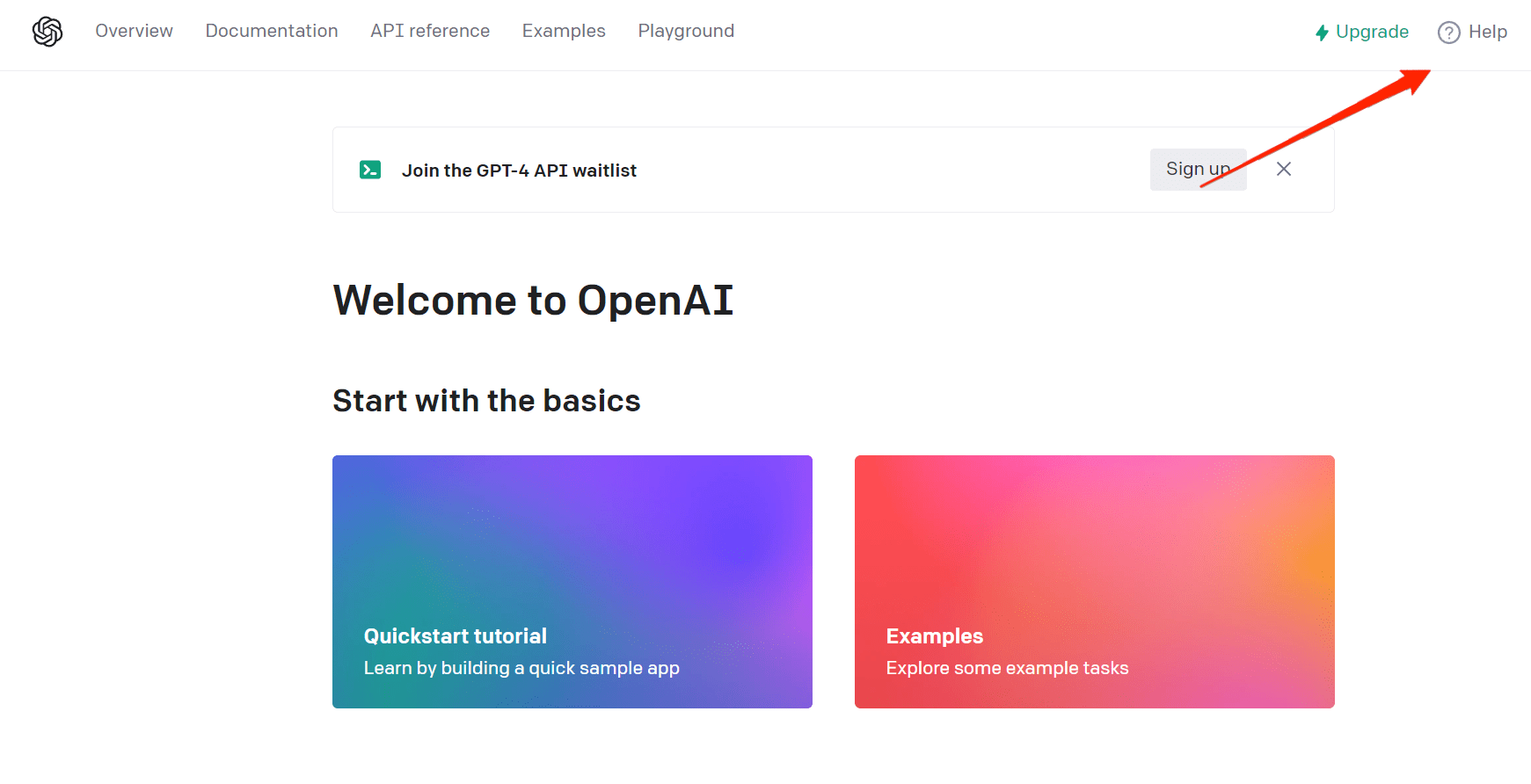 Click on the help option in the top-right corner. This will pop up the help panel in the bottom right corner of your screen.
Click on the Help icon at the bottom.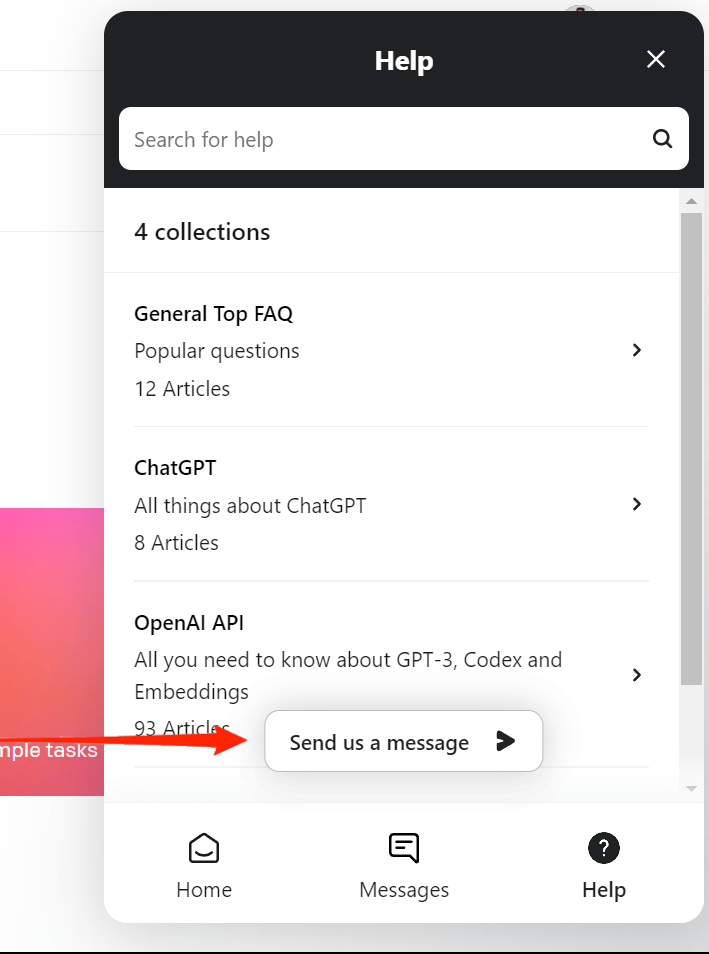 Next, click on the Send us a message option.
Select Account Deletion from the options.
Now, you will be asked for confirmation of your account deletion. Simply follow the next few steps, and you will successfully delete your account in no time.
Once again, there is another alternate way to delete an account through the mail. All you need to do is send an email to "[email protected]". Keep the subject "Account Deletion Request", and in the body, write a message requesting to delete your account. Your ChatGPT account will get deleted as soon as they receive your mail.
Final Words
So, as you can see, deleting your ChatGPT is no such big deal. However, note that account deletion is permanent, and all your existing data will be lost. So, if it is for some temporary purpose, we advise you to rather delete the conversations than delete your account. However, if you simply want to stop using ChatGPT, then the above steps will help you delete your account easily in just a few steps.
If you've any thoughts on How to Delete ChatGPT Account and Data?, then feel free to drop in below comment box. Also, please subscribe to our DigitBin YouTube channel for videos tutorials. Cheers!