Video games are, in general, one of the sought-after recreational games. Either you're catching up with long-time friends, or playing alone. It caters to the need of both and offers best of the both worlds. If you are someone who loves to put forth some strategies to survive in a game, then tower defense is the best category to play. So, here we have listed the top tower defense games for iPhone that you can choose based on your interest.
1. Plants vs. Zombie 2
Plants vs. Zombies 2 for Google Play | EN
The first game on our list has a whopping 200 million downloads to date. The game is a sequel to the game by the same name. It's a single-player game. The player is expected to defend his lawn by placing plants from the attack against zombies. The game can be played in varying setups of ancient Egypt, the ice age, and the middle age.
The plot of the game involves Penny, that uses a time machine to travel to different settings mentioned above with Crazy Dave, his neighbor. Dr. Zomboss is the antagonist who is trying to stop you. Plant Food, a new power-up, allows plants to power up for varying amounts of time. Each plant displays its own ability when given the Plant Food.
Link: Download here
Free. Offers in-app purchases

2. Rush Royale
The game is set up on the island of Rhandum, where you have to defend your castle. That's the motto of the game. Your strength is your unique army of mighty warriors. Each of the warriors has notable qualities and skills. You have to put up a fight against bosses. Each of them possesses special work and impact on the game. Well, heros will safeguard your castle with their unique abilities and special powers. Use them to their fullest potential.
Decide how you want to play, competitively against other players in PvP, or join the other team in a co-op to safeguard the castle. The choice is yours!! Each completed quest brings useful rewards!
Link: Download here
Free. Offers in-app purchases
3. Towerlanders
Towerlands [iOS, Android]
In this game, you can build your tower by upgrading it to improve its health and also by adding and upgrading different parts like- units, modules, and turrets. Take the help of a variety of units that would help to create a tower depending on your strategy- archers, mages, summoners, and more!
The striking feature of the game is its battle system; win over the opposing army to progress through this system to discover new levels for your tower. and to earn gold and experience. Use the map to castles to level up your game. You can also create or join a clan to exchange resources and earn rewards in events.
Link: Download here
Free. Offers in-app purchases
4. Bloons TD 6
 The game belongs to the Bloons TD series, released in June 2018 this offers an exciting 3D TD game. So,  Buckle Up! Bloons TD 6  has some new game mechanics, including Heroes, and new bloon types. You need to come up with a strategy for a perfect defense by building a monkey army, going for upgrades, and shoot down every ballon "bloon" that gets in the way!
Players can earn an in-game currency called "Monkey Money," which is rewarded by winning games or completing challenges, allowing them to unlock additional features in the game.
You can also switch to a multiplayer mode with up to four players, called "Co-Op Mode." When playing on Co-Op Mode, money collected is dispersed evenly among each player. The game has garnered positive reviews from critics.
Link: Download here
Free. Offers in-app purchases
5. Lords Mobile TD
War Never Ends#top_slg_lordsmobile#
The free multiplayer game is an award-winner! The kingdom awaits a new hero. Are you the one?
Your job is to unite the kingdoms, recruit heroes, and build an army of dwarves, mermaids, and dark elves. Use their powers to their fullest and fight to conquer and establish your empire! Its gameplay consists of several game modes, the most notable of which are PVP-battles Hero Stage, Colosseum, The Labyrinth, and Kingdom Tycoon.
Link: Download here
Free. Offers in-app purchases
6. Kingdom Rush Vengeance
Kingdom Rush Vengeance Official Trailer
It's a faceoff between mighty wizards and you. Lead your way through to make the kingdom yours!
You have 19 new towers to defend your kingdom. Build gigantic towers or TD combo from the arsenal of army orcs, goblins, demons, dark knights, and zombies. Use your strategic thinking to make the best use of your powers and buckle up for a level-headed fight using their special powers. Make use of the 14 Powerful heroes and upgrade your chances of victory.  Get ready for a power-packed game.
Link: Download here
$2.99. Offers in-app purchases
7. Clash of Beasts
COB PREVIEW GGP 1920x1080 EN
Channelize your inner warrior in this 3D war strategy game. Build an army by collecting up to 65 mighty beasts to attack the enemies. The game also boasts its perfect mix between action and strategy.
Attack the enemy bases from air or land in a thrilling 3D face-off. Buildup your or borrow a friend's beasts to safeguard your base. Pair up to build a team and climb the leaderboard with them in 3*3 battles.
Link: Download here
Free. Offers in-app purchases
8. Swamp Attack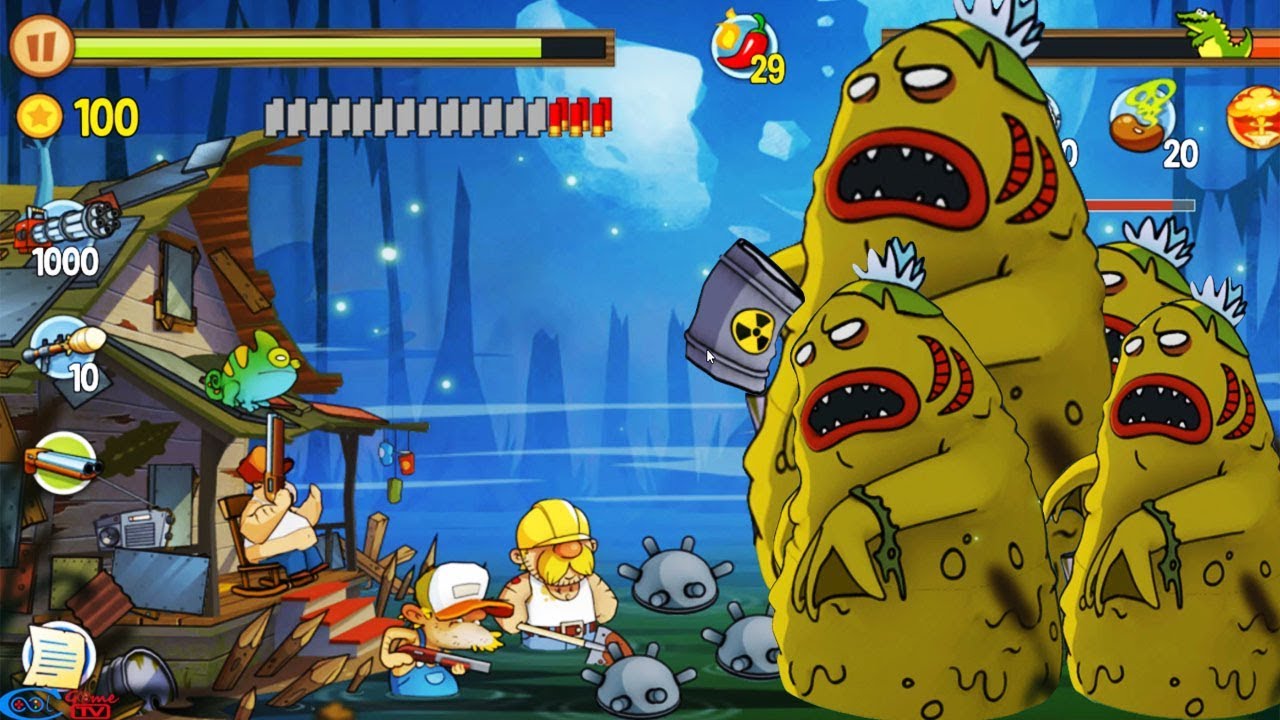 A very cool lazy game with the only motive to protect your swamp from zombie-inspired monsters. The game has simple graphics. Protect your home from invading creatures with guns and other weapons that you will be upgraded to during the course of the game. The game has some clean, uncluttered graphics.
Plus, it is available for free on the Google Play Store. The game got positive reviews from users and critics, with many praising the game's simple yet addictive nature. Swamp Attack is one of the best offline games, which you should surely give a try on your Android or iPhone.
9. Alien Creeps TD
Alien Creeps has you going up against aliens. Doesn't that sound cool? These aliens are really smart and good at fighting too! Players have to protect their towers and save the day with the help of advanced weapons and strategies. Players have to prepare their armies to fight and upgrade their weapons. And the battles which take place in amazing locations make the fight worth it!
The game has 50 exciting levels, 3 game modes, several terrains, and 58 extra 2-minute challenges. The 2-minute challenges are extremely fun and should not be missed. The special fast-forward feature is the cherry on top of the cake. The game is free to download and play, but it does contain in-app purchases.
And here we come to the end of this article! We hope you find this article helpful and resourceful!
If you've any thoughts on 10 Best Tower Defense Games for iOS Mobile, then feel free to drop in below comment box. Also, please subscribe to our DigitBin YouTube channel for videos tutorials. Cheers!