While buying a PlayStation, Nintendo 64, or a Game Boy might no longer be feasible, yet there exist a plethora of emulators that lets you enjoy the games of yesteryears on your PCs and smartphones. However, these emulators are standalone packages and don't come with any preloaded games. Therefore, you will have to search the deep corners of the web to get your hands on the game's ROM files.
And this might prove to be a tough nut to crack for many. In this regard, the below list should come in handy. In this tutorial, we have compiled a list of the 15 best sites from where you could download Nintendo, Genesis, GameBoy Play Station, Sega, Atari Wii, and other emulators' ROM files. So without further ado, let's check it out.
Best Safe ROM Sites
Here are the Best Free Safe ROM Sites to Download Games or other ROM Files for your Mobile and PC
1. Vimm's lair

This is among the oldest sites on this list and its user interface should give you a pretty decent idea of the same. The old saying that "don't judge a book by its cover" perfectly fits in this scenario. Behind this outdated-looking UI, you get a plethora of ROM files for near about every emulator.
Apart from that, they have also uploaded the full user manual guide for their ROMs, posted user reviews and ratings for many of the NES and SNES games as well. You could even find some Saturn and Dreamcast consoles games from this list, something that not many sites could claim. Just head over to The Vault section from the site's left menu bar and enjoy the goodies.
2. Gamulator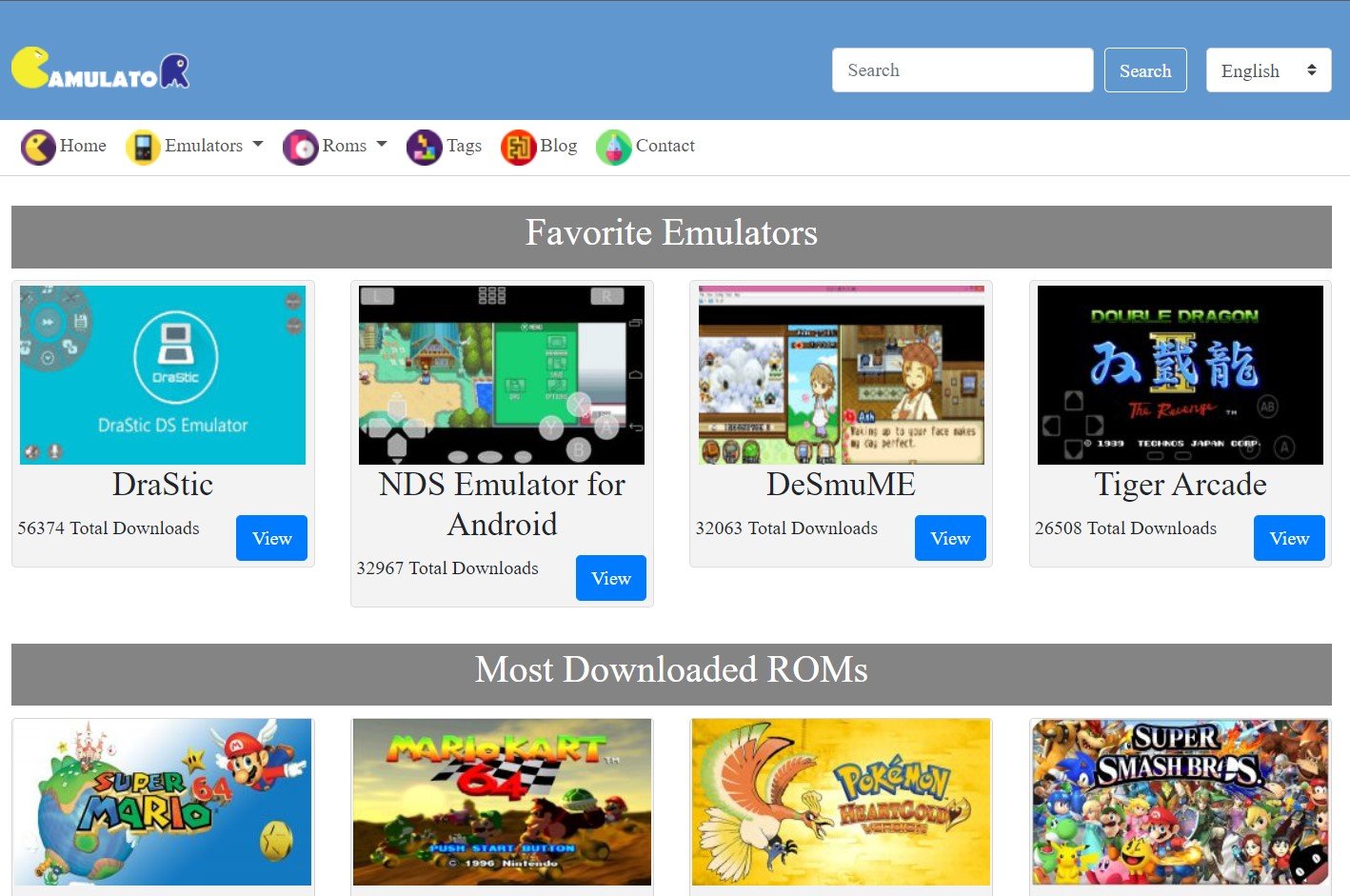 The site has neatly organized all the ROMs and Emulators into different sections such as Favorite Emulators, Most Downloaded ROMs, Top Consoles, among others. Since it has hosted so many ROMs, it might get a little challenging in finding your preferred game. In that regard, the Tag section of the site will come in handy.
It even manages to incorporate games for the Apple II, Atari ST, and BBC Micro. Talking about cross-language support, you could translate this English site into French, Portuguese, and Spanish language. Without the shadow of a doubt, it has probably the best GUI among all the ROM sites mentioned here.
3. WoWroms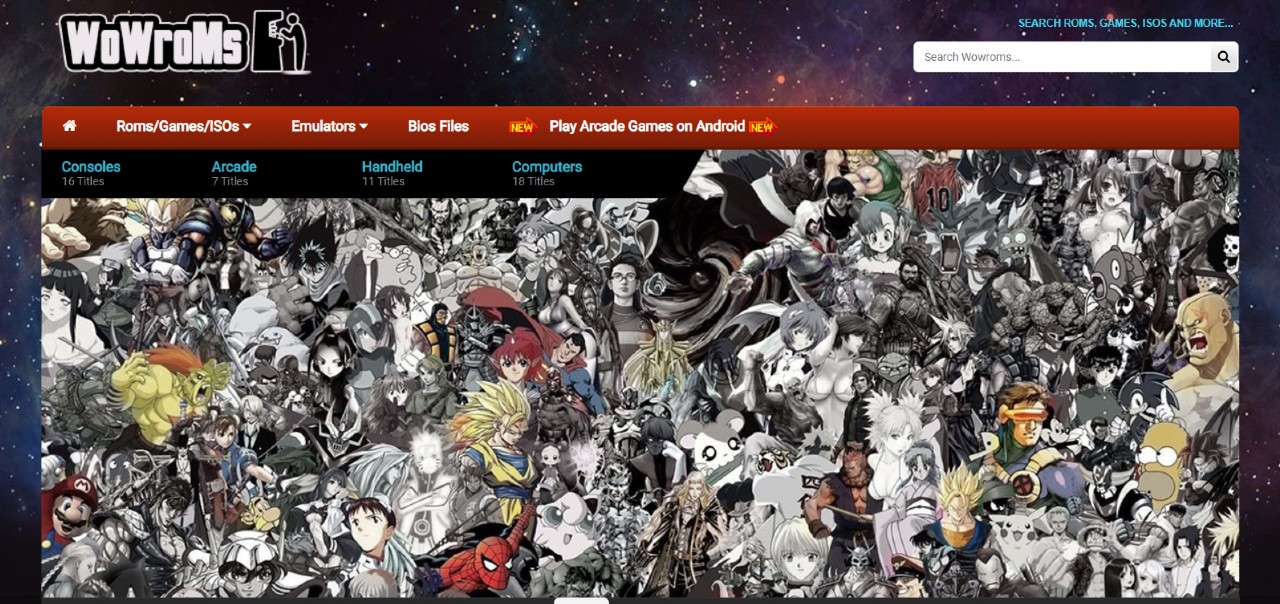 WoWroms is another go-to option to download ROMs, especially if you are more into DOS and Acron. Although the collection is very small, to be specific, just 52, but still, you will find some of the best games ever released. Here, you can also classic games online for free.
Some of the popular games you can find on WoWRoms are Super Mario World, Pokemon, Donkey Kong Country, Resident Evil, God of War, Gran Turismo4, and much more.
4. ROMS Universe

ROMS Universe is another popular website among gamers. It has a huge ROM and emulator database. Even though it is one of the newest addition to our list, it has started to gain huge popularity because of the availability of all the popular games. To be precise, they are 110 ROM 63 emulators, but the numbers are increasing rapidly.
ROM Universe also has a big collection of small online games. And most importantly, the platform doesn't irritate you by bombarding tons of ads.
5. Old Computer ROMs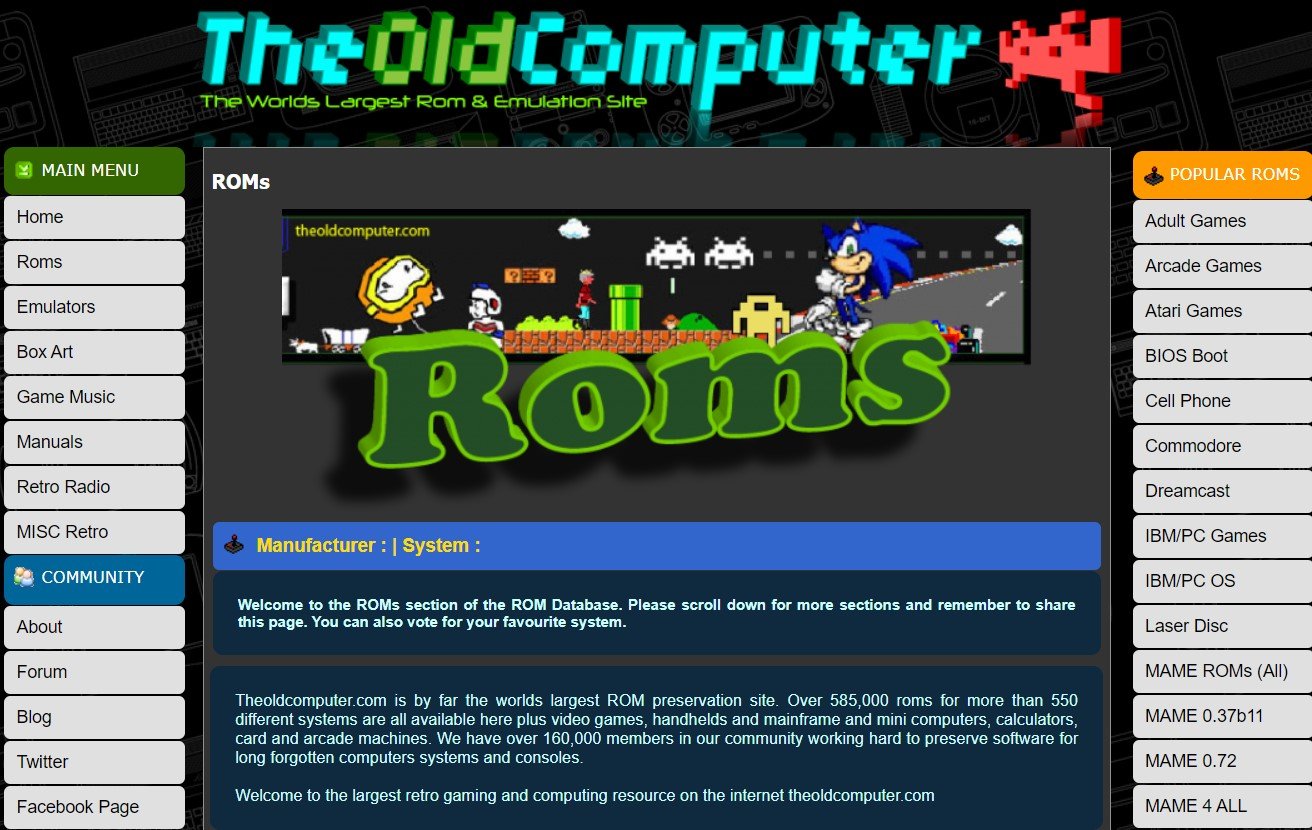 This site boasts of over 585,000 ROMs for more than 550 different systems. Although it has such a huge database, yet the site has made it easy for the end-user to look for their preferred title. From the likes of Atari to Commodore to the lesser heard ones like the SNK Neo Geo, it has made sure to incorporate near about every ecosystem.
While there is an option to register on their sites and gain some extra goodies, but as far as ROM downloading goes, it doesn't require any registration as such. Apart from the game titles, there is also game music, manuals, retro radio, and the detailed size and rating of each uploaded ROM.
6. FreeRoms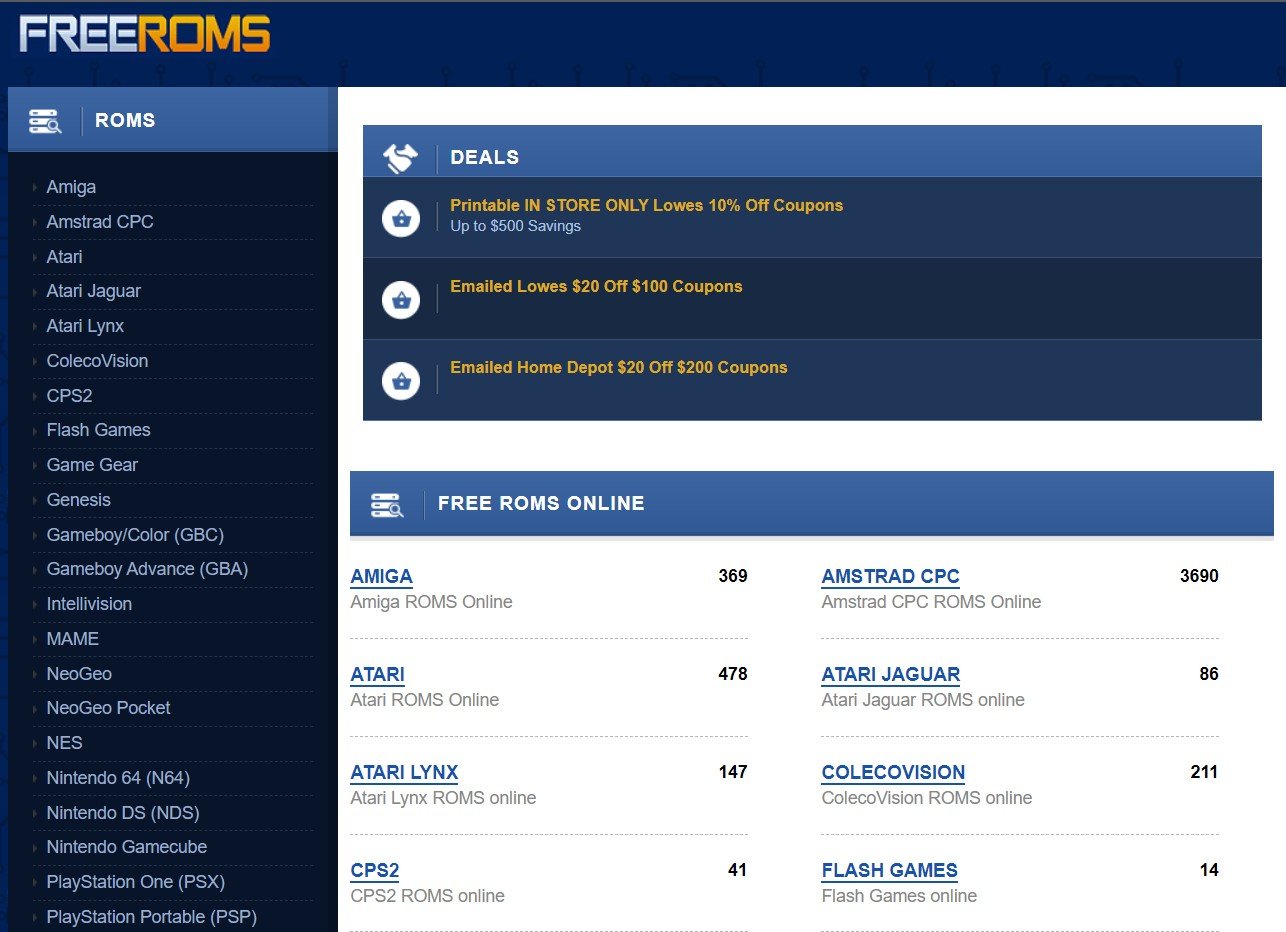 Well, the name says it all. Holding a decent amount of ROM for a wide array of emulators, it has made it pretty easy for the first-timers to browse for their favorite games. Right before you visit a particular ROM's download page, it offers a direct link to that emulator's setup as well.
Along the same lines, while searching for a ROM has been streamlined, thanks to the site's sorting functionality. You could arrange ROMs based on Most Votes, Highest Rated as well as Highest Rated. It just ticks all the required fields with ease and you wouldn't be left disappointed asking for more.
7. ROMulation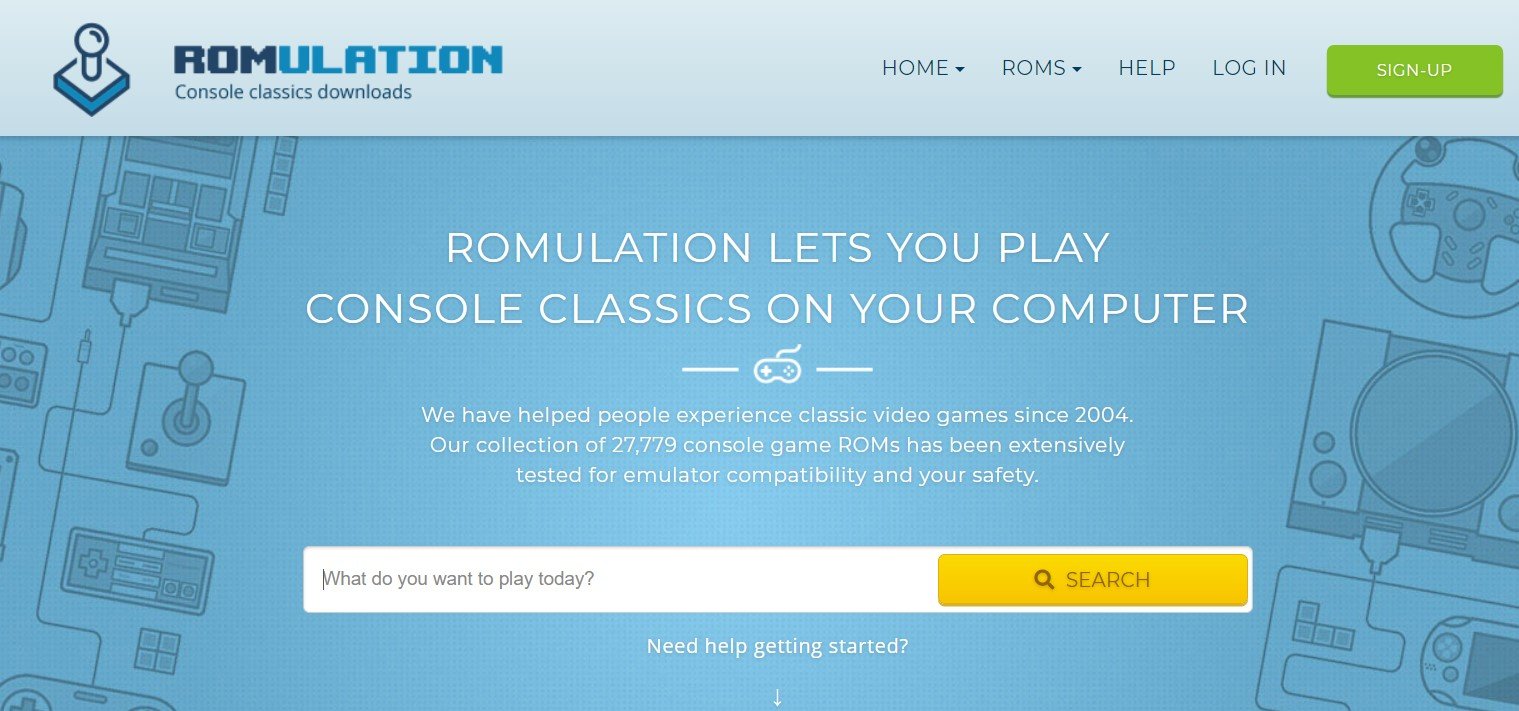 This site could easily brag about having one of the best user interfaces, something that we don't usually associate with the sites belonging to this domain. This light blue-themed website has a big search bar right at the welcome screen. Scroll down a little and you will be greeted with a plentitude of ROMs. Then there is also a Newest ROM and Most Popular ROMs section at the end of the page.
It also has a pretty nifty sort feature as well. You could filter the content based on the Downloads, File Size, Date Added as well as Upload Region. We aren't really nit-picking but the only complaint that one could have is the fact that it has ROMs of only the popular emulators. So while it might successfully fulfill the need of 90% of the gamers, the rest 10% would have to stroll over to some other site on this list. With that said, it also has a pretty active Forum and Discord group where you could discuss more on these topics.
8. ROM Hustler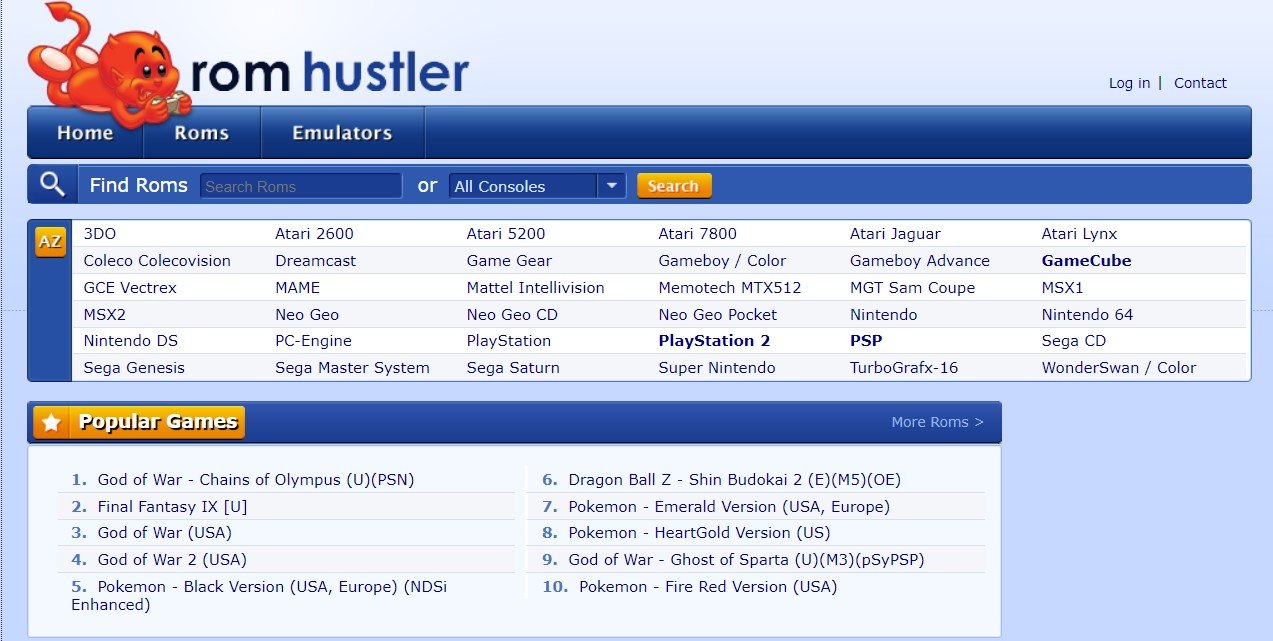 ROM Hustler has also managed to incorporate all the famous as well as the not-so-famous emulator's ROM files. Although it majorly focuses on PSP, Play Station 2, and Game Cube, others have been giving their fair share of quota as well. Next to each ROM file, you could its related information like the total views and ratings, the latter should help you in your downloading decision.
The home page also has a News section related to emulators and ROMs, which was last updated fice years back, so we aren't really sure whether it gets regular updates or not. Anyways, it is still a handy ROM downloading site nevertheless.
9. CoolROM
As soon as you launch the site, you will be greeted with a short intro and then a long list of news dating back to 2012 and before. Finding ROMs might be a little bit difficult, and the complete dark theme coupled with small fonts doesn't help much either. On the extreme right, you get a Top 25 Emulators section as well as the 25 ROMs.
To download your preferred titles, you will have to click on the ROM keyword situated at the right of the toolbar. Talking about which, the site mostly has its eyes set on Atari, Sega, and Sony consoles. Apart from English the site also has language support for over 10+ other languages, something that might come in handy for users across different nationalities.
10. ROMS MANIA

Taking in the Mario theme, this website has a decent collection of ROMs as well as emulators. Then it also does its bit in educating the visitor about what exactly is an emulator, their associated ROMs, and other such details. There isn't much digging you need to do to find your favorite games. Just as you launch the home page, there is a section of Popular ROMs as well as Popular Games.
If we talk about some of the more popular emulators like GameBoy and the Nintendo Series, then you could get your hands over 1000 game files. This is definitely an impressive number of ROMs. But in spite of all this, the entire browsing experience is quite smooth and stutter-free too. Rounding off, it would be fair to suggest that not many sites could compete with it when it comes to ROM offerings.
11. Emulator's Zone

The site mostly focuses on Emulators, but still has managed to incorporate quite a few ROMs. The site isn't doesn't really offer something to brag about, on the flip side some might even complain about its outdated interface and we can't really argue on that point.
For some reason, the site mostly seems to focus on the Changelogs and Patch Notes rather than its actual offerings and its home page is a (non) ideal example of the same. On that note, you might have a little trouble in browsing through its repositories, but once you land there, you wouldn't leave empty-handed!
12. CDRomance
This could be the perfect place to rekindle your lost love, well at least for the ROM files. Game Cube, PlayStation, Sega Dreamcast, Nintendo, PSP, and even MSDOS, you named them and they have it all. These game files are categorized as CD-ROM Based Home Console Systems ROMs, Handheld Devices ROMs, Cartridge Based Home Console ROMs, and the Abandonware PC Games which includes the classics of the DOS Era and the Windows 95.
Apart from that, it also holds some PSP DLC and BIOS files. Then to add to your knowledge, it has a section dedicated to the ROM and Consoles definition and their usages. Next to each ROM's title, you also get the region it was uploaded from, the supported languages, and the total number of downloads to date.
13. ROMS Download
The site has an eerie similarity to the ROMS Mania site, but we wouldn't complain till it meets our requirements. Talking about which, this second Mario Theme site on this list has neatly organized all the ROM files under its respective emulators, denoting it by each of their respective images, thereby making the distinction quite easy and adding a few brownie points to its UI feel.
You could also browse ROMs based on the Genre and Region. Furthermore, next to each ROM is the Downloads stats and the ratings out of five. Its home page only has some of the most popular emulator games, for the complete list don't forget to hit that small VIew All button and treat yourself to the games from Acorn 8 bit all the way up to ZX Spectrum (and everything in between).
14. EMUParadise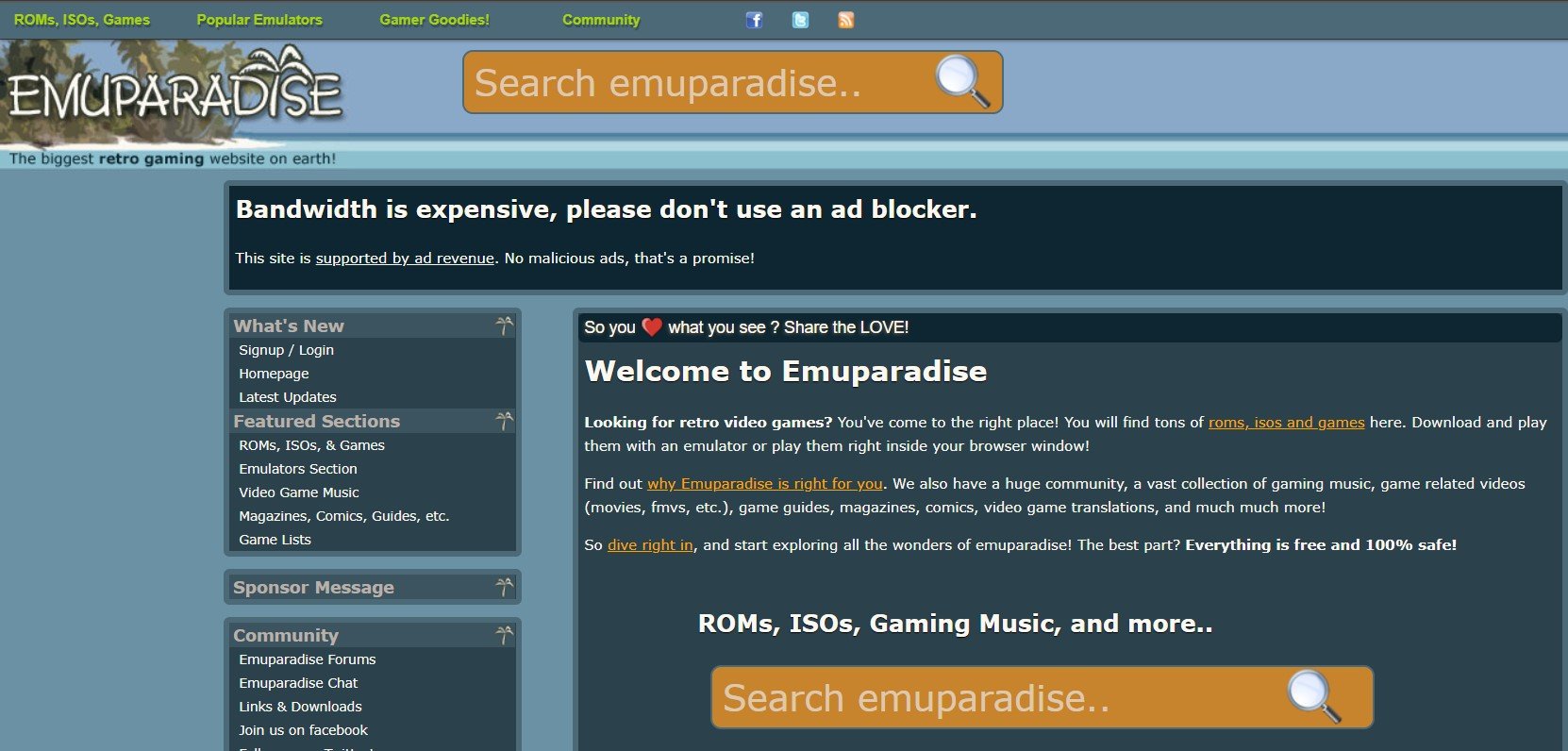 From ROMs, ISOs, & Games to Emulators, Video Game Music, Magazines, Comics, Guides, etc it has rightly created a paradise for gamers. As of now let's turn our attention towards the ROMs, of which it has definitely done a decent job. Right on its home page, there is a Quick Link section that should meet near-about all your ROM needs. Right next to it is the Popular ROM section. Scroll down a bit and you should be greeted with a quote of the day as well.
Anyways, the site's left menu bar is where all the goodies are stored. So once you head over to this site, do peek in that section as well. Apart from Consoles and handheld systems, you could even treat yourself with Computer and CellPhone ROMs too. Well, the offerings are definitely aplenty, and not that we are complaining about!
15. Retrostic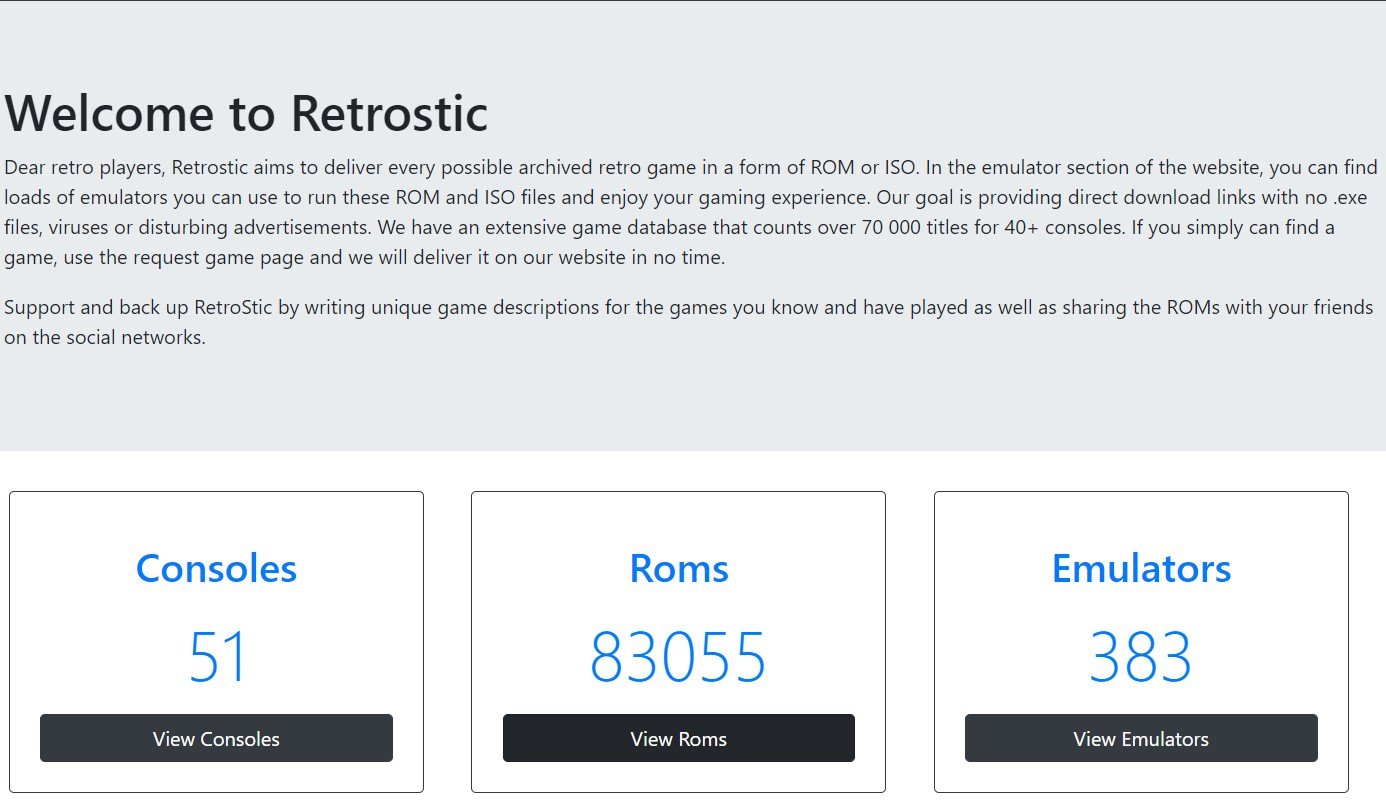 This site seems to have all the prerequisites covered that one could ask for from a ROM downloading site. All its files, ROMs, and Emulators are arranged in large categories boxes that should make your search pretty easy. There are a total of 51 consoles, 83055 ROMs, and 383 emulators. On its homepage, it has published the best five ROMs for each of the emulators, which might not necessarily be in sync with your interests.
In that case, you could expand this list anytime you wish and then get your hands on the ocean of ROMs that it has hosted. These ROMs could be arranged based on the Popularity charts, Most Downloaded, or just in Alphabetical order. What we loved most about this site is the fact that it has added a small snippet (screenshot) next to most of the ROM file. This might help you in your quest for searching for a favorite game.
16. Emulator Zone
Emulator Zone has a massive selection of ROMs and emulators. Users can register and create an account on the website and take part in discussions happening on the forum. It is a simple but practical website for ROMs. It is best known for having Nintendo and PlayStation games.
17. Roms World
Roms World also doubles up as a blog. It features hundreds of classic games. These are sorted into different categories like features, staff picks, and favorites. It has a very simple interface. With no ads and straightforward download links, the website is a good source of ROMs.
18. ROM Nation
ROM Nation is one of the oldest websites for ROMs. Launched in 1998, it underwent a transformation and came back with a new design that now allows users to register and create an account on the website, add comments, share their collection with friends, and receive game recommendations. It displays the top ROMs along with their size and system name. Users can also search for ROMs on the website through the search option.
Concluding Remarks
With this, we conclude the list of the best ROM downloading sites. All in all, we have mentioned 15 different sites. While some focus more on the ROMs offerings others seem to have given equal weightage to the User Interface as well. On that note, do let us know in the comments which website managed to meet your expectations.
If you've any thoughts on Safe Sites to Download ROM File for Games, then feel free to drop in below comment box. Also, please subscribe to our DigitBin YouTube channel for videos tutorials. Cheers!