Sports fans across the globe do not want to miss any updates about their favorite sports, be it football, baseball, cricket, tennis, etc. With smartphones inside our pockets, keeping ourselves up to date about any information is just very easy. Besides, there are tons of reliable sports apps that you can install on your iPhone and keep up to date about any sports that you like. However, with such a huge number of sports apps, you may get confused about which app to go for. If you are also confused about this, then you have stumbled in the right place.
Because in this post, we will give you the 10 best live sports apps for iPhone, which will not only keep you update regarding the live scores but also give you plenty of insights regarding your favorite team. These apps also contain videos, statistics, and much more. Using these apps, you can keep a tab on your favorite team and sports right at your fingertips. With that being said, let us get straight into the article itself:
Best Apps to Stream Live Sports on iPhone
Here are the Best Apps to Stream and Watch Live Sports Apps on iPhone
fubo TV
Fubo TV is the best option to go for if you are a Sports Lover. The App primarily focuses on live sports. The TV is good for a sports fanatic, but the channels are not limited to only sports (NFL, MLB, NBA, MLS, and international soccer). The App has a bunch of other channels, including news, network television series, and movies.
The App is available on the App Store and can also be streamed on the web. The packages vary from basic to extra with added features and channels. A basic package can cost you $20 per month.
DAZN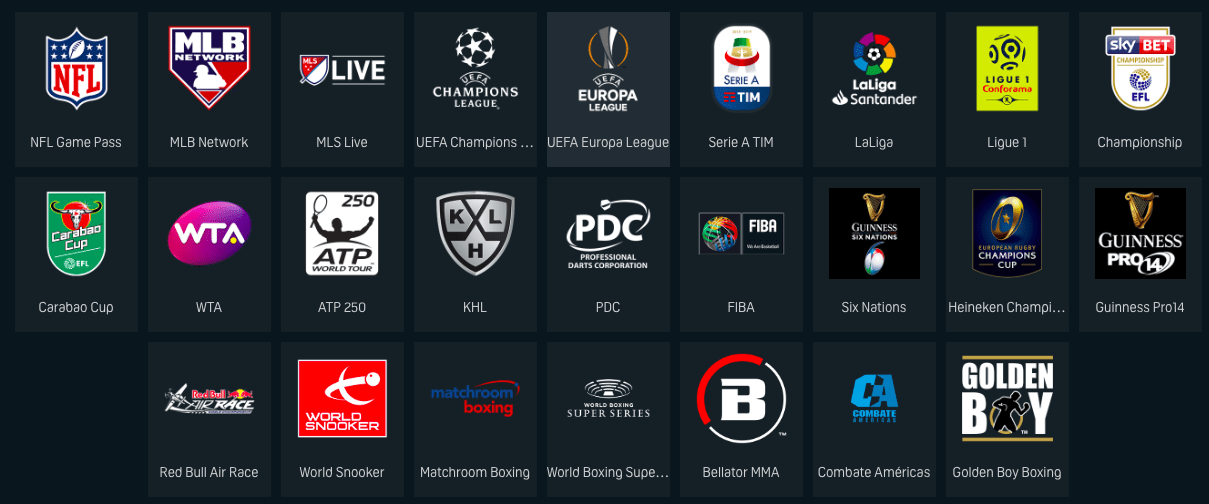 Dazn is a subscription-based video streaming service. The sports service offers live and on-demand streaming of events from various properties. Dazn is operative in Austria, Germany, Japan, Switzerland, Canada, the United States, Italy, Spain, and Brazil. It has digital rights for all major sports events to be broadcast in Austria, Germany, Japan, Canada, and Switzerland.
You can enjoy UEFA, FIFA, La Liga, and other sporting events on the DAZN. The service offers a 1-month free trial which you can cancel anytime. DAZN is compatible with TVs, smartphones, tablets, game consoles, and many other devices. You can download the App from the Play Store
Hulu

The Services of Hulu into Live TV started in 2017; it works as a hybrid of Sling TV and Netflix, offering both TV Shows as well as Live TV to its users. Catch Live NFL sports on Fox, CBS, ESPN, FS1, NBC, and regional sports. The content and presentation of the App vary with the cost; a low price will offer you content with Ads, while a high package offers Live TV with no Ads. Hulu TV Pricing starts at $5.99. A cheap service to stream premium sports.
ESPN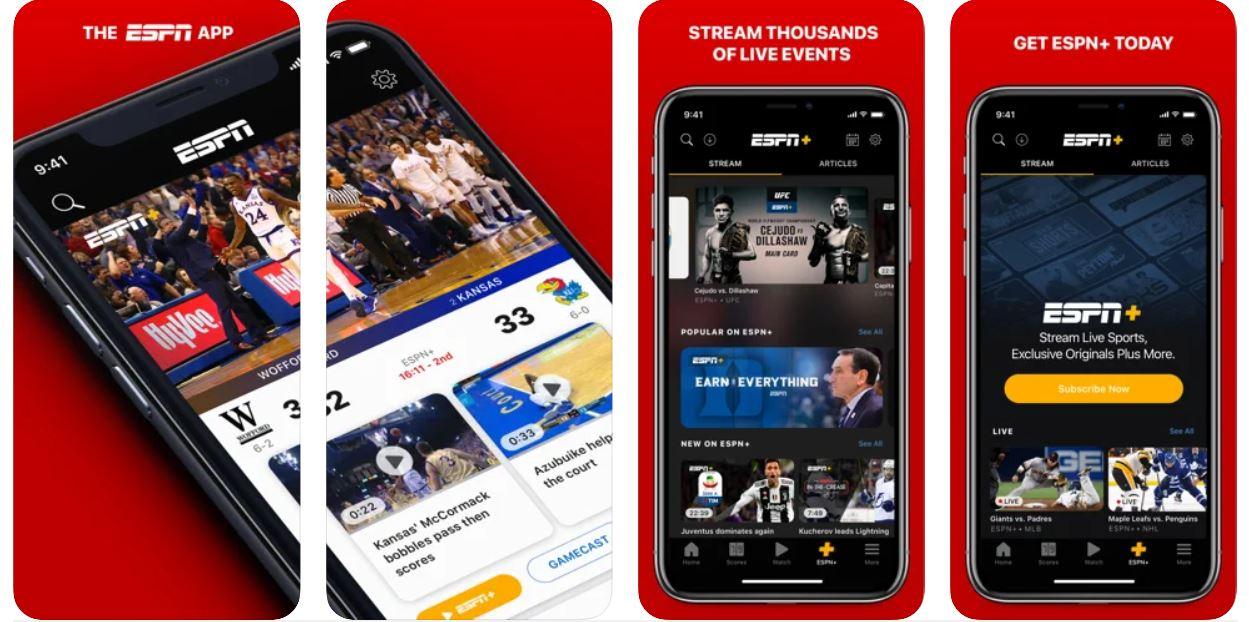 The most reliable and trusted sports app that you can install on your iPhone is ESPN. FYI, it is called the "Sports Center" because, well, it provides you with information regarding all sports. It has a huge fan base that uses the ESPN app to follow their favorite sports and sports team. Just to give you an overview, it gives you live scores, on-demand news, highlights, and expert analysis.
Subscribing to the ESPN+ service will get you live sporting action, originals, premium articles, etc. You can keep a tab on sports such as NBA, Golf, Soccer, Tennis, UFC, and much more. It sends real-time notifications on score updates and breaking news of your favorite teams.
YouTube TV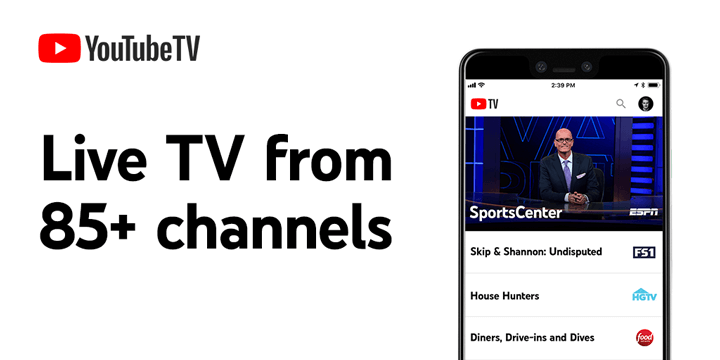 YT TV is an over-the-top content (OTT) streaming subscription service available in the United States.  It includes ABC, CBS, The CW, Fox, NBC, and other networks. The service offers Cloud DVR without DVR storage space limits.
6 YouTube TV accounts with individual login and DVR. The App offers more than 60 channels from the US, which can be directly streamed on a phone or Apple TV without any cable box. You can access top content-providing networks on the TV App.
Sports – CBS RSN Channels, ESPN Network, FS, Golf Channel, MLB Network, NBA TV, NBCSN, NESN, Olympic Channel, Tennis Channel, etc.
Cricbuzz Cricket Scores & News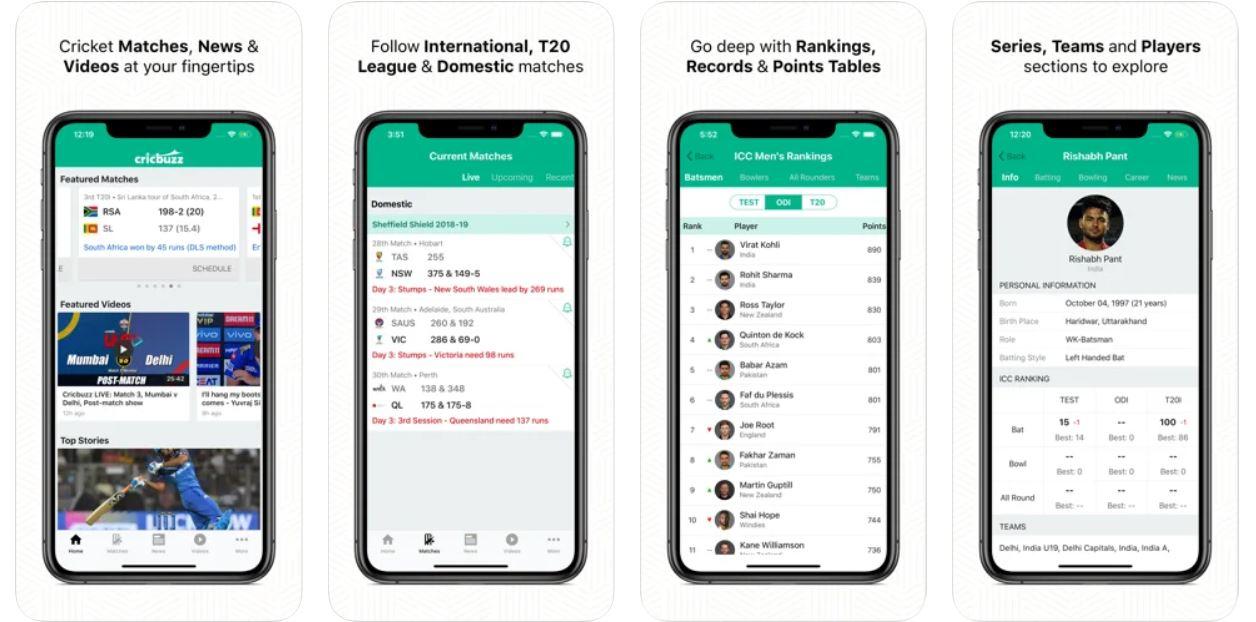 Cricket lovers, Cricbuzz is arguable the best app that you should definitely install on your iPhone to keep up to date about anything cricket. ‪You get live updates about cricket matches from across the globe, and trust me, not even a single league match or national cricket match is missed from coverage.
Cricbuzz also gives you access to news, videos, match analysis by experts of the game, and provides rankings, points tables, and records of your favorite international or national players. You can explore different teams and gain knowledge about each player with utmost detail. Besides, you can read live commentary, ball by ball, and also know about weather/stats/trivia right before the match starts. The Cricbuzz app also provides a Map View for Matches. It is, overall the best app for cricket lovers.
LiveScore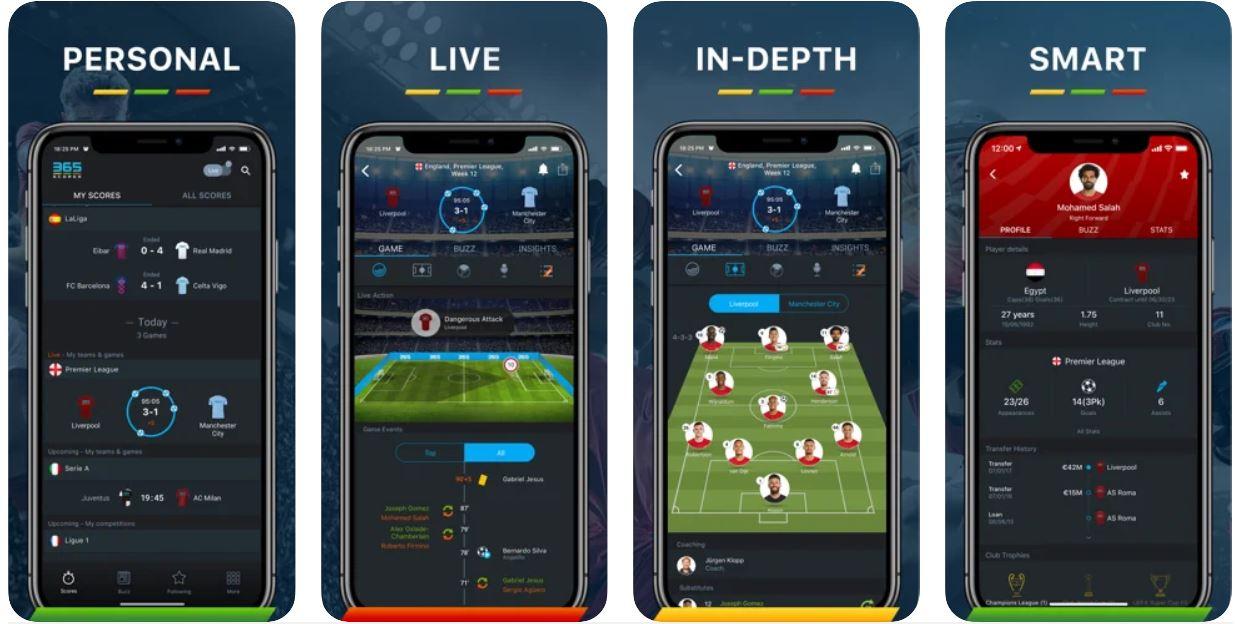 Another top-rated sports app for iPhone that will keep you up to date about the latest scores related to sports, be it soccer, basketball, hockey, tennis, and cricket. Some of the features of the LiveScore app include live and fast notifications, scores, and details about favorite leagues across the globe; LiveScore Ball Tracker gives you a pitch view to follow the ball, match statistics, and breaking news about all major sporting events worldwide, and much more.
LiveScore app also features live commentary, league tables to see how your favorite team is performing in the ongoing league, etc. LiveScore is the Official Global Partner of La Liga Santander. Overall a nice sports app to keep track of your favorite sports.
Bleacher Report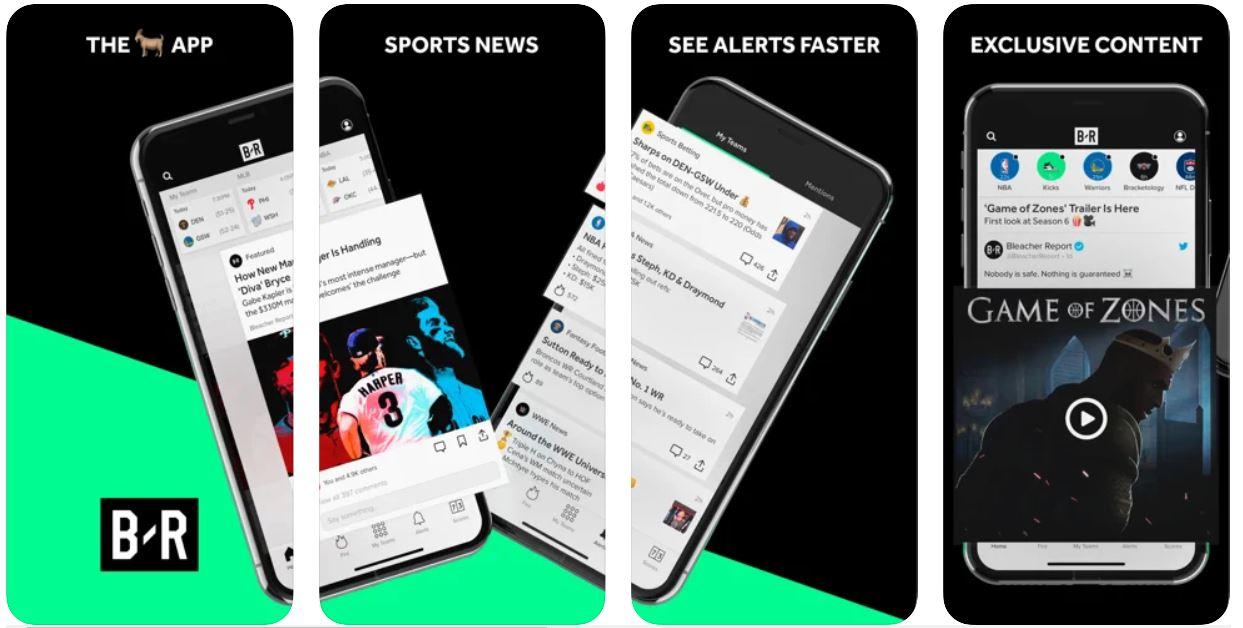 Another popular sports app that will give you live updates about scores, your favorite team, and everything related to sports is Bleacher Report. You can choose your favorite team, stay updated about them with breaking news, bookmark your favorite stories, check out the latest sports videos, analysis, and pictures from the best source available, and more.
In fact, you can even share your favorite stories with your friends via Facebook, Twitter, groups, email, or text message. You can keep track of your favorite teams across leagues, including Premier League, Champions League, La Liga, and Bundesliga; football, cricket, rugby, MMA, F1, and more. The app sends a notification if there is breaking news related to your favorite sports or team.
beIN Sports
The beIN SPORTS is the most powerful Sports platform offering Live Sports broadcasts from popular leagues along with related news, videos, highlights, scores, standings, etc.
You can also Log in with your participating TV provider and watch live events exclusive to beIN SPORTS. Original programming is available in English and Spanish languages. You can also access all the channels and networks under beIN Sports to fulfill your Sporting anguish. The beIN Connect has rights to a large bouquet of popular Sports Programming.
beIN Connect is a streaming service offered directly by beIN Sports. You can sign into beIN Connect with your cable credentials and watch both live and archived beIN sports programming.
Offers:
Soccer – LaLiga (2), Real Madrid TV, LaLiga TV, Serie A, Ligue 1, Turkish League, CONCACAF, CONMEBOL, and CAF World Cup Qualifying, Football League Championship, Copa del Rey, Coupe de la Ligue, Coupe de France, Swiss Super League, Champions League, Europa League
Conference USA– Football, Basketball, Baseball
Motorsports – MotoAmerica, MotoGP, WorldSBK
Other – Track & Field, Boxing, EHF, MMA, Rugby.
Yahoo Sports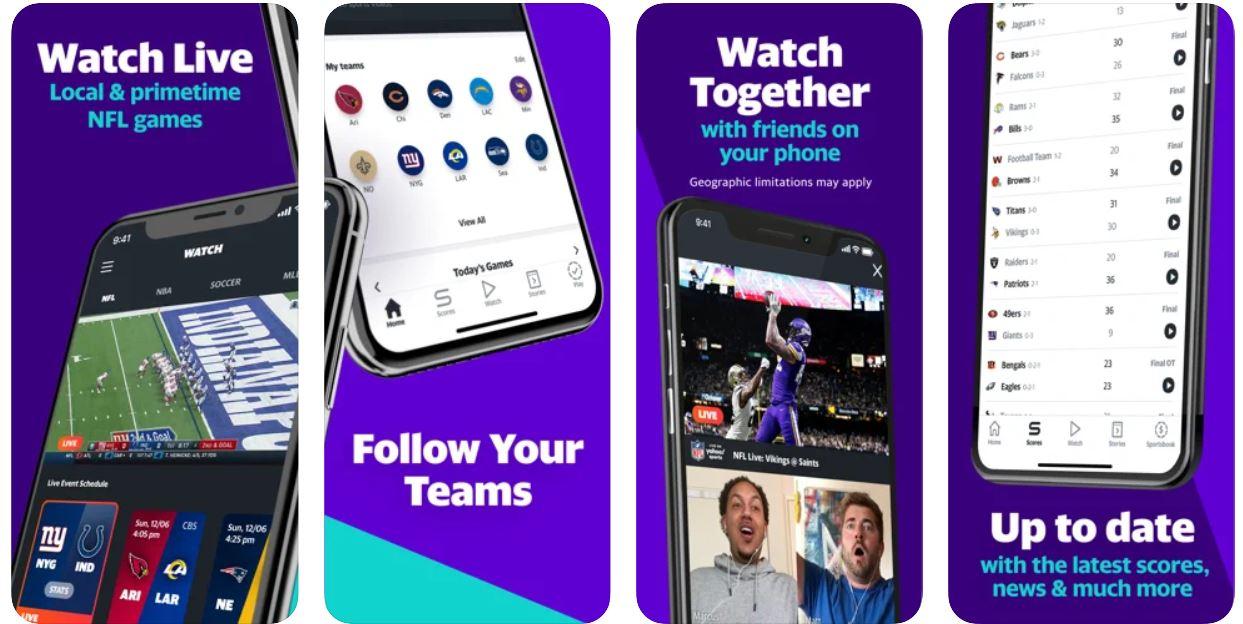 Once a very popular web search engine, it still has a good hold in the live sports tracking department with the Yahoo Sports app. The app lives up to its prefix's name and provides you with in-depth coverage of your favorite team, sports, and events. You can stay updated with live scores, and sports news and even watch live local and primetime NFL games. The Yahoo Sports app provides enhanced and great coverage of major football leagues and sends out notifications consisting of the latest news about your favorite teams.
The app boasts a clean and easy-to-use interface. Yahoo Sports also has a whole set of specially curated blogs and news articles that will give you at-a-glance expert information about your favorite sports team. You can keep track of sports, including Football, NFL, NBA, MMA, Boxing, Cricket, Tennis, Cycling, F1, etc.
Now TV
Now TV is a contract-free subscription-based internet TV service for the UK, Ireland, and Italy. It is owned by Sky plc. Therefore, Now TV has all the TV Channels, Live Sports, Programs, and Movies owned by Sky Network. You can access Sky Network's Sports Channels, live sports channels, and other entertainment shows.
The service is paid, and you may need to pay £9.99 every month, but there is a 14-day free trial. You can access up to 10 Sports Channels. Now TV is available on 60+ devices, including consoles and Smart TV. If you are serious about streaming some important sporting event, then you can try a 14-day free trial plan.
Offers – Premium League, Major League Soccer, Cricket, PGA, Rugby Union, and more.
SuperSport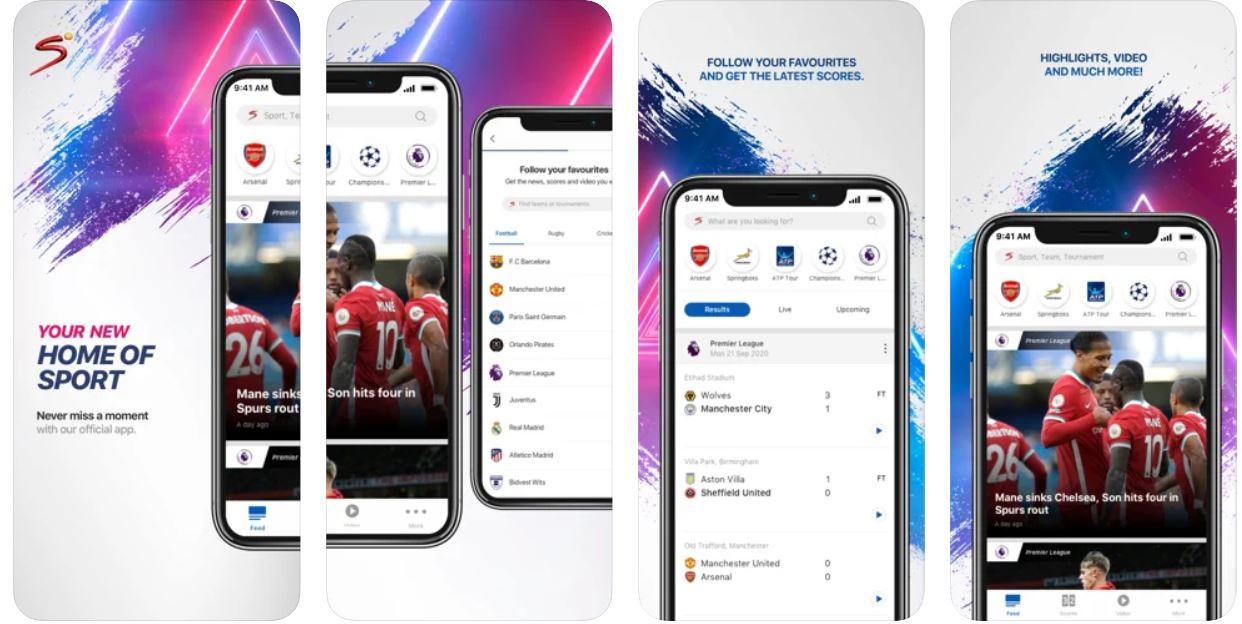 SuperSport gives you access to live stream favorite sports ranging from football, tennis, etc. You can follow live scores, keep up to date regarding match schedules, watch match highlights, the latest news, and much more. The SuperSport app is more convenient and provides in-depth coverage related to sports like football, cricket, rugby, golf, tennis, and motorsport. However, that does not mean you cannot keep track of other sports.
There is plenty of content that will keep you glued to the app and give you information related to sports. The SuperSport app provides real-time notifications about your selected favorite sports or sports team. Further, the app gives you insights into points tables, top scorers, rankings of your favorite teams in a particular league, etc. You can watch the live stream via the DStv app.
CBS Sports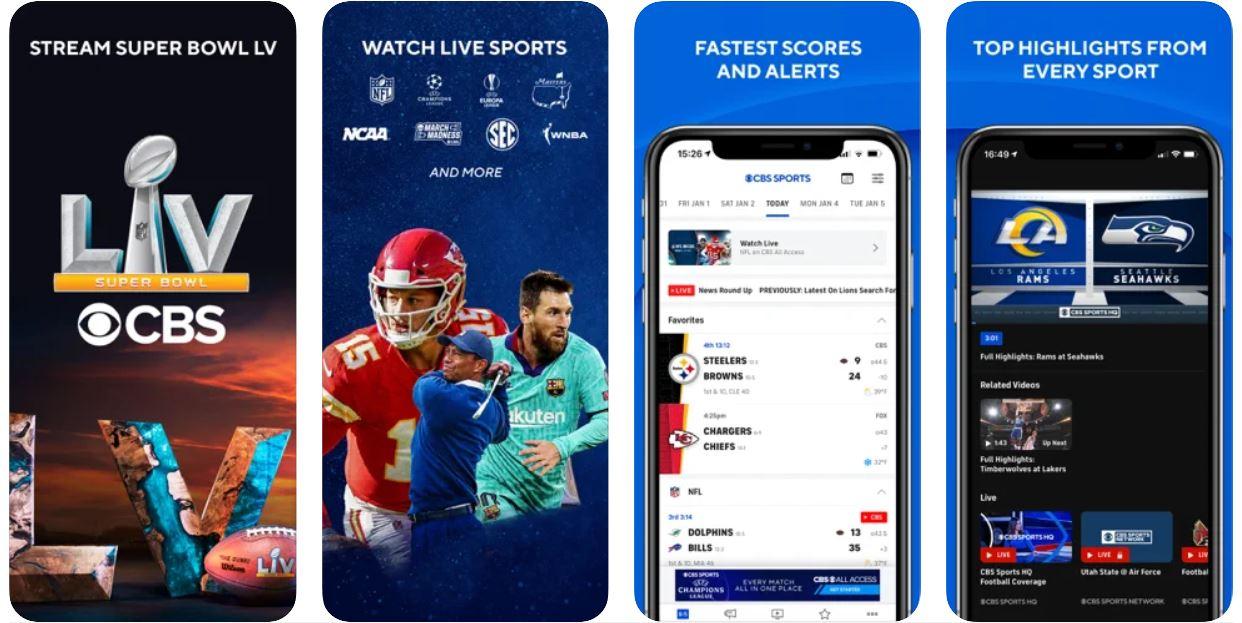 CBS Sports a must-have app for NFL, Super Bowl, and UEFA champions league. Moreover, you can also keep track of March Madness, the PGA Tour, the National Women's Soccer League, WNBA, and more. You can keep yourself up to date about your favorite teams, leagues, and athletes. The app shows personalized news and videos curated as per your choosing.
You will never miss any breaking news related to your favorite sports, and you can also watch pre and post-match coverage by match experts. If you are into betting, which you should do responsibly, you can get expert betting advice from SportsLine insiders. Users can watch on-demand highlights of the ongoing games. Wrestling fans can also take a peek inside the world of WWE.
365Scores


365Scores is a nice app that gives you all the information about 10 sports, including Football, Basketball, Baseball, Hockey, Soccer, Tennis, Cricket, Handball, Rugby, and Volleyball. You get access to live scores, in-game stats, videos, news, points table, social media buzz, upcoming games, and many other things. You can select your favorite teams and players and stay up to date about everything related to them.
The app notifies its users about Lineups, injuries & suspensions, goals, and yellow and red cards. 365Scores also includes a multi-sport calendar that is continuously updated to give you the correct information about upcoming games and sporting events. Live Game Tracker feature allows you to feel the game if you can't watch it.
FlashScore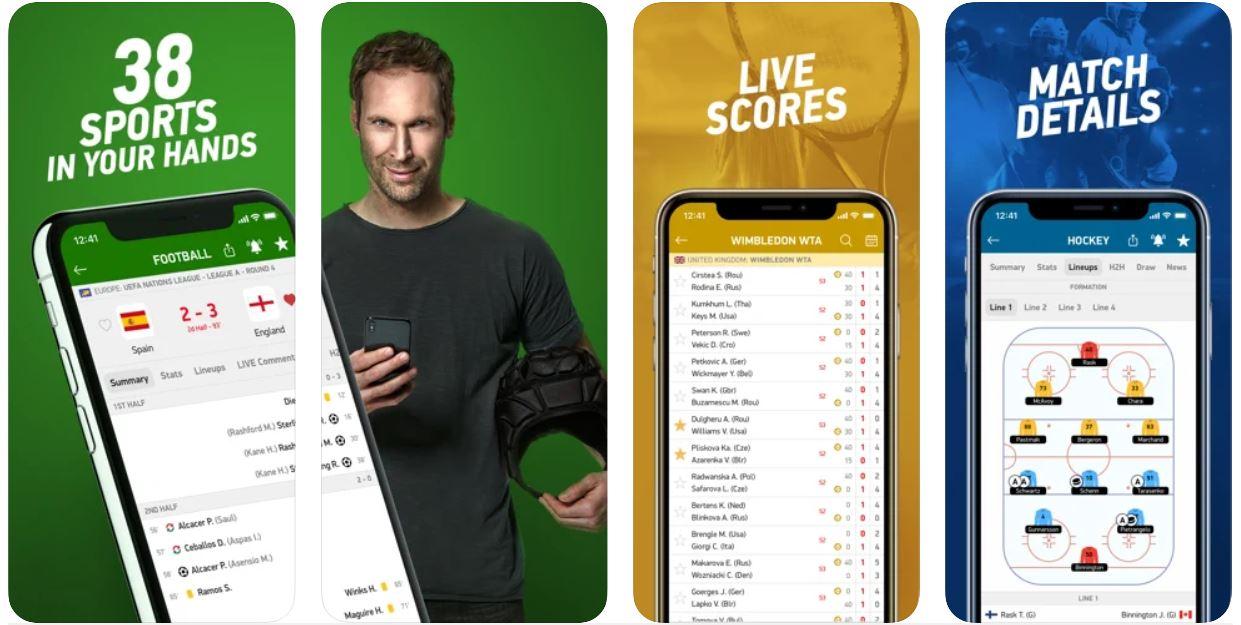 FlashScore keeps gives you all the information related to 38 sports right at your fingertips. You can keep a check on over 6000 competitions across the world, and get real-time information about scores, teams, stats, etc. FlashScore provides football, tennis, basketball, hockey, rugby, and 33 other sports news on the app.
You can avoid distractions and focus only on your favorite team and competitions and get updates related to them only. If you switch between different platforms, then the app seamlessly syncs between your computer, mobile, and tablet. You get to know information like lineups, previews, recaps, personalized tables, and match details.
BBC Sport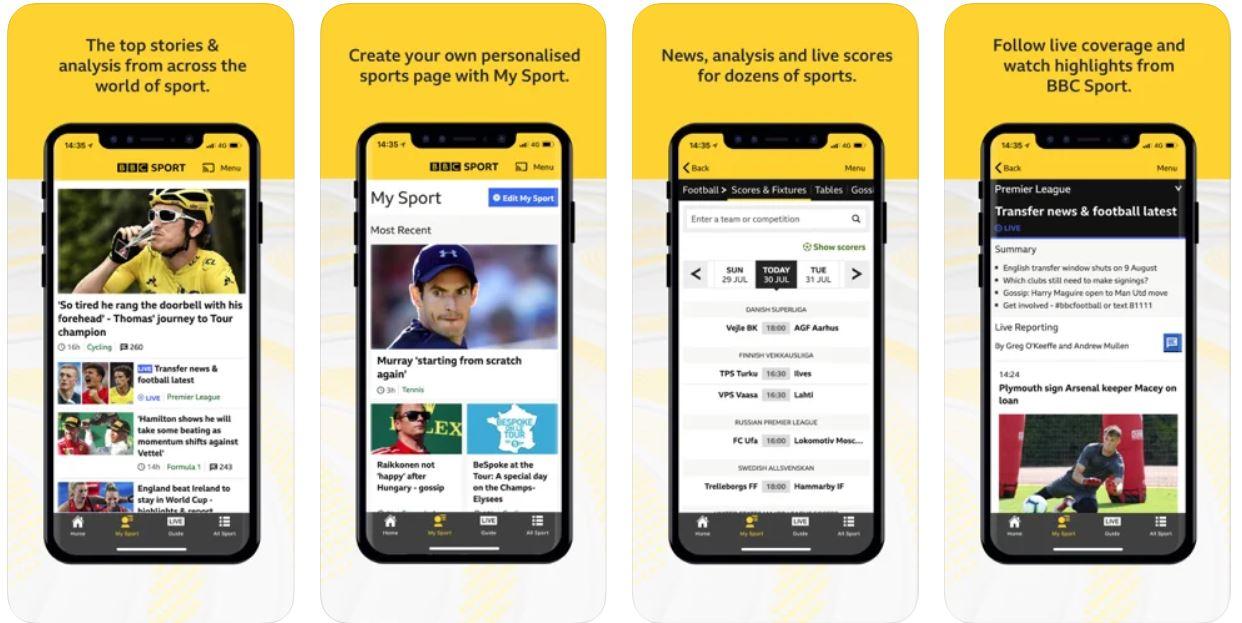 What better way to keep up with your favorite sports than using the BBC Sport app? It is regarded as one of the most reliable and sought-after sports apps that can give you information like top stories, analysis, live scores, live coverage, highlights, and much more. The good thing about this app is that you can create a personalized "My Sports" page, where you can follow stories, results, and fixtures for the topics you love.
The app provides audio and lives commentary in text formats as well. Using Chromecast, you can mirror the on-demand videos to your big-screen TVs. You can follow your favorite teams in sports, including football, F1, cricket, rugby union, rugby league, tennis, and golf. You can share breaking news and stories with your friends and followers.
Disney+ HotStar
Disney+ hotstar is an Indian OTT subscription service that offers movies, TV shows, and original Disney content. Hotstar also is host to number of sports programs including cricket, football, and other sport events. If you are in India and looking to access some premium live streaming sports than hotstar is the best bet. The app is clean and work smoothly even with a decent internet connection.
Conclusion
So, there you have it from my side in this post. Note that there are other sports apps that can give you complete information about all your favorite sports. But the above-mentioned apps are some of the best, if not the best, sports apps that you can install on your iPhone and keep a check on your favorite team, sports, and players. For more such awesome coverage, you can follow DigitBin's YouTube channel. Until the next post…Cheers!
If you've any thoughts on 15 Best Live Sports Streaming Apps iPhone, then feel free to drop in below comment box. Also, please subscribe to our DigitBin YouTube channel for videos tutorials. Cheers!