The current pandemic scenario has given rise to several videos calling apps. The one benefitted the most is the Zoom app. However, others have also tried and tested their luck in this new area of apps. Google also has its own Zoom app alternative, which is called the Google Meet. This is a video calling application that came in as a replacement to Google Hangouts and Google Chat. During the COVID-19 pandemic, the use of Google Meet saw a surge, with over 100 million users accessing Google Meet in a day.
Moreover, Google Meet is free to use for everyone. Anyone with a Gmail account will be able to use this video calling service from Google. Additionally, users can make use of some extensions to further enhance the functionality of the Google Meet. And yes these extensions are free too. There are several extensions that would enable you to enhance basic functionalities like video and audio calling, grid view, and sharing screens, along with some special features like noise cancellation, better security, etc.
One more important thing is that Google Meet is only available on the web for PC users. But that also opens up a world of extensions that you can make use of to improve the functionality of the video calling service. So, with that being said, let us get straight into the article itself:
---
Here is the List of Top Best Free Chrome Extensions for Google Meet
Google Meet Grid View
Google Meet Enhancement Suite
Visual Effects for Google Meet
Nod – Reactions for Google Meet
Google Meet Plus
 Google Meet Attendance
Google Meet Classroom Extension
Tactiq for Google Meet
Google Meet Breakout Rooms
Google Meet Call Timer
TurboMeet – Turbocharge your Google Meet
Fireflies Meeting Recorder Transcribe, Search
 Dualless
Google Meet Party Button
Google Meet Push To Talk
---
Best Google Meet Extensions to Boost your Call
Here are the Best Chrome Extensions for Google Meet to Enhance your Video Call Conference
1. Google Meet Grid View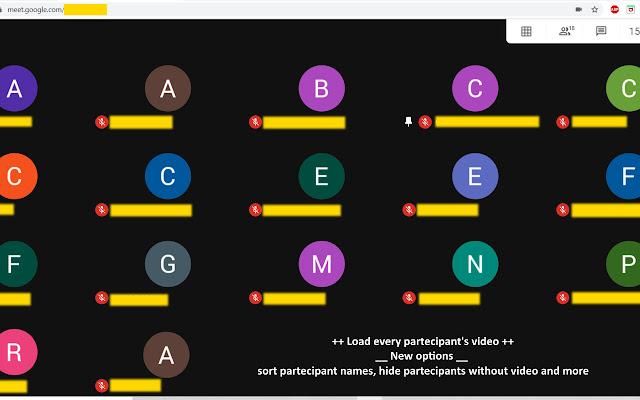 For those who wish to view more participants on the screen, there is a Google Meet Grid View extension for Chrome.
This extension lets you view your participants in a grid layout with equal-sized boxes, making it easier to view more people at once. You can also use this extension to show your own video and highlight the participant video box, who is actively speaking.
2. Google Meet Enhancement Suite
This Google Meet Enhancement Suite is meant to give you settings and controls that you would have on the Zoom app. The settings include options like automatically mute the microphone, turn off video or enable captions when joining a meeting, auto Video Off, pin bottom bar, hide names, etc.
The pro version gives you access to more features like meeting timer, speaker highlight, quick emoji reactions, etc.
Google Meet Enhancement Suite
You can also enable the Push-to-talk feature using a keyboard shortcut, auto-join to skip the waiting screen for joining a video call, mirror videos, remove all participants in a click, enable dark mode for using at low light conditions, etc. This is a must-have extension for Google Meet users.
3. Visual Effects for Google Meet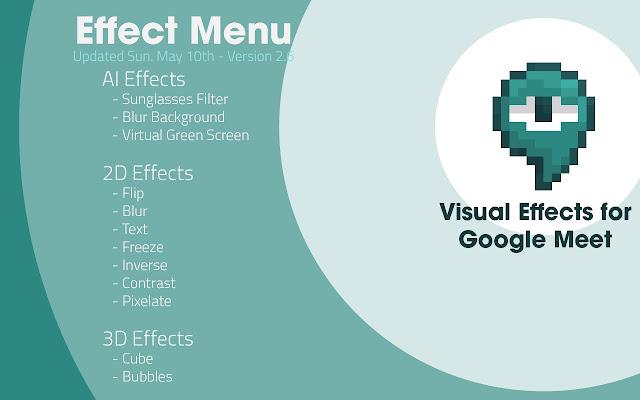 If you want to change the background virtually to anything while on a video call on Google Meet, then you should get the Visual Effects for Google Meet extension. You can use this extension to Blur, Pixelate, Bubbles, AR Halo, Freeze, and Inverse to your camera live during Google Meets.
Moreover, you can add a virtual green screen to your video calls to hide the mess behind you. Besides you can add your own custom background and give a fun touch to your group video calling experience using this extension for Google Meet.
4. Nod – Reactions for Google Meet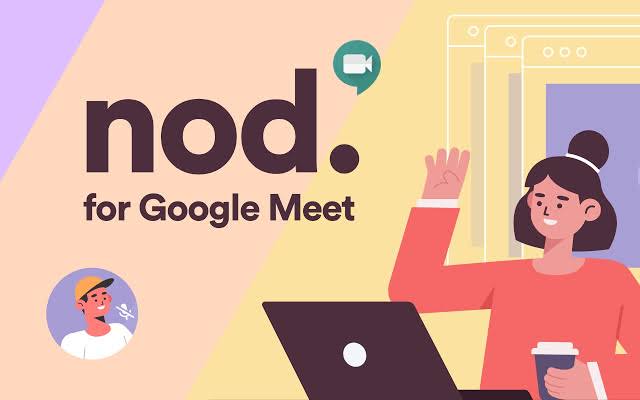 With the Nod – Reactions for Google Meet extension, muted members of the group video call can react to something using emojis.
It can be difficult to get a nod from everyone participating in the video call, as it could get clumsy and noisy. In this situation, you can make use of this extension and members can send their reaction in real-time to the presenter or speakers of the group.
5. Google Meet Plus
If you want more control over your Google Meet video calls, then this is a one-stop-shop extension for all your Google Meet needs. With Google Meet Plus, you have features like Breakout rooms, attendance control panel, whiteboard, mute, etc.
Meet Plus for Google Meet (GMP) 8.0 Release
This extension is available in multiple languages including English, Français, Italiano, Español, Português, Chinese, etc. Other features of this extension include meeting timer, task management, user status, emoji reaction, etc.
6. Google Meet Attendance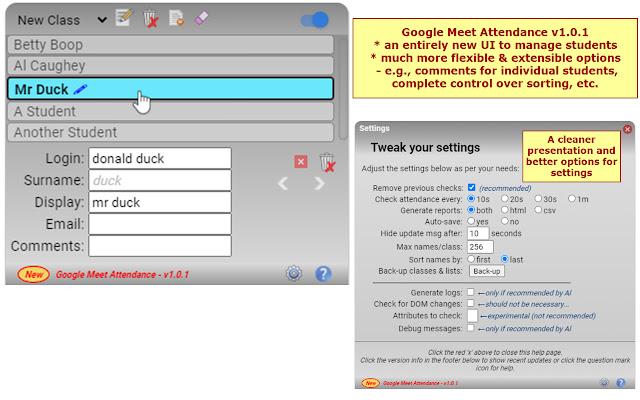 Teachers, managers, etc. can use the Google Meet Attendance feature to take attendance of the participants attending the video call. Since the pandemic has changed the way we attend classes, this extension is a must-have for teachers.
Users can enter the list of expected invites, and the extension will automatically detect who joined the call and how long they stayed. Besides, you can save multiple class lists and saves attendance history as well.
7. Google Meet Classroom Extension
This is more of an organizer tool for teachers. You can create and assign assignments to your students quickly, provide prompt feedback to your students, communicate with each student, collect assignments, see who has completed the work, make announcements, etc.
This extension automatically makes a Google Drive folder for each assignment submitted by each student. Moreover, each student can see what is due to their assignment's page. This is one good extension for Teachers, actively using Google Meet for online classes or exams.
8. Tactiq for Google Meet
If you have an important discussion with your team members and you want to record all the important points that were discussed during the meeting, then Tactiq Pins for Google Meet extension is a must-have for you.
Transcribe Google Meet Calls with Tactiq
You can save transcription from Google Meet, capture important conversations, read the full history of conversation in real-time, automatically enable captions on video calls, automatically save transcription to Google Doc, etc.
9. Google Meet Breakout Rooms
With this extension, you can break the Google Meet video call group into various sub-groups called breakout rooms. This is free for anyone with a Gmail account, and you can seamlessly move between breakout rooms, view them in tiled or tab format, assign participants to different rooms, mute all or remove all rooms, etc.
Quickstart version 17.0 which has Low Memory (RAM) Option
Apparently, you can also broadcast either audio or video to all breakout rooms, if you want to share a common message with every room.
10. Google Meet Call Timer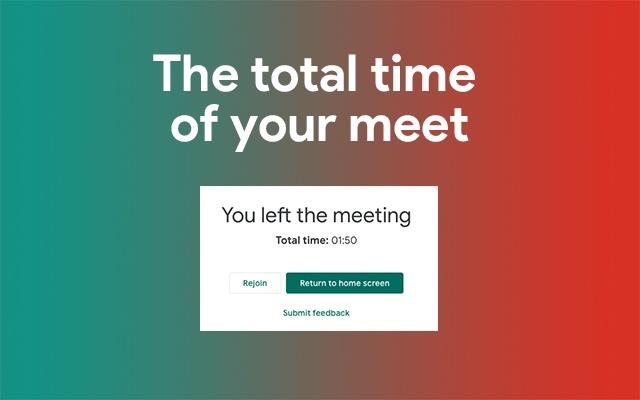 This is a simple Google Meet extension that adds a timer to your meetings or online classroom. In this way, the admin and the participants will be aware of how much time is left before the meeting ends, or for their next class.
When enabled, it shows a timer on the top right corner of the screen, provides setting specific time, and turn it off at any time.
11. TurboMeet – Turbocharge your Google Meet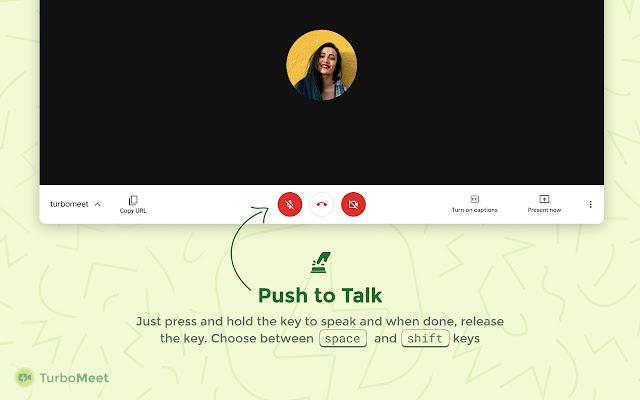 If you are not happy with the Google Meet Enhancement Suite, then you can take your chance with TurboMeet – Turbocharge your Google Meet extension. It gives you all the options that would get with Google Meet Enhancement Suite, like push-to-talk, end meeting with keyboard shortcuts, auto-enable captions, mute audio, or video, auto-join, quick launch meetings, etc.
Notably, the developers have also listed upcoming features like raising the hand, record meetings, more keys for the push to talk, ability to select Google account, and more in future updates.
12. Fireflies Meeting Recorder Transcribe, Search
This extension support over 12 video calling apps or platforms. It adds a button to Google Calendar and Google Meet to transcribe calls with a single click. Moreover, you can record your meetings, and share them with a single click.
Fireflies AI Chrome Extension for Google Calendar
The extension is free for all, and it has a feature that lets you mark important points of a meeting. The Firefly Pro is available for $10 and Business Tier is available for $19 and it gives you access to more storage, automatic action items, meeting notes, and other features.
13. Dualless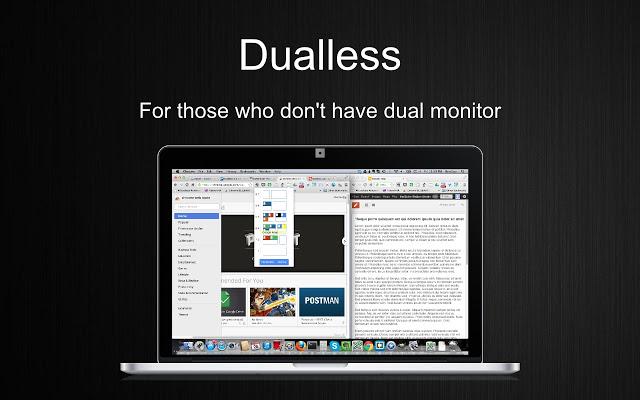 This extension is for those who want to use Google Meet on two displays, one on which they can continue with the video call and the other you can browse Google for more information on the topic, side by side.
As written in the extension information, Dualless is a poor man's dual-screen. You can split your browser into two-screen using just 2 clicks. The split view currently supports dimensions like 3:7,4:6,5:5,6:4, and 7:3.
14. Google Meet Party Button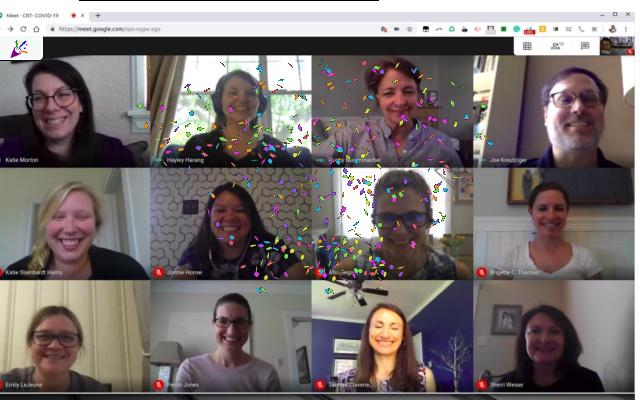 COVID-19 situation has really changed the way we work, attend classes, and also the way we party. With the Google Meet Party Button extension, you can add a party popper to your Google Meet video calls.
And it is a good way to add a celebration while everyone attends a party via Google Meet. However, all the participants are required to have this extension installed in order to view the party popper and this extension into action.
15. Google Meet Push To Talk
This could be a very nice extension when the admin is required to collect feedback from the participants, only when it is required.
Google Meet Push To Talk Demo
You simply need to press the Space key on the keyboard to speak up, while the mic will remain muted the rest of the time. This also negates the need to fumble around multiple buttons to mute or unmute themselves.
So, there you have it from my side in this post. Let us know in the comments below, which one of the extensions you found useful and which one was just not the one you needed. Until the next post…Cheers!
If you've any thoughts on 15 Best Chrome Extensions for Google Meet, then feel free to drop in below comment box. Also, please subscribe to our DigitBin YouTube channel for videos tutorials. Cheers!