Measuring Tapes are hard to find! It is such a trivial object that when we need it, we cannot find it. Most people do not even own a measuring tape/ tape measure! Well, if you are one of those people, then it's nothing to worry about. You can turn your phone into a measuring tape and get the job done.
There are thousands of measuring apps on the app store, but how does one decide which one to use? We have saved you the hassle and created a list of the ten best measuring apps for iPhone.
Free Apps to Measure Distance on iOS
Here are the Best Free Apps for iPhone and iPad to Measure Distance Using your iOS Mobile
1. AirMeasure – AR Tape and Ruler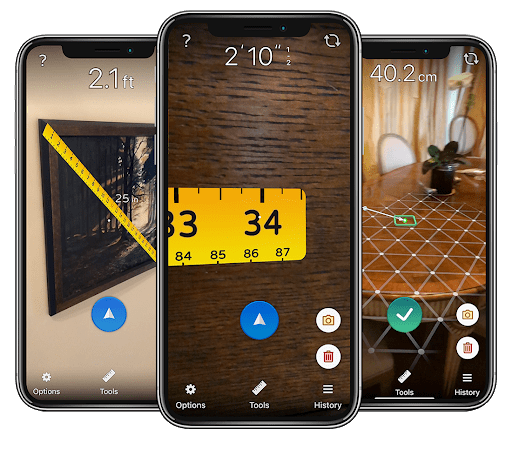 The first app is the AirMeasure – AR Tape and Ruler. The app is a toolkit of more than 15 measuring apps. From making a floor plan to measuring someone's height, the app makes it all possible! It uses advanced augmented reality (AR) technology that enables the user to measure almost anything like small objects, room dimensions, buildings, structures, etc.
It also features a virtual furniture catalog which is awesome! Other features include three measuring modes, 3D Cube feature, Sports field feature, Air Brush, Traditional Bubble level, Metal detection, and so much more. The app is not free, and the subscription starts at $0.99. It is available for both iPhone and iPad. This app is at the top because of its wide range of features.
2. RoomScan Pro – Floor Plan App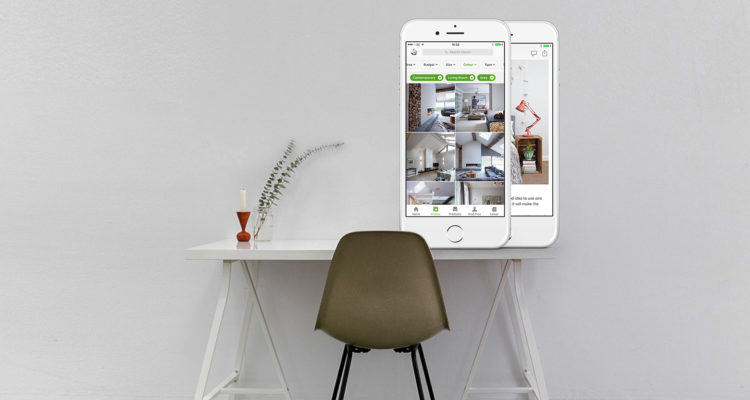 RoomScan Pro – Floor Plan App is the best app for measuring any room/place dimensions. It works in all conditions like low lighting, curved walls, and so on. The app has three different ways by which a user can measure things. Users can use the AR method, draw lines manually, and even scan external areas like yards and gardens.
Users can save, send and print the dimensions on the app. The app is free to use but to unlock all the features, you need to buy a subscription.
3. Ruler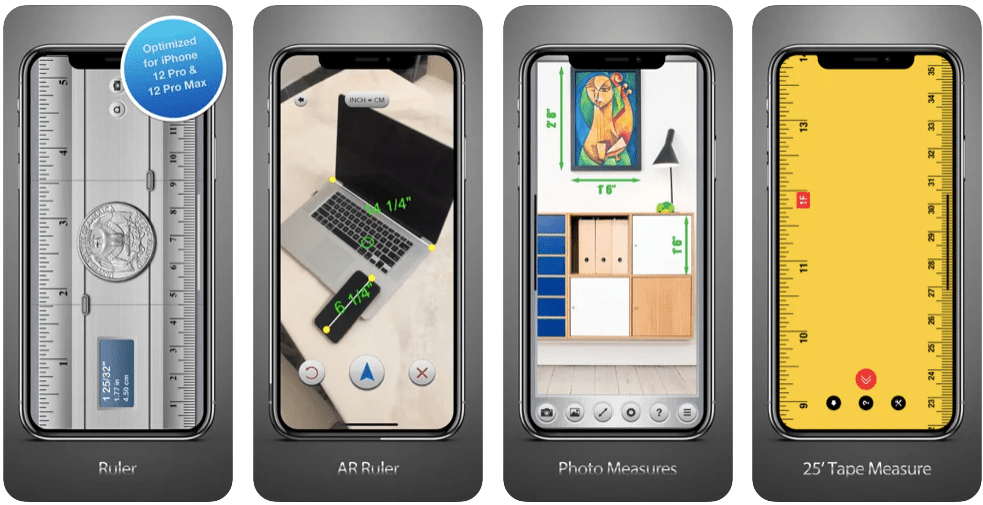 Ruler + Photo Ruler and AR Measure is one of the best measuring apps of iOS. The app has a fundamental design that keeps all the focus on the features of the app. It works like a measuring tape, photo measure, and a 25-inch tape measure. The app measures things in inches and centimeters and measures compact objects accurately. It even has two unique modes, the camera ruler mode and photo measure mode. The app is pretty easy to use and is free to use however the subscription starts at $1.99.
4. Tape Measure AR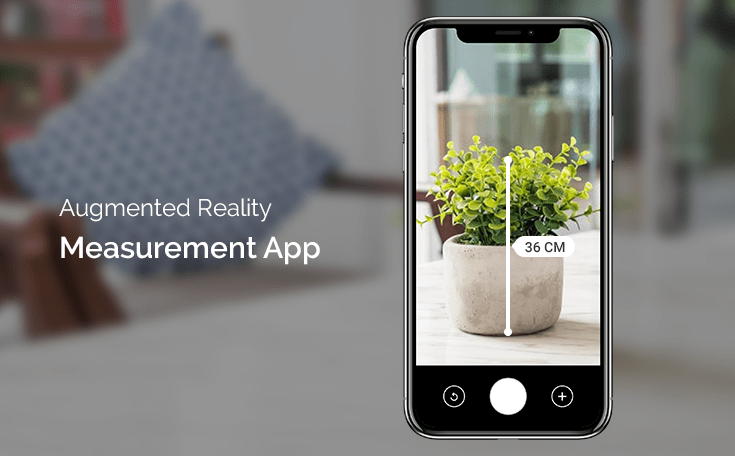 Tape Measure AR is the next app on the list. This app is perfect for architects, builders, interior designers, etc. The app uses AR to measure the dimensions of not just things but also rooms. Not only is the app versatile, but it is also quick. The app provides measurements with just two taps while displaying dimensions in various measurement units. The user data can be stored in the app too.
It is worth noting that the app only works with ARKit compatible devices. Unfortunately, the app is not free, and the subscription costs $3.99.
5. GPS Fields Measure App 
GPS Fields Measure App has the most number of features out of all the apps in this list. The app allows users to draw, measure length and perimeter, mark important regions, and measure the distance between objects. It displays measurements in several units of measurement. It also can be used both online and offline. Data can be shared with others easily or saved in the cloud. Although it is free to use, the premium subscription that has additional features starts at $14.99.
6. CamToPlan AR Tape Measure 
CamToPlan AR Tape Measure is yet another measuring app that uses AR. But it is way more than that! The app's features include measuring the distance, area, or length of any object, surface, etc. This app is suitable for both personal and professional use. It is easy to use, and the dimensions can be stored in PDF, PNG, or DXF form. It can measure the length of various things like small objects, walls, doors, swimming pool, etc.
It is only compatible with ARKit technology. It is free to use, but a premium subscription has to be purchased for unlocking all the features.
7. EasyMeasure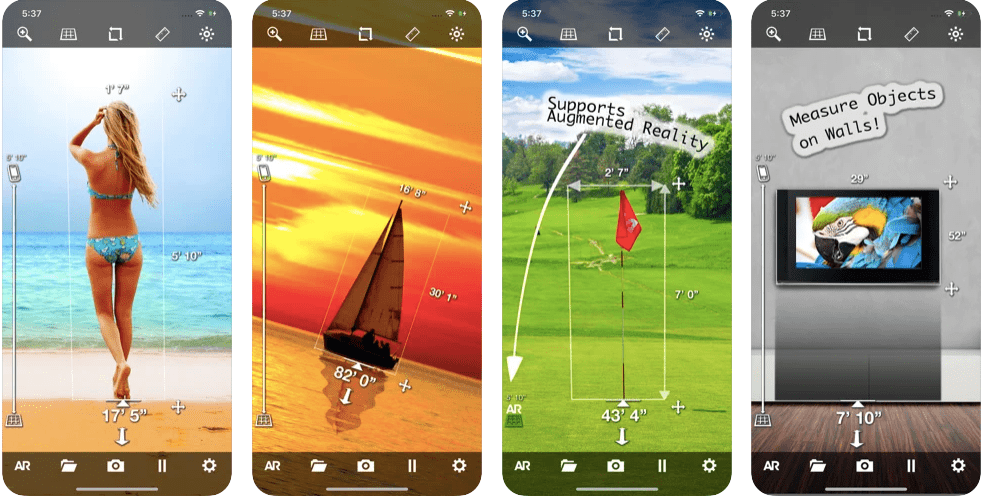 With its unique 3D Camera overlay, EasyMeasure – Camera Ruler is a fun measuring app. Users can measure someone's height, small/ big objects, buildings/structures, and objects mounted on the wall with the app. The results can be saved and shared with others and even on social media. It is free to use, but the premium subscription starts at $2.99. This simple app is more of a novelty app, but EasyMeasure can be used to measure things.
8. PLNAR App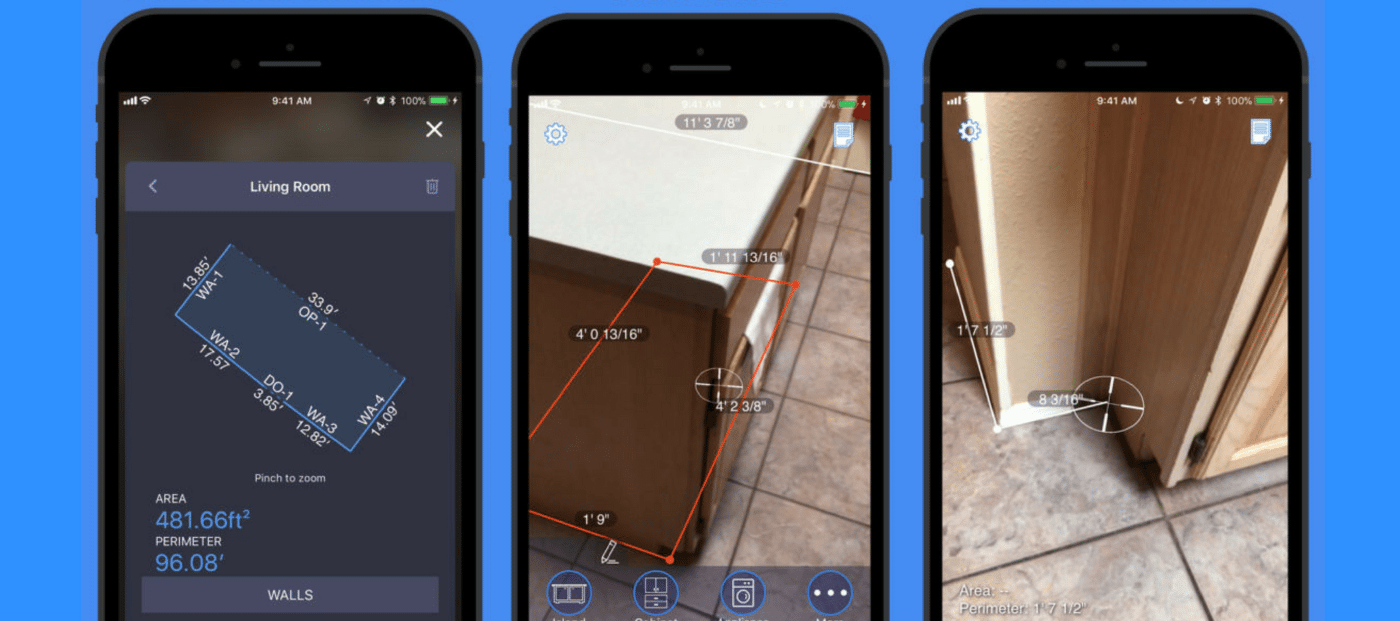 You won't believe an app such as PLNAR with so many features is completely free! This app created 2D and 3D Models of rooms using AR technology. Measuring the area, perimeter, dimensions of rooms, doors, windows, walls, and other structures is elementary on this app. It can even measure stairs and islands! A user can combine multiple rooms to create a single project, create a 3D CAD file and even save it on the cloud. This app is a little complicated, but it is perfect for both individual and commercial use.
9. Moasure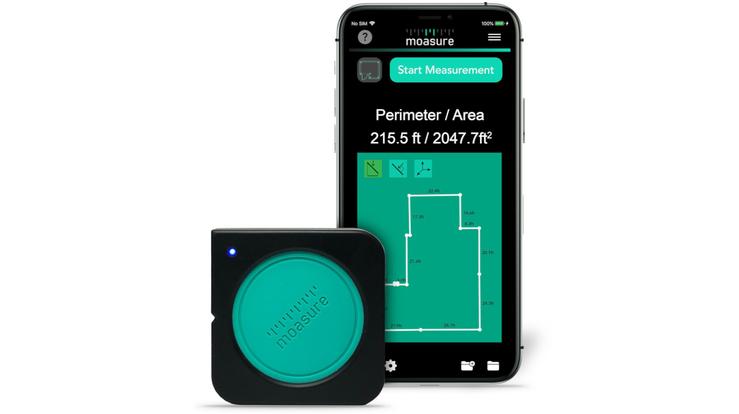 Moasure – Smart Tape Measure is a quick way to measure stuff. The app is a 300m/1000 ft tape measure, protractor, ruler, and goniometer. With different modes for easy use, the app can measure the length, height, width, and room dimensions. It is extremely accurate due to its multi-step approach, and the data can be saved and shared with others. The app is completely free to use. It is a bit big in size but other than that it is wonderful to use.
10. Measure (by Apple)



Of course, Apple's very own measuring app, Measure, has made it to the list! Measure by Apple is a measuring app that allows users to turn their iPhone or iPad into a measuring tape. The simple but useful app provides the dimensions of rectangular objects. Users can draw lines to measure the length of objects. They can also share the measurements with others. Although the app has limited features, it is free to download and use.
Special Mention – Apps like Tape Measure, Angle Meter 360, Measure 3D Pro AR Ruler are some good measuring apps for iPhone that did not make it to the list.
This brings us to the end of the list. All of these apps function pretty well and eliminate the need for an actual measuring tape. Try them out and let us know which one you liked the best.
If you've any thoughts on Top Best Measuring Apps for iPhone, then feel free to drop in below comment box. Also, please subscribe to our DigitBin YouTube channel for videos tutorials. Cheers!