There are a lot of reasons why one would want to take a break from their life. Bored with your daily life? Or burnt out from your office work? What's the best way to destress? Playing games! Well, we know that sounds ridiculous but don't knock it till you try it. Many studies have found that playing games actually helps people deal with stress and anxiety, it is a great coping mechanism for those who want to deal with stress in a different way. That being said, you do not need a swanky gaming computer or a PlayStation to play games. You can play simple games on your computer by just playing the games available on Google.
There are a lot of hidden elements of Google that not many people know and playing games on it is one of them. Games like Pacman and Snake which are classics can be found on Google. So whether you want to relax or you want to relive your childhood, these games will surely take you back to your memory lane. We have assembled a list of  12 games that you could choose from but beware, they can be addictive.
---
List of Games you Can Play on Google for Free
Atari breakout
Pacman
Snake
Flight Simulator
Zerg rush
Space Invader
Solitaire
Minesweeper
Text Adventure
Flappy Bird
Dinosaur Dash
Google Assistant games
---
Best Secret Games to Play on Google
Here are the Best Games you can play on Google Doodle and Google Search for Free
1. Atari Breakout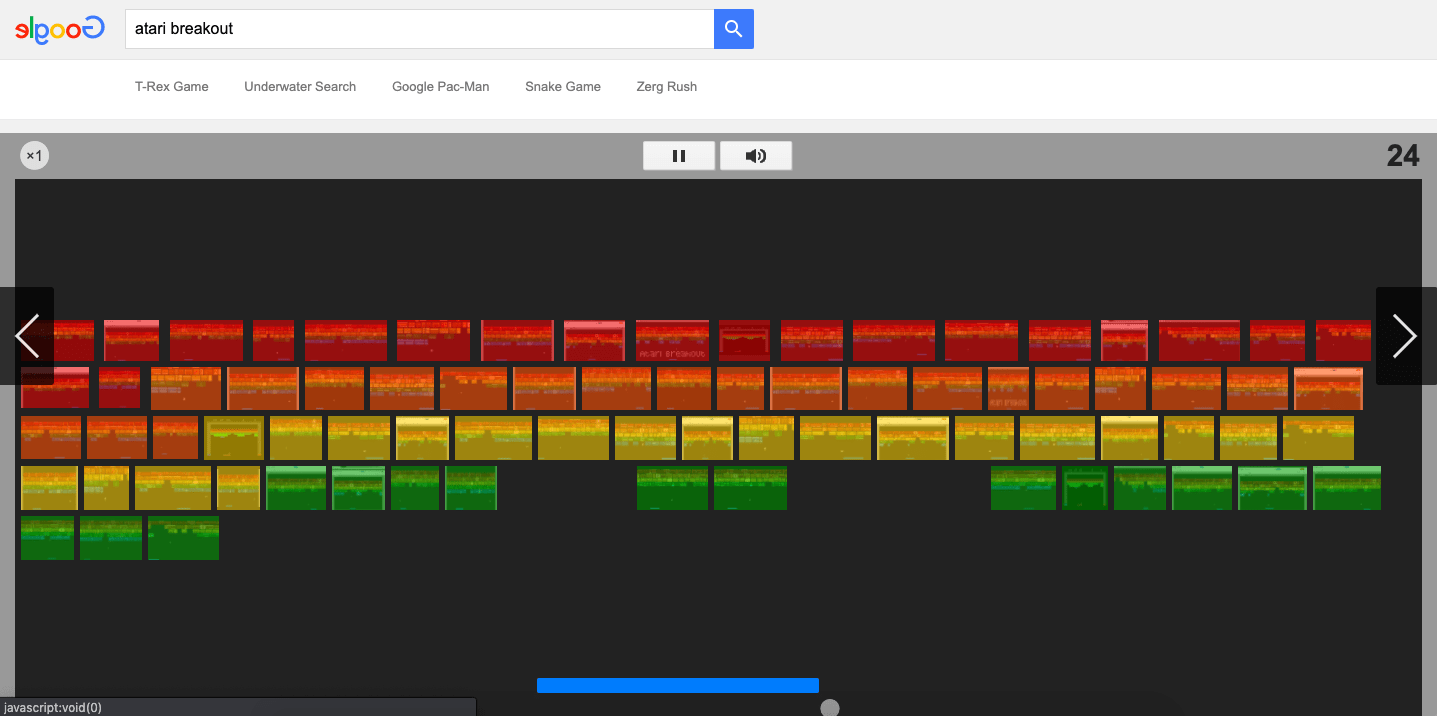 This game is widely recognized as one of the best-hidden features of Google. It has a special backstory too. It can be traced back to the year 1976 when it was designed by Steve Wozniak of Apple fame. This is inspired by the classic arcade game and is pretty simple to play.
It involves using a ball to hit the colored squares/bricks. All you have to do is type "Atari Breakout" in the image search section of Google and the game appears. It is a great way to pass time and have fun. No complicated elements just pure fun.
2. Pac Man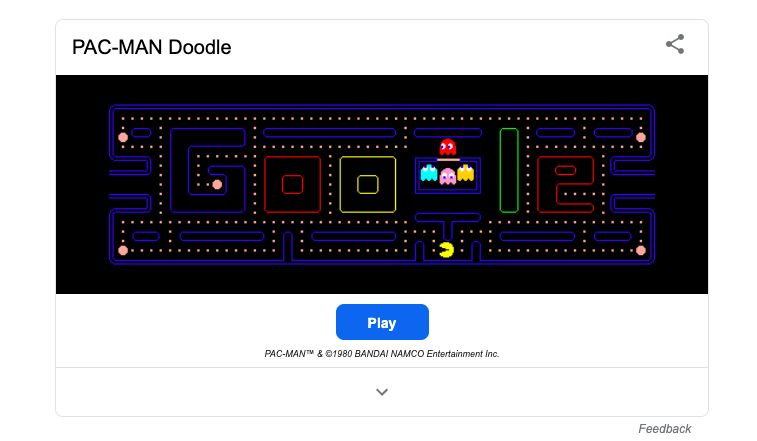 Pac-Man was the most notable game of the 1980s. This arcade game can be played on Google with just a search just like Atari Breakout. The search results show a doodle of PacMan which the player has to click on to start the game. The Japanese video game is the highest-grossing game of all time.
To be able to play it on Google makes all users happy as they can play it whenever they want. PacMan was originally launched to be played on PCs, consoles, but now that a simple version of it is available to be played on Google, it is very easy for fans of the game to enjoy it. For the lovers of the traditional games, this is a cult favorite.
Visit Google Search | Google Doodle
3. Snake Game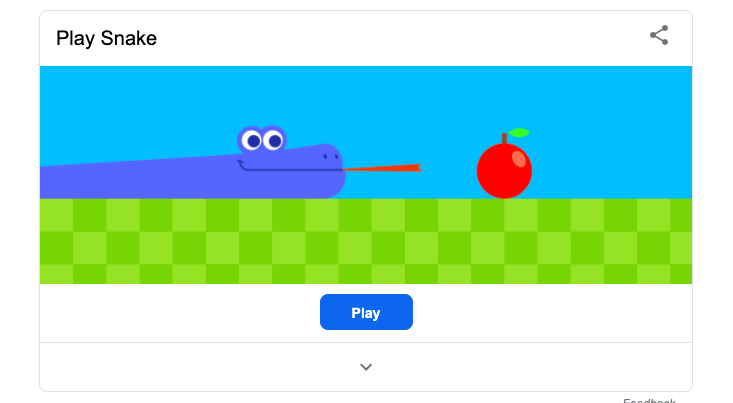 Everyone remembers Snake, in the early 2000s Snake was the PUBG of the Indian youth. It was one of the first few games that were made available on Nokia phones.
Being the only game it quickly became a favorite of everyone. On google, it can be played easily just by searching for it. No changes have been made to it and people playing the game get the original experience. It will definitely transport you back in time.
4. Flight Simulator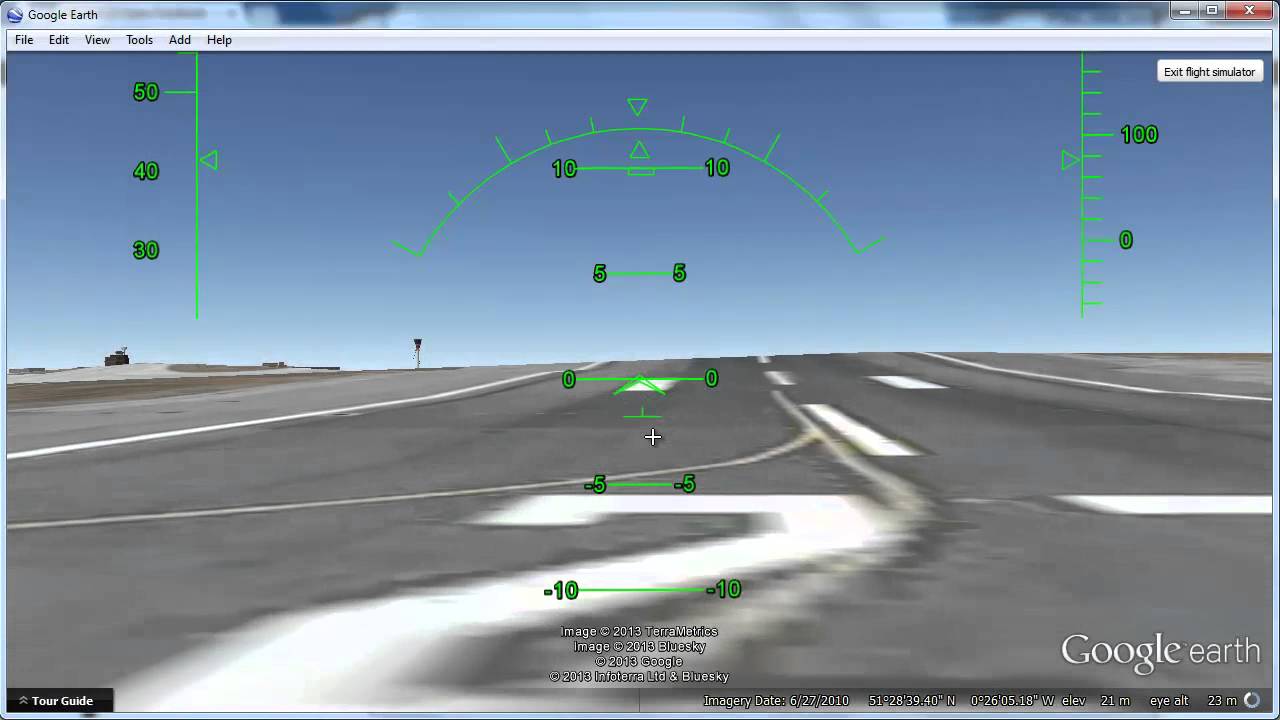 Always wanted to be a pilot but couldn't become one? No worries! Flight simulator by Google is the way do go. It lets players fly a plane virtually. Although it requires the use of a joystick/ keyboard for the complete experience. It uses the vast data of Google Earth to provide users with a phenomenal experience.
With this simulator, you can fly above any sea, mountain, or desert. Users get to choose the type of aircraft they want to fly, the airport they want to fly from, and much more. And the best part? They don't have to deal with turbulence too!
5. Zerg Rush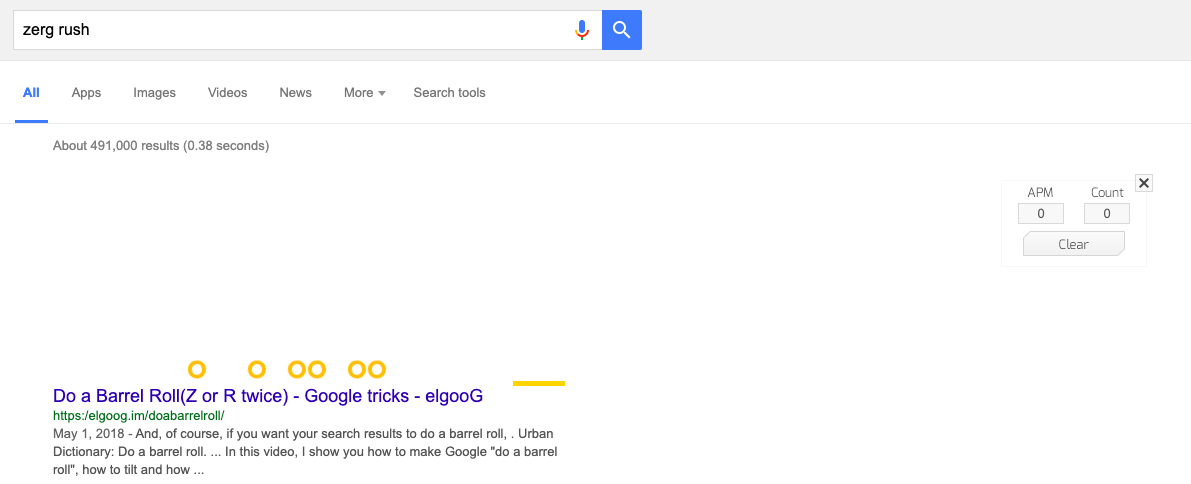 Zerg Rush obliterates your search results. With deadly zeros falling from the sky, it is your duty to save your search results. Google Zerg Rush and immediately zeros start demolishing the search results and you have to click on them rapidly to make them disappear.
It drew inspiration from the game Starcraft which was released in the late 90s. In the game, zergs are an alien species that attack in large numbers to overwhelm their opponent. So in zerg rush instead of aliens, zeros attack.
6. Space Invaders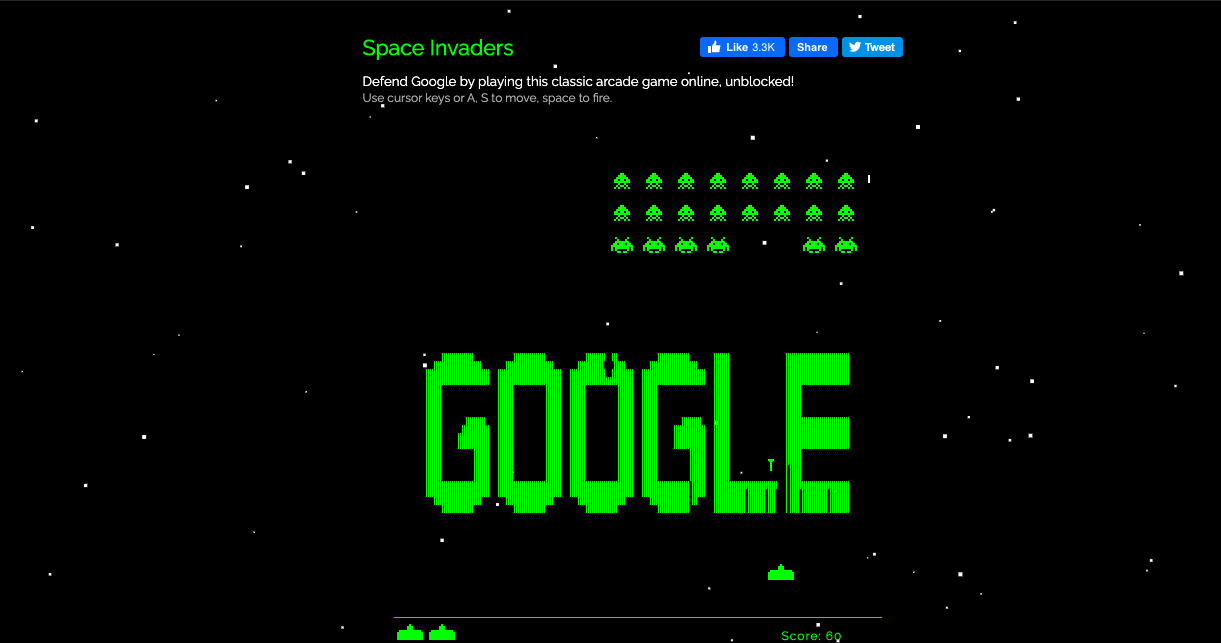 The famous classic game, Space Invaders comes to Google Doodle. Play the game with the help of keyboard control. Space Invaders – the classical game, now for Chrome. Shoot as many aliens as possible, shoot the mother spaceship to earn extra points, go up in levels as you finish each screen.  It was developed by Taito of Japan and licensed to Midway for U.S. release in 1978.
7. Solitaire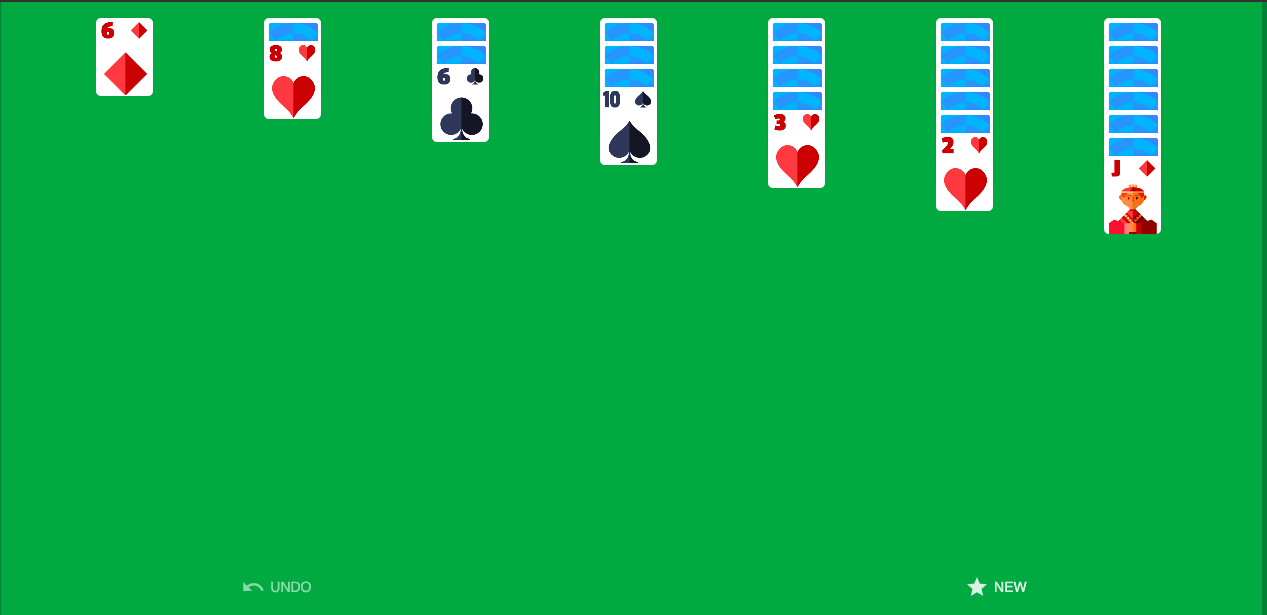 Solitaire, the card game can be played on Google too. Card games aren't as popular as they used to be. People prefer video games now, but those who have played it in real life or on their PC can vouch that it is a great game. It is not a multiplayer game. A quick google search of Solitaire and you have to click on the first result to play. This game helps players sharpen their minds. Playing against the computer keeps players on their toes. Not a conventional choice of a game to relax but to each their own!
8. Minesweeper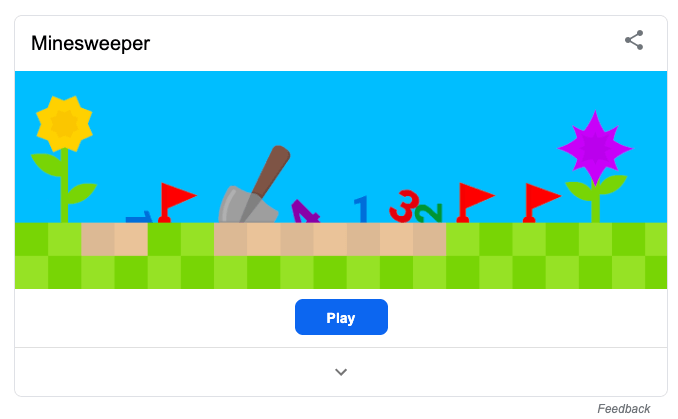 Our list would have been incomplete without Minesweeper. This game has people who both hate it and love it at the same time. These memorable games from our childhood can be played on Google too. Most people don't know this!  This is also one of the OGs of the gaming world.
The player has to complete their mission without setting off any mines of bombs. This game requires a few deductive skills. Obviously, this infuriating game is not easy by any chance but now you can play it with a single google search.
9. Text Adventure
This one is a little complicated, not for everyone but the geeks can try it with ease. First, you have to search for text adventure on google and then look for the source code where instructions are provided. It requires players to look for letters of the word Google. It is an unusual game but enjoyable for those who can follow the instructions. This is known to only a few people so if you want to try something unique then do try this.
10. Flappy Bird
Flappy Bird is Google's version of a side-scrolling game. The game involves players playing as a bird who has to fly between obstacles such as pipes. This game not available on other platforms can now be played on Google with a simple google search. The original flappy bird was ridden with controversies and criticisms and was taken down soon after it's release. It left a lot of people disappointed, so for those who miss the game, a Google search can solve their problem!
11. T-Rex Run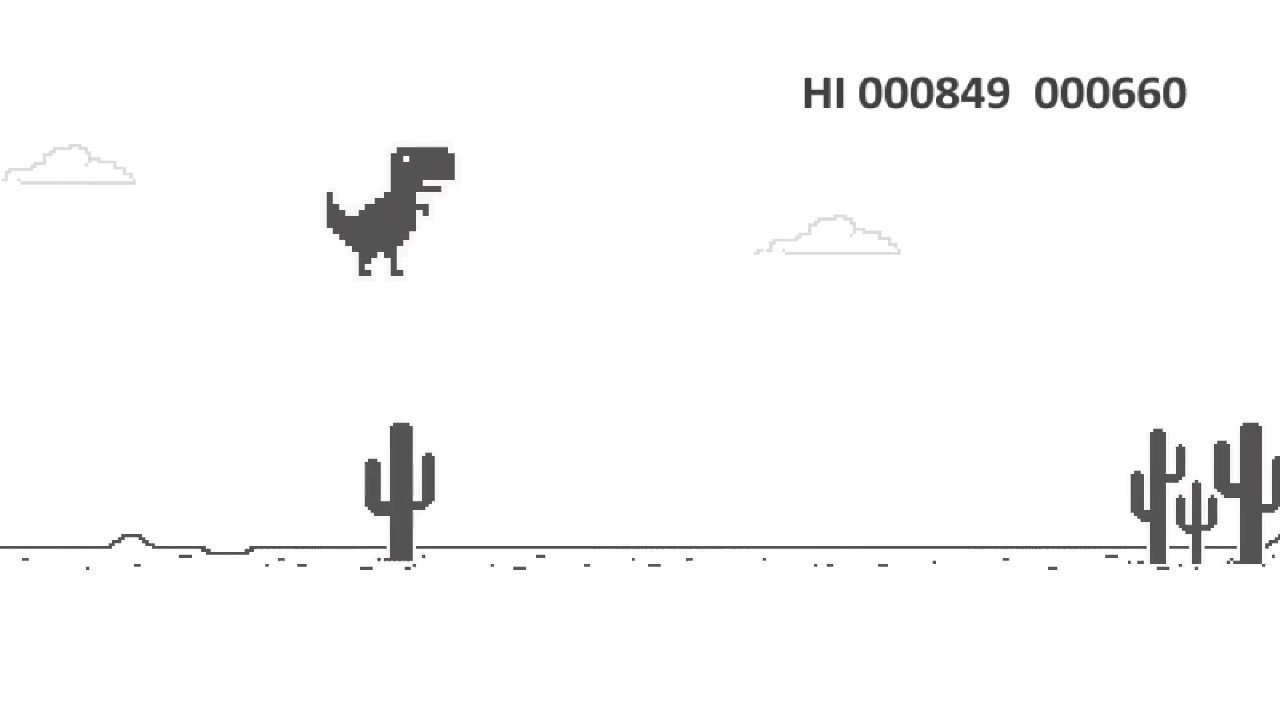 We are sure people of all ages know a thing or two about Dinosaur Dash. It reminds us of the hard times when our Internet connection is down. This game appears when you have no internet access and disappears once your internet access comes back.
It's a minimalistic game with a simple aim. The dinosaur or T-Rex jumps over obstacles and the player has to make sure that the dinosaur doesn't bump into anything. Just press the spacebar when you see the game appear on the screen to start the game.
12. Google Assistant Games
Google Assistant has a bunch of different games that users can choose from. The "Are you feeling lucky" is one such. This trivia game is highly entertaining. Also, there are countless others like Crystal Ball, Space Invader, Mad Libs, Ear play, Word Jumbler, etc. The users are spoiled for choice when asked to select a game from this huge collection.
Honorary mentions: Other games that did not make it to list include Garden Gnomes, Google Gravity,  Magic Cat Academy, Tic Tac Toe, Soccer 2012, and Cricket. Some of these were released on special occasions with Google doodles. All of them are great fun. Do give them a try if you are looking for more games to play on Google.
Conclusion: These are the games that can be played on Google with merely a Google search. Follow instructions to play them and have a gala time.
If you've any thoughts on Best Games on Google Search and Google Doodle, then feel free to drop in below comment box. Also, please subscribe to our DigitBin YouTube channel for videos tutorials. Cheers!