English is a global language that is used by more than 30% of the world population. Therefore if you come across any movies or tv series which are not in the languages you understand then English Subtitles are the best helper to communicate the content. In some cases, you could watch the said film or TV series in its original language and then take the clue from the subtitles.
Well, the advantages are many and so are the websites from which you get get your hands on these subtitles. If you are looking to get English subtitles for any movies and TV shows then I have listed some of the best subtitle download sites.
Best Sites to Download English Subtitles
Here are the Best Sites to Download English Subtitles in SRT Format and enjoy Movies and TV Series.
1. Open Subtitles

It is the biggest open-source platform for subtitles. To begin with, the website has been translated into many languages, so browsing through the subtitles shouldn't be much of a problem, irrespective of the place you belong to. Furthermore, the site comes with a pretty handy search tool that allows you to filter your content based on any particular season, episode, genre, or release date.
2. YIFY Subtitles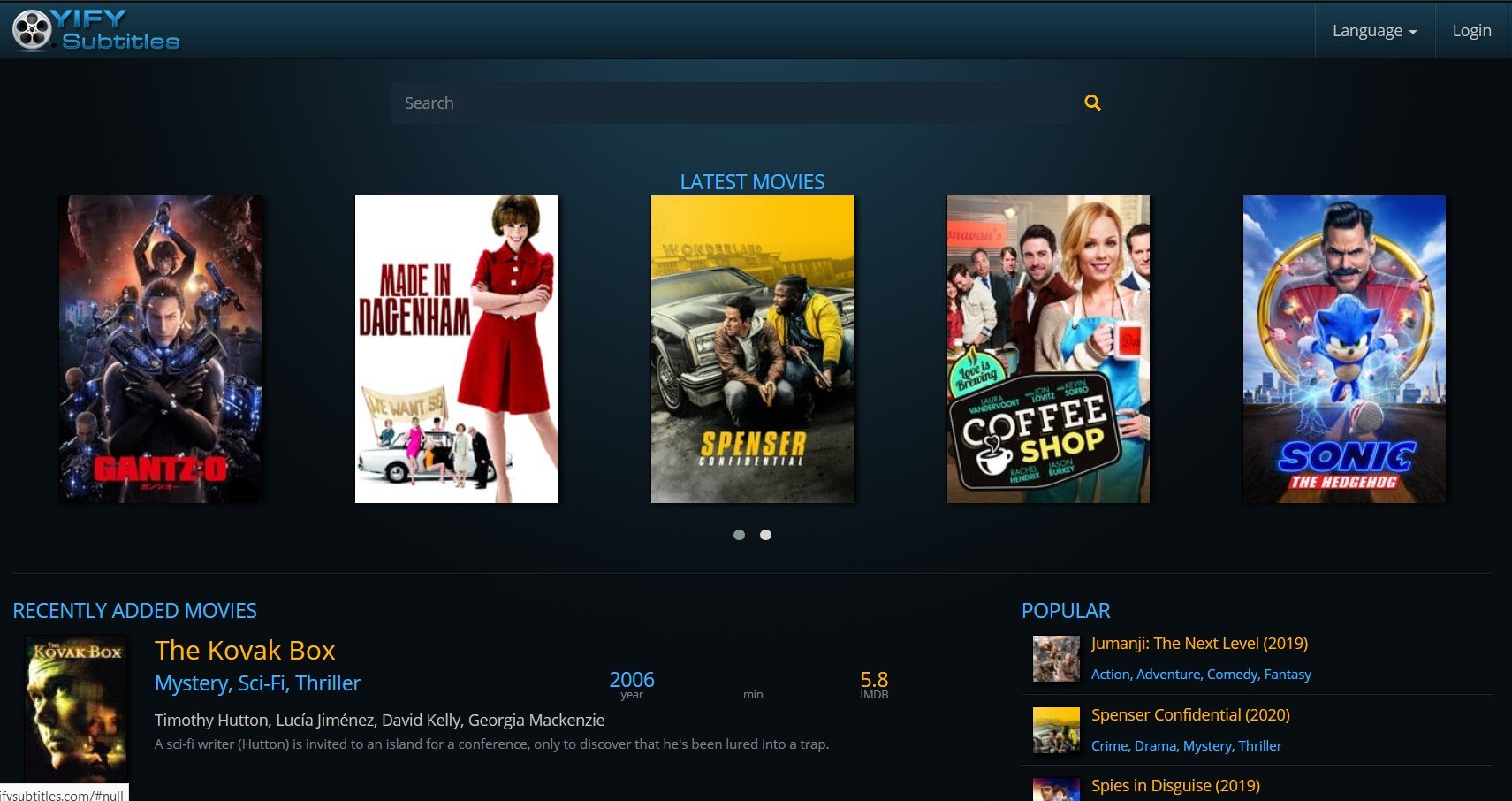 Among the most visited sites for downloading subtitles, YiFY has managed to carve out a name for itself in this domain as well. Rather than just providing the subtitles for the movies, you could also get a short synopsis about that movie, its launch date, the characters involved, and even the IMDB rating.
3. Podnapisi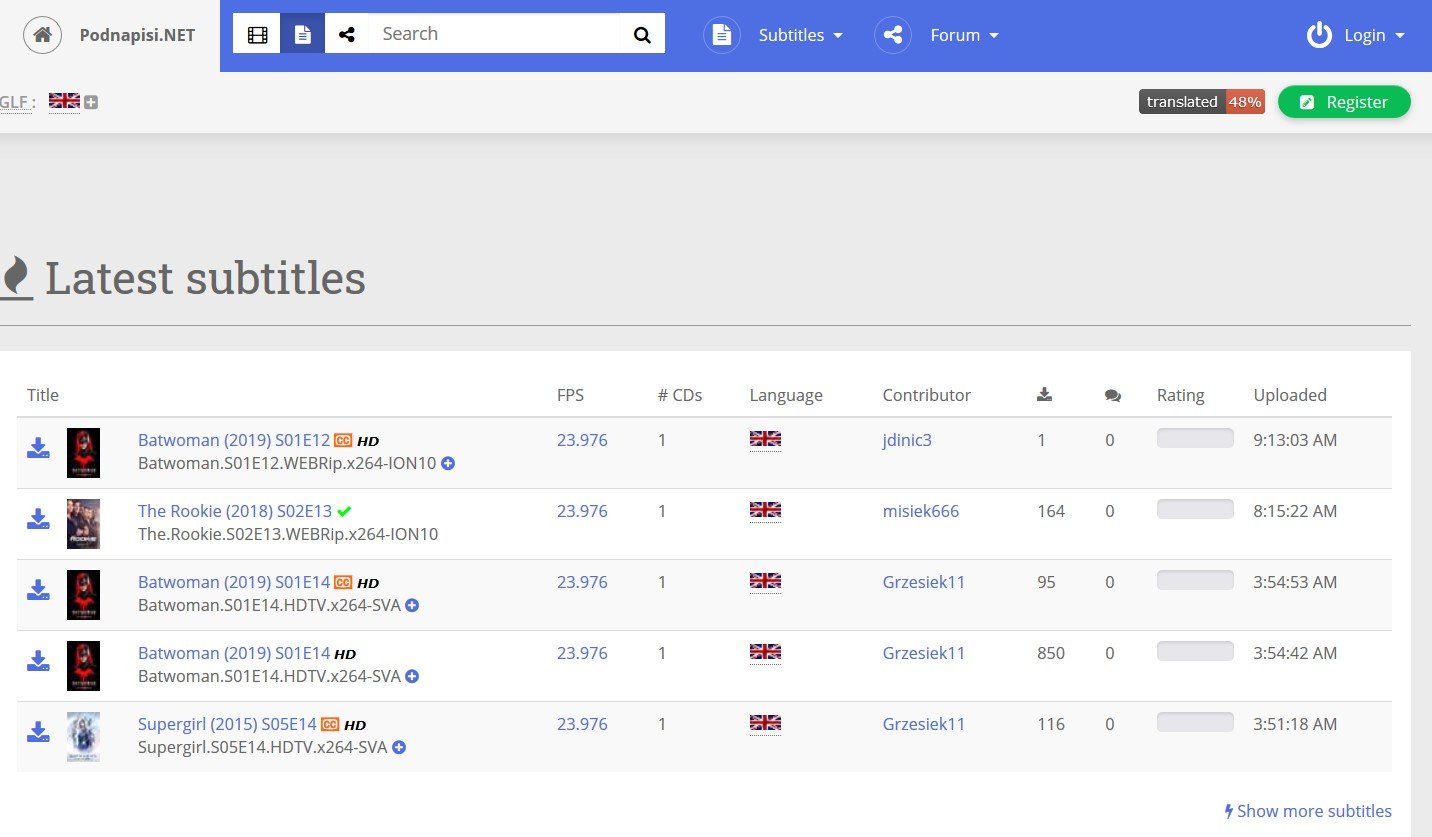 By default, only English subtitles will be shown. To add more languages, tap on the plus icon situated at the top left. They also have subtitles adapted especially for hearing-impaired viewers. All in all, Podnapisi comes with around 2 million subtitles. So you might definitely find your favorite one from this site.
4. English Subtitles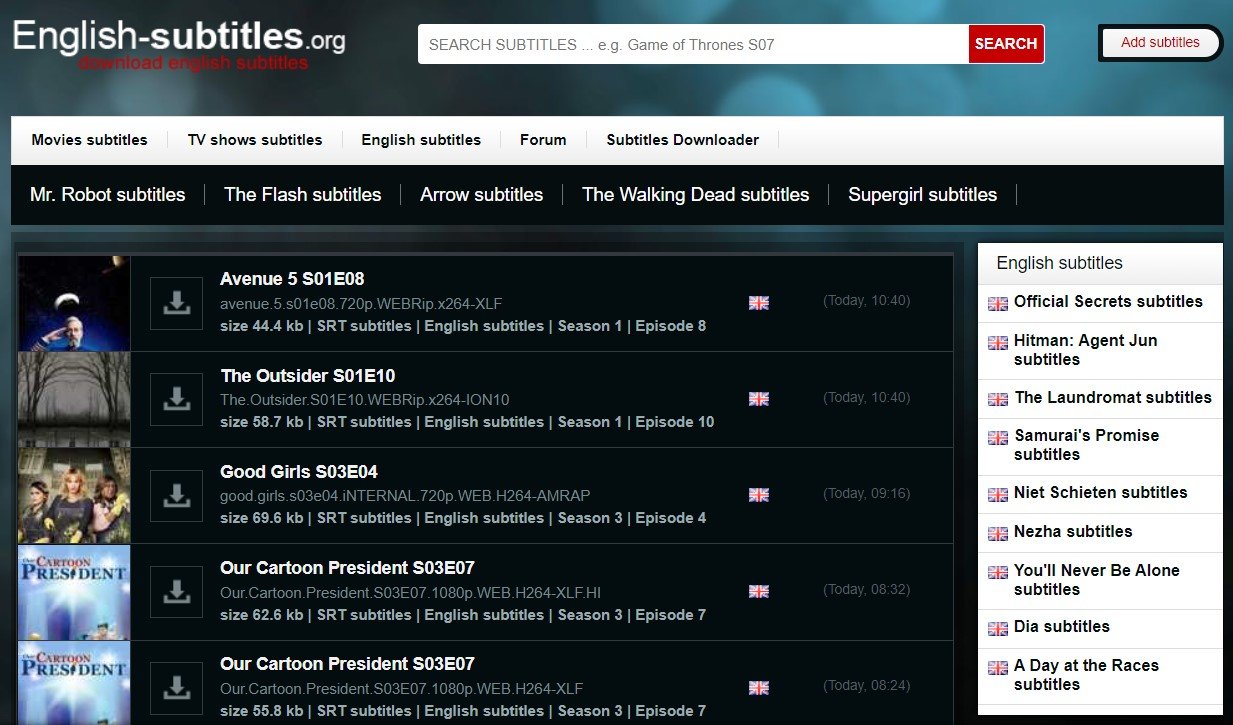 Here, on this site, you will be able to get subtitles for the popular and not so popular movies, Tv serials and episodes.  The site has pretty neatly arranged all these subs into different sections, so finding your desired one should be much of an issue. All the subs are free to download, without the need to log in.
5. iSubtitles
One of the few sites that have subtitles for many different types of languages. Not only the regularly spoken ones, but you could even find subs for languages that have a few takers. Along with the subs, you also get a gist of its associated movies and the IMDB rating.
6. TVSubtitles.net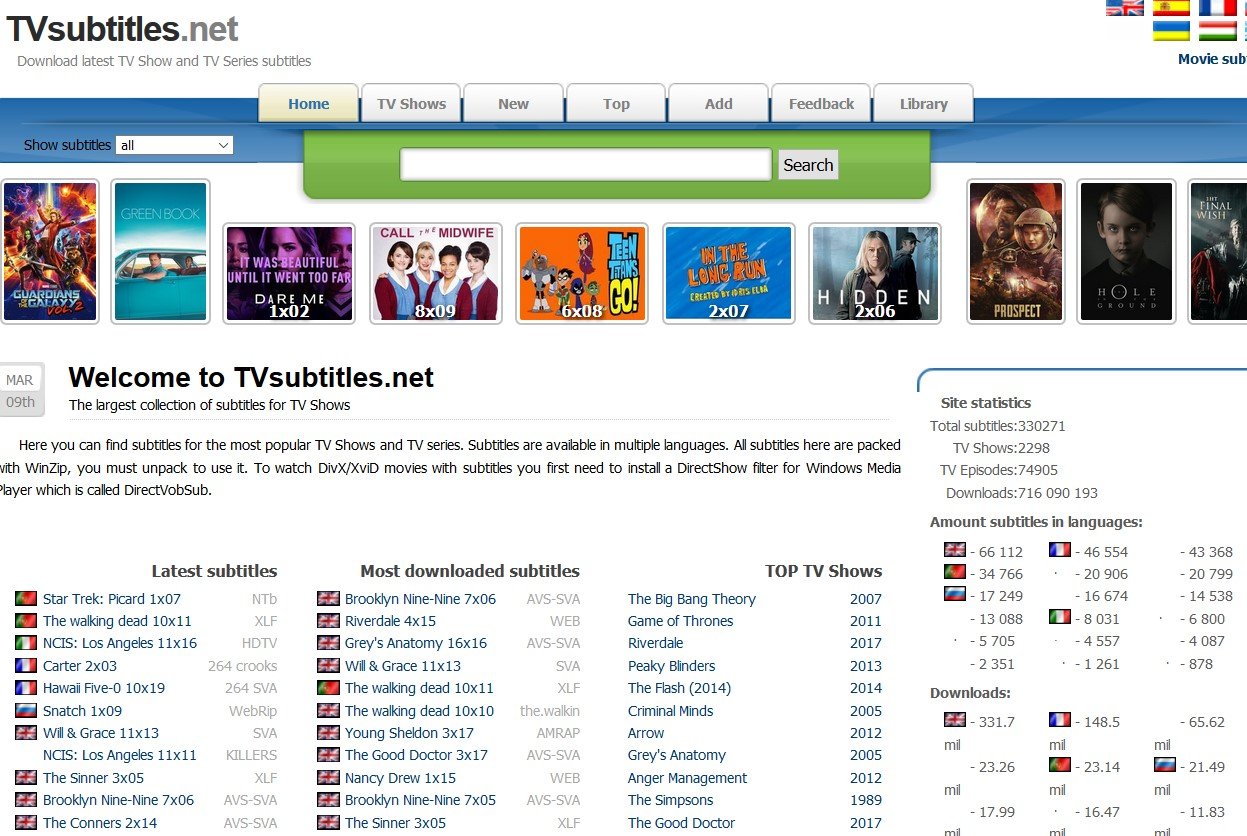 The site has subtitles in over 18+ common languages including German, Spanish, English, and others. TVSubtities further has segregated the website into different sections. For example, there is one section for the most downloaded subtitles to date, one for the newly released, another one for the top TV shows like Big Bang Theory, Game of Thrones, etc.
7. Addic7ed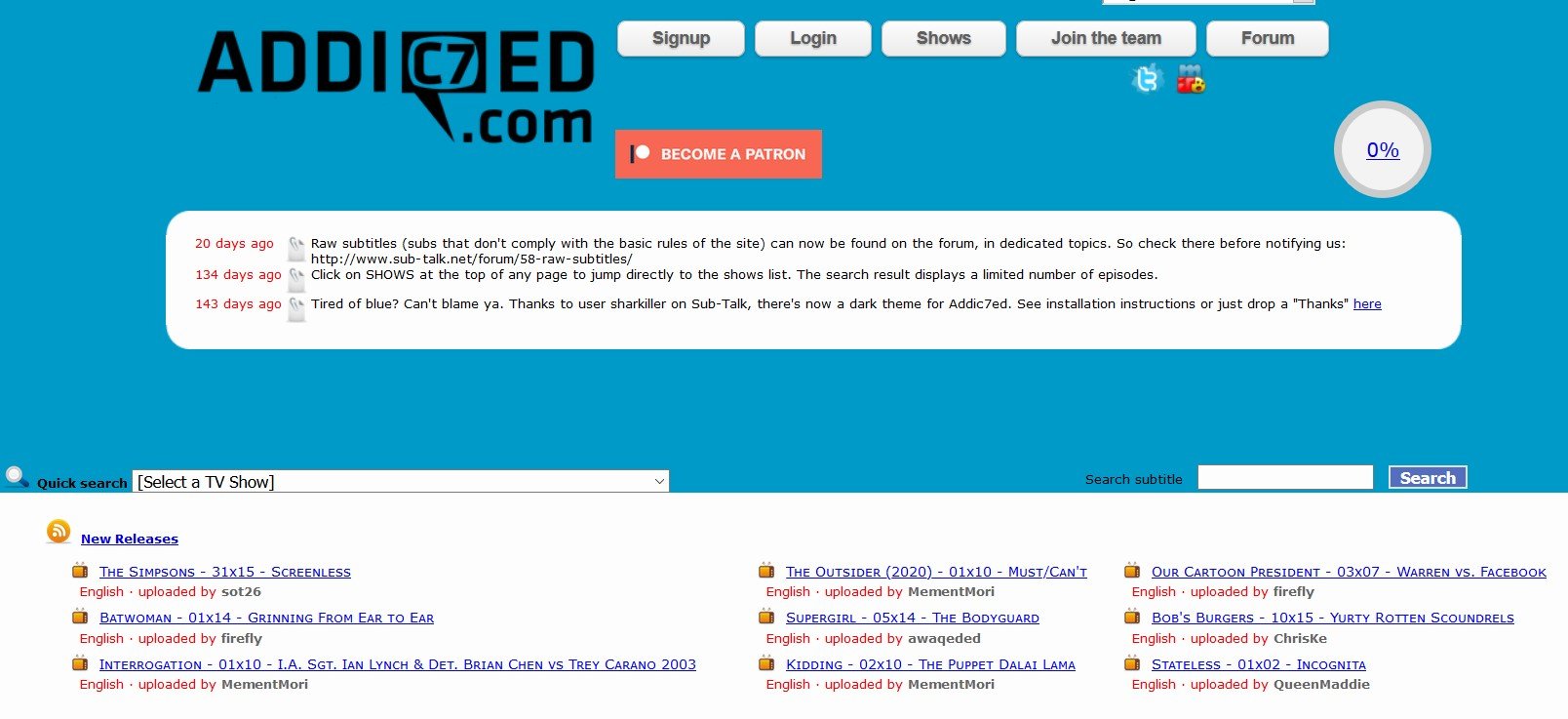 Don't let the name confuse you, it actually does its job pretty good. It hosts a plentitude of subtitles across a varied domain. You could even find subtitles in languages such as Telugu and Tamil and man other regional languages. Although the same is only limited to some famous movies and TV shows, still a useful addition nevertheless.
There is also a separate section for the most downloaded subtitles and even the recently started and finished translated subtitles. The site also allows you to drop in your views on any subtitles, but for that, you will have to create an account. However, for downloading subtitles no such account creation is needed.
Conclusion: Get English Subtitles for Bollywood, Hollywood, and other Foreign Language Movies and TV Shows for Free with this Best Subtitle download sites.
If you've any thoughts on Best English Subtitle Download Sites, then feel free to drop in below comment box. Also, please subscribe to our DigitBin YouTube channel for videos tutorials. Cheers!