With over a $2 trillion market cap, the crypto market has already taken over the world. In this extremely volatile market, things can change dramatically in a matter of seconds. The reason is that, unlike the share market, the crypto market is open 24 x 7, i.e., prices of coins can change overnight or even on weekends or holidays.
If you are new to this decentralized world, you might find it quite difficult to keep track of the prices going up in the market. Cryptocurrency tracking websites assist you in closely monitoring your portfolio and in determining how much profit or loss you are making. These tracking sites become more useful when you are storing your coins in a hardware wallet to protect them from any unauthorized access.
So, if you are looking for the best sites for tracking crypto coins, then this is the place where you need to be. In this post, we will be sharing the best platform that will keep you updated with the price of every cryptocurrency. Here's the list of the best sites for tracking crypto coins.
1. CoinMarketCap

CoinMarketCap is the best platform for staying up to date on the price of all cryptocurrencies. From the current value of a coin to its market cap, fully diluted market cap, volume, and circulating supply, you can check it all on CoinMarketCap. It comes integrated with TradingView as well, so if you are more into charts, you are going to fall in love with this platform.
On the basis of their type, CoinMarketCap has different categories for different kinds of cryptocurrencies. To be specific, there are 7 categories, namely, DeFi, NFT, Metaverse, Polkadot, BSC, Solana, and Avalanche.
CoinMarketCap has an exchange and a calendar section as well. The exchange section helps in tracking which crypto exchange is the best in the market. On the other hand, the calendar section notifies you when an event involving your favorite coin occurs. But above all, the selling point of the coin market cap is its currency converter. Using it, you can track the price of your favorite coin in your native currency.
Visit: CoinMarketCap
2. CoinGecko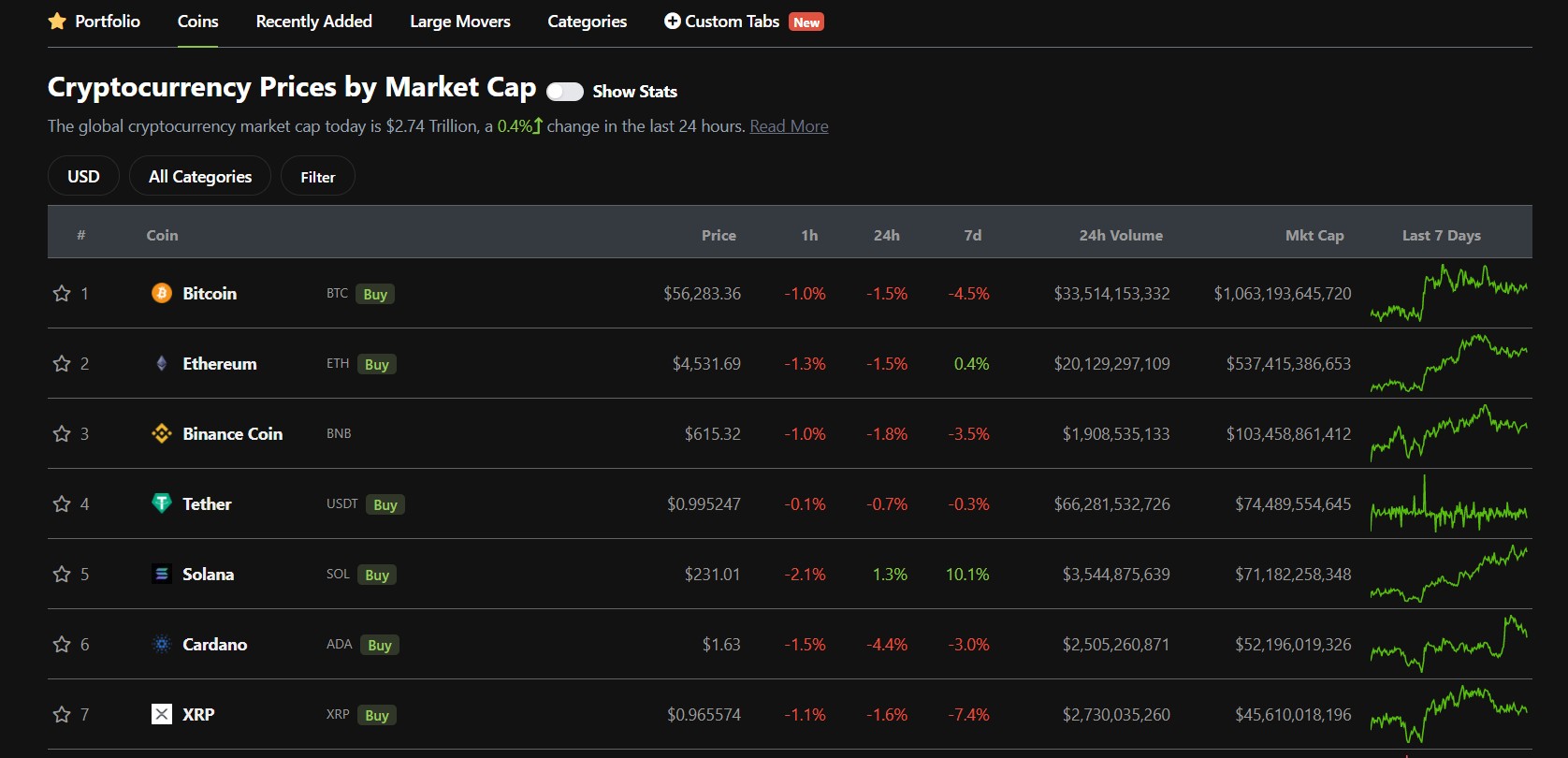 CoinGecko is a reliable platform to check the prices of hundreds of different coins. It, too, has the TradingView integration, as does CoinMarketCap. Thus, you can easily predict when the price of a particular coin is going to go up or down. Along with the price, CoinGecko also lets you know the market status of all of the coins. From market cap to market cap dominance, trading volume, volume/market cap, ATH/ATL, and market cap rank, you can find it all on CoinGecko.
CoinGecko has a partnership with Crypto.com and Bybit. Therefore, you can trade some specific coins from either of these exchanges directly from CoinGecko. Currently, there are more than 11K coins, and 529 exchanges listed on the platform.
CoinGecko has divided the listed coins into different sections; NFT, Metaverse, and DeFi. So, you can jump directly to these sections if you are looking for anything specific. The platform also has a portfolio section. It will help you keep track of your trading portfolio.
Visit: CoinGecko
3. CoinBase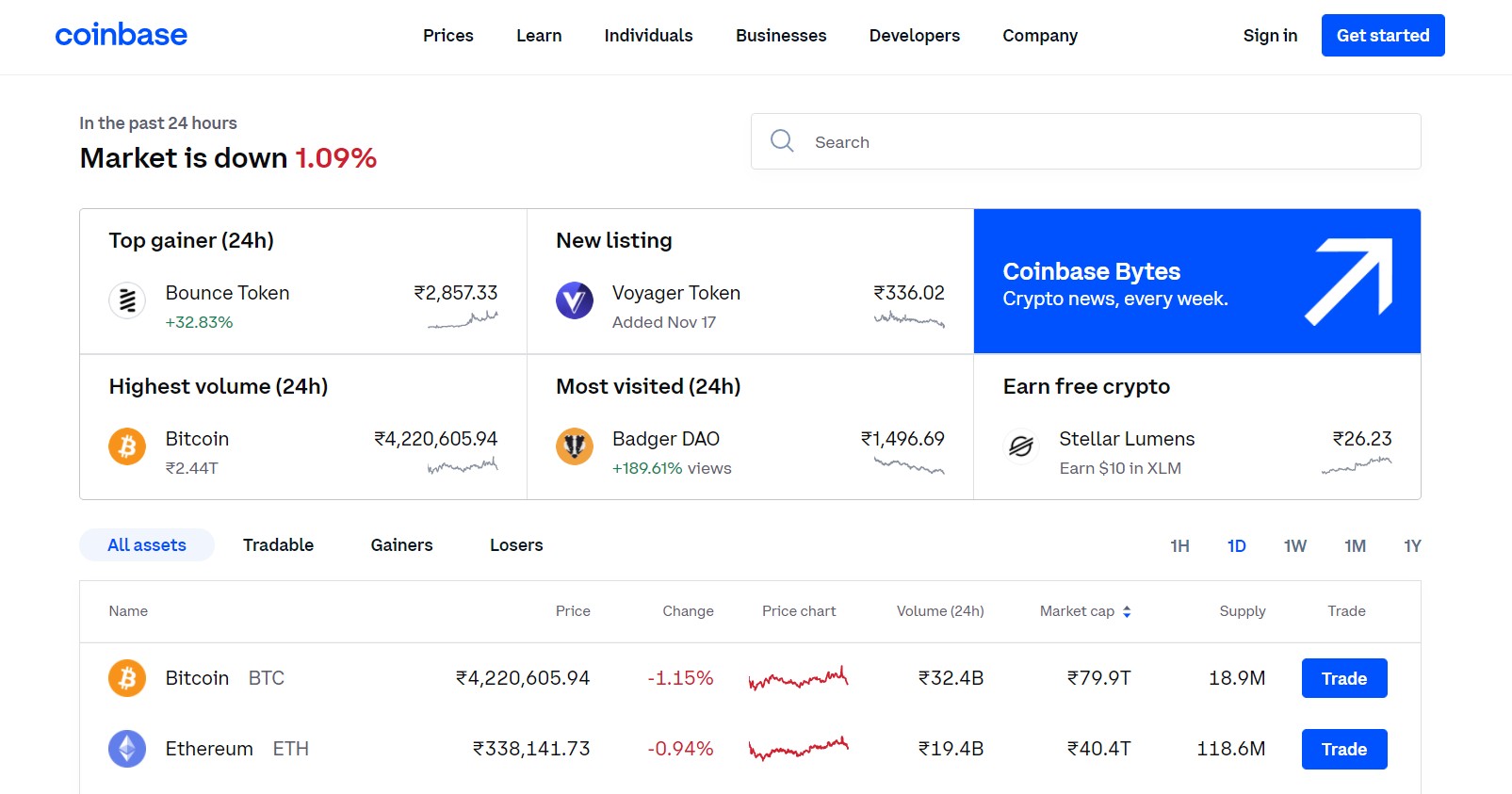 CoinBase is not only the best platform to track the price of your crypto coins, but also for trading them. There are more than 8K cryptocurrencies listed on this platform. However, very few are tradable. With CoinBase, you can keep track of pricing, volume, market cap, and supply. It has a "Gainers" and "Losers" section as well, from where you can track the top gainers and losers. However, it will only show the coins that are tradeable on CoinBase.
CoinBase does show the graph of different coins, but unlike other platforms, it doesn't come integrated with TradingView. As a chart expects, you might find this a bit concerning.
CoinBase has an "About" section too. It shows every piece of information related to a coin, from white paper tools to official websites, you can find it all in the about section. Furthermore, it has a story section that shows what the news is about that particular coin in the market.
Visit: CoinBase
4. DeFi Llama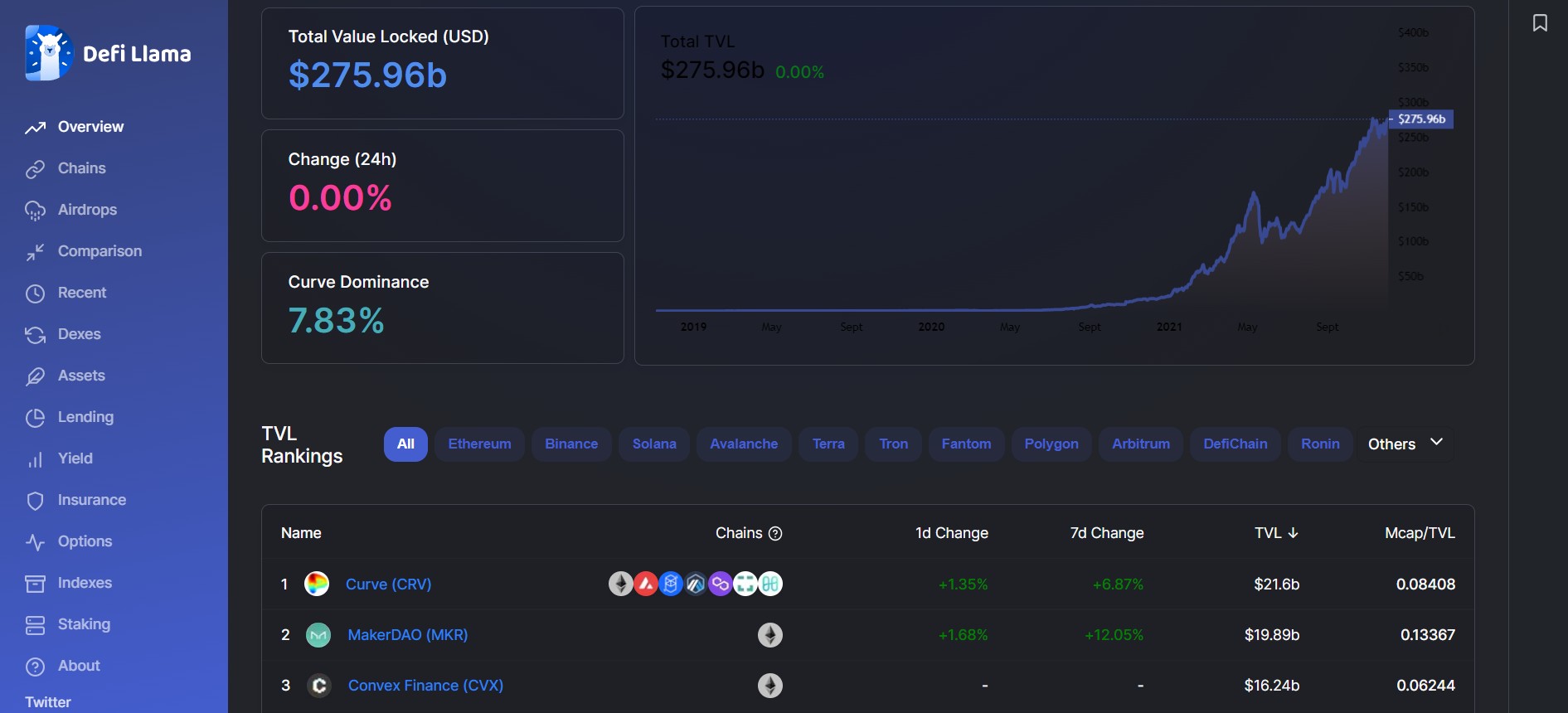 If you are more into DeFi than being a Bitcoin maximalist, then DeFi Llama will be the best site for tracking crypto coins. It is the best website to keep track of all the layer 1 coins like Ethereum, Solana, Binance, Avalanche, Polygon, and much more.
DeFi Llama also lets you know the chains on which your crypto coin is built. For instance, the Loopring (LRC) is built on the Ethereum blockchain. The site has an "Airdrops" section as well. It contains all the tokenless protocols that may airdrop.
DeFi Llama Chains section helps you take a look at different protocols built on your cryptocurrency. It also shows the price change that happened on your coin within one to seven days.
Visit: DeFi Llama
5. Nomics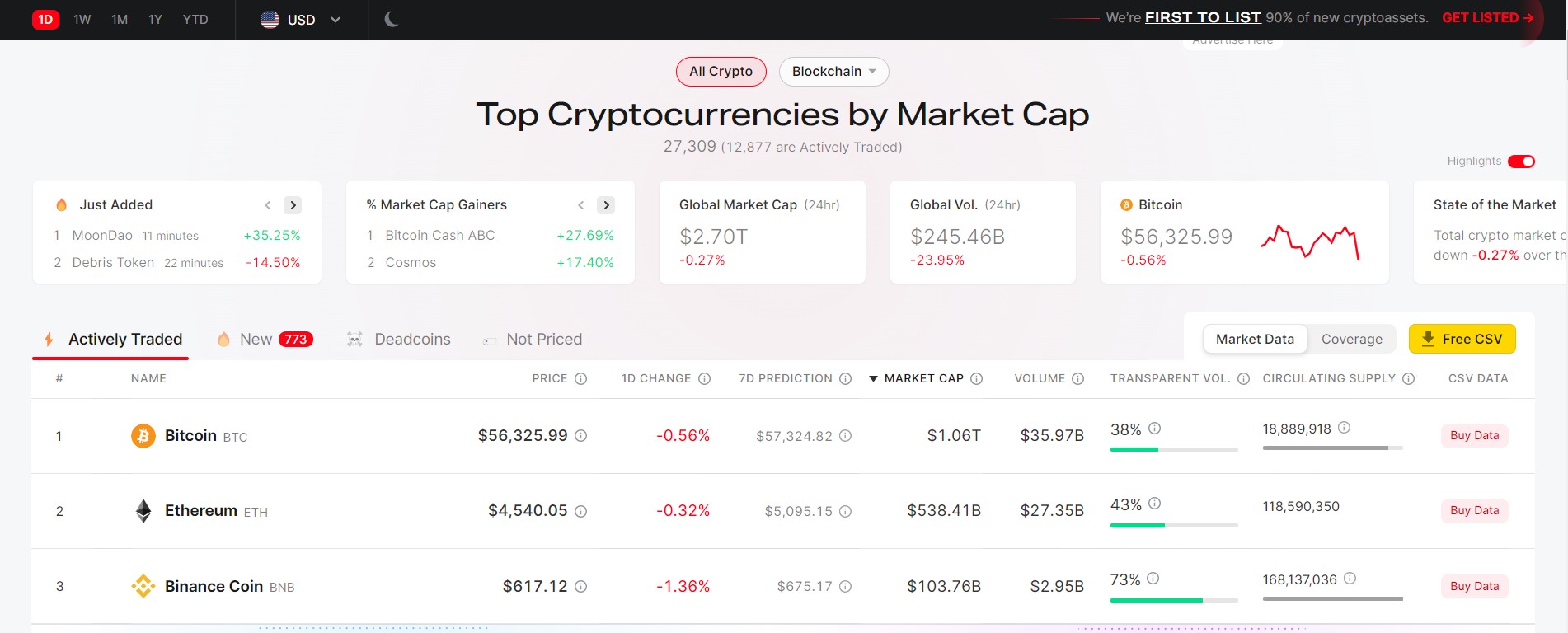 Nomics is an excellent platform to keep track of all cryptocurrency statistics. In fact, they are the first to list 90% of new crypto assets. You can even fill out the request form if you want your coin to be listed on the platform.
Nomics has an exclusive 7-day price prediction feature. This feature contains a 7-day price prediction for each cryptocurrency listed. In layman's terms, it shows the trading price of each asset after 7 days. So, if you want to know whether your trend is going up or down, you can take a look at this platform prediction. But note that, the show prices are based on the machine learning process; thus, the chances are very high that the estimation might go wrong.
Along with all these, Nomics also shows price change, market cap, volume, transferred volume, and circulating supply of each asset. The currency converter feature of this platform will help you view the price of an asset in your native currency.
Visit: Nomics
6. CoinDesk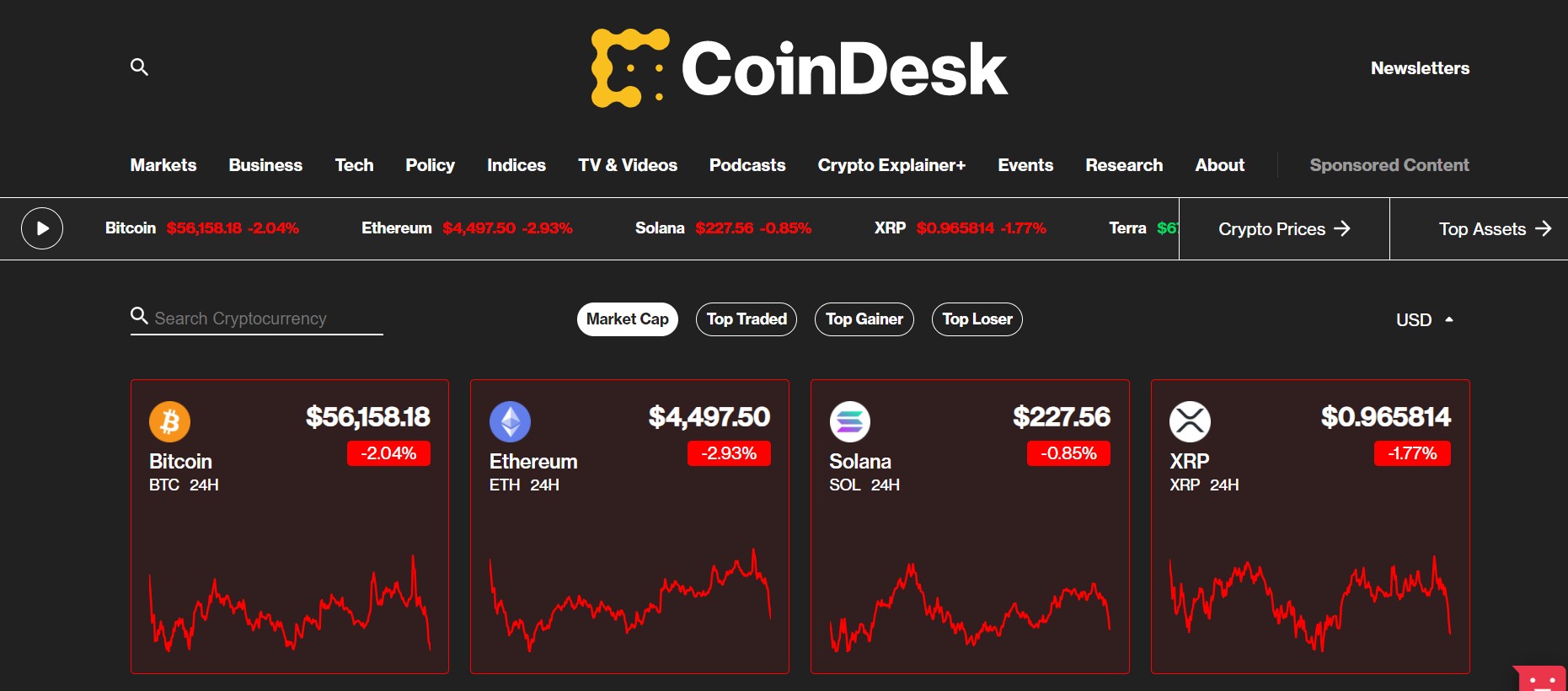 CoinDesk is one such platform you can rely on to remain updated on what's going on with your coins. It is more of a news website, where you will get all the latest news related to different crypto assets.
On CoinDesk, you will find almost all the coins present in the crypto industry. From current value, 24 hours low/high, total supply, 24-hour value transacted, 24-hour transaction count, maximum supply, 30-day volatility, to 24-hour average transaction fee, you can find it on this website.
CoinDesk comes with a charting feature as well that you will probably like if you are more into technicals. Furthermore, the charts are also available in two forms, linear and log. Lastly, its trending section lets you know which coin is being watched by big whales.
Visit: CoinDesk
7. Pionex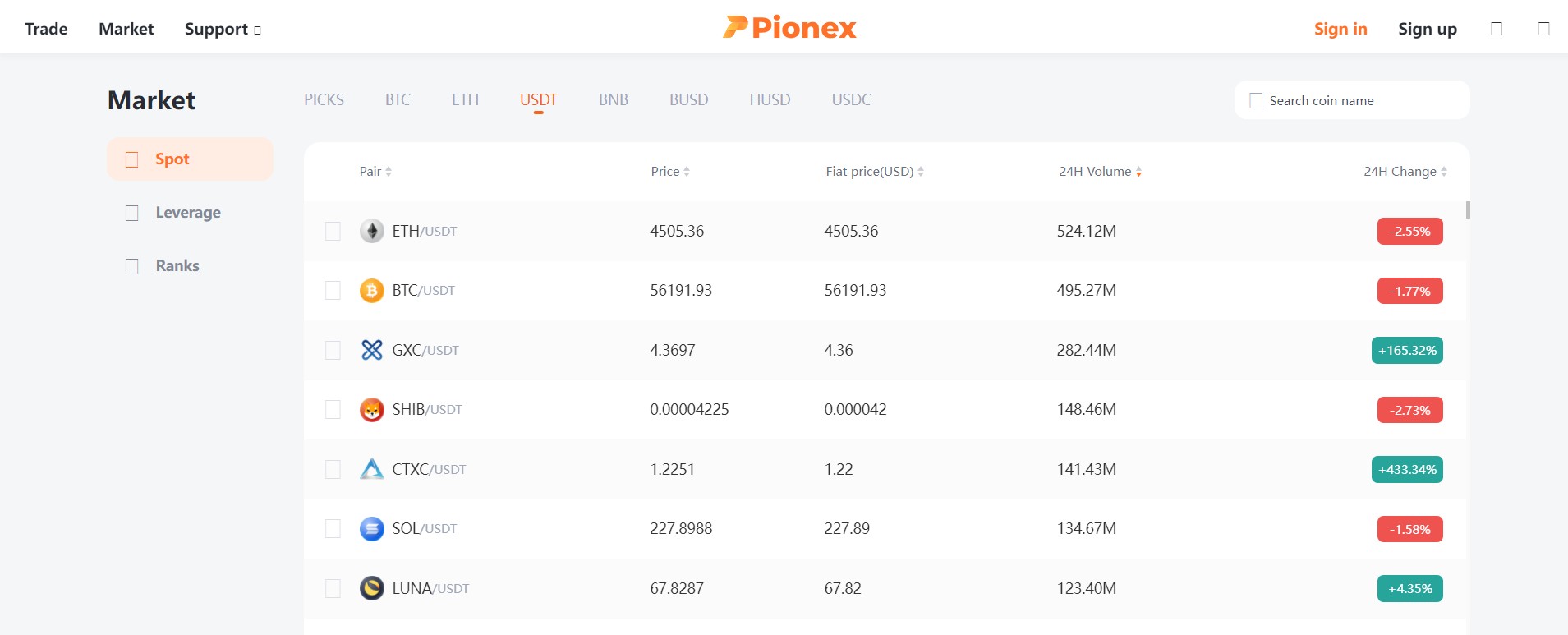 Pionex is another popular name on our list of best sites for tracking crypto coins. It contains different pairs in which you can track your crypto coins. To be specific, you can track your coins in the pairs of BTC, ETH, USDT, BNB, BUSD, HUSD, and USDC.
Although the availability of coins present on this platform is comparatively less than the other names, it still contains all the popular assets that most people like to trade. Furthermore, you will have to create an account in order to use most of the services of this platform.
Pionex also shows charts by TradingView. So, if you're more into technical things, you might find this feature interesting. Not to mention the currency settings in which you can check the price of a crypto asset in your native currency.
Visit: Pionex
8. CoinStats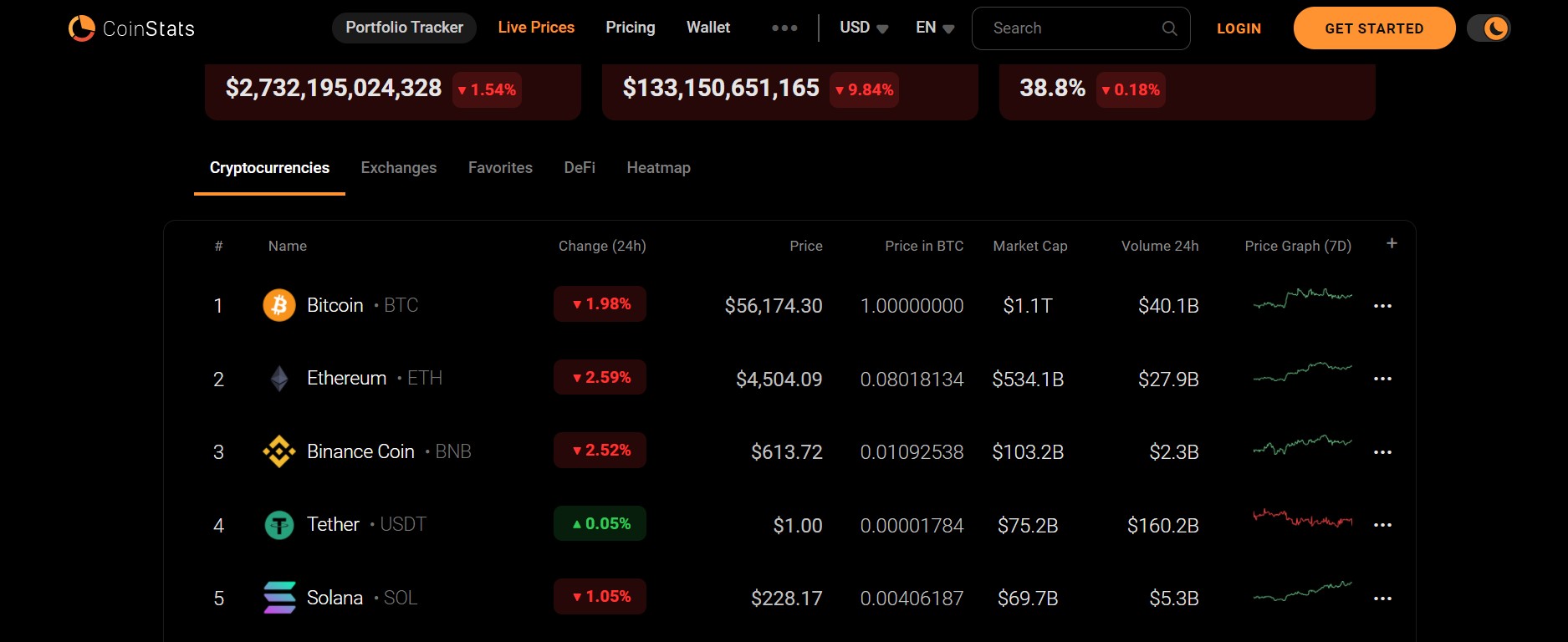 CoinStats is an incredible platform to check your favorite coin's current price and changes. You can even compare the performance of your coin with that of Ethereum and Bitcoin. CoinStats lets you check your favorite coin's market cap, circulating supply, and current market.
Not only pricing and other technical details, but the website also shows all the fundamentals of each coin. From the developer names and official website to the uses of the coin, you can see it all on CoinStats.
CoinStats has a pro account as well that comes with some exclusive features like daily trading and dominance. You can get your hands on the pro account by spending $3.49/month. However, a free account will be enough if you are just visiting this website to check the price of your favorite coins.
Visit: CoinStats
9. Coinranking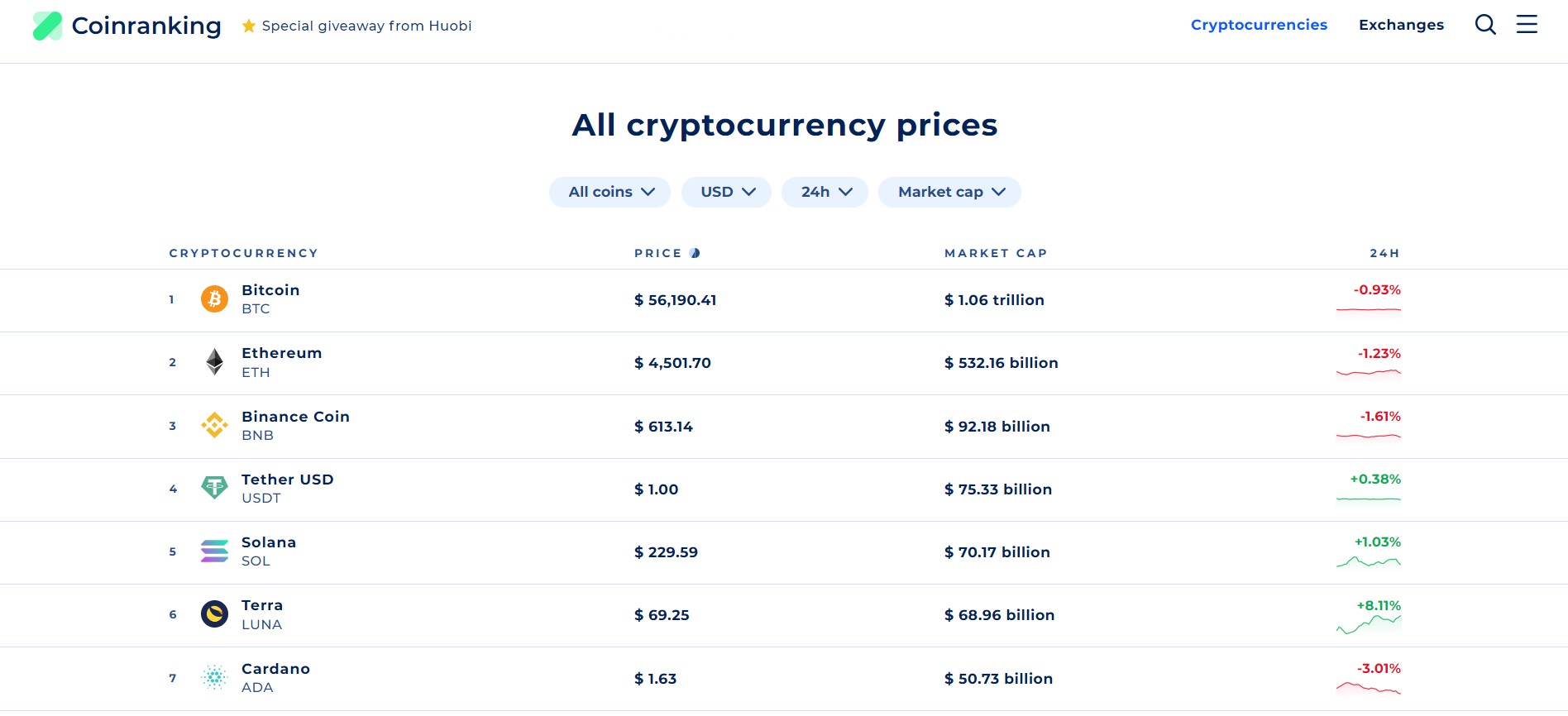 Coinranking lets you know all the important statistics of your desired crypto coin. On Coinranking, you can keep track of everything, including the current price, price-performance tables, 24-hour change, and market cap. The site also has a section for the topic changes present in the market. So, if you are among those who are just entering the crypto market and are unsure which exchange to start with, then you will find this section interesting.
Coinranking features a coin converter using which you can convert real-time prices between all available cryptocurrencies and fiat. You can even check the charts of all the coins listed on the platform. And most importantly, you can view pricing in your local currency.
Visit: Coinranking
10. Cryptowatch
To conclude our list of best sites for tracking crypto coins, we have Cryptowatch. It keeps track of your holdings over time and features customizable charts. It shows instant price alerts and frictionless multi-exchange trading.
Using Cryptowatch, you can trade on multiple exchanges like Kraken, CoinBase, Binance, Bitfinex, Poloniex, Bitstamp, OKEX, and FTX. The site comes with a built-in integration of Kraken charts that you can use for technical analysis.
Cryptowatch has its own mobile application as well, for both Android and iOS devices, using which you can keep track of 10K+ markets from your pocket. You can even manage your holdings across multiple exchanges. Just enter the API key of the exchange that you are using, and the website will automatically start showing the current balance of your coins.
Visit: Cryptowatch
Final Words
So, these are the best sites for tracking crypto coins. Let us know in the comments which website you will use to keep track of your favorite assets. Furthermore, don't forget to consider when you think the crypto market will hit its all-time high.
If you've any thoughts on 10 Best Sites for Tracking Crypto Portfolio, then feel free to drop in below comment box. Also, please subscribe to our DigitBin YouTube channel for videos tutorials. Cheers!