It's no secret that artificial intelligence (AI) has permeated every aspect of our life as we enter the year 2023. AI has become a potent tool for helping content creators make interesting and high-quality videos as a result of the growth of YouTube and the expansion of content production.
Numerous AI apps and websites exist that may assist YouTubers in streamlining their process and improving their material, from analytics to video editing. The top AI tools for YouTubers will be discussed in this post, along with how they may help you elevate your content. Regardless of your level of experience, these applications will help you save time, boost engagement, and eventually expand your channel. So let's get started!
Upscale Your YouTube Channel in 2023 with these best AI Apps to Enhance Your Content Creation and Optimization.
Best AI Apps and Sites for YouTube Content Creators
Looking for a Free Description Writer, Thumbnail Maker, AI Music, and other Services or AI Tools for YouTube Content Creators
1. Magisto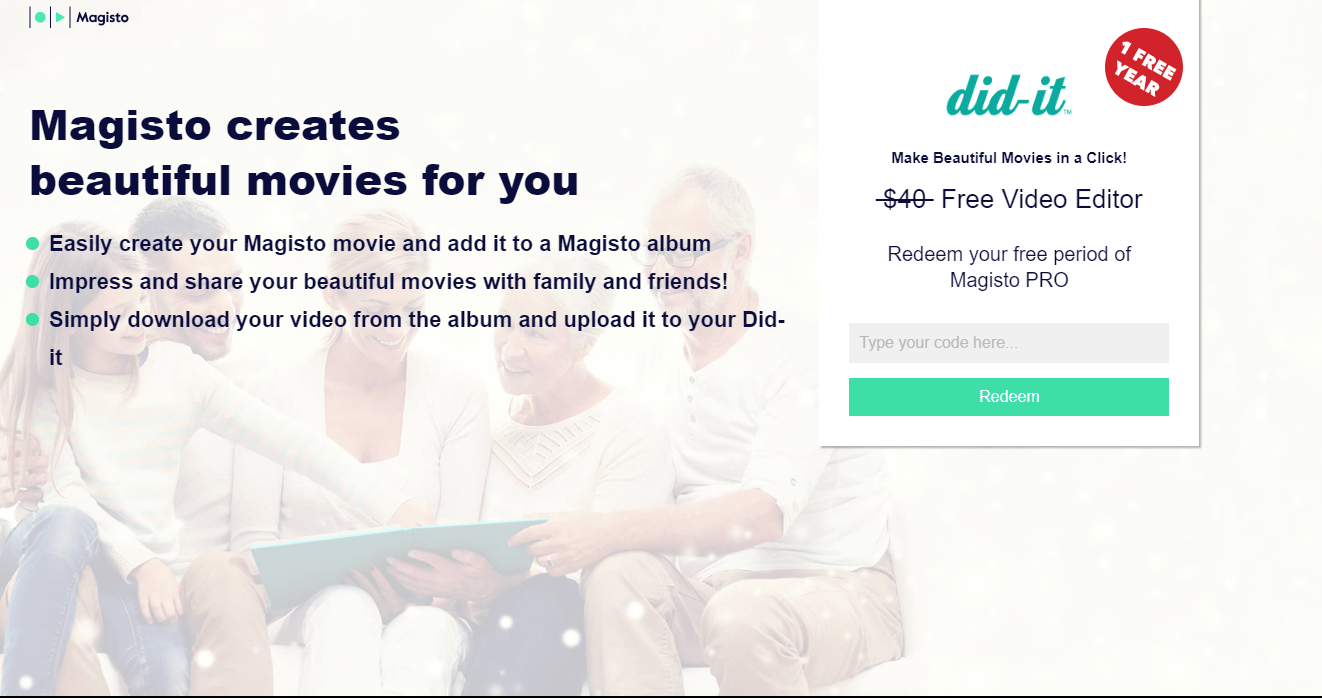 Magisto is an AI-powered video editing software intended to make it simple for YouTubers and other content creators to swiftly produce polished films. It analyzes your video content using cutting-edge machine learning algorithms to pinpoint the most captivating part and automatically produces an engaging story for your audience.
With Magisto, you may upload your video clip and choose an editing style that is already created to go with the tone and look of your content. The AI technology then gets to work by reviewing your video and choosing the best parts to include in your finished product. To make your video genuinely unique and tailored to you, you may also add music, text, and other effects.
YouTubers that wish to streamline their video editing and produce high-quality videos quickly and easily can use Magisto. It's a fantastic choice for businesses and marketers that want to produce polished video content for their social media platforms and other marketing initiatives. With Magisto, you can make interesting videos quickly so you can concentrate on other parts of your content development or marketing plan.
Download Magisto for your Android | iPhone
2. Writesonic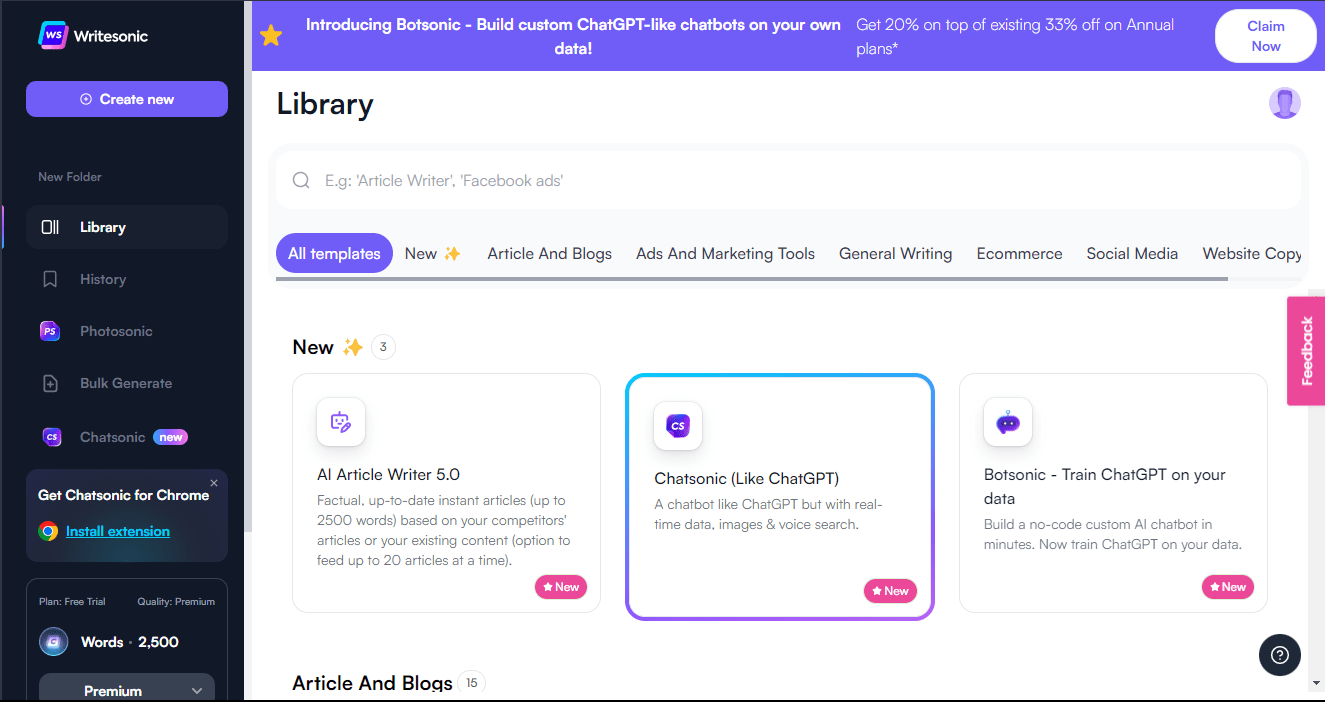 The AI-powered description generator Writesonic was created with YouTubers in mind. It creates concise, understandable, and search engine-friendly descriptions for YouTube videos using cutting-edge natural language processing algorithms.
YouTubers can simply write engaging descriptions for their videos using Writesonic without investing hours in research and writing. The platform provides a large selection of templates and formats that may be altered to meet the unique requirements of the YouTuber.
In order to increase search engine optimization, the AI program evaluates the video's content and proposes pertinent terms and phrases for the description. Additionally, it gives advice on how to improve the description's organization, tenor, and language to make it more captivating.
The capability of Writesonic to produce several iterations of the same description is one of its primary advantages. YouTubers may pick the description that performs the best in terms of interaction and search ranking, which can be helpful for A/B testing and optimization.
In general, Writesonic is an effective tool for YouTubers who wish to swiftly and simply write high-quality descriptions for their videos. It is the perfect option for anybody trying to increase their video SEO and channel traffic because of its AI-powered algorithms and user-friendly UI.
Unlike Magisto, you won't be able to find a dedicated app for Writesonic, it is only available as a website; you can use Writesonc by Clicking Here
3. Hotpot.ai
An AI-powered thumbnail generator called Hotpot.ai was created exclusively for YouTubers. It employs machine learning algorithms to produce attractive and interesting thumbnails that can help YouTube videos get more clicks. Because of how simple the tool is to use, even individuals without any prior design knowledge can produce professional-looking thumbnails in a matter of minutes.
A configurable template library, an image library with millions of high-quality stock pictures, and a built-in editor that enables users to crop, resize, and add text to their thumbnails are just a few of the things that Hotpot.ai provides. Additionally, the application makes suggestions for suitable pictures and text for the thumbnail based on analysis of the video's content performed by sophisticated algorithms.
The time and work that Hotpot.ai saves YouTubers is one of the biggest advantages. Users may enter the title of their video and the software will create thumbnails for them instead of them having to spend hours designing and constructing them. By doing this, the thumbnail is optimized for interaction, and time is also saved.
In conclusion, Hotpot.ai is an intuitive AI thumbnail creator that may assist YouTubers in producing engaging thumbnails that appear professional. It's a great tool for anybody trying to boost the effectiveness of their YouTube material because of its configurable templates, picture collection, and cutting-edge algorithms.
Click Here to use Hotpot.ai to make an attractive thumbnail.
4. MusicLM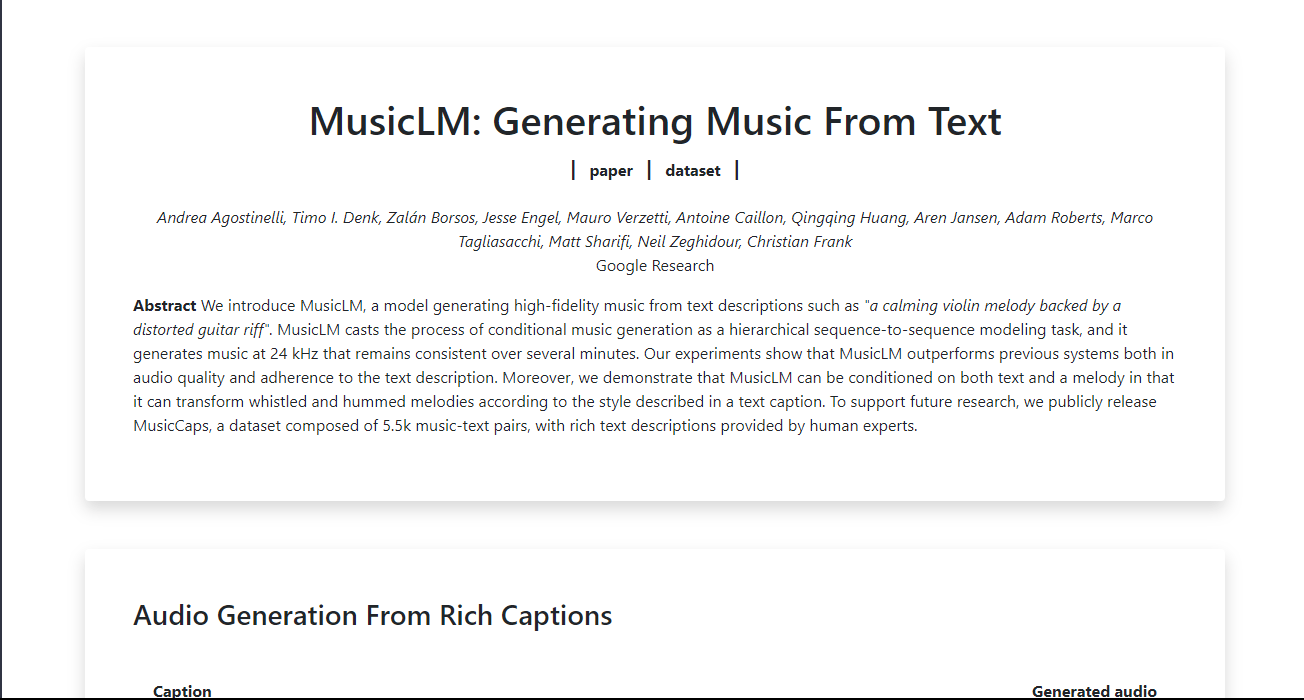 Without any prior musical knowledge or experience, YouTubers may easily generate creative background music for their videos with MusicLM, a Google AI music generator. Advanced machine learning algorithms are used to create music that is original, excellent, and specifically suited to the moods and topics of the videos.
The melody, harmony, rhythm, and pace are just a few of the musical factors that the MusicLM AI music generator analyzes before using the results to create music that suits the user's tastes. Users may define the kind of music they desire—classical, electronic, rock, for example—as well as the attitude and tone they wish to convey—happy, depressing, or suspenseful.
YouTubers can create music fast and easily using MusicLM by simply inputting text, which saves them time and effort. The AI-generated music is also royalty-free, which entails that no royalties or licensing payments are required for its use in commercial contexts.
Overall, MusicLM is an effective tool for YouTubers who want to add original background music to their videos that complements their brand, style, and message. It provides a cutting-edge and affordable solution for music production and has the power to completely change how YouTubers create and incorporate music into their material.
Click Here to use MusicLM for creating original background music.
5. DALL-E 2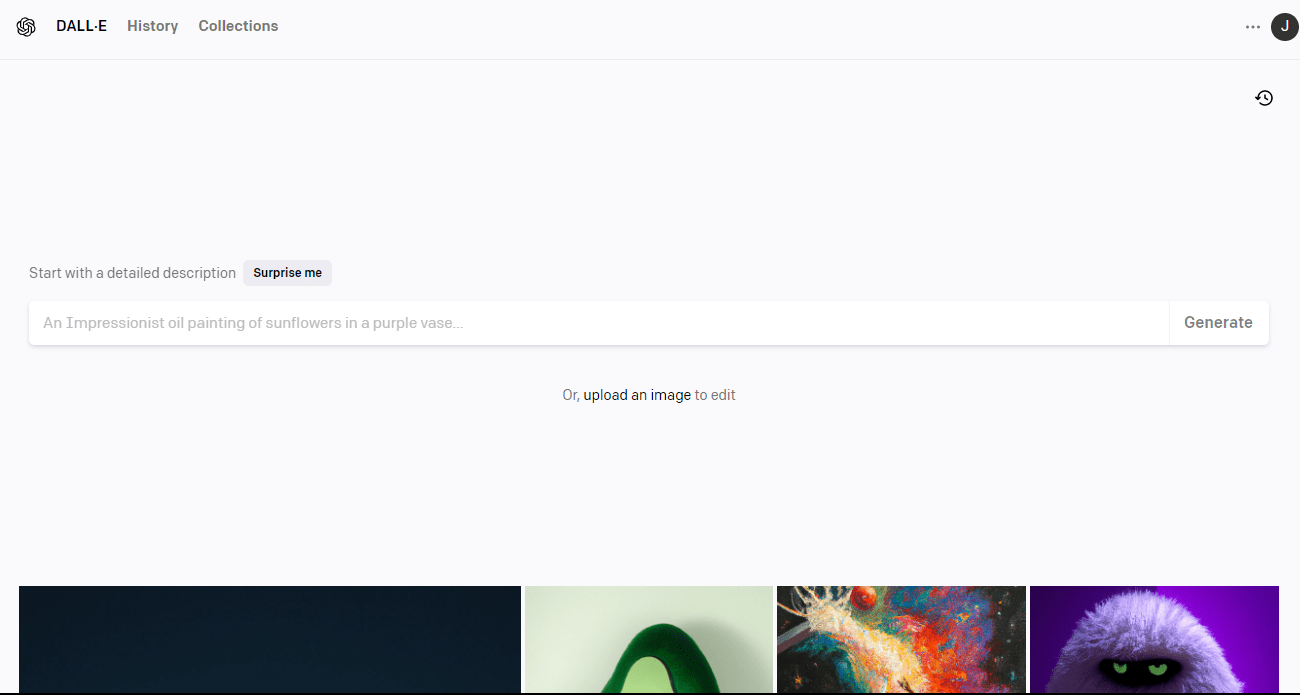 A text-based image generator driven by AI, DALL-E 2, generates original, excellent images. DALL-E 2, which was created by OpenAI, is an improved version of the original DALL-E and can produce a larger variety of pictures with finer details and greater resolution.
YouTubers that want high-quality photos for their videos but lack the time or money to make them themselves may find DALL-E 2 to be very helpful. Creators may use DALL-E 2 to simply explain the picture they want in natural language, and the AI will produce a special and customized image that complies with their requirements. By doing this, YouTubers may save a lot of time and work while still producing visually appealing material.
DALL-E 2 is an effective solution for content producers that want top-notch photos for their videos. It can assist YouTubers in elevating their material and differentiating themselves from the competition thanks to its cutting-edge AI technology and capacity to create bespoke pictures based on natural language input.
Click Here to use DALL-E 2 for creating unique copyright-free images.
Conclusion
In conclusion, artificial intelligence (AI) technology has completely changed the way content is created on YouTube, providing tools and apps that may improve video production, raise performance indicators, and tailor content for users.
The top AI tools for YouTubers will feature robust video editing software, AI-powered captioning and transcription tools, SEO and marketing tools, a sophisticated thumbnail maker, and a free music generator. YouTubers can remain ahead of the competition, attract new audiences, and produce a more compelling and impactful video that appeals to viewers in 2023 and beyond by utilizing this cutting-edge technology.
If you've any thoughts on 5 Best AI Apps for Youtube Creators, then feel free to drop in below comment box. Also, please subscribe to our DigitBin YouTube channel for videos tutorials. Cheers!