iOS has been a trailblazer in many respects and has many firsts to its name as compared to its counterparts. But when it comes to 3rd party integration or customization, other operating systems have the edge over iOS. For iOS users, TutuBox App is a savior; it's a parallel app store for iOS users that provides paid apps for free and gives access to tons of tweaked, hacked, and modified applications and games. Now that you have some idea about TutuBox, let's get back to the main topic and dig into TutuBox Lite.
TutuBox is a third-party installer with a good collection of apps and games, you also get other 3rd party app installers. It supports iOS 14, iOS 14.0.1, iOS 14.1, iOS 14.2, iOS 14.2.1, iOS 14.3, iOS 14.4, iOS 14.4.1, iOS 14.4.2, iOS 14.5, iOS 14.5.1.
What is TutuBox Lite?
The majority of iOS users secretly wish to use the premium/3rd party app on their devices.  As many apps and games are paid and have restricted or limited access, users tend to find a workaround in such a case. As a user, you have the option to jailbreak the device and put it at considerable risk or opt for any 3rd part installer. TutuBox Lite is the latter; it allows you to use tweaked apps, download hacked games, and pay for free apps. And the highlight of this installer is that you can get the apps without jailbreaking your device.
One thing that is worth mentioning is that this is not an app; it's an installer. In simple words, it is a medium/platform that provides you with a gateway to download 3rd party apps on iPhone.
The 3rd party app installer, TutuBox, was recently revoked, and to resolve this issue, a new version was released in the market.  That is how the Lite version came into existence and is now the one-stop to download the desired apps.
What to expect from the Lite version?
We as humans are keen to know the functionalities, the pros, and the cons before trying new things. It applies here as well, as you would be curious to know the features of the new version before installing them. Let's have a look at what the Lite version has stored in the kitty for iOS users.
No jailbreak required: For those who are unaware jailbreaking is usually associated with Apple gadgets, these devices have several security restrictions to prohibit tweaking on the OS level. By jailbreaking, the user can achieve total control on that device and also install 3rd party software. But it's a strict no-no as far as security reasons are concerned. However, the Lite version allows downloading the 3rd party apps without jailbreaking the iPhone.
Wide Range of apps: The new version possesses a huge warehouse of apps, games as compared to its predecessor. Also, the software on these platforms has regular updates so that you get the newest version.
Faster download: The Lite version downloads the apps at greater speed as compared to the older one. In addition to that, downloading process of the games and apps is smooth and has fewer glitches.
Easy to use interface: This version has a cleaner interface which makes it easy to use and is also much lighter in size (it will consume less space on the device).
Is TuTuBox Lite Safe?
One of the first things that would come to your mind, if you are an iOS user, is TuTuBox safe? The answer to this is both Yes, and No; Tutubox lies in a legal grey area. For starters, downloading and installing TuTuBox on your iPhone does not put your device at risk. At least not directly. But there is no guarantee regarding the apps that feature within this app store. Why are we saying this? Because TuTuBox has modified or hacked versions of apps and services. So, there is a great risk of your ID getting banned by these services.
Download TuTuBox Lite Version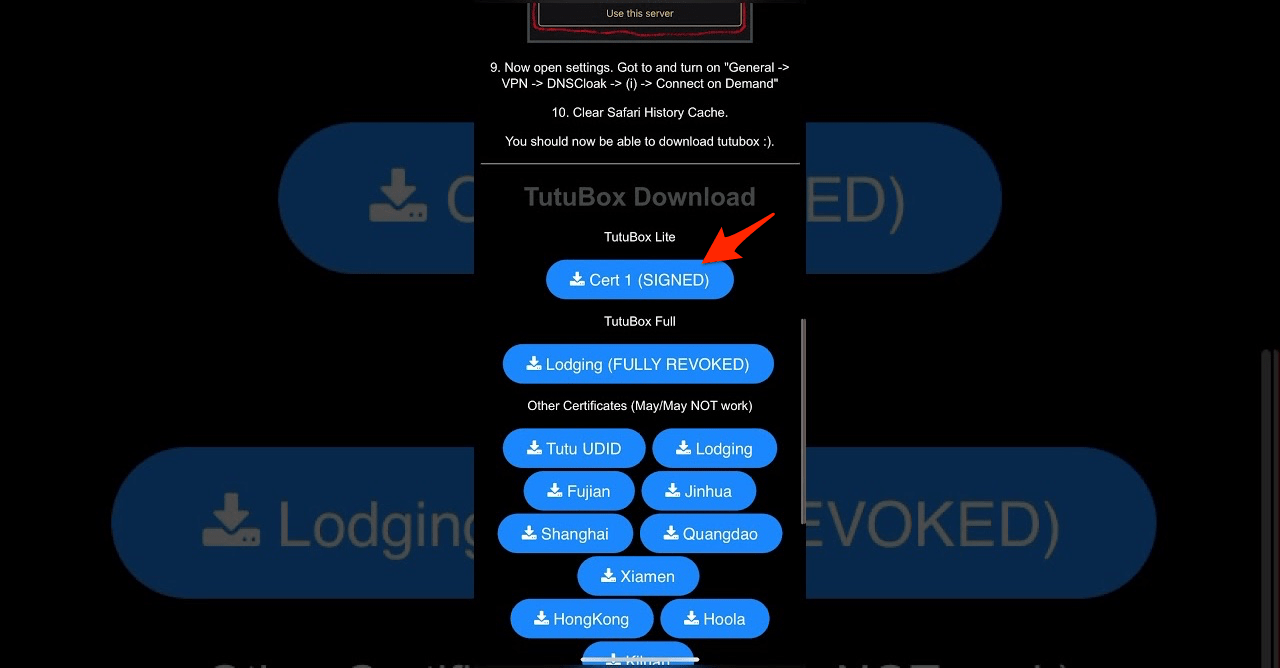 The TuTuBox Lite can be downloaded from the official site. Just open the site and look for the lite version and download the tweaked app store. Here is the Complete Guide to Install and Download TutuBox Lite on iOS Devices.
How to Get the Lite version?
You can download the TutuApp Lite by following these steps: 
Open the Safari and type in the URL lite.tutuapp.vip For hassle-free download, choose Safari web browser.
As soon as you hit the link, you would see dozens of app on the page.
If you click on any app that you wish to download, you won't be able to do it right away.
You need to get a Configuration File first to download the apps. Click on continue; you will see a pop-up box, tap on Allow.


Once the profile is downloaded next, you need to visit the Settings and review it before installing it.


Click on Install on the top right corner of the window.
Next would be asked to enter a passcode, enter it and click on Install.

The TutuApp Lite will be available on your device.
Once you are done with this process, you can start downloading the apps of your choice.
If you find this article helpful in any way, do let us know your thoughts/queries in the comment section.
If you've any thoughts on How to Get TutuBox Lite for iOS?, then feel free to drop in below comment box. Also, please subscribe to our DigitBin YouTube channel for videos tutorials. Cheers!