Kinemaster is a very powerful Video editing tool for Android. The app is free to use and comes with a range of features making it a fully-featured video editing app on similar grounds to a PC video editor. Kinemaster is developed by NexStreaming Corp now Kinemaster Corporation. Kinemaster APK is a simple yet powerful editor tool for Android which helps in creating some dazzling effects with the use of layers, transitions, voice envelopes, images, effects, and more.
Kinemaster comes with Ads, Watermark and you need to buy premium assets to access all the features of the Kinemaster app. But there is a free and legal way to export videos on KM without any Watermark without any payment but you will see ads and you need to buy premium assets.
Features of KineMaster
Multiple layers of video, images, stickers, text, handwriting video clips
Frame-by-frame trimming, splicing, and slicing
Support All versions
Instant preview anytime
Hue, brightness and saturation controls
Speed control for video clips
Fade in/fade out sound (overall)
Volume envelope (Precise volume control from moment to moment within a clip)
Transition effects (3D transitions, wipes, fades, and more)
A variety of themes, animations, and visual and audio effects
Supports all the video formats.
Automatically optimize the unsupported videos.
Adware, Malware, and Virus Vulnerability
Buy the Premium Version of the App
It is the best and safest method to remove the watermark and ads. Just buy the premium subscription of the Kinemaster app and we are good to go.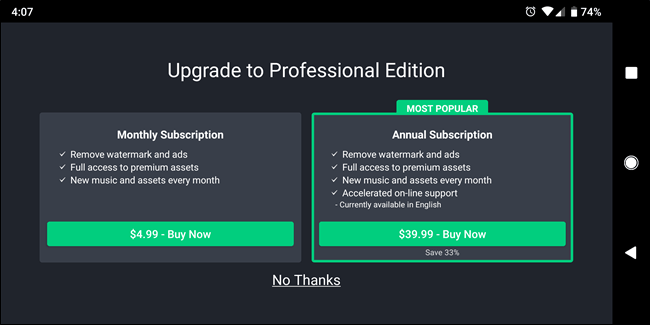 You can also try 7 days free trial and check if this works for you. You can cancel the subscription at any time within the seven days and the billings starts after the 7 days of the free trial are over. This gives you all features unlocked along with zero ads and full access to premium assets.
After a free trial, you can either opt for a monthly subscription or a direct early plan. The subscription will remove all ads, unlock the asset store, and remove the "made with kinemaster" watermark.
Download Mod Version of the KM App
For professionals, students, artists, Content Developers, and amateurs, the KineMaster Mod App gives you great control over the editing process on mobile. You can make gleaming edits and animations on your Android. Earlier it is was not possible to edit videos without big editing tools on PC. But with Kinemaster allows you to make high-end video edits on your mobile phone itself. You get the Premium options without Watermark create cinematic effects with Chroma Key options.
Export Kinemaster Videos without Watermark
Kinemaster is a free video editor app for Android and if you want to export videos without watermark and without using any modified version of the app then you can.
All you need to do is download any older version of the app, when you are creating your project on the older version it shows you need to buy the subscription to remove the watermark but when you export the video the watermark is absent the reason is unknown but you can surely take advantage of that.
You can try any older version of KineMaster ver.4.10.17.13457.GP or below to export videos without any watermark for free and legally. The download link below is the latest of the older version which is exporting videos without watermark.
Due to Unknown Reasons, the Older Versions of KineMaster are Exporting the Videos without Watermark on Android 10. 
Download  – KineMaster Chroma APK Download
Important Points to Remember
This is Not a counterfeit version of the KM App
You will see Ads
You need to Buy the Premium Asset
Note: I tested the Older Version on Android 10 and found the App to Export Videos without WM, it may not work for other android versions.
You just create the project, skip the intermediate payment option, and export the video. The output video is without any watermark.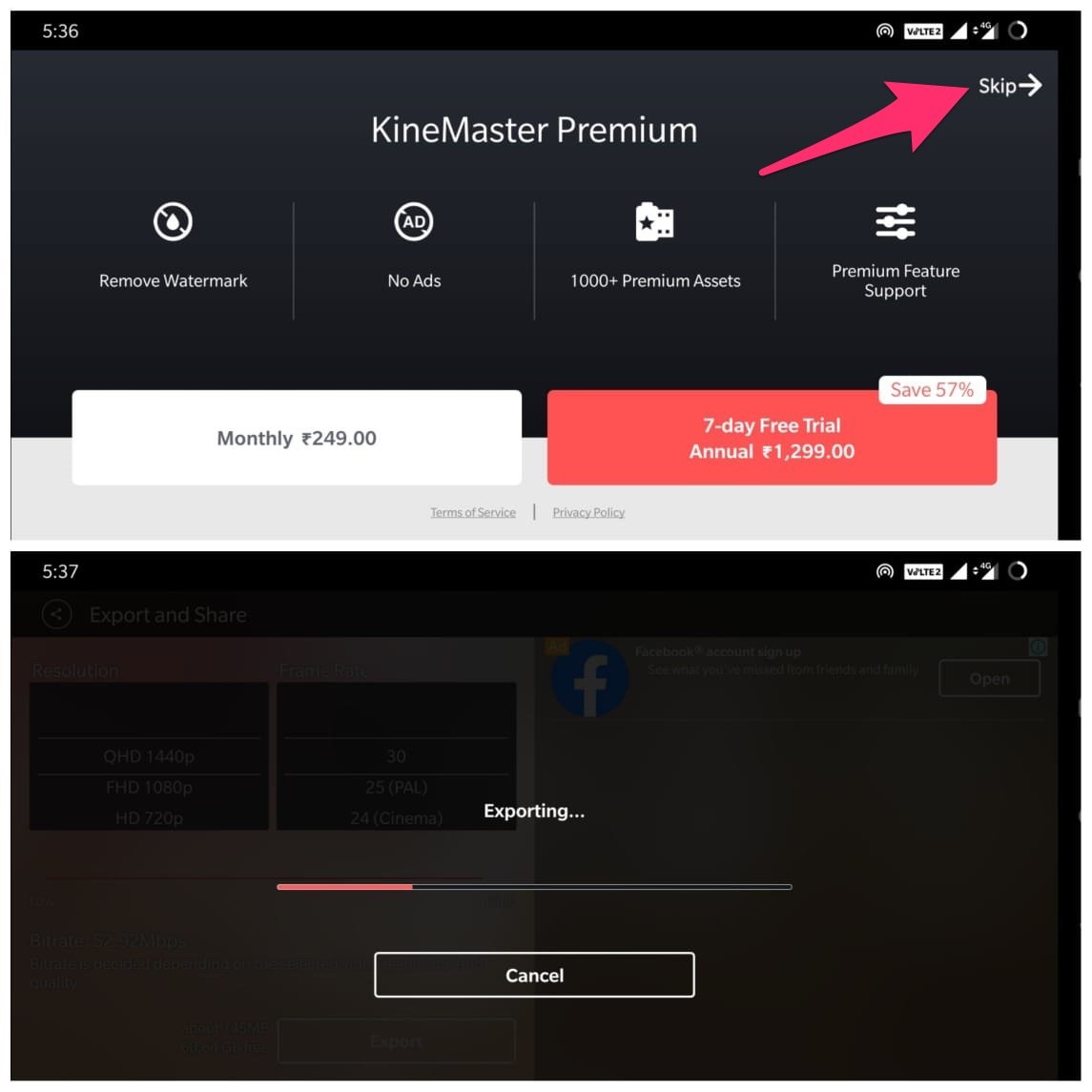 But you do not access to Premium Assets and you will also see Ads as it is just an older version of the app, not the unlocked version.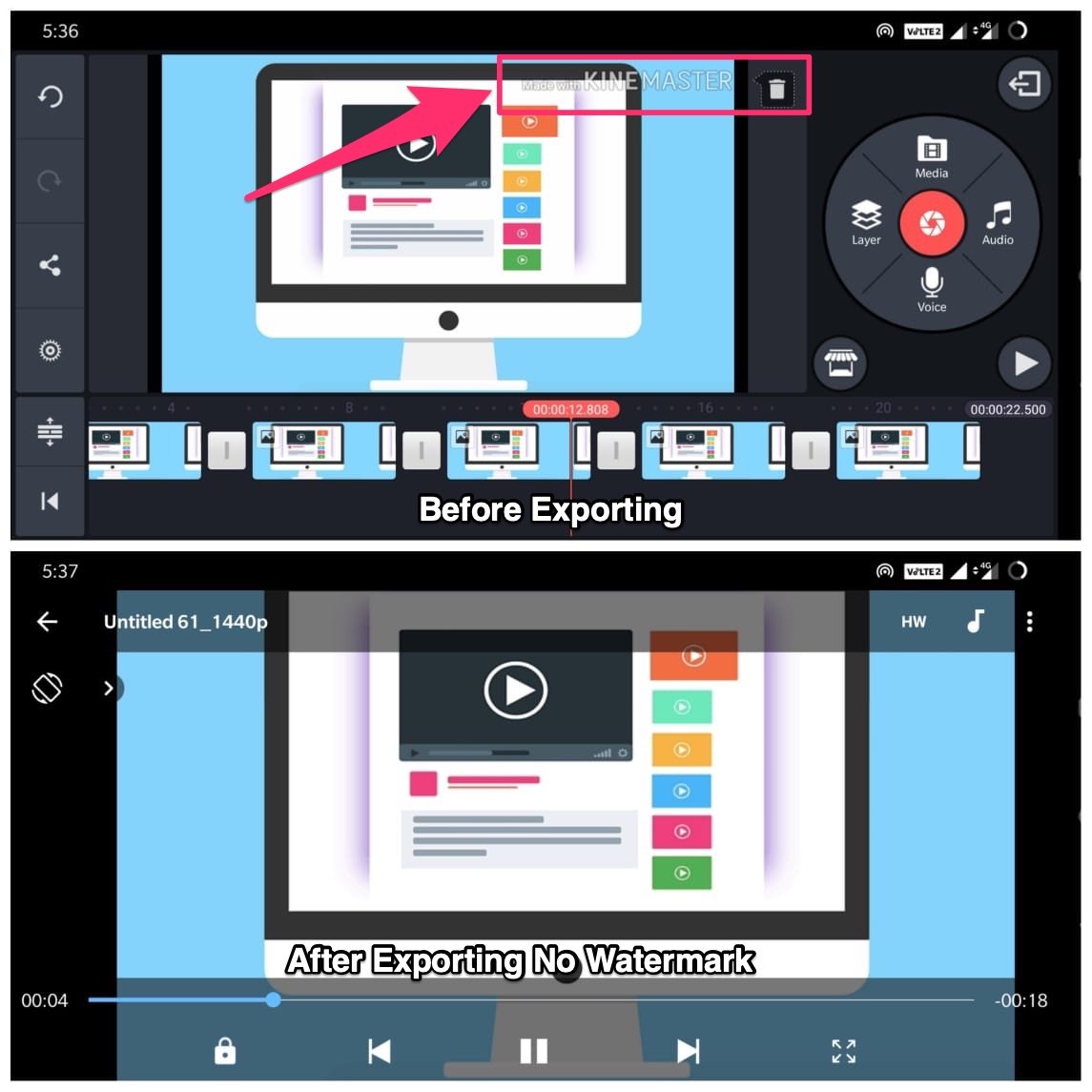 Trouble Shoot Problems on Kinemaster Export
If you are facing issues with the App then below are few potential solutions to fix all the related problems on your KM App.
Error Exporting On Android
Don't use any screen recorder during the process of export, video encoder of screen recorders may cause complications with the KM.
KM works on hardware video encoder and using any other app may cause the process to fail.
Fix "Codec Init Failed Error"
This error may occur due it incorrect detection of device resolution, hardware compatibility, and software performance. You can fix this by following steps.
Reboot the device.
Open KM
Tap on the Settings option. (Gear Shaped)
Here open Device Capability Information.
Tap the menu indicated by 3 dots (…) in the upper-right corner.
Choose Hardware Performance Analysis to run the analysis (This may take up to 5 Minutes)
Then reboot the device again.
Risks of Using Counterfeit Version
Your data may not be secure
Malicious File Host
Maybe Subjected to Legal Complications
Frequently Asked Questions (FAQ)
1. Can Kinemaster Be Used on PC?
There is not standalone KM app for PC but you can try an Android emulator on your Windows and Mac PC to run the Kinemaster app for free and create your edits.
2. Is Kinemaster Free?
Yes, the app is free to use and comes with all the features. But you may need to make in-app purchases for some premium special effects and removing the watermark.
4. Does Kinemaster Support Chroma Key
Yes! KM App supports chroma key feature for compositing or adding video layer. It helps you create a green screen to add any VFX effects to enhance the media file edit.
Conclusion: Export Kinemaster videos without watermark for free without using any counterfeit modified version of the app with just a simple bug on the kinemaster app.
If you've any thoughts on How to Remove Watermark from KineMaster?, then feel free to drop in below comment box. Also, please subscribe to our DigitBin YouTube channel for videos tutorials. Cheers!